We all know that diaper changes are necessary for the parenting journey. But fear not, because diaper changing stations are here to make your life much easier. No more scrambling around the house searching for wipes or diapers. Everything you need is at your fingertips, ensuring a smooth and efficient diaper-changing experience.
But that's not all! Say goodbye to impromptu diaper changes on the couch or bed. With a diaper changing station, you can keep things tidy and hassle-free. Here's how a diaper changing station can benefit you.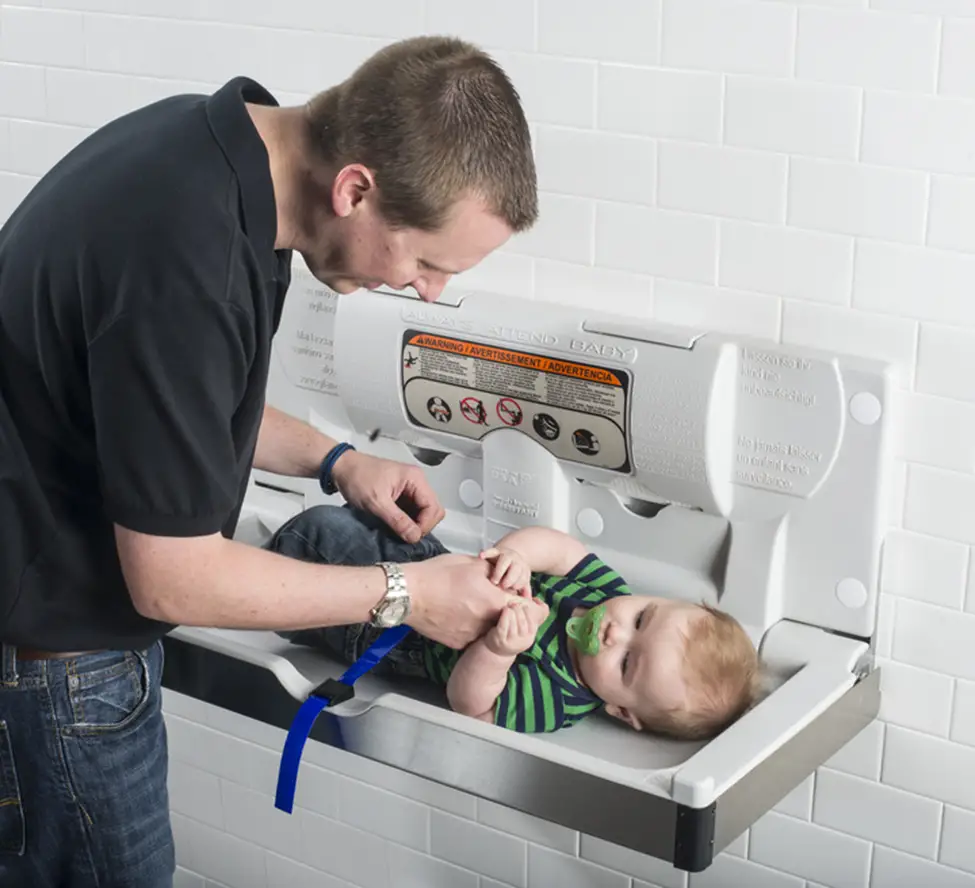 1. Hygienic
Diaper changing stations often come equipped with a waterproof and wipeable changing pad. This pad is easy to clean and helps prevent messes from seeping to the surface below.
Some diaper changing stations feature antimicrobial materials or coatings. These unique features help inhibit the growth of bacteria and germs. This helps promote a cleaner and healthier environment for your baby.
2. Safety and comfort
Diaper changing stations must meet the required safety standards. They come with safety features such as raised edges or guardrails. They help prevent your baby from rolling off the changing surface, providing a secure environment during diaper changes.
Some stations have safety straps or buckles to secure your baby in place, ensuring their safety. Diaper changing stations prioritize comfort. They often come with a soft and cushioned changing pad that provides a cozy surface for your baby. This pad is designed to be gentle on your baby's delicate skin and make diaper changes more comfortable.
Some stations even have additional features like built-in padding or contoured shapes to enhance your baby's comfort during the changing process.
3. Time saving
Diaper changing stations are designed to have all the essential supplies within arm's reach. Many stations have built-in compartments or storage areas to keep diapers, wipes, creams, and other necessities. This eliminates the need to search for supplies or run back and forth, saving precious time and making the diaper changing process more efficient.
4. Convenience and organization
These stations are designed with convenience in mind. They typically have built-in storage compartments or shelves to keep diapers, wipes, creams, and other essentials organized and easily accessible. This eliminates the need to search for supplies when the need arises.
Diaper changing stations come with various elements, like built-in dispensers for wipes or compartments for trash bags, further enhancing the convenience and organization of the changing process. These thoughtful additions ensure that everything you need is at your fingertips, saving time and effort.
How to Set Up a Diaper Changing Station
Setting up a diaper changing station like a pro determines how efficiently it will serve you. Here are some simple guidelines for setting up a diaper changing station.
Choose your spot: Setting up a diaper changing station is all about convenience and preference. Consider setting it up in the nursery or near the baby's crib.
Stock up diaper supplies: Get all the essentialsfor diaper changes, such as
Make a mini-station: Place a comfortable and easy-to-clean changing pad on the surface where you will change diapers. Make sure it's secure and stable to ensure your baby's safety.
Wrapping up
Diaper changing stations are a game changer for parents. They provide convenience and organization, making diaper changes a breeze. With easy access to all your diapering essentials, neat storage compartments, and features like a diaper system and portability, these stations simplify the process. Say goodbye to messy diaper changes and hello to a well-organized and efficient diaper-changing experience.