Being a bridge enthusiast, I'm always after some fascinating and long span bridges. United States has got some of the longest bridges in the world over water. Some are even more than 36 kilometers in length. So, if you're also a bridge lover or are involved in construction of bridges; get ready to enjoy some Goosebumps.   
The longest of bridges in America is in Louisiana along the interstate Highway system. It's over 22.80 miles (36 km) with height of above 15 meters in length. It is in fact one of the longest bridges in the world over water and yet it's toll-free. Louisiana is a state famous for cultural heritage, music, and cuisines; but it's also known for its state-of-the-art infrastructure, bridge, buildings, and other hallmarks.
But that's not all, there're even more fascinating American bridges from suspension to cable-stayed and from cantilever to truss and arch. Some of these bridges are not just awesome at the look but they also give you a jaw-dropping sight, one you're on the deck.  
Table of Contents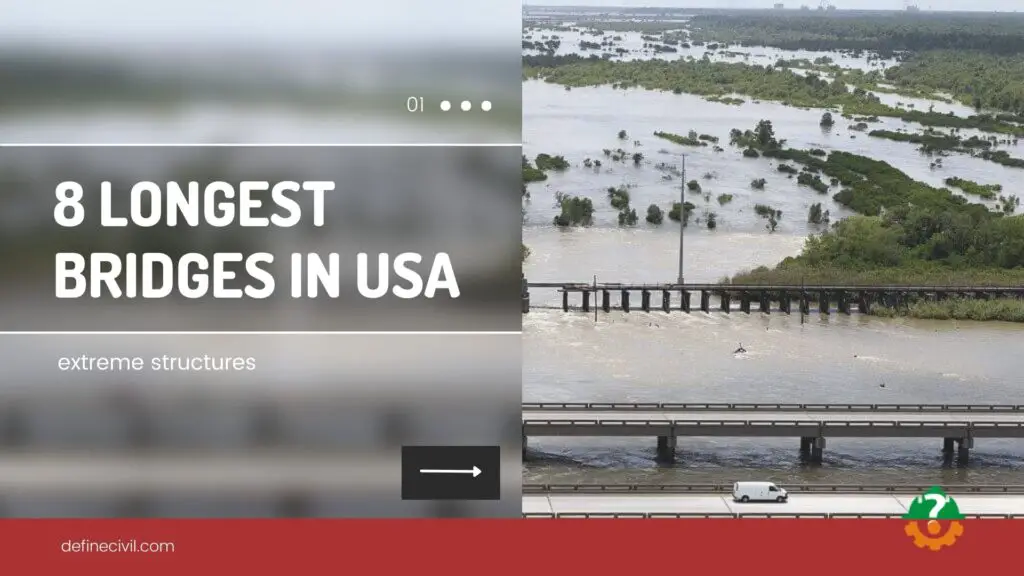 Longest American Bridges
A bridge is a structure which is span across the physical obstacle to connect different parts of land. The bridge is usually provided across the river width, valley and body of water for easy passage over the obstacle.
Bridges provide an easy way of crossing valleys and large water bodies in their own vehicles. They connect different parts of lands which are obstructed by a depression or water bodies.
Here in this topic, we will discuss longest bridges of USA.
Lake Pontchartrain – The Causeway
Lake Pontchartrain causeway is also known as The Causeway and is one of the longest bridge in USA. It is located over the lake Pontchartrain in southeastern Louisiana, United states.
 It is divided into two parallel bridges with terminals in Metairie and Mandeville. The southern terminus of causeway lies in Metairie while the northern terminus is in Mandeville.
The bridge is 38.35km long and carries for lanes of causeway. Before opening of Jiao Zhou Bay Bridge in 2011 Lake Pontchartrain was the longest continuous bridge over water in the world and it was listed by Guinness worlds record.
Its construction costs was around 46 million $ at that time and completed in 1956.Lake Pontchartrain Causeway was constructed to avoid a long hectic drive of 1.5 hour around the lake to reach on other side of land.
The bridge was built with prefabricated segments. It took almost 14 months to make the first span for lake. The barges were used for carrying segments over the water to be installed. Contractor of the bridge made a manufacturing plant or casting yard around the northern end of the bridge. The bridge piers are supported on deep piles driven in to the ground. The bridge girders and deck was of prestressed concrete to put sections in tension and allow for spanning long distance.
Also Read: Parts of a bridge: Everything You Need to Know about Bridges
Manchac Swamp Bridge
Manchac Swamp bridge is one of the longest toll-free bridges located in US state of Louisiana. it is second longest bridge in USA with the length of 36. 71Km.It carries 55 interstate and US route 51. The bridge is constructed over Manchac Swamp making it longest bridge on interstate highway system.
The Manchac Swamp bridge is constructed with concrete twin trestle structure. This increases the overall construction cost of bridge.
 The construction cost of this bridge is $4.3 million for one kilometer. For better stability and supporting load the piles of bridge are driven up to 250 feet. The construction of bridge is completed in 1979.
It is a twin concrete trestle bridge that is composed of number of short spans supported by rigid frame. The pile support piers of the bridge were driven around 76 meters beneath the swamp. One mile span of the bridge has an average cost of $7 million.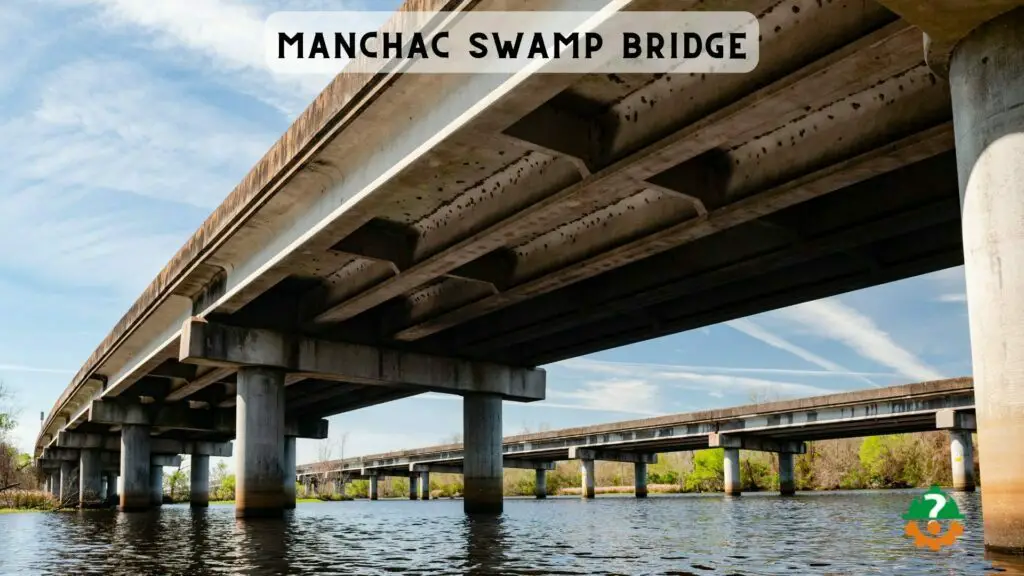 Atchafalaya Basin Bridge
Atchafalaya bridge is one of the ten longest bridges of USA located over Atchafalaya Basin in US state of Louisiana. It is also called as Louisiana airborne memorial bridge. It consists of two parallel bridges between Baton Rouge and Lafayette.
Atchafalaya bridge is the 3rd longest bridge in US and 2nd longest on interstate system. The length of this bridge is 29km and construction of this bridge was completed in 1973.The construction f this bridge was a great challenge for engineers due to bogginess of geography and risk of flooding.
Also Read: The Tallest Buildings in Chicago – Towering Over the Competition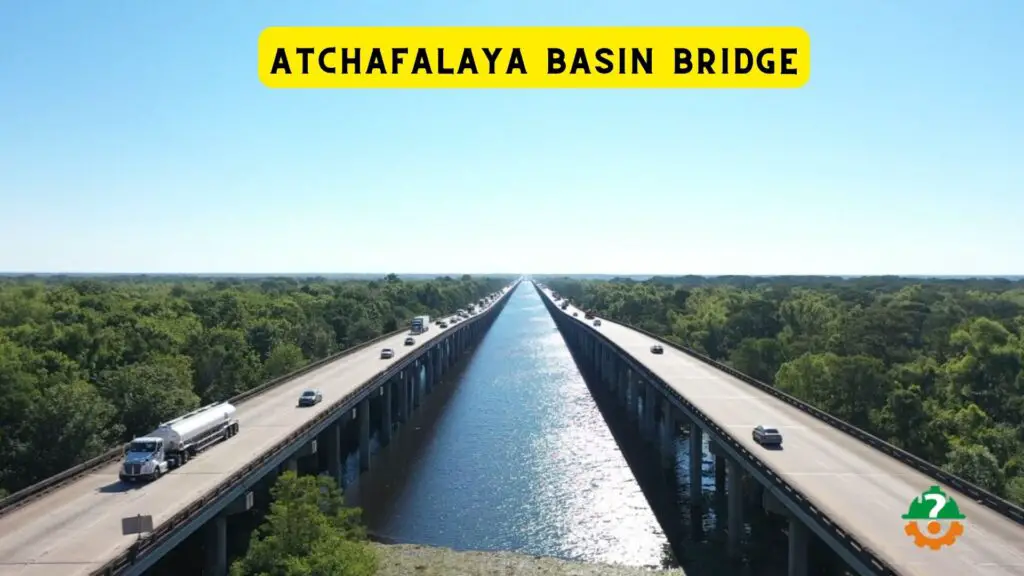 Chesapeake Bay Bridge
Chesapeake Bay Bridge is also famous by the name of Bay bridge located in the US state of Maryland. This bridge was constructed to join rural Eastern shore region with western urban shore. The total length of this bridge is 6.9 km.
The bridge construction was completed in 1952 and then parallel span was added in 1973.The official name of this bridge is Gov. William Preston Lane Jr. Memorial Bridge after William Preston who was the 52 Governor of Maryland.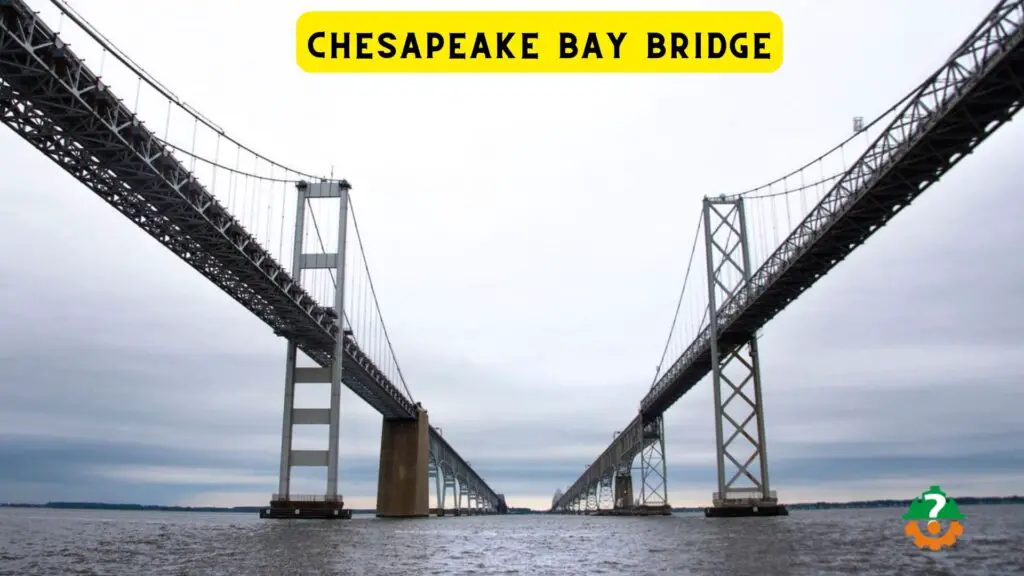 I-10 Bonnet Carre Spillway Bridge
I-10 Bonnet Carre Spillway Bridge is a bridge located over Bonnet Carre spillways, the Lake Pontchartrain in US state of Louisiana. This bridge was constructed after devastating flood of 1927 that effected 27000 miles of lower Mississippi valley.
The spillways divert the excess flood water from river to the lake Pontchartrain and reduce further flood and damage. The bridge carries interstate 1-10 over Bonnet Carre spillway. This Bridge is connecting Baton Rouge and New Orleans. It is a twin concrete trestle bridge with total length of 11 miles. The construction of this bridge was completed in 1972.
Also Read: What is a bridge Abutment – Its different Types & Design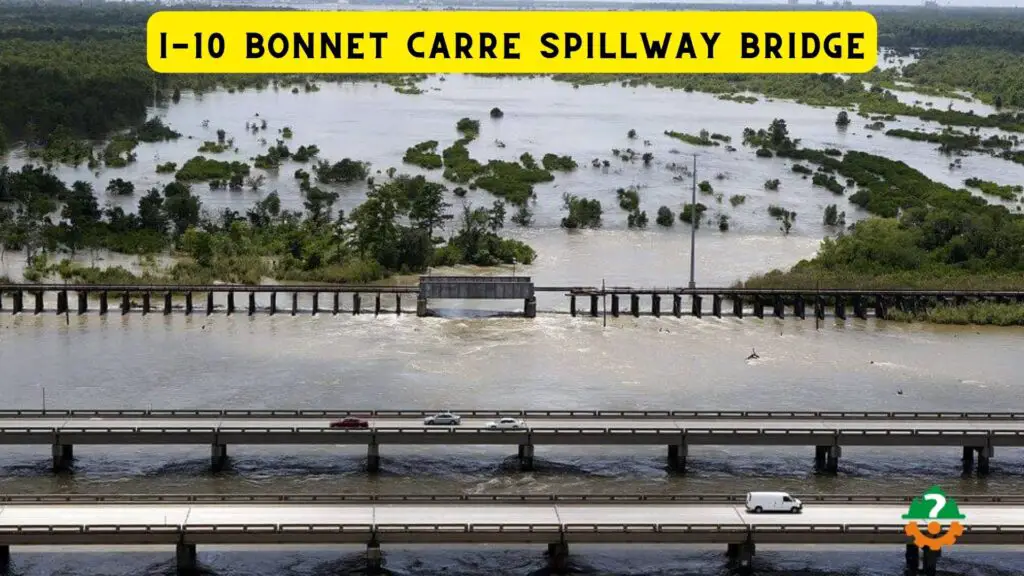 San Mateo-Hayward Bridge
San Mateo Hayward Bridge also known as San Mateo is constructed to connect San Francisco Peninsula with Eastern Bay. The foster city is located on bridge western end while the eastern end of bridge is Hayward bridge is a property of state of California and it is maintained by state highway agency which is California department of transportation. It consists of six lanes for cars and trucks. This bridge is longest in California and 25th longest in world. This bridge is 7 miles long and it is located in Florida. The construction of this bridge was completed in 1929.
Also Read: Difference between Bridge and Culvert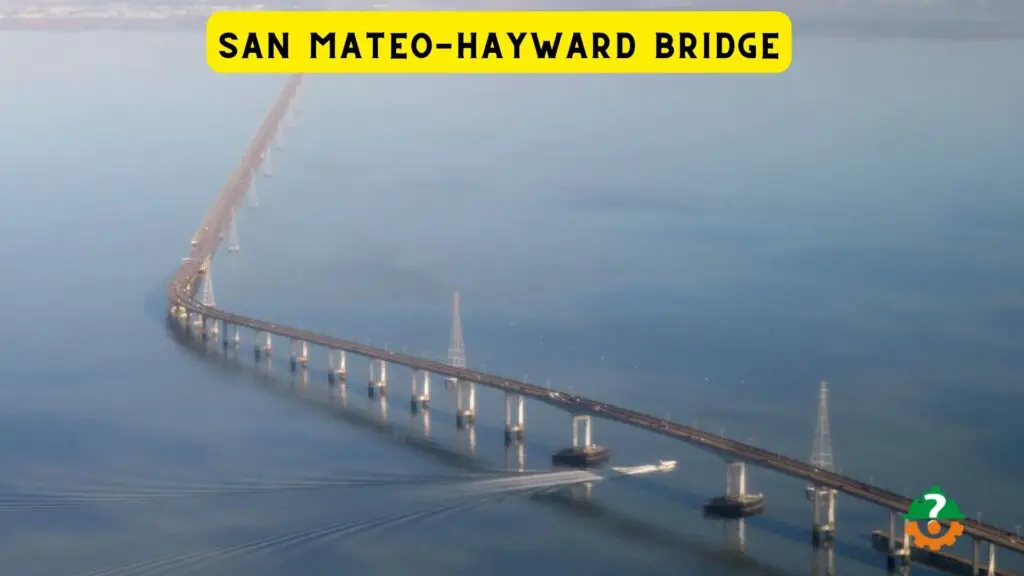 Seven Mile Bridge
Seven-mile bridge is bridge located at Florida Keys in Monroe County Florida, United States. It is constructed to link Knight 's key in the middle key to Little Duck Key in the Lower keys.
This bridge is 6.7 miles long and construction of this bridge was completed in 1912.The middle of bridge contains an arc for passing of boats. This bridge was constructed to promote trade towards Caribbean.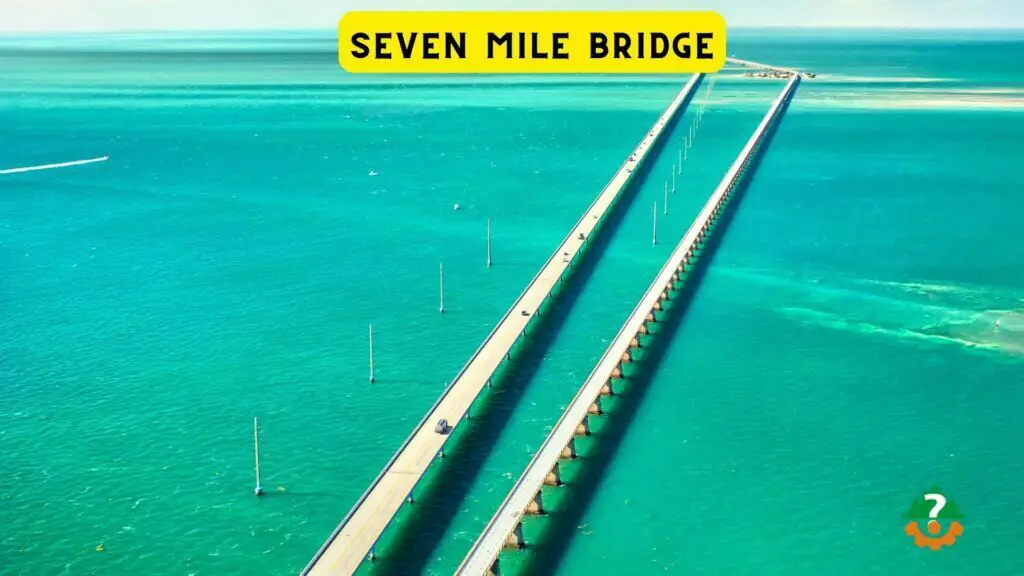 General W.k. Wilson Jr. Bridge
The General W. K Wilson Bridge is also called as Dolly Parton bridge is located across Mobile Tensaw River Delta northeast of US city of Mobile, Alabama. It consists of pair of long span bridge tied through steel arches and concrete beams.
 The total length of this bridge is 10km over the delta. It is a four-lane bridge. The construction of this bridge was completed in 1980. The name of this bridge is kept in honor of Walter K. Wilson who was a chief Engineer in US Army Corps of Engineers.
Further Read: What is pile foundation? 9 Types of Pile Foundation (Must Know)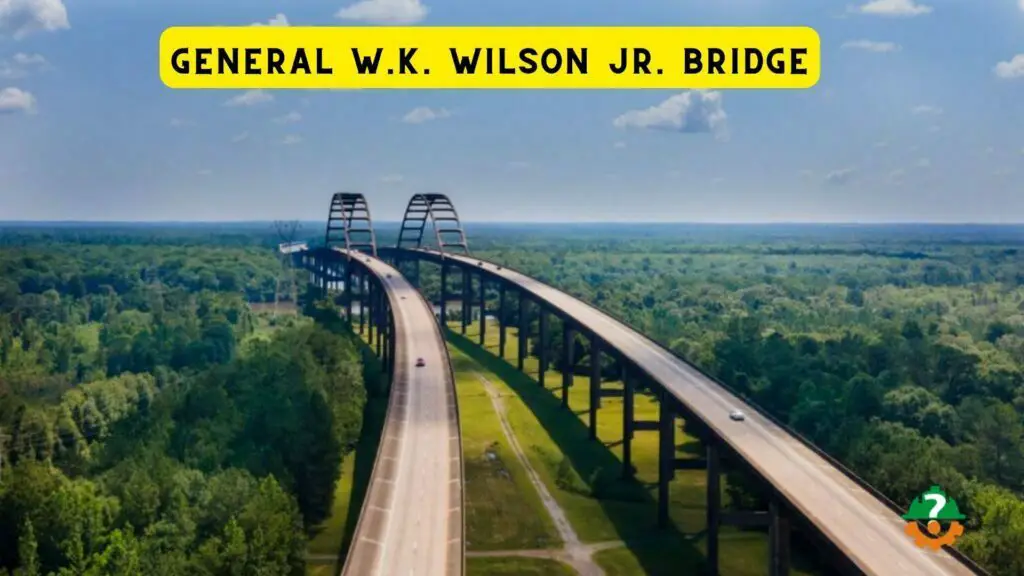 Green Yellow Professional Bar Chart Product Trend Graph
by STA Account