Aluminum scaffolding has become increasingly popular for construction, remodeling, and repair projects. But because of the plethora of benefits, we're also seeing it's applications in relevant industries and projects like railways, docks, fire protection, aviation, and telecommunication.
In this blog post, we'll discuss the advantages and disadvantages of aluminum scaffolding so you can decide if it's the best option for your construction needs.
Table of Contents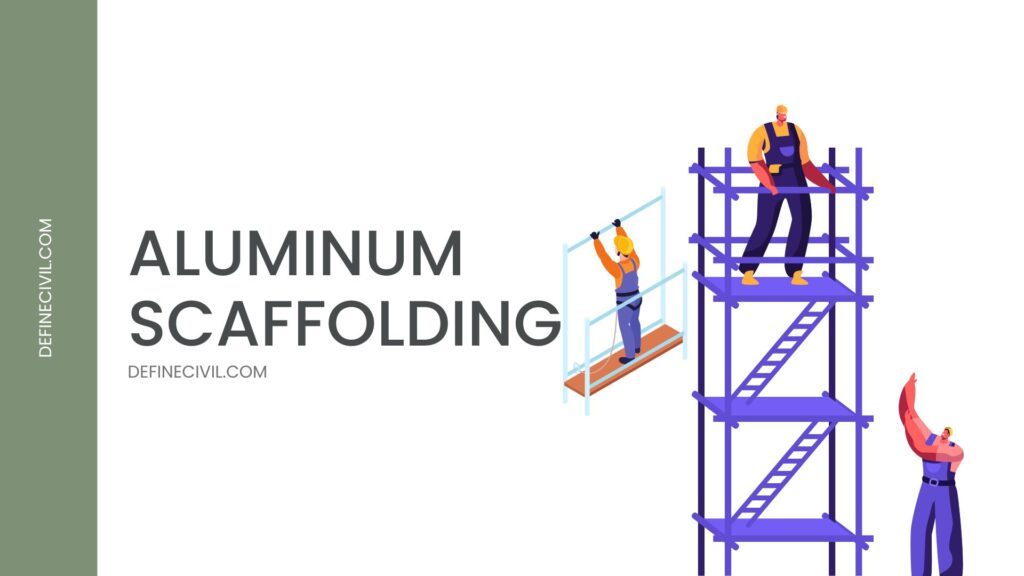 Uses of Aluminum Scaffolding
In typical construction projects, aluminum scaffold acts like a provisional structure or a temporary platform that support workers. Be it a modification to the exterior of a building or a repair in the interior; scaffold towers are a safe and easy access solution. It supports construction workers, inspectors, cleaners, and other labor that need to work at height.
Unlike steel, it is a lightweight alternative that helps easy maneuvering throughout project areas. Because of ease of handling, it improves productivity and pace of work.
While planning to work at heights, it is pretty important to plan an access solution that is durable and safe. Both contractors and construction professionals are adopting the use of aluminum scaffolding ladders, platforms, and towers because of the durability and cost-effectiveness. They come with lightweight design and can easily adapt your project requirements.
Also Read: Falsework – Types of Falsework – Applications
Pros & Cons of Aluminum Scaffolding
Because of number of benefits over steel and enhanced fabrication of such products, aluminum scaffolding has become more durable and flexible. They're equally popular now for both heavy duty and light weight jobs.
Lightweight – These scaffolding types are inherently lightweight. So, if you're looking to increase the speed of erection or construction work; it is an ideal choice. In comparison to steel or wooden support planks, aluminum scaffold help increase productivity by as much as 50%. It reduces the timeframe for erection and can drastically increase efficiency in completing projects well before deadline.
Easy to maneuver – Because of lightweight stature, overall they're easy to maneuver. Scaffold towers and platforms are stable and secure.
Installation Speed – To install steel scaffold, you need to have a work permit and engage only those professionals for installation that have received professional training. But in case of aluminum scaffolding, you don't need to engage an extensive construction scaffold workers.Any ordinary workers can easily install the scaffold without much hassle.
Durability – Aluminum Scaffolding system requires less maintenance. Unlike steel, they require less care as they're resistant against corrosion or rust even in humid areas. Because of ease of handling, there's overall less wear and tear to the access system.
Adaptability – Even if you have some special or unique requirements for your project, you can have a custom solution. With enhanced technology and advancement in manufacturing, be it some mobile tower or a platform; you can easily comply with project requirements.
Safety performance – Modern aluminum scaffolding has three-way straight-through connections that won't break easily. With deep processing methods of manufacturing, it won't break or crack. Overall, the scaffolding can bear great force with optimal safety performance.
Cost – Although the manufacturing cost of aluminum scaffold is bit higher than that of steel pipe; but with matching other benefits it has become a popular scaffolding type in Saudi Arabia and other gulf countries. Anyhow, due to ease of installation and durability, the cost of use is way less than that of steel pipes.
Also Read: Types of Construction Lifts, Scissor Lifts, Boom Lifts
Types of Aluminum Scaffolding
With significant enhancements and improvements in manufacturing of aluminum scaffolding; the market has several types of designs and types. Here're some common types of aluminum scaffolding:
Aluminum Scaffolding Tower
Tower scaffold or aluminum scaffold towers are now one of the essential equipment to have on a construction project. It is an alternative to aluminum ladders. Because of its adaptability, flexibility, and mobility; contractors and builders just love to have one on their construction and remodeling projects.
Unlike ladders, scaffold towers have large work platforms. So, it's best and safe for continuous work at heights. The labor can have their toolsets and kits right with them while working.
There's no issue with balancing and so it significantly reduces the chances of tipping over.
Another benefit is that you don't need to balance it against any wall or building.
Here're some variations or scaffold towers available in the market:
Narrow Scaffold towers – it has a single platform on each level that can easily fit in tight spaces on a tough job. With single width tower you can also have considerable saving in erection and dismantling time.
Narrow cantilever tower – Have got some obstacles while working? This type works best in tight areas. Be it some roofing inspection or doing a work on weak surface, this type of scaffold works best in tight situations.  
Aluminum Scaffolding Ladder
It is a ladder with single pole access scaffolding used in construction, formwork installation, and during repair work. They're available in different sizes and load capacity so it's best that you choose the ideal system for your project. Some modern products includes two piece extension ladder that you can easily transform from a ladder to a scaffold working platform.
If you're working for some temporary repair or want some immediate access solution for overhead works; you can use aluminum ladders or extension ladders. But to reach greater heights in excess of 10 meters, scaffold ladders are best. They're portable and cost-effective for light applications.
Also Read: 14 Construction Safety Tips for Your First Commercial Building   
Folding Aluminum Scaffolding
This foldable model of aluminum scaffold tower is best for low level access. Because of its portability and mobility, it is ideal for small scale applications. They're pretty quick and easy to erect. Some portable models can easily fit in small vans or estate cars. For working at heights, make sure it has proper handrail and knee rail braces.
Mobile Aluminum Scaffolding
As the name implies, the mobile access system is designed to easily move from one spot to another on the project. It acts as a portable and mobile access solution. The mobile aluminum scaffolding is all set on wheels to make it easy to move. It is a best type of scaffolding for project tasks like painting, plastering, changing lights, wall masonry, and other overhead works.
It is ideal for projects where worker need to quickly change or shift between tasks. Building and renovation industry use this on both indoor and outdoor works. Although its mobile and lightweight, but still is stable and secure system.
How to choose the best type of scaffolding for your project?
When it comes to choosing the right scaffolding for your project, there are several factors you should consider:
Weight
Aluminum is much lighter than steel scaffolding, making it easier to maneuver around the job site. Different projects has different requirements; so it's best that you choose the a type whose weight can easily be handled.
Height
Aluminum scaffolding can be constructed to a greater height than steel scaffolding, allowing for taller buildings and structures. However, make sure to firmly secure it in place and regularly do inspection for safety purposes.
Maintenance
Aluminum scaffolding requires little to no maintenance, which can help reduce costs over time. However, it may require occasional repainting or other forms of upkeep to maintain its aesthetic.
Cost
Aluminum scaffolding tends to be more cost effective than steel scaffolding due to its lighter weight and easier maintenance requirements. However, it may be more expensive upfront depending on your project's needs.
Durability
While aluminum scaffolding is strong and durable, so make sure you know your project's environment, climate, and surroundings. 
No matter which type of scaffolding you choose, it's important to make sure it meets the requirements of your project and is safe to use. Be sure to research all your options before making a decision, and consult with a professional, if necessary.
If you're looking to work at heights, we recommend scaffolding from PivotScaffold.
The bottom line
So, now that you're well aware of the different types of aluminum scaffolding and their benefits, it's your turn to choose a type that best meets your company's requirement. If you need any further assistance or want to know about particular type in detail; you can comment below and we'll be happy to help you out.