Construction in 2022 will be changing drastically. New apps are being developed to help construction workers streamline their jobs and create amazing projects faster and easier than ever before. There is an app for everyone, and construction workers are no exception; construction apps help contractors and construction workers with their jobs from start to finish.
These digital tools can be downloaded on phones and used for automation of daily tasks, storing documents, managing projects, and much more.
There are some construction apps you need to have if you work in the construction industry. You just need to have internet service with you especially when you are at the construction site, and you can use these apps for your benefit.
Speaking of internet service, if you are looking for one that can keep you connected at home and on the go, consider Spectrum as it offers superfast in-home Internet that comes with FREE nationwide Wi-Fi as well.
Now that your connection is sorted out, check out our picks for the best construction apps down below:
Table of Contents
1. All-in-One Calculator
Taking measurements and doing calculations is an important part of a constructor's job. The All-in-one Calculator will help you be more productive and efficient at the construction site, by helping you with simple to complex calculations.
This app was designed by keeping simplicity in mind, and can help you with everyday calculations, from finding area, volume, and percentages, to rather complex calculations that require conversion formulas. This app is Free to download and use and is a great tool to have with you as a construction worker.
Also Read: Importance of Technology in Architecture
2. LetsBuild
A construction project is divided into various phases, including the planning, implementation, performance and monitoring, and closing phase. The planning phase is further broken down into different stages, including the initial meeting between client & contractor, the layout of the project objectives, the setting of a Budget, the Initial Schematic Design, and the analysis of the Construction Site.
All these stages need to be recorded and stored so that no information is scattered or missed by any team member.
Thus, traditional paper records have become obsolete due to their inefficiency in keeping things secure and accessible, and smart tools have taken their place. LetsBuild is one such app that enables you to improve your efficiency, collaborate with your team, and improve the decision-making of a construction project.
It is a great app for teams looking for ways to see their construction sites in real time and prevent risks and delays associated with miscommunication.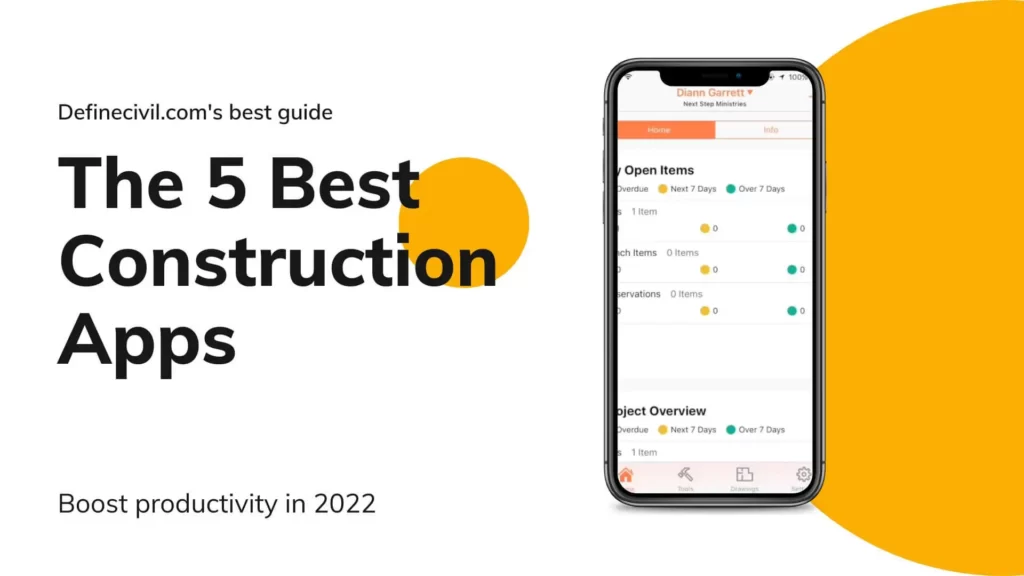 3. Procore
Procore is among the leading construction management apps which connects over 2 million professionals around the world. It allows all the members of the project team to improve the efficiency of their work; owners can take control of each construction process by keeping an eye on the construction site, contractors can deliver projects on time and within budget, and the rest of the team can stay in touch with each other at all times with Procore app. It allows you to have all your project management, safety, and financial needs met in one place.
4. Fieldwire
Fieldwire is an app that allows each member of the project team, from a foreman to the construction manager to come on the same page and collaborate as they work towards the completion of a construction project.
It keeps track of each part of the process allowing managers to know exactly who did what and what best practices can be utilized in future projects to maintain the efficiency and quality of projects.
Fieldwire allows general contractors to keep track of their progress in real-time and boost their onsite coordination to deliver the best results on time. Its features include real-time messaging, tasks and punch lists, scheduling, and reporting. It is an excellent app if you want to capture and control all your data in one spot. So no matter how small or big your construction team is and how big of a project you are handling, Fieldwire is sure to assist you at every step.
Also Read: Benefits of CAD software for civil engineers
5. Zoho Projects
Looking for flexible project management software trusted by millions of worldwide users? Look no further; Zoho Projects is here to help you keep track of your construction project even on the go. Its integration with other Zoho products such as mail and calendar will keep you alert and inspire you to get things done on time.
Its cloud-based system not only allows you to collaborate at any time and from anywhere but also keeps your data secure. So turn your project into a success story with Zoho Projects app.
Why You need to use apps on construction site?
My successful career in the construction field for 10 years is like completely depend in the use of modern up-to-date apps and softwares.
I've been using collaborative web-based apps to convey construction drawings in our group of construction managers as well as the use of management apps to keep track of activities at site and avoid delays in projects.
Now in 2022, there's like an app with modern functionality for almost all the activities you perform at site. For example, if you're a foreman working for safety of a site; you've got risk-mitigation apps (iAuditor). Similarly, if you're at site and can't find a drawing in the hardset; you can easily fetch one from document archive of your project.
Here're some of the areas where you can boost productivity by the use of the modern mobile apps in 2022:
Project Management
Apart from Procore and Let's build, there're number of other construction and project management apps and tools lik Flowlu, Teamwork, WorkflowMax, and Project Managmenet –Project 3.
These project management apps and built-in modules that let you perfrom tasks like:
Cost Control: Keep track of all costs related to your project including labour costs, materials, and insurance among others. It's the best module to avoid project overruns.
Cloud Tools and collaboration: Save your plans securely online so you have access no matter where you are; even offline. It's best to have drawings or blueprints available everytime you go to site or are on a metting.
Planning: Track every aspect of the design process including floor plans, 3D views, electrical layouts and pipe layouts among other things like rendering designs or drawings quickly.
Image Storage and editing: Improve images with specific filters such as sharpening, blurring backgrounds or cropping photos easily. You can keep a pictorial record of site sorted by date to track progress and make reports easy.
These apps have web-based, android, and iOS version. You can purcahe different plans that are paid on monthly basis. Typical subscription costs are like $10 to $300 or more.
Collaboration
These are the best category of apps that I've used and love them on construction sites. Collaboration platforms and apps let you maximize producitivty and become a high-performing team.
Construction projects involve number of different trades, suppliers, subcontractors, and group of teams. Any sort of miscommunication can be fatal for any project. Infact, poor communiation can cost you around 50% of the money.
Also Read: How Much Does A Floor Plan Designer Cost?
Collboration construction apps let you analyze a situation a lot quikcker and make instant decisions to transform the way you work at site. These apps are cloud-based and they store every piece of information you have from drawing transmittals to specifications, As-builts, punches, design change orders, from quantity witness to planning, from rendering to updating drawings.
They take care of meetings, emails, correspondence, change orders, blueprints, method statements, presentations, and letters. They're best to go paperless on projects.
To Wrap Up
Construction apps help you in managing your projects, perform calculations, store data, and collaborate with your team. Above, we have mentioned some of the best construction apps that you need to have on your phone if you are a construction worker and want to improve the quality of your work while reducing the risk of errors without having to put in the extra effort.