In today's construction world, both construction collaboration and project management are vital processes. They work together to make construction projects smoother and more efficient. Many construction project management tools also support collaboration, aiding in the control of critical project factors like time, costs, and quality.
According to a report by Autodesk, trusted construction teams prioritize creating collaborative environments and using collaboration-centric strategies, with 43% of these teams focusing their efforts on this approach. This is where construction collaboration plays a crucial role.
Table of Contents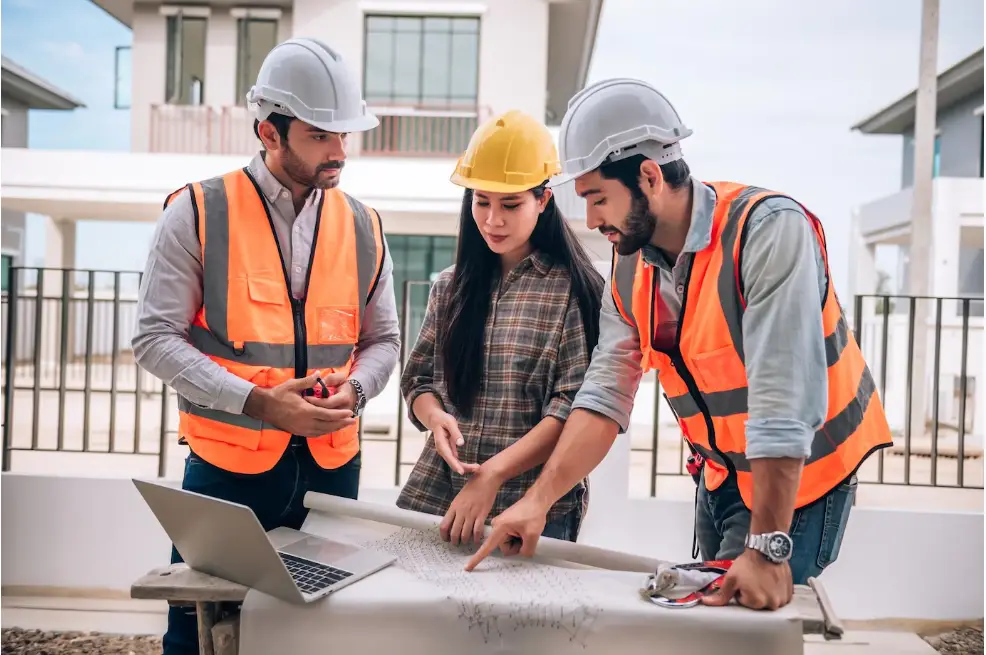 What Is Construction Collaboration?
Construction collaboration, in simple terms, means multiple teams working together on a project. Ideally, all parties involved share the project's goals and contribute toward a common objective, eliminating competition and gatekeeping.
Effective collaboration in construction yields numerous benefits, including better results, fewer delays, increased profits, and more. Collaboration is a cornerstone of success for many construction companies.
However, implementing collaboration in construction can be challenging. The construction industry is old and somewhat fragmented. Competition exists not only between construction companies but also among different teams, stakeholders, and project contributors. Often, short-term personal goals take precedence over shared long-term project goals.
Many construction contracts follow a segmented approach, where each part of the project has its own team or stakeholder. This can hinder the understanding that each segment is part of a larger, comprehensive process.
Moreover, projects are often approached with a competitive mindset, leading to disputes, conflicts, and project delays. Such competition also hampers coordination between different project parts, creating further delays and issues. Subcontractors may not always be treated as equal partners, adding to conflicts.
Successfully fostering construction collaboration is a lengthy, costly process that faces resistance to new techniques and methods. However, the long-term benefits are cost-effective.
In the competitive construction industry, increased collaboration brings positive results. Yet, there are challenges, including:
Resistance to change in the conservative construction industry.
Initial costs of implementing new systems for collaboration.
Challenges like training during the adoption of new strategies.
Motivation is key. When done right, construction collaboration offers several benefits:
Improved Work Quality: Efficient communication leads to better project efficiency and fewer errors.
Enhanced Reputation: Completing projects without issues boosts a company's reputation.
Fewer Delays: Direct communication reduces project delays caused by errors.
Satisfied Clients: Transparent communication benefits clients, reducing their resources and time investment.
Reduced Resource Waste: Timely issue resolution saves money and resources.
Accurate Budget and Time Estimates: Access to project information facilitates precise estimates and deadlines.
In summary, fostering collaboration in construction is challenging but rewarding. It leads to better project outcomes, client satisfaction, and efficient resource utilization, ultimately benefiting construction companies in the long run.
If you have a rental business, you can use property management tools to streamline rent collection, maintenance requests, lease agreements, and tenant communication. You can also work with software outsourcing companies to help you create custom tools and solutions that will improve your rental business.
Also Read: Efficient Document Management for Construction Projects
Construction Collaboration Software Tools
Construction collaboration aims to foster trust among participants, streamline processes, define roles for each team, facilitate communication, and more. In the modern construction landscape, specialized software plays a pivotal role in achieving these goals. Construction project management software is a key player in this context.
There are three primary types of construction software suitable for collaboration efforts, each with its own unique strengths:
1. Building Information Modeling (BIM) Software:
BIM software offers comprehensive 3D modeling, widely favored in the construction industry.
It provides a virtual representation of a design, enabling testing before physical construction.
BIM enhances insight into a project's current status, a significant improvement from traditional project updates.
BIM acts as a centralized repository for project-related information, reducing inconsistencies and communication errors.
2. Project Management Software:
Project management software simplifies project management, optimizing workflows and decision-making.
It serves as a hub for data exchange among different parties and gathers essential information for stakeholders.
Features may include bid management, customer service tools, budget estimates, document management, resource management, and more.
Centralizing information from various stakeholders facilitates accurate project length estimates, budgeting, deadline setting, and quality assessment.
3. Resource Management Software:
Resource management software allocates, organizes, and plans project resources to meet requirements and schedules.
It aims to maximize resource utilization, with digital solutions offering valuable assistance.
Resource management software aids in resource allocation, tracks progress, and reduces errors due to miscommunication.
Additional features include asset tracking, cloud backup, qr code support, GPS integration, and more, streamlining workflows and reducing downtime.
Additional Collaboration Tools:
In addition to specialized software, file-sharing services and video conferencing tools also play a crucial role in construction collaboration:
File-Sharing Services (e.g., Dropbox, Google Drive):
These services enable data sharing among users, a vital aspect of construction collaboration.
Consider factors such as pricing plans, security measures, storage limits, and encryption capabilities when choosing a service.
Video Conferencing Tools (e.g., Slack, Skype, Zoom):
Video conferencing tools facilitate communication among project members, especially in the era of remote work.
Features often include versatile file sharing, detailed screen sharing, meeting recordings, chat capabilities, and more.
Google's G-Suite:
G-Suite offers a suite of integrated tools, such as Drive, Calendar, Gmail, Docs, and Sheets, enhancing team communication and collaboration.
Google's solutions seamlessly work together, simplifying workflows and enabling collective input.
Best Construction Collaboration & Management Software tools
Procore
Introduction: Procore is a unified platform designed to streamline construction project management, offering features for risk management, project quality, project safety, and budgeting. It serves as a construction collaboration software, connecting people, applications, and devices.
Key Features: Procore provides various products in categories like Construction Project Management, Quality & Safety, Construction Financials, etc. It enables remote access to projects, ensuring real-time updates, effective communication, budgeting, scheduling, and comprehensive construction tracking.
Pricing: Procore's pricing is not publicly available on its website. You need to request a quote directly from the software provider.
Pros:
Workflow centralization.
Extensive learning materials.
Real-time updates.
Comprehensive construction tracking.
Effective communication.
Cons:
Steep learning curve.
Limited toggling between submittals or RFIs.
Some processes are time-consuming.
Occasional slowness.
Also Read: Civil Engineering Software List (You should know)
Revizto
Introduction: Revizto acts as a collaboration platform for 2D and 3D workflows, facilitating communication between project participants during all construction phases.
Key Features: Revizto offers features like clash management, issue tracking, VR support, 3D/2D model synergy, a user-friendly interface, and data centralization capabilities.
Pricing: Pricing information for Revizto is not public; you need to request a quote or schedule a demo.
Pros:
Robust issue tracking.
Specific clash assignment.
Integrations with BIM and CAD solutions.
Coordination and collaboration tools.
Cons:
Performance issues with large project files.
Learning curve for UI.
Challenging data filtering.
Limited customization in reporting.
Jonas Enterprise
Introduction: Jonas Enterprise is a comprehensive construction project management software, focusing on small businesses. It features job costing, tool crib module for tool tracking, scheduler, and timesheet automation.
Key Features: Jonas Enterprise includes job management, job cost tracking, tool management, scheduler, and automated timesheets.
Pricing: Jonas Enterprise provides custom quotes tailored to each client's needs.
Pros:
User-friendly interface.
Centralized project cost overview.
Comprehensive feature set.
Cons:
Quotes through work orders only.
Some features are overly complex.
Software may have bugs.
ProContractor
Introduction: ProContractor is an all-in-one solution for small businesses, focusing on financial operations, estimating, accounting, and project management.
Key Features: ProContractor offers 3D visuals for accurate estimating, information centralization, labor and cost comparison, and a drag-and-drop feature for data management.
Pricing: ProContractor's pricing details are available by requesting a quote or scheduling a demo.
Pros:
Cloud-based for remote access.
CAD file importing.
Simplifies takeoff management.
Cons:
Inconsistent field integration.
Frequent and slow autosave.
Mobile app needs improvement.
Spectrum
Introduction: Spectrum Construction Management Software by Viewpoint is an ERP system with tools for materials and equipment management, document control, accounting, project management, HR, and payroll.
Key Features: Spectrum offers a wide range of construction management tools, accessible through a web interface.
Pricing: Spectrum's pricing details are available upon request or by scheduling a demo.
Pros:
Ease of access from anywhere.
Robust feature set.
Web-based for easy maintenance.
Cons:
Some accounting features are missing.
Limited detailed reports.
Difficulty in creating custom reports.
Sage 100 Contractor
Introduction: Sage 100 Contractor (formerly Sage Master Builder) is an integrated business management and accounting system for small and medium-sized contractors and subcontractors.
Key Features: Sage 100 Contractor offers features like purchase orders, job costs, customizable reports, subcontracts, and more.
Pricing: Sage 100 Contractor provides pricing information upon request or scheduling a demo.
Pros:
Integrated business management.
Various optional modules.
Customizable reports.
Cons:
Complex custom report generation.
Lack of detail in reports.
Inconsistent integrations.
GanttPRO
Introduction: GanttPRO is a project management software focused on Gantt charts, offering task scheduling, dependencies, and collaboration features.
Key Features: GanttPRO allows task grouping, scheduling, dependencies, and offers customizable Gantt charts.
Pricing: GanttPRO offers four pricing plans, ranging from Basic to Enterprise, with varying features and pricing.
Pros:
Collaborative features.
Customizable Gantt charts.
User-friendly interface.
Cons:
Relatively high price.
Limited mobile app capabilities.
Performance may slow with complex charts.
CoConstruct
Introduction: CoConstruct is a web-based construction project management tool offering customization and flexibility for construction activities, designs, and materials.
Key Features: CoConstruct offers customization, content tracking, lead tracking, client portals, and order management.
Pricing: CoConstruct offers three pricing plans: Essential, Advanced, and Complete, with varying features and pricing.
Pros:
Efficient communication and management for multiple projects.
Estimating and job tracking in one place.
Centralization for tasks.
Cons:
Challenging data export.
Overcomplicated basic tasks.
Limited image descriptions.
These summaries provide key information about each software, its features, pricing, pros, and cons, making it easier to compare and evaluate the options.
Fieldwire
Introduction: Fieldwire is a project management solution for construction teams of all sizes, emphasizing collaboration and coordination.
Key Features:

Available on iOS, Android, and Windows (beta).
Effective communication tools.
Information sharing with photos and documents.
Emphasis on user creativity.

Pricing:

"Basic" (Free): Task management, checklists, plan viewing.
"Pro" ($54/user/month): Custom task statuses, reports, sheet comparison.
"Business" ($74/user/month): BIM viewer, custom forms, file storage sync.
"Business Plus" ($89/user/month): RFI creation, submittals, change orders.

Pros:

Facilitates clear communication.
User-friendly and accessible files.

Cons:

Limited budget tracking.
Limited preloaded items.
Weekly reports from daily ones not possible.
STACK
Introduction: STACK is a construction project software focusing on preconstruction processes, offering cloud-based solutions.
Key Features:

Cloud-based collaboration.
Detailed archive of assemblies and items.
Simple onboarding.

Pricing:

"Takeoff & Estimating" (Starting at $2,499/user/year).
"Field Productivity" (Starting at $599/user/year).
"Project Management" (Starting at $3,588/company/year).

Pros:

Extensive collaborative capabilities.
Detailed archive.
Simple initial setup.

Cons:

Tricky software navigation.
High price and short trial period.
Expensive for multiple users.
SiteMax
Introduction: Sitemax offers centralized construction software to improve efficiency and coordination.
Key Features:

Customizable digital interfaces.
Time management features like geo check-in.

Pricing:

"Lite" ($24/user/month).
"Pro" ($399/month for 5 users).
"Power" ($599/month for 5 users).

Pros:

Streamlined daily job reports.
Real-time tracking for crews and tools.

Cons:

Mobile app time tracking challenges.
No Gantt-like project schedule overview.
Limited integrations with other solutions.
Knowify
Introduction: Knowify is a project management platform focusing on job estimates, labor, and material budget tracking.
Key Features:

Frequent content updates.
Extensive time tracking.
Easy invoice generation.

Pricing:

"Essentials" ($186/month for 1 user).
"Advanced" ($311/month for 1 user).
"Unlimited" (Pricing not public).

Pros:

Regular updates with new features.
Robust time tracking.
Easy invoice generation.

Cons:

Quickbooks synchronization issues.
Limited mobile app capabilities.
Primarily aimed at contractors.
Contractors Software Group
Introduction: Contractors Software Group offers integrated applications for construction management, emphasizing affordability and CRM tools.
Products: Estimating, scheduling, project management, job cost accounting, CRM.
Pricing: Request a personalized quote.
Unique CRM tool for sales improvement.
Affordable and customizable for small businesses.
Projectmates
Introduction: Projectmates is a project management software for construction and capital projects, focusing on data security and reliability.
Key Features:

Dashboard for data visualization.
Contract management for accounting.

Pricing: Request a quote or demo.
Pros:

Data security and reliability.
Real-time project updates.

Cons:

Expensive pricing.
Not reasonably priced for some users.
eSUB Cloud Subcontractor
Introduction: eSUB Cloud Subcontractor focuses on scheduling and management, providing real-time updates and cloud-based accessibility.
Key Features:

Documentation of daily activities.
Integration with Microsoft Office tools.
Project organization capabilities.

Pricing: Part of eSUB Cloud software (Base: $49/user/month, Advanced: $69/user/month).
Pros:

Real-time updates in the field.
Extensive project organization.
Integration with Microsoft Office.

Cons:

Complex system menus.
Outdated interface.
Limited support for uploading project drawings.
Each software has its strengths and weaknesses, so choosing the right one depends on your specific needs and preferences.