One of the advantages of owning a laser engraver is the wide range of materials that may be engraved. Traditionally, laser engravers have been too expensive for the average person, but the advent of low-cost models has made it feasible for anybody to start a laser engraving firm like The Engraving People . All you have to do now is buy a decent laser engraver, choose the finest material possible, and you're ready to go!
Some of the most popular laser engraved materials include:
Acrylic
Metal
Cardboard and paper
Fabric
Leather
Marble and granite
Stone and brick
Wood
Glass
Also Read: What is concrete grinding? How to do it? 
Marble And Granite Laser Engraving
Engraving pictures on marble and granite is a fantastic idea. This is because when etched, granite and marble offer an excellent contrast. You won't need to add colour if you use dark-coloured marble or granite. The resulting image should be white or black, depending on the job.
How do you know which type of marble or granite to use?
The most basic way to choose between marble and granite is to discover where the engraved item will be exhibited, such as whether it will be a wall hanging in a home or an outdoor exhibit. If the item is to be kept within, either marble or granite is acceptable.
However, for any components that will be exposed to the weather, granite is the best material. That's because granite is a more durable substance than marble. In terms of hardness, marble is rated a 3 on the Moh scale while granite is graded a 7. In terms of hardness, marble is comparable to diamond, which has a 10 on the Moh scale.
Bricks And Stones Laser Engraving
Bricks and stones are also excellent for etching outdoor items because they are just as durable as granite. Bricks may be used to create stunning pieces for outdoor patios, memorial sites, and other similar projects. In Parkway systems, walkways, and schools, laser engraved bricks are frequently employed as a contribution method.
Wood Laser Engraving
Engraving is a popular art form because you can utilize almost any type of wood and numerous laser cutting and laser engraving approaches to producing a wide range of effects. The following are some of the most commonly engraved woods.
MDF
HDF
Veneers
Precious woods
Real wood, Natural wood
Solid timber, Solid wood
Plywood
Chipboard
Cork
Also Read: SPC Vinyl Flooring – Difference with WPC flooring- Advantages  –  Cost
Glass Laser Engraving
To create stunning outcomes, laser engraving may be done on almost every sort of glass object. Some of the things that might be engraved include mugs, vases, wine bottles, and wine glasses. To imprint their logos on their bottles, many well-known wineries and distillers employ laser engraving.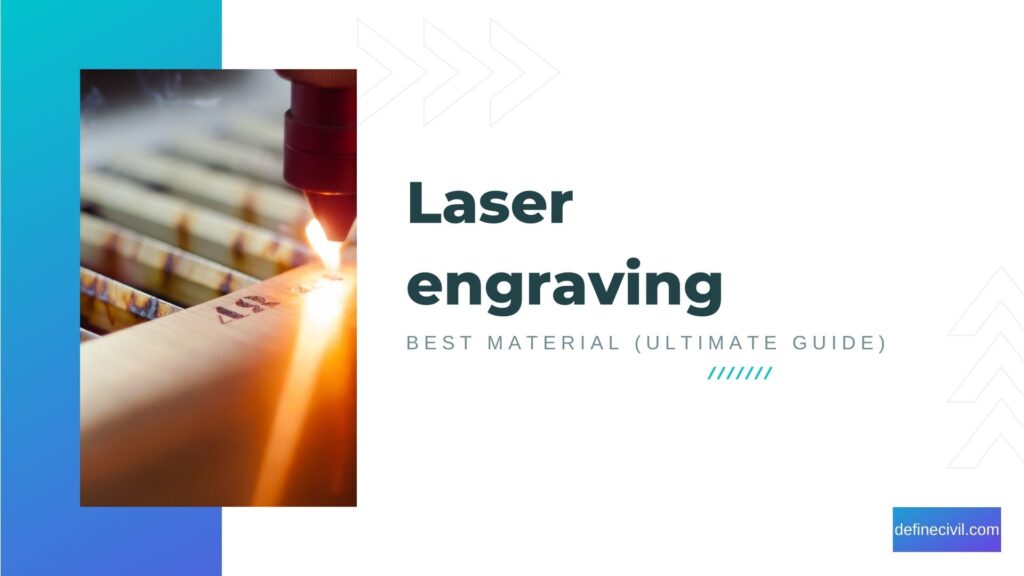 Acrylic Laser Engraving
Acrylic sheets, sometimes known as polymethyl methacrylate (PMMA) are both lightweight and long-lasting. Both cast and extruded PMMA can be produced.
Acrylics are available in two forms that differ in how they react to laser engraving. The frosty white appearance of cast PMMA provides a striking contrast to its transparent substance. On the other hand, extruded acrylic is clear when engraved and does not offer much contrast. Extruded acrylic is ideally suited for a laser cutting job, whereas cast acrylic would be ideal for all other laser engraving projects.