A deck is more than just an extension of your home – it's a place for your outdoor relaxation. It is a place where you gather with family and friends, enjoy sunny days, and create lasting memories.
But have you ever wondered, "How can you make it beautiful and safe?" If yes, you have come to the right place.
In this blog, we will dive into some of the easy ways to make your deck protected while maintaining its beauty.
Ready? Let's get started!
Table of Contents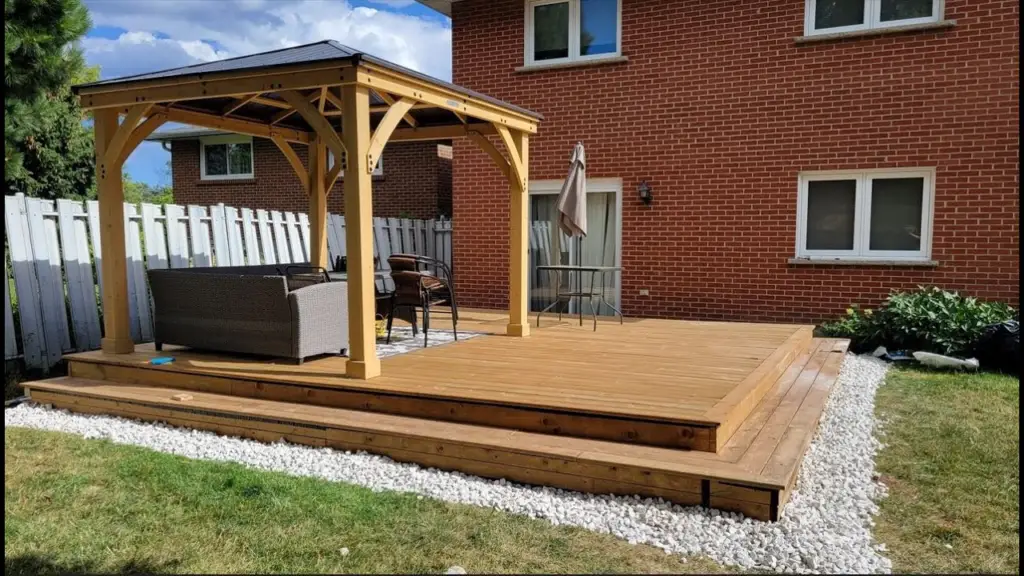 Quality Construction Matters
When it comes to creating a safe deck, quality construction should be your top priority. Why? Because quality equals safety. The first thing to consider is the material used for construction.
When choosing the material – think durable and weather-resistant. Rain, sun, wind – your deck should take it all without showing signs of wear and tear.
So, whether you choose wood or strong composite materials designed to tackle tough weather, it's like giving your deck a super-strong shield. And what's the payoff? Well, you get a deck that doesn't just look fantastic but also stays strong and reliable for years to come.
Also Read: Swimming Pool Deck Material – Deck Surface and Flooring Materials Options
Sturdy Railings
The railings play a crucial role in your deck's safety. But this doesn't mean you have to compromise with the design.
For example, if you're looking to add a touch of modern elegance to your deck, consider cable railings. These sleek, horizontal cables look stylish and provide clear views. Plus, they're a fantastic way to prevent falls while maintaining an open and airy feel.
But before you consider doing it yourself, it's a smart move to get the help of a professional railing contractor who has the expertise to ensure proper installation and safety. They will explain their material choices and design decisions to ensure the best railings for your deck. This will give you peace of mind as you enjoy your outdoor space.
Slip-Resistant Surfaces
While it might seem funny in movies, slips on your deck are no laughing matter. That's why it's important to have slip-resistant surfaces installed. They're designed to give your feet a little more grip, even when the deck gets wet.
So, if you live in an area where it rains unexpectedly or where your deck is close to a pool, these materials are your best friends.
Alternatively, you can consider roll-on anti-slip coating if you already have slippery decking surfaces. The coating works well on vinyl, laminate, and more. As a result, the floor grip will increase traction and prevent slipping.
Lighting for Visibility
When the sun sets, and the stars come out, your outdoor space can become cozy. But to truly enjoy those evening hours, proper lighting is key.
It helps you see where you're going, prevents accidents, and keeps your outdoor space inviting even after sunset. For this, you can consider lights that soak up the sun during the day and then shine brightly at night.
Yes, we are talking about solar-powered lights. But when picking solar-powered lights, consider factors like brightness, style, and durability that match your outdoor style.
Final Words
A deck is a space where you can unwind. Moreover, it's where you can fire up the grill, share laughter, and build lasting connections. By prioritizing its safety, you're not only safeguarding your loved ones but also cultivating an environment where everyone can enjoy.