Do not limit what your small backyards can do. Even with the space's size, you can create areas for fun and entertainment, like a swimming pool. And that is what this article will tell you about.
Table of Contents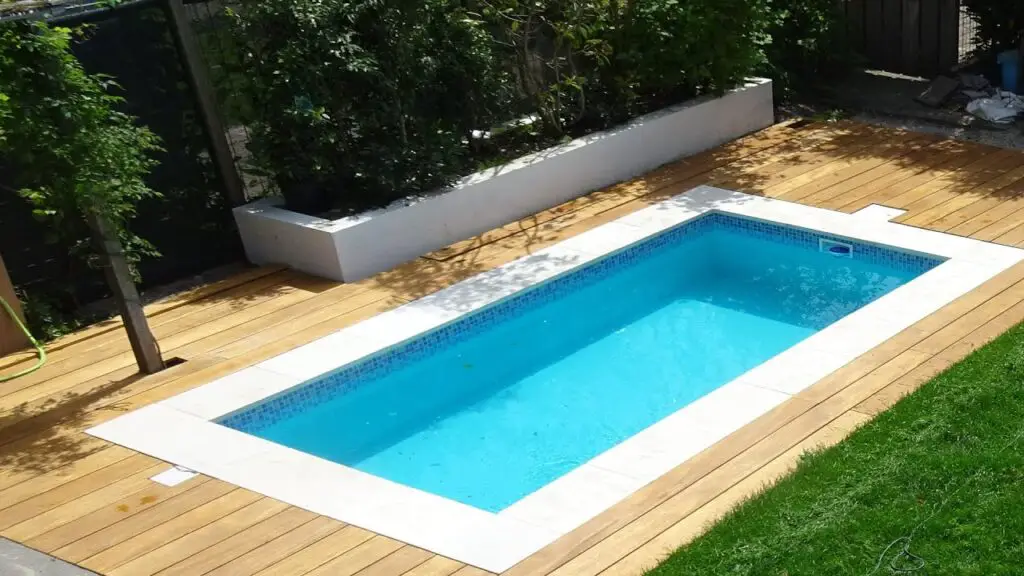 Swimming pool ideas for tiny spaces to widen your perspectives
You need to broaden your perspectives when planning and designing a small space. You must think outside the box. You may be wrong if you cannot fit a swimming pool facility in a micro-sized backyard.
There are specific designs and tricks to make a swimming pool work in a backyard. Most properties with small backyards or garden areas may not opt to add swimming pools.
Tiny swimming pool designs
Most property owners with minute outdoor spaces or backyard areas may opt to have something other than swimming pools. But many may also miss opportunities to add value to their properties and increase their worth.
Swimming pools are assets in your properties, so if you got one in your small lot, its monetary value would not be so small. And given that you maintain and keep the swimming pool facility in perfect condition, you can have a great resell cost in the future.
Learn how you can add a swimming pool to a small space from the following:
Plunge pool
First, you got this common pool design among the above-ground type of pools. Front the name itself, plunge you can picture how it looks. It is a size enough to fit a body in, and it can be as small as a tank that can hold up to 10 cubic meters of water.
It is a cozy pool spot you can add to your home where you can simply take a plunge. It does not have to be big, and you can dive. Sometimes all you need is a quick dip and plunge into a pool basin.
Mini-round pool
Sometimes the trick to fit a pool in a small yard is to use various shapes—usually a pure solid form.
This is where you may limit the swimming pool feature you like to use. The drawback is that you cannot use complex pool shapes and layouts.
But for something that is not linear but has a solid outline is a round or circular pool. A concrete pool decking finished with a fine aggregate can instantly turn this mini pool into a chic piece of art.
Also Read: Swimming Pool Deck Material – Deck Surface and Flooring Materials Options
Cement Pool
Next, something inspired by primitive pool builders. You may be amazed at how one person can build a modern pool by using a small shovel and by only digging out the ground manually.
You can apply this to your backyard; however, you do not have to excavate a foundation for your small cement swimming pool. If you want to connect with professionals who can create a luxurious swimming pool, visit here at www.heintzpool.com/ and ask them to design a thoughtful, modern design.
With these samples of luxurious pools, you can have an idea not because you have a small pool.
Endless Pool
An endless pool is a perfect example of a tiny pool for a tiny space. Typically endless pools are 8 feet by 15 feet in size. It is enough to have a single person swim one lapse inside the pool, even if it's small.
This type of tiny swimming is recommended for those with a backyard space of 10 feet or 18 feet. These designs have an above-ground layout. You do not have to dig up the ground to build this.
You can build it on a solid concrete slab as its base holder. With that design, it helps give it an illusion of space. Since it raises from 5 to 8 feet vertically, you can install a pool ladder on one corner to complete the look.
You can also have the endless pool heated as an alternative spa facility, and it is almost like having a jacuzzi. Moreover, these are also perfect for building pools on the rooftop of a condo.
Also Read: Quartz Pool Finish -12 pros that make it best swimming pool finish
Stock-tank Pool
One of the clever ways to build a pool for a tiny house is with a stock tank, and this design is quite popular in tiny house architecture. You can also watch one of two videos on Youtube about the tiny house or DIY off-the-grid homes, and they will feature stock tanks for a DIY pool.
Plus, it is more practical than building a swimming pool with gunite and copings from concrete, tiles, or fiberglass. You have the pool's water basin ready-made, and installers set it up in your backyard space.
There are many themes that you can incorporate with stock tank pools. You can make a rustic, country vibe backyard t match the metallic, sell appearance of the tank.
But it also surprisingly fits a modern-contemporary outdoor look. Consult an experienced exterior and swimming pool designer to pull off the perfect look.
Also Read:
Container van DIY pool
Have you heard of this? If this is your first time hearing something like a container van turned into a swimming pool, let our article educate you.
Like the stock tank pool, a container van is popular for any tiny hose-themed property. It is also quite popular for DIY warriors. Using this material also promotes sustainability and functionality, the same with stock tanks.
With the repurposed shipping containers, the size would be bigger. But you can use this in many space-saving ways. You can set it up as a semi-inground pool-above-ground design, perfect for uneven spaces with sloping lots or a terraced backyard.
There are now various agencies or suppliers of repurposed containers. It is easy to install with a fully built water basin for your swimming pool yard.
Edge-around Pools
When you have a tight space, you need to maximize every inch of it. Here comes the idea of edging, where you build the pool area on the ends of your yard, meeting the walls. This is a perfect solution when you have cemented exterior walls as the enclosure of your entire property.
To do this, remember to soften the surfaces of the walls to make comfortable pool edges.
Instead of having decks for the entire outline of the pool basin, build them on the farthest edges of your backyard and save space. This also makes for a cost-saving idea. You would only need to build pool decking on the other side.
Ensure a smooth transition, as the pool will be side by side with your porch or main patio.
Takeaways
Be brave to go out of the typical design and set up a backyard. Stay confident about having a small space. If you want a swimming pool, then go for it! These ideas are suggestions from popular tiny houses solutions. But you can search for more and find inspiration to finally design the pool that best matches your style and preferences.