A stunning and fantastic duplex front elevation design exhibits elegant architectural features that not just follow a theme and symmetry but also blends well with the surroundings.
Anyhow, designing the duplex to fit your style and budget is an overwhelming experience. So, it's best that you plan properly for your duplex elevation. That's because the curb appeal has a huge impact on the overall value of your property.
You can engage an architect to help you with idealizing the elevation design before it is actually finished. They'll take the measurements and offer different elevation designs schemes to help you pick one for your project.  
Also Read: Parapet Wall – Purpose – Designs – Types – Function – Size
But the process is not always simple. That's where we recommend using some modern duplex front elevation design ideas to have some inspiration. You can pick a design from our selection of best elevation designs for your homes with pictures without much hassle:
So, let's delve in:
Table of Contents
What is duplex elevation design?
Duplex elevation design is one part of the architectural drawings that can be a simple 2D or 3D rendered view of the building showcasing all the façade elements that help you visualize how it looks from the front. Some parts of duplex elevation include: parapet wall, boundary wall, main gate, windows, entrance door, porch, garage, and the façade.  
How to choose the duplex front elevation design?
The most important part for designing elevation of a duplex is to keep in mind the degree of unity. The architectural elements must be harmonious i.e. all the different elements and components of your duplex house must look interconnected and act as one part. You can repeat certain elements or patterns along windows, parapet, and the front wall.
We advise you to choose a style of scheme from below and then you can work through various elements and finishes to achieve the best duplex front elevation design:
Contemporary duplex elevation design
Modern duplex elevation
European Style
Traditional style
Combination
Know your budget
From all the styles above, you can choose and tailor a design to meet your budget requirements. It's best not to always keep your budget in mind as you can easily become overwhelmed resulting in projects going beyond budget.
Choose materials
Be it the wall paint, stone veneer, doors, windows, or parapet railing; your duplex home deserves sturdy materials that requires less maintenance but also look fabulous at the same time. Your façade can include use of sand stones, wall cladding, and elevation tiles.
Achieve harmony
You have various elements and design schemes so it's best that you integrate every element to look attractive and trendy. You should never try to overcrowd the building frontage. Instead, choose the elements carefully and design in a way to have a flow and relation between every element rather than looking likes a confusing mess.
Also Read: DIY TV Stand – Here're 10 unique plan and design ideas to build one.
Keep in mind natural light and ventilation
Your duplex elevation must incorporate windows and glass-sliding doors to allow ample sunlight and provide natural ventilation. With such, you cannot just reduce the energy consumption of the building but also it will make your house look spacious keeping the residents healthy.
Modern duplex house front elevation designs
Modern duplex houses incorporate latest trends and technology. It provides balance in the entire elements. They look simple yet elegant in appearance. Some homeowners prefer to have a minimalist design as it looks modern and stunning.
Here're some modern elevation designs:
Just see how best this design incorporates some natural planters in the design. The glass-sliding windows offer perfect view of the outdoors with the planters at the sill level. With sleek rectangular strips it includes protruding shades that offer a perfect scheme of design.
Also Read: Modern House Elevation – Design – Types
The glass parapet wall at the first floor offers maximum view of the outdoors from the top. The entrance door is simplet and modern with comfortable steps and ramp at one end. The design doesn't overload the artificial lighting but still manages well to offer ample glare to showcase lines straight lines.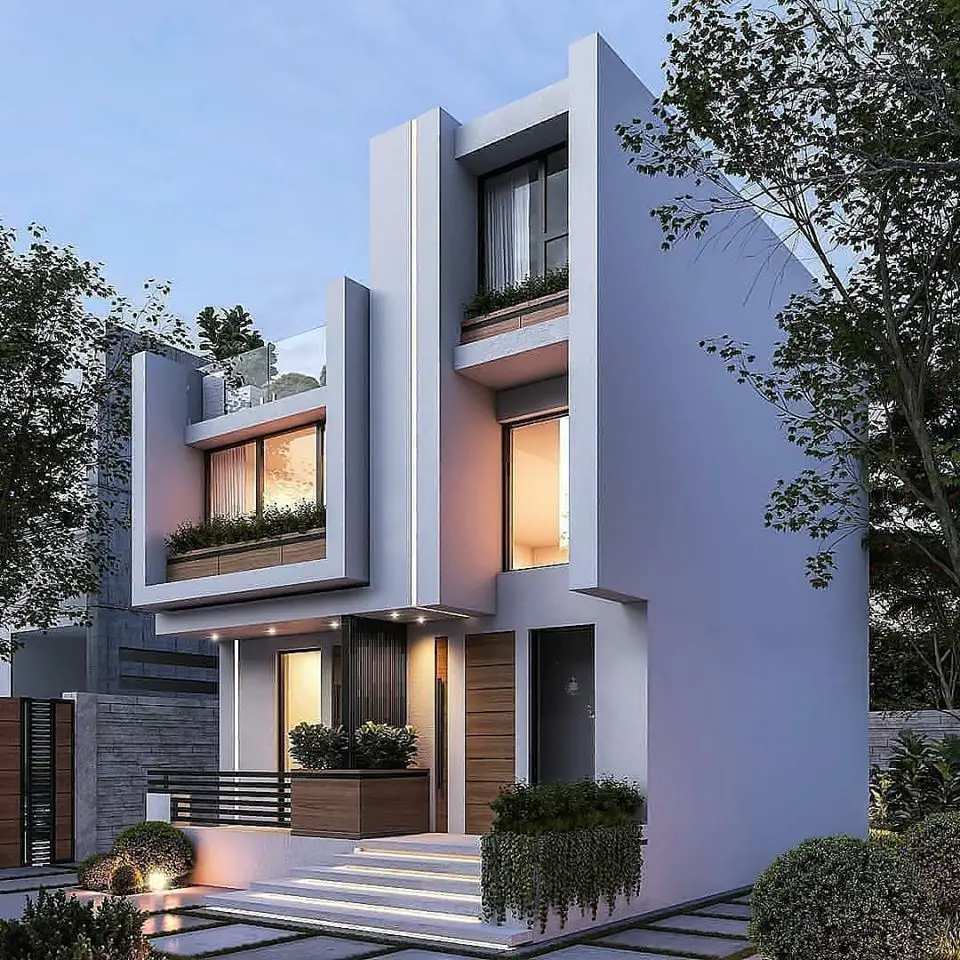 Here's a modern design for a 2-story duplex that comprises of two dwelling units. It's a perfect design if you have a small size area of lot. The elevation design features perfect lavender color with wooden-textured entrance door. The simple planters just blend easily among the contrasting design colors. The front boundary wall is perfect if you're looking for enhanced privacy.
Also Read: Single-Story House Façade Design Ideas (Guide With Pictures)
The best part of this design is that it incorporates sharp straight lines showing modern sleek design. The vertical patterned wall stands out on the front with cladding element at the back. You can choose to keep it clear as it will look stunning. The bright colors, elements in strips, and geometrical patterns make this design modern and elegant.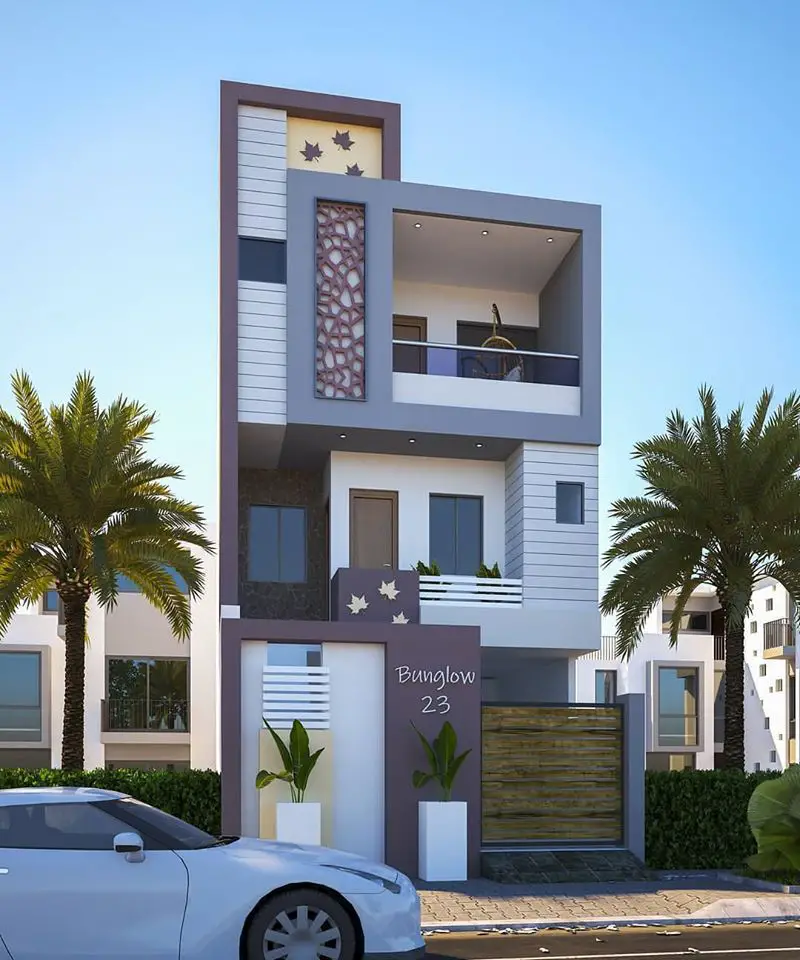 Also Read: House front wall cement design Ideas that wows in 2022
Luxury duplex home design elevation
If you're looking for some multi-story duplex house, this elevation design is perfect. The greyish lines blends pretty well with the white counterpart. The wooden-colored protruding shades stand out from the design. The planters border the big screen windows that look fabulous.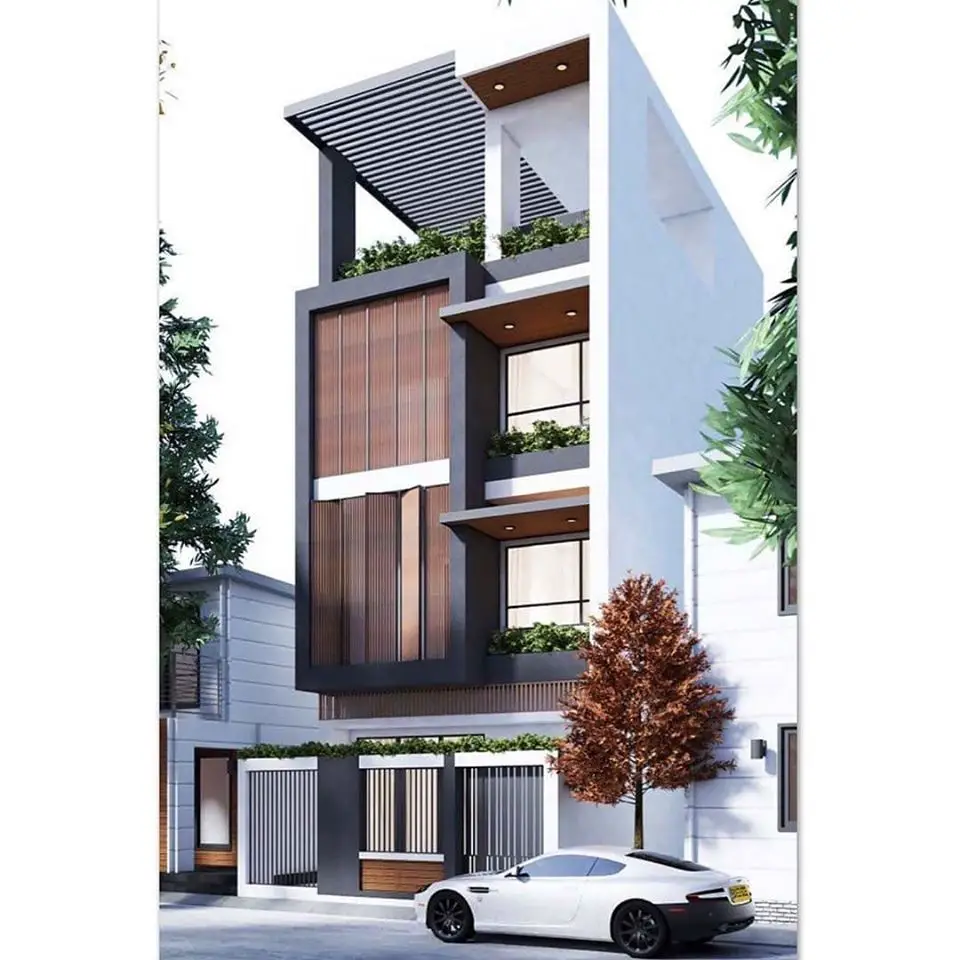 Also Read: Coastal Interior Design ideas – & Pictures
Single-story duplex house elevation design
A single-story duplex includes two living units that are attached, looks identical, and has separate entrances. Here's a perfect design idea incorporating dark greyish stone brick-textured tiles with wooden-textured columns and entrance stairs. At the first look, the contrasting colors can easily stand out among neighborhood. The wooden deck and the string parapet wall provide a perfect space to unwind and relax after a busy routine.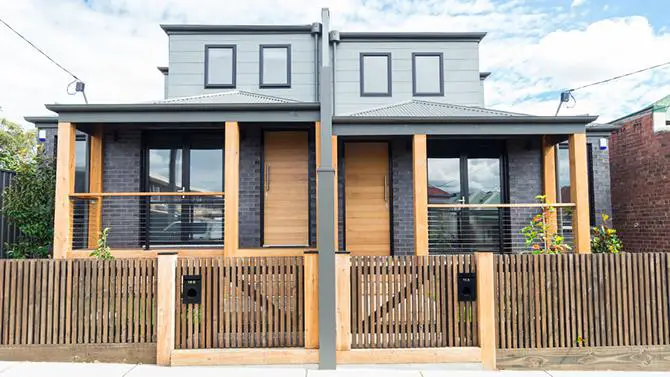 Further Read: How Much Does A Floor Plan Designer Cost?