Have you ever driven past a house and been impressed with its exteriors? Well, the truth is, home exteriors matter. You might have heard this phrase "First impression is the last impression". The same quote applies to your home exteriors.
Your home exterior is the first thing that passersby and your guests will notice, and it should be in top condition. Whether you're planning to sell your home or simply want to boost its overall appearance, enhancing the curb appeal should be your top priority.
And, enhancing the curb appeal doesn't have to be on the costlier side. Even by making a few changes here and there and investing in cost-effective renovations, you can make your home more inviting and visually appealing from the outside.
So, are you looking to enhance your curb appeal, but don't know where to start? Well, don't worry! Here we've come up with some of the best home exterior ideas which will make your property the envy of your neighborhood.
So, let's begin: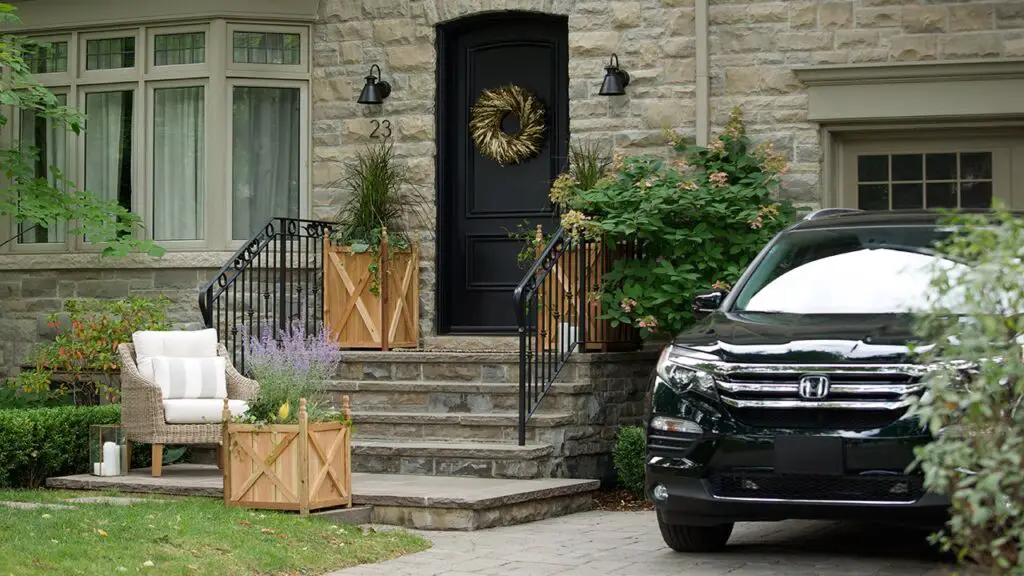 Table of Contents
Refresh The Exterior Paint
One of the easiest and most convenient ways to spruce up the exteriors is to refresh the walls with a fresh coat of paint. Know that a fresh coat of paint can add life to a worn-out exterior and make it a visually appealing facade.
Also Read: Curbs and Gutter – Detail – Types – Dimensions – Advantages
But choosing the right color shade matters a lot. Most homeowners in Arizona prefer to paint their home exteriors with darker shades. This is one of the biggest mistakes that most homeowners make. Going for darker shades may not contribute to the curb appeal and will make your home hotter, especially during the summer.
Instead of opting for darker shades, going for neutrals can be a better choice. Some of the best neutral shades include beige, taupe, gray, and shades of white.
Invest In Your Landscape
When it comes to enhancing curb appeal, the importance of investing in a landscape is often overlooked. A well-designed and maintained landscape will not only enhance the curb appeal but also increase the value of your property.
Also Read: How much does a civil engineer make in New Zealand?
But before you dive into planning a landscape, it is important to be prepared and have a clear plan in place. It is important to take into account the style and design of your home and plan the renovations accordingly.
During the landscaping process, you might accumulate a huge amount of debris, such as old fencing, tree branches, and construction waste. To keep your property clean and clutter-free, it is wise to rent a dumpster in Show Low, Arizona. It makes the clean-up process more efficient and ensures easy disposal of the waste.
So, having a well-thought-of plan will guide you on landscaping enhancements to ensure a visually appealing landscape.
Create an Inviting Entryway
Your entryway plays a key role in setting the tone for your entire home. So, make this space more inviting and welcoming for your guests by incorporating some decorative elements.
For example, you can use materials like stone or pavers which will lead visitors to your front door. Also, you can decorate the pathway with some beautiful plants and flowers to create a sense of charm.
These simple and cost-effective additions to your entry can make it more appealing and enhance the overall appearance of your paradise.
Also Read: Landscape Lighting Fixtures: Types & Ideas
Install Outdoor Lighting
Investing in high-quality outdoor lighting will not only boost curb appeal but also improves safety and security. So, it's a win-win!
When it comes to installing the outdoor lights, the sky's the limit. There's no dearth of lighting options in the market, ranging from cheap ones to expensive ones. For example, you can hang outdoor string lights on a wall or fence to brighten up your space. Also, you can invest in low-voltage path lights which offer easy and simple solutions to lighten up your pathway.
Know that investing in the right outdoor lighting will keep your space shining bright, even after the sun goes down.
Replace Your Garage Door
When was the last time you upgraded your garage door? If you don't remember, then it's high time to get it replaced with a new one.
An attractive garage plays an essential role in enhancing curb appeal. For example, if you're planning to give a rustic vibe to your home, then opting for carriage-style garage doors can be a good choice. They have decorative hardware and window inserts that mimic the style of old-school garage doors.
However, if you're looking for a modern design, then you should go for wood doors which are made of a variety of wood species. If replacing the garage door is not an option, consider painting it with a new shade to make it look like a new one.
Update The House Number
House numbers are part of the exterior elements of your home. If they are faded, rusty, or outdated, now is the time to get them replaced. And don't hesitate in bringing out your inner creativity during the placement.
If you don't want to drill the numbers, consider installing them on the garage door trim, a porch post, a fence, or a mailbox.
Focus On Windows
When you're planning to renovate your home, make sure to prioritize updating your windows. Updating your windows can allow the natural light to come in, and give your exteriors a fresh, new appearance.
If replacing windows is not an option, consider repainting or re-staining them to give them a new lease on life. Also, don't forget to install shutters that match your home's style to add a touch of elegance.
Do A Thorough Cleaning
A thorough cleaning of your outdoors like driveways, entryways, porches and patios can also work wonders for your curb appeal. It will help you get rid of accumulated dirt, grime, mold, mildew, and unsightly substances.
If left untreated, these substances can wreak havoc on the surfaces. A clean and tidy exterior can instantly spruce up your exteriors, making it visually appealing for your guests and passersby.
Wrap Up
Focusing on enhancing the curb appeal is important to make your property visually appealing and give a first good impression to the visitors.
By following the tips mentioned above, you can create an inviting and welcoming home exterior, and also make your neighbors jealous.