Are you excited and intrigued to embark on a house remodeling project but are kind of afraid about the process and how the things will proceed.
Don't worry!
In our today's blog I'll share with you about my experience from our recent home transformations. I'll share with you the before and after photos of home renovations.
I'm pretty sure you'll be amazed to know the dramatic transformation.
So, let's delve in and know about our dramatic house renovation: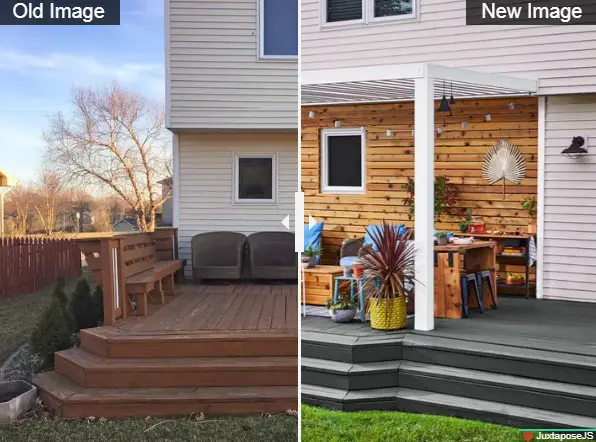 Table of Contents
From Outdated to Modern: A Home Transformation Story
So, I've got a small family with my lovely wife, and two kids living happily in a medium-sized single-family house.
Recently, we embarked on a home transformation project that completely changed the way we live in our home.
Also Read: How To Add Style To Your Home Decor With Tech Gadgets?
The problem
Before we started, our house was pretty functional, but it was far from our dream home. The kitchen was outdated and cramped, the living room was too small for our growing family, and the backyard was a mess. We knew we needed to make some changes, but we weren't sure where to start.
The kitchen was outdated: Our kitchen was old, cluttered, and had not been updated in many years. It featured outdated appliances, cabinets, and countertops that were no longer in style and did not function as well as newer models. The layout of the kitchen was also inefficient, with little counter space and a cramped feel.
Also Read: Old House Renovation Ideas (Make it Feel New & Modern)
The living room was too small: So, this living room of ours was small and cramped, making it difficult for the family to relax and entertain. I was literally very shy to call on my friends on a party as I know I would feel embarrassed over such a tiny living room. It was especially challenging for my family as my children were getting older and needed more space to play and do homework. My younger child who's around 3 was so annoyed of this room.
The backyard was a mess: Literally, our backyard was overgrown and cluttered, with a lot of brush and debris. There was little space for the children to play and no outdoor amenities like a deck or a playground. The yard was also not well-suited for gardening or outdoor entertaining.
I could've ignored the backyard and focus more on the living room; but actually my wife jumped in and make sure it stays on the list of "to-do" scope of renovation. 
Also Read: Basic Electrical Fittings – Wire Guide – (Types, Sizes, Installation)
Who helped us?
I must say it was never going to be a lifetime experience without Mark and his team from NXT – Miami Remodeling Contractor.
From the very beginning, Mark was professional and communicative, clearly outlining the process and timeline for the home transformation project. He listened carefully to the family's goals and needs, and provided valuable advice and recommendations based on his expertise.
Throughout the project, Mark and his team were reliable, punctual, and respectful of the family's home. They worked efficiently and effectively, and kept the family informed of their progress every step of the way.
Any issues or challenges that arose were promptly addressed and resolved to the family's satisfaction. where our home remodeling team came in.
The process wasn't always easy – there were plenty of challenges and setbacks along the way – but in the end, it was all worth it.
Also Read: Single-Story House Façade Design Ideas (Guide With Pictures)
From Uninspiring to Inspiring
So, let's now jump on to get some inspiring transformation:
Kitchen
 The old kitchen was cramped and poorly designed. We knocked down a wall to create an open concept kitchen and living room, and added a big island with plenty of seating. We also updated all of the appliances, cabinets, and countertops.
If you're unsure about open-floor concept, here's a lead:
Knocking down walls to create an open concept floor plan is a popular trend in home design, as it allows for more natural light and a sense of openness and connection between different areas of the home. It can also make a small space feel larger and more welcoming.
In addition to knocking down the wall, we added a large island with plenty of seating to our new open concept kitchen and living room.
An island is a freestanding counter or table that is typically placed in the center of a kitchen. It provides additional counter space and storage, and can also be used as a gathering place for friends and family.
If you want some awe-inspiring ideas about kitchen Island, here's a guide from the Spruce that I used in my project.
The addition of the island and the open concept layout has made our kitchen and living room much more functional and comfortable.
Also Read: Real Estate Investment Tips for Absolute Beginners
Living room
 The living room was too small for our family, so we added on a new wing to the house. This gave us a much larger, more open space for entertaining and relaxing. We also updated the fireplace, adding storage to the sides, and adding a big picture window to bring in more natural light.
The best things I believe we've done to our living room are adding that big picture window. Literally, it has done some magic. Not only that I'm able to enjoy the views of the outside world; but it's overall enjoyable as the space feel brighter and more welcoming. In fact, as I reach my home now after work, these beautiful views help boost my mood and energy levels.
Anyhow, I was not that convinced about adding the window but it was my wife who constantly mentioned the benefits. She also showed me this guide from homedit and I was like surprised that how just adding a large window can instantly revitalize your space.
Also Read:Swimming Pool Deck Material – Deck Surface and Flooring Materials Options
Backyard
Our backyard was a disaster. It was overgrown and cluttered, and there wasn't much room for our kids to play. We cleared out all of the brush and debris, and added a new deck, a playground, and a vegetable garden.
Here're the changes we made in brief that helped us in transforming the backyard into a functional, attractive, and enjoyable outdoor space:
My favorite – the backyard vegetable garden
It's not that you have a chance to serve yourself with fresh and healthy vegetables but it's the best use of the space you have. We've now grown Lettuces and greens like Romaine, butter lettuce, Parsley, Tomatoes, Peas or Green Beans. We're also planning to have beets and turnips the next season.
The deck – Yes! that's how you can have a flat and stable surface to enjoy outdoor activities like grilling, dinning, and relaxing. Once you're annoyed of the indoors; it's the best escape. Although we don't want to spend more budget on deck but we managed to have one on budget. Here're some ideas that we love.
For the children, it's that playground where they can have fun and you can enjoy sitting beside.
What were we up to? Expectations vs. Reality
Overall, the transformation project took about 2.5 months to complete and cost around $52,500. It was a big investment, but it has completely changed the way we live in our home. We now have a beautiful, modern, and functional space that we love to spend time in. Here's the breakdown of the cost:
| | |
| --- | --- |
| Knocking down wall to create open concept kitchen and living room | $16,000 |
| Updating appliances, cabinets, and countertops | $15,300 |
| Adding a large island with plenty of seating | $4,500 |
| Adding a fireplace | $3,200 |
| Adding a big picture window | $1,600 |
| Adding a backyard deck with furniture | $8,900 |
| Adding a vegetable garden | $1,000 |
| Adding a playground for kids | $2,300 |
| Total | $52,500 |
It's now your turn
If you're considering a home transformation project, we highly recommend it. It's not always easy, but it's so worth it in the end. Our home is now our dream home, and we couldn't be happier.
I hope you enjoyed this blog post about our personal experience with home transformations. If you have any questions or comments, please let me know!
Also Read: 11 Ingenious tips to brighten up a dark room (in 5 minutes)
The Big Reveal – Before and After House renovation Photos
Note: You can drag and slide the handle at the middle to get a feeeling of difference between old and new arrangement.
Further Read: DIY TV Stand – Here're 10 unique plan and design ideas to build one.