At present, you can hire an experienced floor plan designer online for between $800 and $2,700, with the typical project costing around $1,750. An hourly rate for a draftsperson to create blueprints or a house layout may range from $50 to $130. For example- three-bedroom house plans take at least 10 hours to construct and often cost between $500 and $2,000 to produce.
Drafting technicians specializing in architecture create designs for new construction, additions, and renovations. In addition, they make the architectural blueprints and technical drawings required for the space's architecture or construction using CAD (computer-aided design) software.
Here, independent specialists working for themselves or architecture & design businesses can provide high-quality cad drafting services. Keep reading to explore more about how much a floor plan designer costs and other things! Happy Learning!
Table of Contents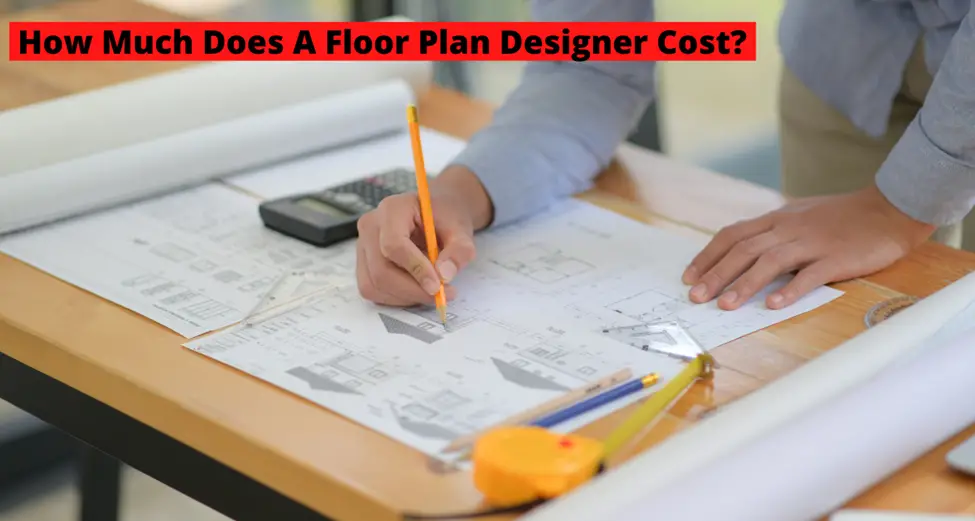 What Is Floor Plan Design?
A floor plan design is a measured blueprint of any building or room. The floor plan can draw a whole building, one building floor, or a single room. It usually includes measurements, appliances, furniture, or anything necessary to satisfy the plan's purpose.
Also Read: House front wall cement design Ideas that wows in 2022

At present, you can hire an experienced floor plan designer online for between $800 and $2,700, with the typical project costing around $1,750.
What Does A Floor Plan Designer Do?
A floor plan designer uses sketches to show the location of walls, doors, stairs, windows, kitchen cabinetry, the bathroom, appliances, etc. He/she can design different floor plans – a 2D floor plan displaying the layout of space from above, including the walls or rooms, and a 3D floor plan showing the framework of a property or home in 3D.
Many floor designers bid for freelance work. They usually take up project-based tasks.If you hire an experienced floor plan designer; make sure he/she must have the following things:
Work directly with design architects to expand the plan.
Help to develop a procedure through physical models, sketches, diagrams, massing studies, electronic models, and other visual formats.
Creating unique design ideas and floor plans whenever needed.
Organizing computer files or floor plan prints to make sure that the current versions are available.
Having skills to convert DWG files to PDF or vice-versa.

Also Read: Benefits of CAD software for civil engineers
Key Qualifications of A Floor Plan Designer:
It's ideal for your hiring floor plan designer to have the following basic skills:
Master education in design arts or structural engineering or professional knowledge in CAD software.
Experience in reading layouts or integrating architectural and structural plans.
Understanding, reading, and applying building or construction details.
Capability to conduct room or block planning and proximity in coordination with the building plan.
Knowledge of design methodology.
Having strong oral presentation, listening, writing, and interpersonal skills.

Also Read: Parapet Wall – Purpose – Designs – Types – Function – Size
Benefits Of Hiring An Expert Floor Plan Designer:
Experienced floor plan designers usually work round the clock and delivers projects within the client's deadline.
They are up-to-date with the latest architecture or design trends.
They can offer additional solutions such as modeling, rendering, etc.
What Determines A Floor Plan's Price?
How much you pay for a house plan depends on various elements. First, it's crucial to consider the best fit for the job. Then, consider the following factors which will affect your overall cost:
(1). Detail needed: Are interior measurements sufficient, or do you need structural modifications to the wall thickness?
(2). Existing house or new building:
Whether it's an existing house or a new development, site plans, elevation drawings, and construction plans are frequently required.
(3). The price ranges that'll be okay for you:
How much of it can you perform on your own? For instance, do you need a specialist to measure the area on your behalf?
(4). Size: Larger areas will cost more if you're hiring an expert.
(5). Style: Victorian home renovations with nooks and crannies are more common than modern homes, which tend to have clean, primary lines.
(6). Requirements:
Suggested paint colors, furniture arrangements, lighting designs, etc., raise overall expenditures.
(7). On-going vs. One-time project works: Some services provide discounts if you routinely make plans. Others only give discounts for one-time jobs.
How Much Does it Cost for an Architect to create a Floor Plan?
Architects charge between $100 and $250 per hour for creating plans. It usually takes 3 to 14 days to write the 1st draft. So it can be better if you've accounted for the time needed to make some adjustments.
These modifications will get additional fees from architects, increasing the price of your floor plan overall. Therefore, the cost of engaging a floor plan specialist may range from $1,500 to $9,000.
Also Read: Importance of Technology in Architecture
Advantages:
1. Experts in the sector who are qualified and licensed.
2. Provide technical drawings directly to the constructor.
3. Responsible for performing on-site measurements and relieving you of this stress.
4. Exist in more affordable techniques.
Disadvantages:
1. Expensive.
2. Final shipping may take some time.
Also Read: Top 10 Tallest Buildings in New York Ranked Right Now
How Much Does CAD Software Cost to Produce a Floor Plan?
If you're computer literate, you can use CAD applications to develop a floor plan. CAD stands for computer-aided design. It's a broad phrase representing everything from 2D vector-based drafting tools to 3D design software.
However, architects, civil engineers, and drafting technicians frequently use this software to make construction documentation.
You'll need CAD plans if you're using the floor plan as the basis for your contractor's technical paperwork, construction bids, or drawings. Drawing up a floor plan for each level may take a few to ten hours, depending on the software's complexity in learning to use and master.
You must pay a monthly charge if you intend to use this software. CAD software has a monthly price range of about $200 to $300.
Advantages:
1. A good choice for a DIY floor plan.
2. If you have experience, you can complete it quickly.
3. Comparatively less expensive than employing a professional
Disadvantages:
1. Being unfamiliar with CAD can be difficult.
2. It becomes costly if you need enough time to explore how to utilize this application.
3. Require a lot of storage space and a robust computer to use the software.
In the end, many choices are still available if you don't want to dedicate the time necessary to learn a complicated program like CAD. Your most excellent option may be to create your house layout using floor plan software.
Final Notes: Are You Prepared To Hire A Floor Plan Designer?
Here, we can suggest giving ACI (Auto Cad India) try if you're determined to complete the task rapidly. ACI has a dynamic team of cad drafting specialists who are covered with robust capabilities to produce anything from a polished 2D plan to high-resolution 3D renderings.
You may start with a free trial to show how it works well for your floor blueprints. Then, you can hire a pro floor plan designer when ready.
If you run into any problems along the road, get in touch with their 24/7 customer service staff, or start browsing their vast collection of online support blogs. Use ACI's CAD drafting experts to create your floor plan immediately!
Good Luck!!