Delays have plagued the construction industry projects.
Be it the budget inaccuracies, labor shortage, or inefficient management; there're a lot of reasons that causes construction project delays:
Changes orders
Financial issues
Adverse weather
Supplier delays
Poor design
Lack of experience (owner or contractor)
Unforeseen ground conditions.
However, you can easily turn the tables around.
Utilizing modern equipment, efficient management strategies, enhancing freight management, planning ahead for the risks, and having suitable plans to mitigate contingencies are some of the best ways you can avoid delays in construction projects.
 "Time" is one of the major resources in every construction project activity and milestone. So, there's a dire need to manage it just like we do for other resources including money and materials.  
Any delay of project activity will have ramifications. The activities are linked to one and other so any delay in one activity will result in overall delay of the project. Such delays also come with financial implications.
Here're some of the ways you can avoid delays in construction projects:
Tips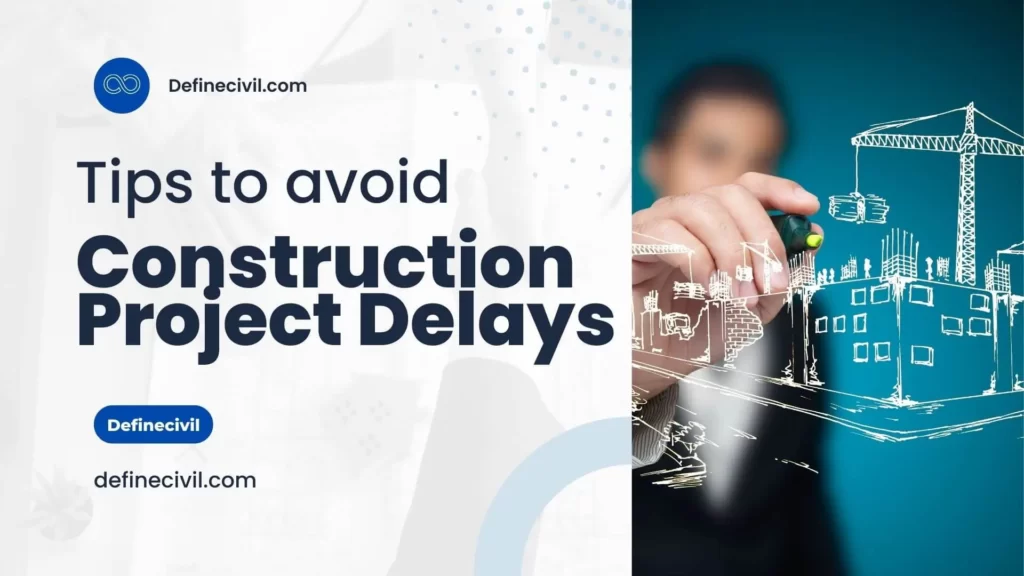 Adopting innovative technologies
Slow technology adoption has always been a problem with construction industry. We're still seeing many projects utilize primitive construction techniques and methods.
 As per Suretecit, many projects are delayed by as much as 20% because of the outdated technology's role.
From all the tools and gadgets that were used 20 year before now have more efficient versions. Innovative methods and tools not only enhance your project progress but also make these activities safe to execute.
Also Read: 7+ Reasons Site Safety is important for Project Owners
Use accurate estimates
Inaccurate estimates are detrimental for a construction firm. It can result in delaying project as well as loss of reputation. Omitting a small dimension or having calculation error in an estimate may not make much of an impact but things like scope omission can seriously dent project margin. So, it is important to hire a reputable estimators and proof-read at the end to minimize mistakes.
A lot of contractors still use the cost data of previous similar projects to develop the project budget. This method has its own drawbacks. Every project being unique, require different set of methodologies and technology requirements. So, the better approach is to adopt modern costing methodologies and produce reliable and accurate estimates.
Avoid management flaws
Your construction project management plan needs to include every step of project including pricing phase. You need to plan ahead for all the phases of the projects and be ready for any unforeseeable circumstances.
Here're some ways you can avoid management flaws at your project:
Plan and clearly set the objects as well as the scope of projects. You must have clear project parameters include schedule, budget, and project stakeholders.
Make sure to define clearly the project deliverables and set a planned date to all of the items.
Ensure close coordination and monitoring throughout the project's phases including design, contracting, planning, executing, and operating.
Avoid conflicts and build strong communication channels.
Make sure you have a clear hierarchy of project's team to delegate right task to the right team.
Knowing clearly your project's resources including labor and material. You need to assign the right amount of resource on critical activities of the project.
Try to use modern technologies to enhance your project's management. Use cloud storage or secure separate hard drives to have data backups. You can use zoom meetings to utilize and access all the project's stakeholders. (This will further help you get decisions faster). Use Mobile apps or software to keep up with the project's deadlines. You can use modern excel sheets to track your project's budget.
The best construction manager is the one who can prepare a detailed project plan and can execute it on field for minimizing delays and eradicating blockers that will hold up progress.
Also Read: How to reduce Construction Cost in a project?
Manage materials more efficiently
 Material shortage and delays in supply is one of the most important reasons that can lead to delays in project delivery. When the project is in full swing, you need to have the right material at the right time. Failing to do so will result in hindering job site productivity.
You need to understand and consider potential checkpoints along your site before you begin work.
Analyze the way you'll deliver materials to the job site. Consider number of loading docks or elevators, if needed.
Take note of logistic challenges in your project. These challenges are different for road or highway projects, building projects, renovation, and demolition projects.
Coordinate closely with your distributor or supplier. You can engage suppliers that are utilizing modern telematics technique to improve efficiency in freight transportation.

Try to engage a strategic distributor to keep materials at the convenient places at job site near installation area.  
You need to manage material delivery dates and schedule it with the onsite situation so the crew won't have to stop working to pick up the order.
Effective communication can avoid project delays
Construction projects are bit different in that they involve numerous trades and teams collaborate together towards project's success. That's why it is critical to deploy efficient means of communication to avoid conflicts and delays.
One simple way to have everyone onboard is using cloud storage. It allows you to share project documents including drawings, reports, punch lists, field change requests, and change orders in real time will all the stake holders.  Your project's team can easily access these collaborative tools and apps even with their mobile phones.
Here're some ways to ensure effective communication at project's site:
Try to establish a chain a command for communication between all trades and stakeholder of the project. If you're a contractor or project manager you can have separate chain of commands for communicating within your organization and within project's stakeholders.
You can identify key members in the chain of communication to share the right piece of information to the right person at the right time.
Make sure the documents like drawings, specifications, change orders, and requests are clearly accessible as per authorization.
Make sure to choose the right method of communication from drawings, meetings, reports, requests, and orders. In most projects, we have formal procedure and specific forms for project documents. So, make sure to follow the same formats and have a clear identifying number so you can track the document.
Try to keep all written communication professional at all times and avoid confusion. Don't try to use jargon or terms that are not easily understandable. Try to send messages that are clear and to the point. Keep things short and simple.
Keep a margin for weather delays
When you schedule for project activities, you need to keep a margin for conditions or hazards that are not in your control. These delays are excusable delays that are result of unforeseen circumstances. Examples of excusable delays are bad weather conditions, labor strikes, fires, floods, earthquakes, different concealed conditions than anticipated, and intervention by outside agencies.  
So, as these delays are not in your control; all you have to do is add a margin in your schedule. You can add flexibility so that such delays can't stall the project.
Also, try to make alternative arrangements at job site to help you being work faster. For example to cater for bad weather conditions, you can have water pumps, waterproof gloves, and
Conclusion
Delays do happen. They're part and parcel of construction projects. But it's all that you try your best to minimize its impact on time and cost of the project. You don't need some superficial approach. Just try to be proactive, be mindful and learn from your mistakes.