If you're living in Sydney, Australia; you might already know about Magnesite flooring. It's a floor leveler on concrete that was once the most popular choice in early 1920s through 1990s. In terms of material, Magnesite is made through magnesium oxychloride in the form of cement. As filler, instead of aggregates, wood chips or sawdust is added.
It is also referred to as "diato" flooring because of the addition of diato magnesium oxychloride. Apart from organic fillers and magnesium chloride, it has colorant that gives it range of colors.
This mixture is just like a cement grout or wet cement mortar that you can spread easily by trowels over any other type of flooring. It is a popular topping for wood floor and concrete slabs. The most common thickness is around ½ inch to ¾ inches. Anyhow, we use wire mesh to give it more tensile strength.
Also read: Definite ways to make your wood floors look like New
Now after 90s when carpet, laminate, and linoleum became more popular; home owners had got no option but the simply install it on the top of Magnesite flooring. Even if you're living in an old apartment; you may have Magnesite floor under the carpet.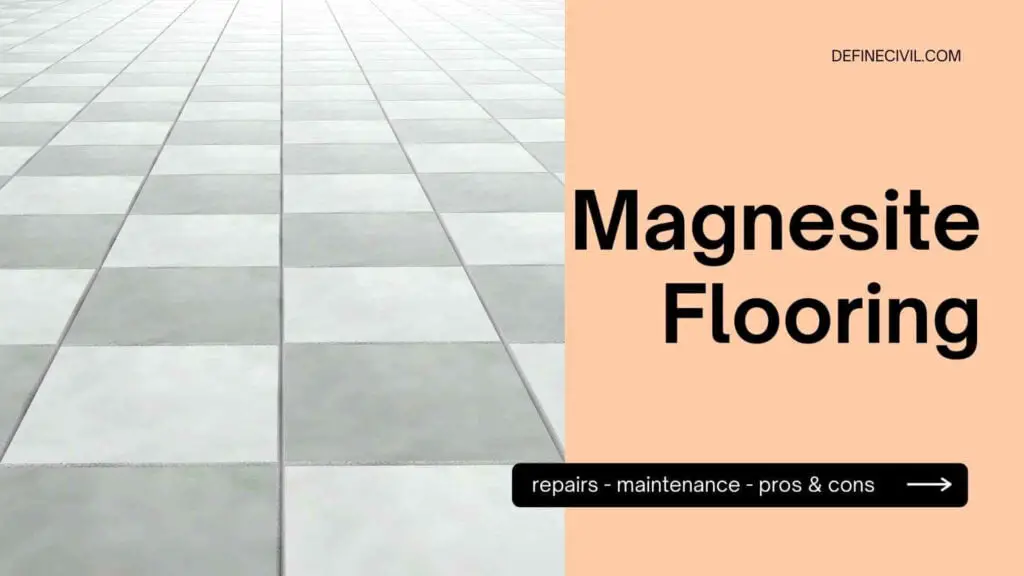 Also read; Mastic Asphalt Flooring (Preparation, Construction Process)
Magnesite flooring repair
After years of wear and tear, Magnesite floor tend to chip, crack, or corrode under the carpet. This erosion can result in concrete cancer and is not a desirable outcome. In other instance, homeowners while installing carpet above Magnesite tend to damage the floor because of hammering of nails. So, no matter the reason for Magnesite floor damage; you can repair to restore the beauty of Magnesite.
Another issue with Magnesite flooring is the high chloride content that can cause corrosion or lumps in the floor. As a result, you can face issues like concrete spalling.  If your floor is covered with carpet, this corrosive buildup can go unchecked for years. If you can trace any of the chloride content in the floor; it can result in further corrosion.
If you're facing such issues with Magnesite flooring, don't worry you can hire magnesite flooring experts. The typical repair methods involve identifying, diagnosing, and repairing concrete spalling and remove any chloride buildup from the internal slab of the building.
Timely investigating and repairing corrosion of magnesite flooring is critical. This internal concrete cancer or corrosion can not only affect the flooring itself but can also result in safety hazard. If go unnoticed, it can further cause structural issues in the building and that's where the repair will become more costly and difficult.
Here're some typical steps for repairing a magnesite floor:
Investigating the extent of corrosion or damage to the magnesite floor.
Removing affected layer of magnesite and grind all affected portion.
Next step is patching or applying repair which is mostly a cathodic protection
This repair technique is pretty effective in terminating any propagation of corrosion. It also helps in removing chlorides from the concrete matrix.
Anyhow, repairing magnesite flooring is a specialized skill that involves the use of right equipment and gadgets.  So, it is best to hire a reputable magnesite flooring repair company who know the right methodology and use of material.