Looking to undertake old house renovation? Refurbishing or remodeling an old house often includes a huge list with even bigger expenses. The house has distinctive features that give it personality even without any furniture or decor in the rooms. On the other hand, upgrading and aligning the area with your interests can take time and effort.
It can be stressful if you want to make significant changes, but everything leads to renovations and pricey installs. But when you're ready to give your home a fresh look; there are plenty of inexpensive ways to spruce up your home.
Here are the ten old house renovation tips to make an old house feel new.
Table of Contents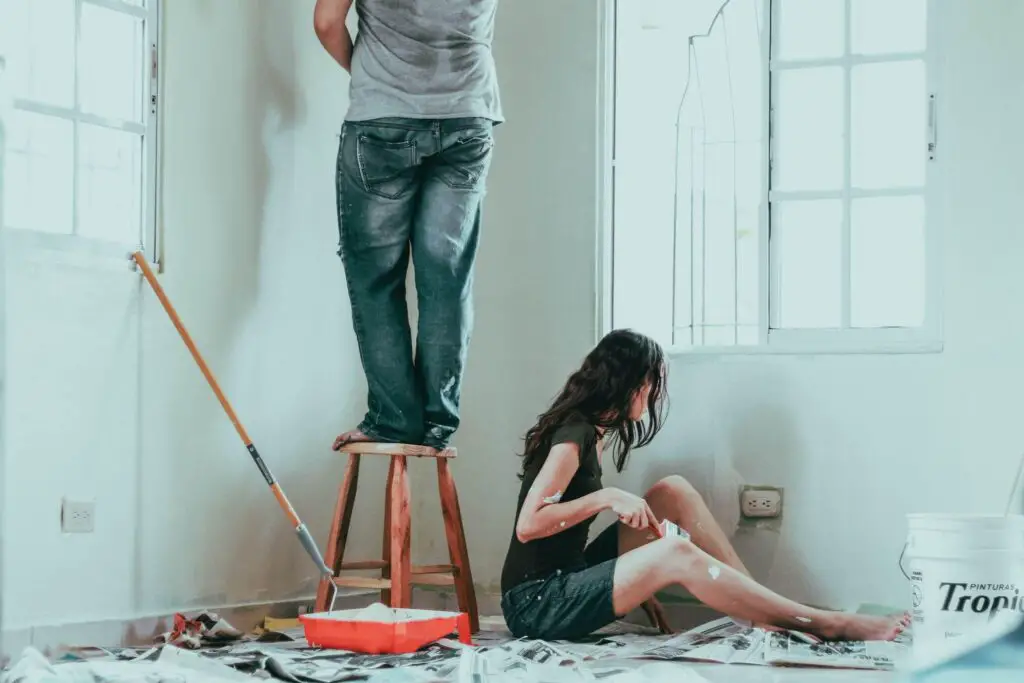 1.Make a Plan to Keep on Track
When it comes to decorating your home, you should start planning in advance. Your home may feel out of place if you make minor improvements here and there in various areas.
You'll need to give your flow some thought in order to establish a unified design throughout your old house. By making a checklist, you can eliminate these issues.
Also Read: DIY TV Stand – Here're 10 unique plan and design ideas to build one.
2.Make Sure to Clean Everything Before Starting
Making a thorough deep clean of your property should be the first thing you do after arranging your decoration. Regardless of how much time you devote to cleaning and maintaining your house, there are undoubtedly many areas that you may need to look into.
Give your home a thorough cleaning before decorating; even a good tidy-up may make your house feel new again. Before painting, you should clean any surfaces you plan to paint with soap and water. This includes windows, doors, baseboards, and even light switches.
Also Read: How Much Does A Floor Plan Designer Cost?
3.Opt for White Paint For Newness
Never devalue the impact of a paint job. It might not change a place's structure, yet it can bring a bundle of newness to your home. Painting can instantly transform the way the room appears and feels.
If time and money permit, a full repaint job in one or two rooms can greatly impact your home's beauty. The simplest, most affordable, and most useful approach to cover up flaws like uneven walls is to paint the trim, ceiling, and walls all the same color.
White paint makes any room feel fresh and new. It's also easy to apply and inexpensive. Consider using white paint as a starting point if you want to give your home a facelift.
If you don't want to DIY, let commercial renovations help you paint your house efficiently and also help you renovate your house at an affordable price.
Also Read: 5 Ingenious Halloween dorm decorations for 2022
4.Remove Old Wallpapers
It's time to remove any wallpaper if it exists in your home. It can get very dirty, and the wallpaper frequently starts to flake off. It's best to remove your wallpaper as soon as possible if it's quite old because there's a good chance that there are patches of mold underneath.
Hire a steamer/wallpaper removal service from your neighborhood hardware store. Even though there isn't a lot to get rid of, you still don't want to attempt this task alone.
Wallpaper adds character to a space, but it can quickly become outdated. Make the walls more neutral by painting them white or cream. In this way, the room will appear cleaner and more modern.
Also Read: Coastal Interior Design ideas – & Pictures
5.Highlight Doors and Other Components
While many newer homes lack characteristics like decorative cornices, many older homes have wonderful doors and other architectural details. It's a good idea to paint these features of your house in a distinctive way to draw attention to them.
Your exterior doors will stand out if you paint them a vibrant color. To make your cornices stand out against the background of white, you may want to paint them shiny. Painting your inside doors a light greyish or other neutral colors will enhance them.
If you want to add some new life to your home, consider adding wallpaper to one wall. It's inexpensive, easy to apply, and gives a fresh coat of paint a much-needed boost.
Also Read: Types of Doors – By materials – Opening – Folding, Sliding, Roller
6.Clean or Replace Old Carpets
If your entire house is carpeted, you should give it a facelift, either by changing it for a brand-new look or by having it cleaned by a professional.
Hiring professionals to clean is considerably less expensive if you're decorating on a tight budget. Carpets used on wood floors can also be cleaned for a fresher appearance.
Also Read: Definite ways to make your wood floors look like New
7.Update Your Old Electric Outlets
Even though they seem small, they actually have the power to revitalize an old house. It's an affordable approach to updating your house.
Due to technological advancements over the years, many homes are now equipped with smart electric outlets, including switches and plates. These items may appear incredibly old and yellowish, or they may be cracked or painted on. This simple renovation tip can help a dull house look better and modern.
Also Read: Landscape Lighting Fixtures: Types & Ideas
8.Replace Your Old Hardware
Hardware upgrades are another excellent and effective approach to modernizing an older house. Though more expensive than buying new switches and outlets, updating your hardware will significantly impact your house.
It's time to replace and give your home a more contemporary look if you have outdated faucets and door handles. You can buy secondhand fresh-looking hardware if you are on a tight budget.
Also Read: Duplex Front Elevation Design Ideas – Modern – Contemporary & Stylish
9.Add Lighting
Nothing will make a room appear brighter than adding some lights. Adding lighting is a fantastic approach to making your living spaces much brighter. Choose table and floor lights for the living room, and update your bedside with new shades.
If your overhead lights in the kitchen, bathroom, and living spaces are outdated, think about changing them too.
10. Replace Old Furniture
If your old furniture is no longer suitable for your newly renovated home, you may consider purchasing some new items. Consider purchasing used items if new is out of your budget, or be crafty and modernize your old furniture with some paint or fresh stain.
Conclusion
The average American spends over $7,500 per year on home improvements. However, you can save on home improvement costs by following the tips outlined in this article.
You can do plenty of inexpensive renovations to your home and office that fit your budget. If you are renovating an old office, check these commercial flooring.