So, I've been in this concrete pouring business for around a decade and there're number of situations where homeowners are worried asking for concrete crack filling.
Cracks in exterior concrete are quite common because of uneven drying, shrinkage, temperature changes, ground movement, and excessive loading. But repairing and sealing cracks in concrete is pretty crucial for long-term durability of concrete slabs.
Once you've got a crack in the exterior concrete slab, it is critical to seal it immediately because otherwise the water will pass through the crack further causing deterioration.
Being a pretty common issue; I've decided to make a detailed guide about how to correctly repair, fill, and seal wide concrete cracks: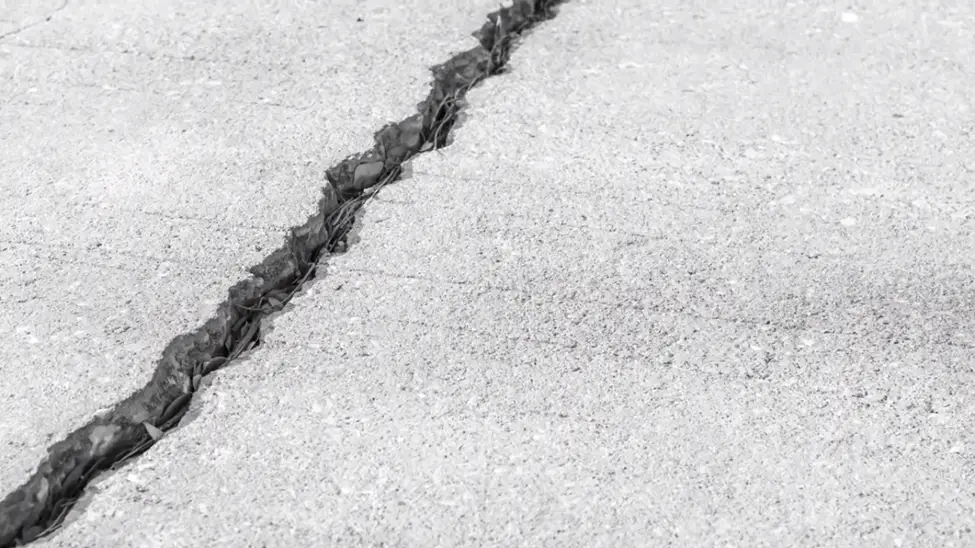 Table of Contents
Concrete crack repair
Any type of separation, gap, split, breach, or fracture in the surface of concrete can be labeled as a crack.
These cracks originate due to:
Chemical reactions
Weathering
Thermal stresses
Poor construction practices
Non-technical labor
Concrete Settlement
Temperature
Mix Design of concrete
Working conditions
Plastic shrinkage cracking
Corrosion of rebar
Minor Cracks on the surface of concrete are considered normal as they don't raise any red flags. But deep and wide cracks are considered critical and need immediate attention.
So, here's a floor slab of one of my client at the garage entrance. Some of the cracks we have here is of a quarter of an inch while the others are less than quarter of an inch.
Also Read: Concrete Topping – Definition, Applications, Types, Advantages and Disadvantages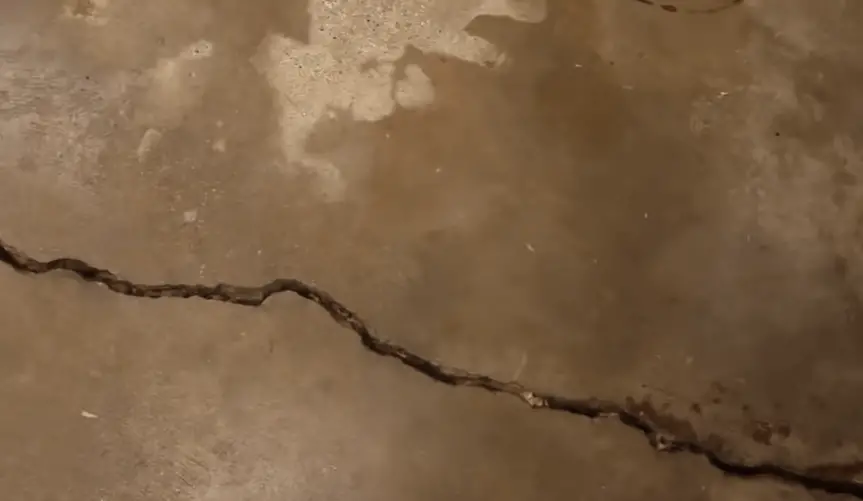 Figure 1 Wider cracks in concrete garage floor
If you've been facing similar cracks sizes, you can follow two different methods we'll explain later in this article.
Why should we take cracks into account?
Cracks in concrete are unavoidable due to the rigid nature of concrete. They are considered the root cause of all the structural cracking and water seepage problems.
Cracks tell us a tale about how construction and quality control had been during its tenure. Once a crack is formed, water and air can penetrate and erode the reinforcement.
This can cause the widening of existing cracks and pose a real-time threat.
Why do cracks occur in the first place?
Concrete is less likely to develop cracks if the water evaporation rate is slow. Even in ideal conditions cracks could originate. This happens when shrinkage forces become greater than the strength of the concrete. The material used in construction is weak in tension and shear.
Also Read: 9 Types of Concrete Cracks (With Pictures)- Tricks to Prevent – PDF
Therefore, stresses of even small size causing tension and shear can lead to cracking.  Suitable methodologies can be applied for the repair of cracks in concrete depending upon its nature and the impact it causes on a structure.
Some of the methodologies most commonly used in the construction industry are as follows:
Techniques of Filling Cracks:
Portland Cement grouting Technique
Epoxy Resins Injection Technique
Drilling and Plugging Technique
Fiber Concrete Technique
Gravity filling Technique
Stitching of cracks
Portland cement grouting Technique:
Portland cement grouting is a mixer of water, sand, and cement. This Cement grouting is pumped under pressure to fill voids, gaps, splits, and breaches. This method is very effective in stopping water seepage. However, it will not structurally bond cracked sections. It is the easiest and cheapest way to fill cracks.
This filling method is also used in dams and bridges. While making cement grout, the W/C ratio should be kept as low as possible to maximize its strength and minimize its shrinkage. Admixtures can be used to improve the properties of the grout.
For small-scale cracks, the manual filling can be done by injecting grout into the cracks, as far as major cracks are concerned big pumps can be used. After applying grout, continuous pressure should be maintained for better results.
Epoxy Resins Injection Technique:
Repair of cracks in concrete can be easily cured by applying epoxy resin. The epoxy resin injection technique is used when cracks are as narrow as 0.05 mm. In this epoxy, technique cracks are filled with a fluid with low viscosity and high-strength resin.
Epoxy injection for cracks has been used in super concrete structures such as dams, bridges, and high-raised buildings. Sometimes when there is some change of plans for a building and some extra members are proposed. There, Epoxy Injection is used to make a joint to carry out the design.
This epoxy injection requires discipline and skillful labor execution. When it is exposed to fire, chances are it will lose its strength.
Also Read: Ceiling Cracks: When you should worry? (Types – SOLVED)
Drilling and Plugging Technique:
As the name suggests, this process of crack filling involves drilling and plugging. This method is cost-effective and less time-consuming.
It is used when cracks run deep straight and are accessible at one end. Drilling and Plugging are used in retaining walls to fill the split. This filling acts as a key and reduces water leakage behind a retaining wall. This technique is also known as the wall crack repair method.
Fiber Concrete Technique:
Fiber concrete is a composite material consisting of fibers which increases the structural integrity of the concrete. It is used to fill cracks and increase impact strength.
This type of solution is applied to seal cracks and it gives a good finish. Fiber concrete is easy to work with and it saves time and energy on-site. It provides resistance against freeze and thaw in low-temperature areas.
Gravity filling Technique:
Gravity-filling sealers consist of two or more low-viscosity liquid polymers that are mixed and poured directly into the gaps, cracks, or splits to seal them permanently. The lower the viscosity of a filling fluid the finer the repair can be done. This technique is often used to repair settlement cracks and shrinkage cracks. Cracks having surface widths of 0.03 mm to 2 mm can be effectively sealed by gravity filling technique.
Also Read: Magnesite Flooring: All you need to know about repairs
Stitching of cracks:
This technique is the long-lasting and easiest way to seal cracks. It is the most cost-efficient and effective method to restore the glory of a structure.
Stitching of cracks is done when there is a need to re-established tensile strength across major cracks.
Stitching of cracks involves drilling holes on both sides of the crack and then grouting in stitching dogs or staples.
Crack stitching is a structural repair for cracked slabs and wall reinforcement. It sustains aggregate interlock and gives additional strength to reinforcement to minimize the movement of concrete slabs at the gaps or splits. 
Using flexible sealant to fix and repair wide cracks
These sealants are ideal for concrete slabs where cracks are wider and you have significant ground movement. These sealants not just protect the cracks from water intrusion but also allows slab to move naturally.
Here're the tools you need:
Caulk Gun
Sealant
Dustless angle grinder or Chase saw
Chisel and hammer (optional)
Shop Vac
Brush
Leaf blower
Flexible backer rod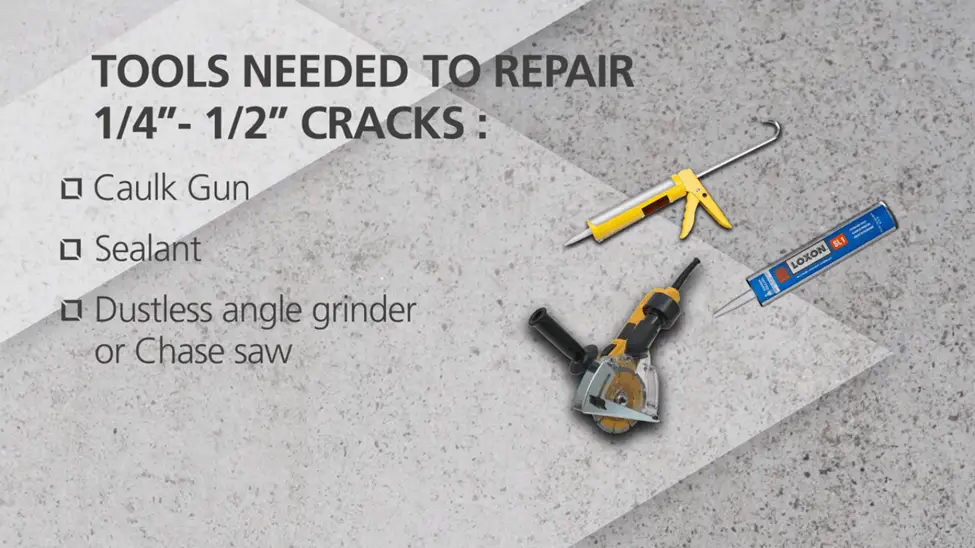 It is a bit pricey technique but it most effective and long-lasting. Here's a procedure you can use to seal wide cracks:
If you have cracks wider than 1 quarter of an inch, you can obviously use a flexible backer rod. The benefit of using backer rod is that the sealant will have something to sit on and at the same time it will use less quantity of expensive sealant.
There're different sizes of backer rods available in the home store. You can even buy a backer rod that's around an inch.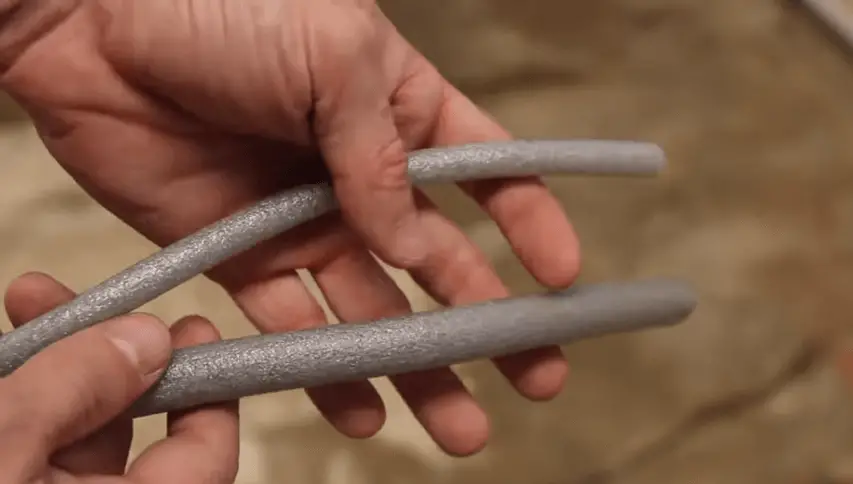 For other cracks that are lesser than 1 quarter of an inch, we need to chase that cracks. Chasing crack means opening it up using a chisel to have a good "V" shape groove. This allows the sealant to get hold on to the crack.
So, try to use a chisel and break open the crack to at least one-quarter of an inch. Also make sure to break away any adjacent deteriorating concrete patches.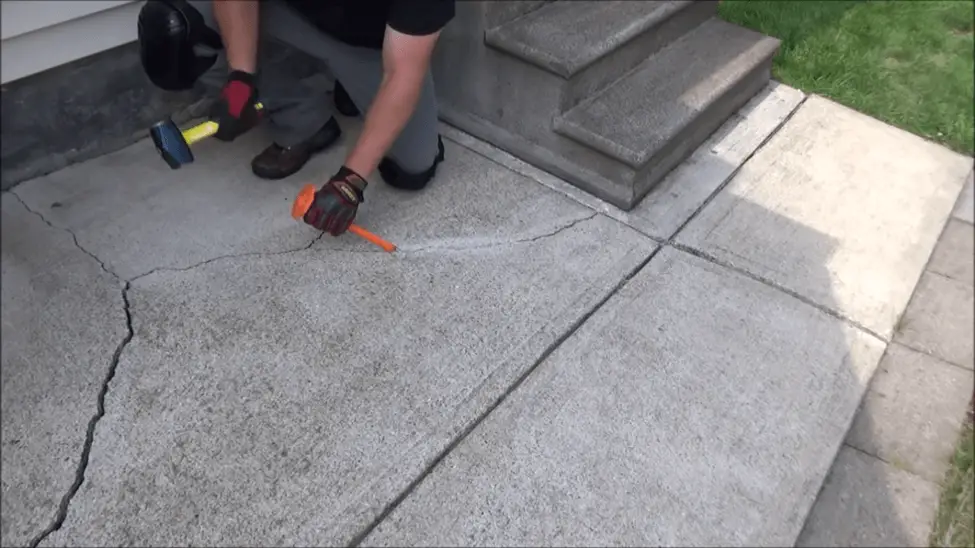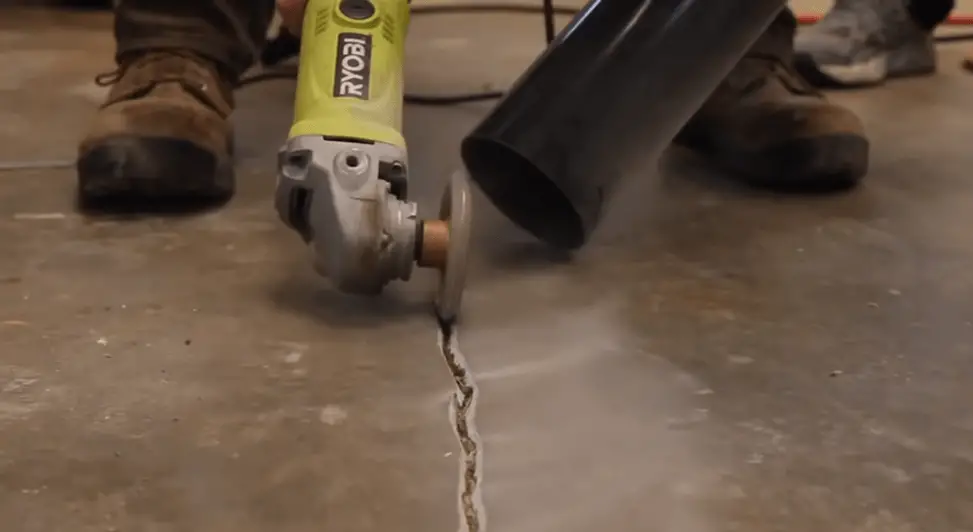 Once you've done the opening of crack, make sure to remove any loose debris from the cracks. You can use shop vac as well as air compressor or leaf blower to even remove minor dust particles. It is vital to have those cracks as clear as possible.
If you have a sealant product like that of a caulking tube, you can use caulk gun to fill cracks with sealant. QUIKRETE has many sealant chemicals that I've personally using for number of such projects.
Simply cut the head of the sealant tube in an angle as wide as that of the crack width. Now place it in the gun.
Slowly draw the gun to force the sealant into the crack. Followed by immediate pressing of the sealant with trowel to match the existing surface.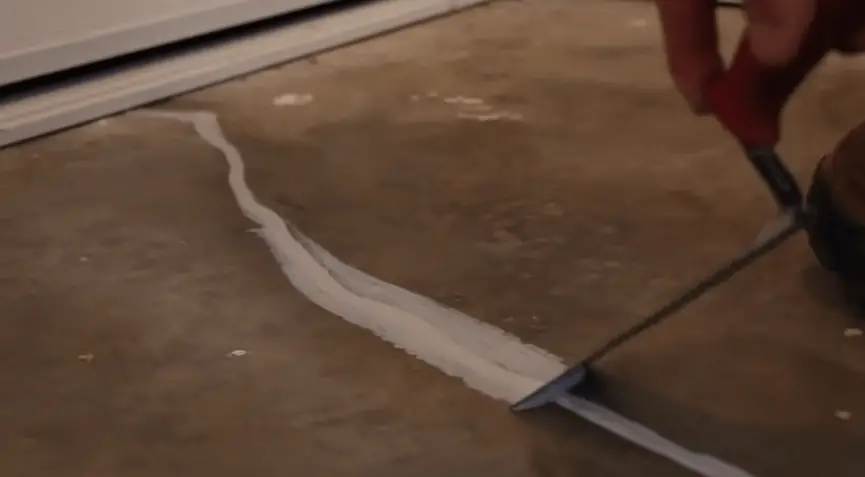 It will take 1 to 2 hours for the sealant to properly cure and hardened.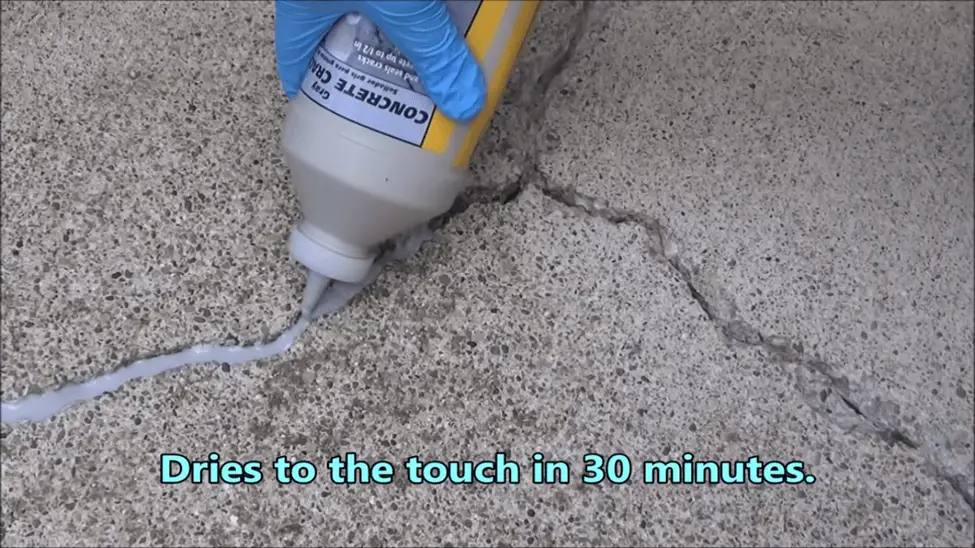 Conclusion
A concrete crack can be repaired by using different techniques and methods depending on its nature. Thanks to technology and science, now we have remedies for almost every type of cracking. We can easily opt for the best suited remedy for our cracks. 
So, use the above guide to choose the right strategy in repairing or sealing the crack and give your aging concrete a flawless and shiny finish to stand the test of time.
Further Read: