If you're looking to get some amazing look of slate or flagstone on your patio but want to enjoy the durability of concrete at the same time; our collection of most popular and amazing stamped concrete patterns are here to help.
Note: The gallery & list below is a result of our recent poll to the stamped concrete contractor's who've shared their project pictures and let us feature it on our today's blog. This list includes the top most voted pictures from our social community.
Table of Contents
Why stamped concrete?
A stamped concrete patio or deck is a concrete slab with an embossed, textured surface, and patterns. It has the special distinction of giving the look of an actual stone patio. It is also a cost-effective solution to actual slate or limestone.
It is an ideal solution for the homeowners who wants to save their expense up to 50% without compromising the high-end look of granite, slate, or other natural stone for their outdoors and leisure spaces.
Also Read: How Many bags of concrete Needed per Fence Post?
Stamped concrete has this thing to mimic the look of cobblestone, brick, natural stones, wooden plank, and leaf patterns. It is a decorative technique that consists of stamping moulds on the face of fresh concrete that in return imitate all types of materials.
It is a construction material that is used especially in paving concrete pavements, parking lots, garages, shopping centers, entrance of residential buildings, and around swimming pools.
Stamped concrete can be applied on both exterior and interior surface of the home. It is an inexpensive and low-maintenance alternative to more sophisticated building materials.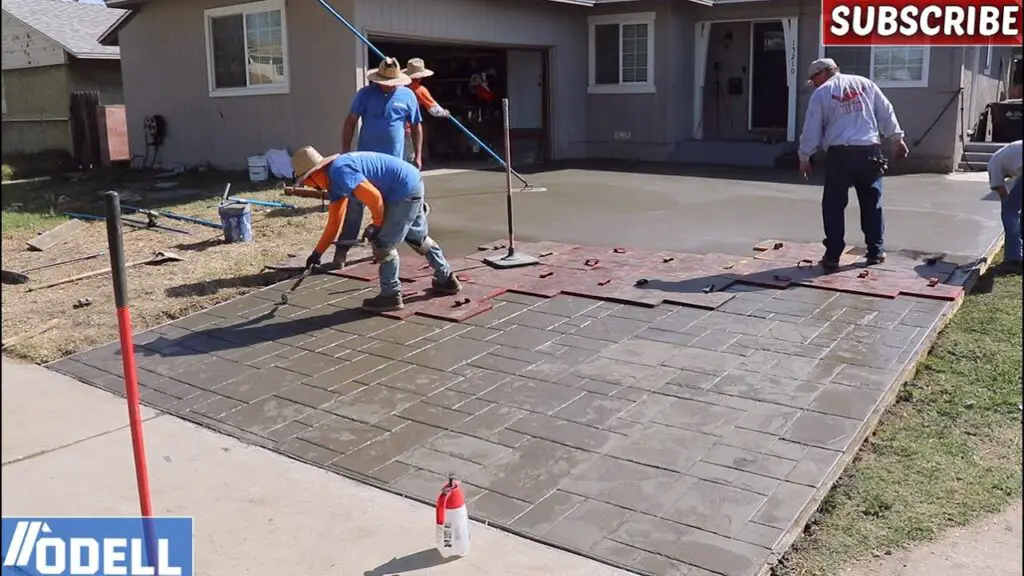 What is the most popular stamped concrete pattern?
Choosing the right pattern can be little challenging as there are different kind of stamped concrete patterns available in the market.
Here are five best stamped concrete patterns that one can choose and would not regret it. These patterns include:
Also Read: Harsh mix of concrete – Harshness in Concrete is due to
Ashlar Slate Pattern:
Ashlar slate concrete pattern looks very familiar to the look of squared-off stone mostly seen in European architecture. These patterns are made by using large format stamps with deep texture, which in return gives the appearance of a cut stone.
This pattern is widely used because it allows people to choose various looks for their stamped concrete. They can also tailor it by using different colors to fit the current landscape of the property.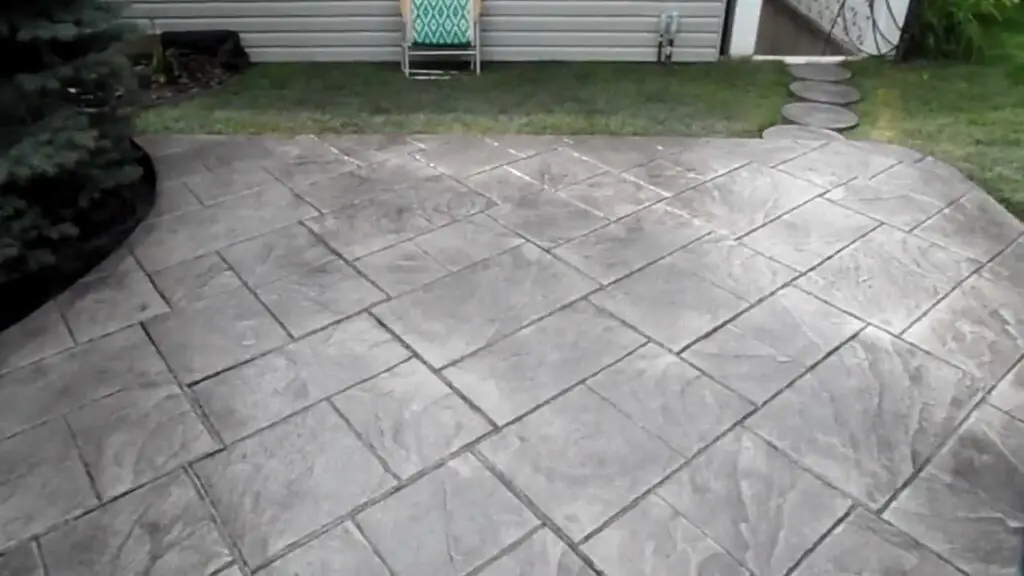 Cobblestone Pattern:
This is the most commonly found stamped concrete pattern in many properties now a days. It is a natural building material mostly based on cobble-size stones and it is used for streets, pavements roads, and buildings.
This stamped concrete pattern resembles the appearance of cobblestone pavers as it is made using stamps with irregular shapes and textures.
Like ashlar slate concrete pattern cobblestone can also be stained and colored to fit the existing look of a property. Cobblestone stamped concrete patterns is also recommended due to its slip-resistant quality.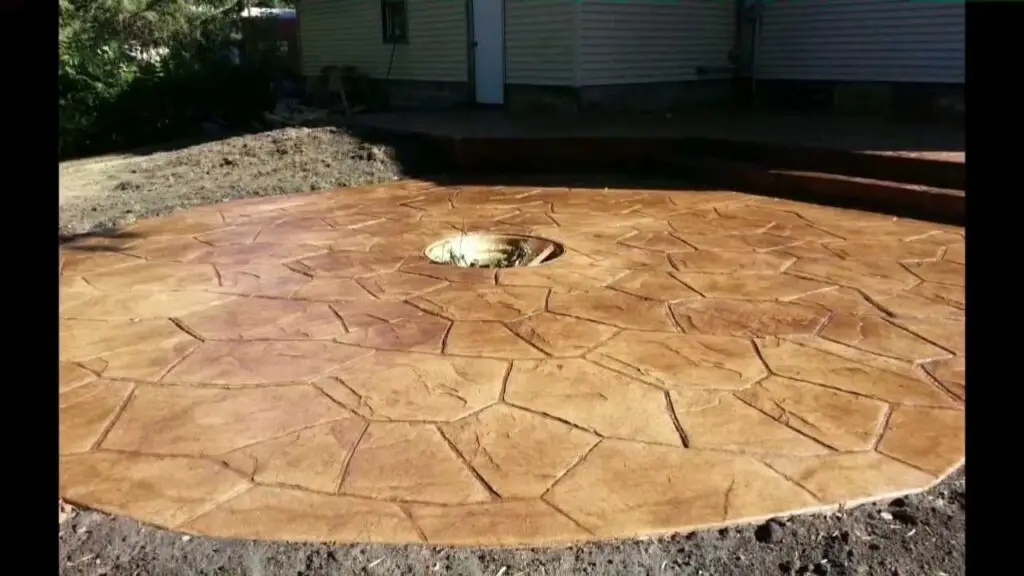 Random Stone Pattern:
Random stone concrete pattern is also another popular pattern. As its name suggest, it mimics the look of natural stone. The idea behind random stone pattern is to give the appearance that the stones have been placed naturally without a specific pattern. This pattern is proven to be slip-resistant and it is highly used for driveways that experience traffic heavily. It is also a low maintenance stamped concrete pattern.  
Also Read: How many 40lb, 50lb, 60lb and 80lb bags of concrete are in a cubic yard
Brick Pattern:
Brick stamped concrete pattern is also one of the most loved patterns for many concrete driveways. This pattern mimics the appearance of bricks also like other concrete patterns it can be stained and colored according to need.
This pattern is suggested because this can be combined with other patterns for a customized look. Brick pattern can go very well if people have a stone or brick exterior. 
Timber Planks Pattern:
This stamped concrete pattern is the most unique stamped design. The timber plank pattern mimics natural wood by providing properties with plank and boardwalk patterns.
These patterns are made by putting the stamps in a traditional design to resemble the wooden planks. Timber plank provides elegant and distant look.
Also Read: How to grind concrete smooth?
Stamped concrete patterns for driveways
So, if you're looking to use these patterns on driveway rather than patio; here's a collection:
Pattern with borders: Instead of having patterns on the entire driveway; there's this kind of patterns where you typically see just around the border. It stands out among others.
Ashlar slate: This pattern is more popular giving more stony texture.
Cobble stone with grey color – It gives more realistic and good pattern for driveways.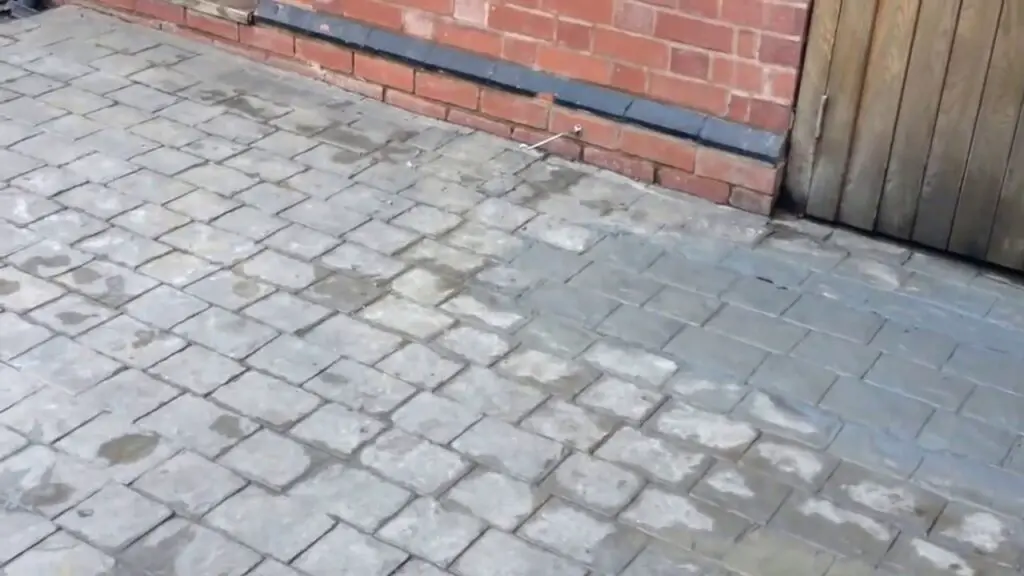 Pros and Cons of Stamped Concrete
Advantages
Stamped concrete patterns are cheaper as compared to traditional pavers or designs.
They can be more versatile in design and has more aesthetic value. N
chances of weeding or planation in between the slabs of stamped concrete due to the unavailability of joints.
Stamped concrete patterns are easy to install and they need low maintenance.
Also Read: Rock Salt Concrete Finish – Installation – Advantages – Cost
Disadvantages
Longer installation periods and need special equipment.
They are more slippery and time consuming.
Sometime creating deep patterns creates uneven surfaces and can prove dangerous for anyone.
As discussed earlier, stamped concrete patterns offer various colors so there are high chances of colors fading off in the longer run.
If stamped concrete is installed correctly and maintained in daily or weekly basis then it will last as long as non-stamped concrete.
How to maintain Stamped Concrete?
One good thing about stamped concrete is that it requires less day to day maintenance but that doesn't mean there's no maintenance needed at all.
The consistency of maintenance depends on weather condition and foot traffic.
Here're some of the tips that one can use to keep the stamped concrete in good shape.
Sweeping on regular basis would really help by using pressure washer and some mild detergent.
To prevent slippage, we can use a slip-resistant coating after concrete is poured.
Also consider Color hardeners and sealers as they can prevent color dissipation and keeps water from seeping into the concrete.
As we know that concrete no matter how nicely placed, it will develop cracks eventually.
More likely when it is exposed to extreme hot and cold weather. Therefore, when considering concrete pattern be assured to choose a pattern where damage will not be as noticeable as this will decrease the chances for patching later on.
Also Read: Sand Blasting Concrete Finish – Purpose, Process, Pros & Cons
Stamped concrete pattern gallery
Conclusion:
Stamped Concrete is a durable, affordable, and it can provide vintage as well as aesthetic surface as well. There are plenty of option to choose as anyone can customize it according to their needs. It can last for years.
We add different colors and patterns that will go just fine with any structure. Cracks are not visible as much as on standard concrete.
They are slip-resistant and require low maintenance. By using stamped concrete one can give their patio real stone like look without spending too much money.