Steel Frame building involves use of steel elements as beam and columns as a construction system. This skeletal frame structure is not just easy to construct but it also allows modular and prefabricated construction possible.
This light weight framing system is quite popular in different structural configurations like rigid frame structural system, shear wall system, braced-frame, wall-frame, and so on. The other light wight material is wood or timber structure. But the problem with wood is its combustability. You can't safeguard your assets against fire while living inside a wood house. So, that's where steel frame houses are perfect.  
The problem with other material like brick and concrete is their massive dead weight. Because of such a dead weight, designer puts a lot of details to the foundation materials and design.
Also Read: Types of bricks – Classification & Uses (Don't Miss)
But in contrast, steel frame elements offer the best weight to strength ratios.
You may have a frame structure with steel, but what about the enclosure? Its closure is carried out with sheathing or plates of various material like aluminum, wood, or even bricks.
In Asian countries, the most common construction system is masonry, but the Steel Frame, or Light Steel Frame, is increasingly gaining grounds.
So, here's how Sky Marketing explains what Steel Frame structure it's different types, advantages & disadvantages, and show examples of projects. Follow up!
Also Read: Moment Resisting Frame- Types, Examples & Difference
Table of Contents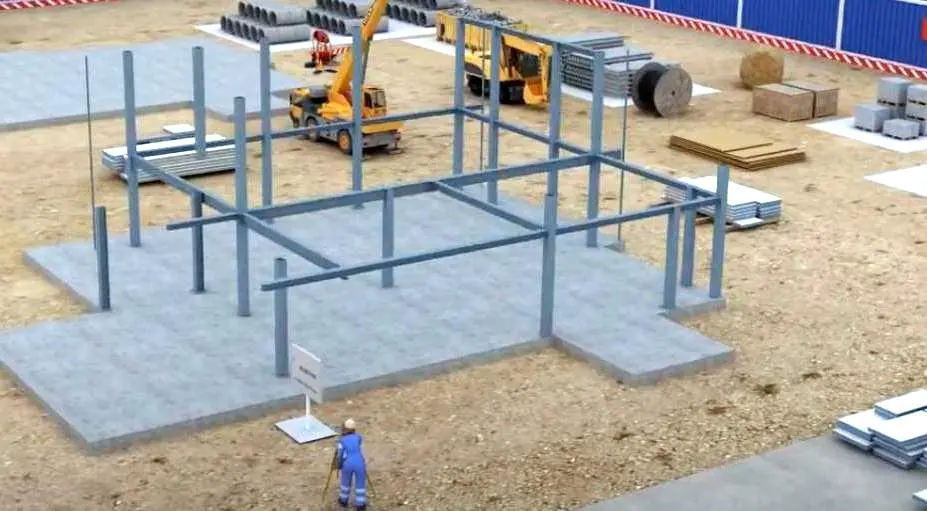 What is Steel Frame Structural System?
What is a structural steel? – It's a type of steel element that takes various shapes and forms (I-Section, L-Section, C-Section) that has a carbon content of upto 2.1% of it's total weight. If you add more carbon to steel it increases it's ductility and is likely to bend or yield under the action of load.
Let's now see why steel is so famous as a structural system:
It's best in terms of offering durability that you need in buildings and houses. It can take massive loads before any failure.  
With extreme flexibility, it can yield under loading and is best for serviceability of high-rise buildings.
It can bend or deform it's shape without having any cracks – that's what we call plasticity of steel. It's an ideal behavior during earthquake or heavy winds.
So, you see in buildings we prefer to use ductile material rather than brittle material. An unreinforced concrete is a brittle material that is not serviceable under the building conditions. Concrete can easily crack on it's own weight. Check out my detail guide on different types of cracks in concrete.
Also Read: Braced Frame – Different types of braced frame – Advantages & Disadvantages
Part of a typical steel frame structure
A typical steel frame structure or a steel frame house can have following components:
Steel vertical columns – It's generally I-section columns along the periphery as well as inside the building core. It transfers the loading from girders and floors to the underneath beam or foundation.
Horizontal steel beams: It's a horizontal element that take's bending as well as concentrated loadings from the floor or the columns above and transfer down to the columns.
Braces – In some structural frame system, we use braces that helps support the columns from buckling under loads.
Shear wall – It's an important element that resists the lateral forces as a result of earthquake, wind, or other relevant event. Without a shear wall, the structure may blows up under lateral loadings.
Roof – A steel building take the roof framing elements forming a truss system. Typical framing elements include a ridge, roof purlins, eave purlin, and bracing. The main frame rafter takes the load on the main frame columns at the edge. The roofing material is pre-painted galvanized steel sheet.
Cladding: In a typical steel bracing system, the enclosure of the steel building include a wall cladding.
There're other relevant elements in the steel structure like spandrel beam, struts, insulation, sag rods, flange braces, girt, and cladding panels.
These elements are common and you'll even find these elements in other type of structures like at New City Paradis.
Also Read: Tube Structures system in Building Construction – 5 Types & Features (Must Know)
Construction methods for steel structure
Here'er some common methods for constructing steel structure:
Conventional Steel fabrication : First we cut up members of steel as per the lengths in the design drawings or blueprints. Afterthis, all the structures are connected by welding together followed by erection. The process can be carried out at construction site or in a fabrication yard.
Bolted steel construction : It includes making all the elements of a steel structure in some fabrication yard as per the design. These elements are then shipped to the worksite. At site, all elements are connected by bolts in place. It is a preferred method as you have better and controlled environment at workshop (better machine, easy to work, better lights, good conditions). At the end, we erect all the elements in a sequence and bolted together.
Light guage steel construction : It is more common for small residential and commercial buildings. In fact, it is the only technique used for framing residential buildings in replacement wood. Here we use thin sheets of steel with C or Z-section in replacement of typical 2x4s of wood.
Also Read:Load Bearing Structure – Types, advantages Vs Frame Structure
Foundation for steel structure
Steel buildings require well-designed foundation to ensure durability and prevent settlement or failure. Some common types of foundation for steel structure are:
Floating foundation or raft – involving a simple concrete slab (may have grade beam or column, reinforced ofcourse); this slab acts as a floor of the structure. It is a better foundation for wet conditions, in coastal areas, and soft soils. It can prevent sinking and unevenness over time.
Perimeter Wall – It involves a wall or strip footing along the perimeter of the building. The columns along perimeter of the footing supports the exterior steel framing walls.
Portable foundation – They're portable so are ideal for buildings you need to transport from one place to the other. They can either be pedestals of concrete that gets hold of the steel framework columns or can be a steel plate connected with the perimeter concrete wall.  
On the inside of the wall, plasterboard sheets, leveling putty, micro-perforated tape, and finishes are used.
In environments more subject to humidity or that need greater resistance to fire, special plates are used. On the outside, the materials used are OSB boards, water-repellent membranes, cement boards, and finishing elements.
To ensure acoustic insulation and thermal comfort in the Steel Frame structure, mineral wool or PET fillings are used, which have a higher performance than masonry.
When a building made with a steel frame has more than one floor, the separation between one and the other is made with light slabs, which are galvanized steel connected with wood, cement board, or another type of board.
Also Read: Shell Structure: Types – Advantages & Disadvantages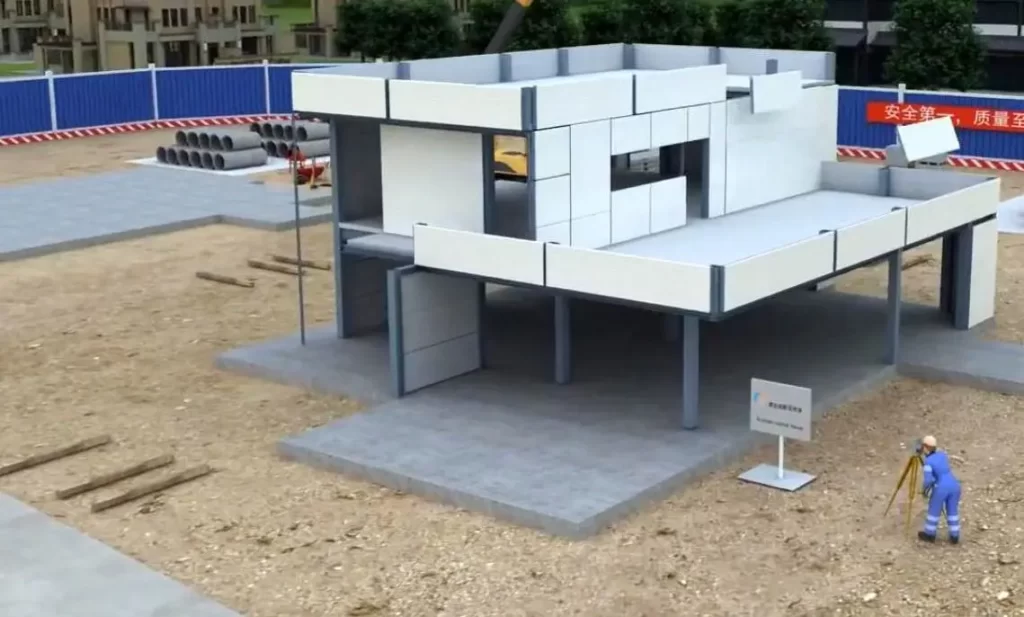 The Beauty of Steel Frame Houses
Steel Frame houses offer plethora of benefits. Aapart from the speed of construction, they're light weight, durable, and are more long-lasting than wood or concrete. Just because the elements of a steel building can be assembled offsite, prefabricated houses are easy to build. In fact, there's a trend of tiny steel house going around this year.
These houses or buildings also has a contemporary stylish look. Gone are the days when metal buildings were used to show an industrial look. With the popularity of tiny houses, moveable houses, and modular construction; there're number of stylish designs and décor schemes you can choose for your house or building.
Some companies offer the customization service to customers: so, you can easily change the look and feel of the building as per your budget and décor scheme.
Now that you know what Steel Frame is, see what are the advantages and disadvantages:
Also Read: Types of Building Structure in Civil Engineering with images
Benefits
In addition to being light-weight, speed of fabrication, erection, and installation, steel frame constructions offer several other advantages, such as durability, precision in execution, and gaining of internal space. 
1- Sustainability
Steel Frame construction generates little waste and consumes less natural resources like water, or wood. In addition, galvanized steel is a 100% recyclable material. So, if you're looking to reduce your carbon footprint, Steel Framework is a more sustainable option.
Steel Frame: construction site
2- Speed
A work in Steel Frame is usually ready up to 6x faster than works made with other construction materials like wood and concrete. There's no waiting for curing or seasoning. It is ideal for those who want to set up a business quickly or want to establish instant facilities. One of the ideal examples are the field hospitals that were established by various governments across the globe during times of COVID-19.
3- High Durability and Resistance
The materials used in a Steel Frame house are manufactured and produced with quality raw material, and undergo strict quality control. Unlike concrete, there's reduced involvement of labor or human power and so the chances of mistake or poor quality is minimal.
4- Greater Accuracy in Execution
Steel Frame is like automation of construction system. In other words, all parts are produced in the factory with the necessary measures for perfect execution. In this way, errors, improvisations, and delays in the work are avoided.
5- Gain of Internal Space
Because of light-wight structures, steel houses and buildings are ideal for open floor concepts. Steel beams and braces are able to span longer spaces and there's no need to use heavy interminent supports, girders, or columns. So, a steel building not only enhances your useful area but also reduce the overall cost of construction.
Architects are able to create more creative projects with more possibilities for the clients.
Steel frame: open concept environment
6- Personalization
Steel Frame allows the use of various interior and exterior finishes that suit your taste and budget.
A type of covering or facade widely used in Steel Frame homes is Drywall. If you're interested to know about drywall; here's a useful insight:
How much drywall do you need for a project.
7- Precision in the Construction Budget
Steel construction projects are more easier to plan and schedule. Because of the work in controlled environment; there're less number of factors impacting the overall course of project. Moreover, the simplicity of details allow precision in estimating a budget for the project. So, there're less chances of cost overruns – an issue that has plagued the traditional construction projects.
As all parts are known and can be easily listed for the project like Steel sections, support plates, beams, columns, screws, etc. So, it is simpler to specify the values ​​and avoid issues in the future.
Disadvantages
1- Few Skilled Labor
The number of professionals specializing in construction of Steel Frame is still low all over the world, especially in developing countries like Pakistan and India. Because of this, the work may end up costing a little more and take a long time to start.
2- Limitation of Floors
Although, the steel frame elements are quite roubst and durable, but being light weight; they can sway or buckle in an event of external force. So, a typical steel frame building is only recommended up to 4 stories. For buildings higher than that, special structural arrangements and support system are mendatory.
Steel Frame: work with 4 floors
3 – Steel construction is less popular
Both in developing and developed worlds, steel frame houses or prefabricated houses are not that common. We mostly see houses of bricks, and wooden framings with insulation panels. That's where slow adoption of technology is responsible.
Also Read: Prefabricated Trusses – Types & Advantages
Steel Frame Houses: See 16 Impeccable Projects
1. Steel Frame: Residence in the Countryside
2. Steel Frame: Residence in Itatiba
3. Steel Frame: Residence in an Urban Area
4. Steel Frame: Home details made with Steel Frame
5. Steel Frame: House with Glass Facade and Brise
6. Steel Frame: Wide Porch with Wood Cladding
7. Steel Frame: House with Integrated Environments
8. Steel Frame: Glass Window Facade
9. Steel Frame: Two-story House (Project: Giovani Bonetti)
10. Steel Frame: Metallic Structure on the Facade (Photo: Pinterest)
11. Steel Frame at Home with Brick (Photo: Pinterest)
12. Steel Frame at Home with High Ceilings (Photo: Pinterest)
13. Steel Frame is an Excellent Option for Loft Projects (Photo: Arkpad)
14. Steel Frame Two-Story House with Glass Windows and Doors (Photo: Pinterest)
15. Steel Frame House with Kitchen Integrated with the Outdoor Area (Photo: Pinterest)
16. Steel Frame: House with Gourmet Area (Photo: Manuel Sá)