Whether you're looking for pool decking materials, pool flooring, or want to finish the surface around pool decking; there're plenty of options and finishes. So, how can one select the best finish for a pool?
Well, regardless of whether you are planning to build a new pool or renovate an existing one, it's best that you know all the pool materials and select a material that works best for your budget and design scheme. There are a number of materials that you may want to use to construct various parts of pool including flooring, decking, and area around the deck.
Some common flooring materials include concrete tiles, and brick. For area around the pool decking you can choose materials like mosaics, boulder, concrete hive, dip, and natural stone.
If you go for natural stone you can choose number of cost-effective flooring patterns for limestone, sandstone, quartzite, and marble. But the best material for flooring can live up a backyard and bring character to the look and feel of your pool design.
Table of Contents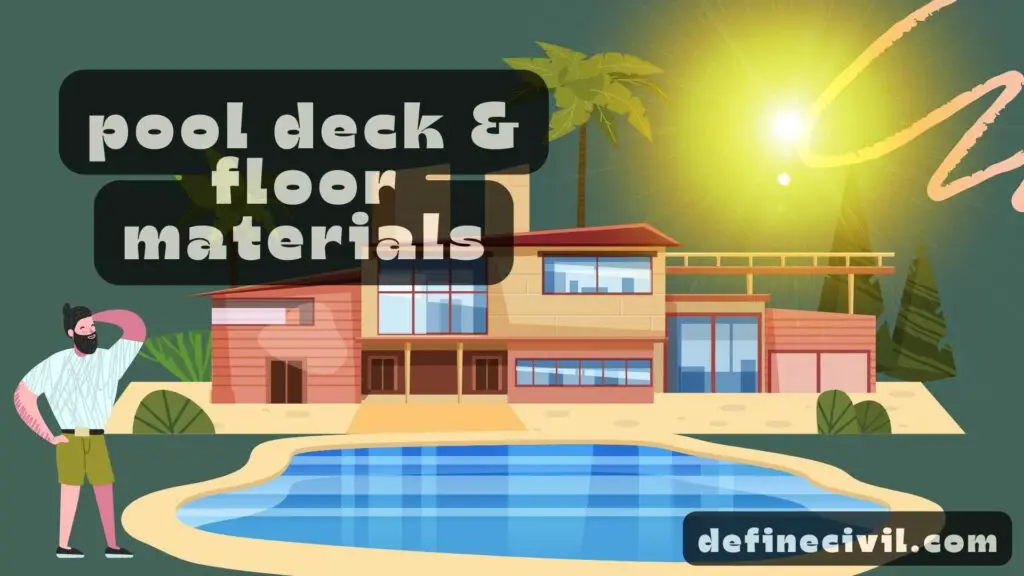 Pool Deck Surface Material
Concrete
Among the most common materials used for swimming pool construction are concrete and gunite.
These materials offer flexibility in size, shape and style. However, they are also very expensive. Therefore, it is important to know which material will work best for your pool project.
Concrete is made from cement and sand, and is a very durable material. The most common pool uses concrete as the base material. However, there are other materials that can be used for pool construction.
The most common type of pool is an in-ground concrete shell. It is composed of a thick layer of concrete that is topped with plaster. If the shell is damaged, it can be replastered.
It is also possible to add specialty materials to the pool's interior. For example, marble dust or colored quartz can be used to give the pool a more modern look.
Also Read: Rock Salt Concrete Finish – Installation – Advantages – Cost
The most obvious advantage of concrete is that it is durable and strong. This means that the pool will last for years if it is properly maintained. However, it will require regular maintenance and repairs.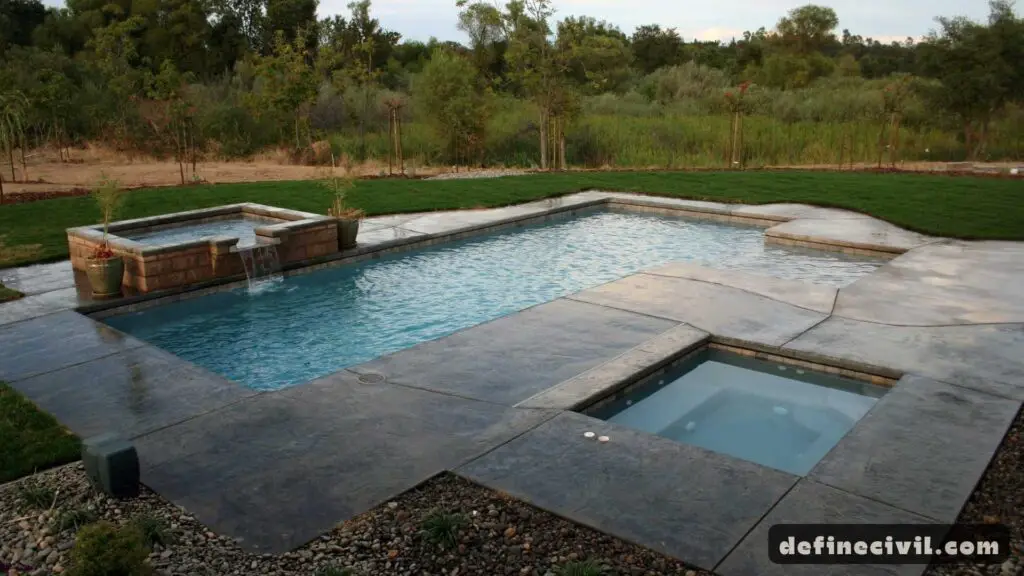 Gunite
Gunite is a construction material that has been used for building swimming pools since the late 1920s.
It consists of a mixture of air and cement, which is sprayed through a high-pressure hose to form a strong, durable shell. Gunite provides superior strength compared to other types of pool construction materials, making it ideal for saltwater and chlorine pools.
Gunite is applied by trained professionals who mix the material with water and then spray it onto the pool's surface in a consistent, even layer.
Also Read: Commercial Flooring – Most Durable & Best Types of Flooring
The gunite is then troweled to form a smooth wall. Gunite can be used to construct either above-ground or in-ground pools, depending on the customer's preference.
Gunite is popular because it offers many advantages over other pool construction materials. It is extremely durable and can withstand extreme weather conditions, such as high winds, hail, snow, and heavy rain.
In addition, gunite has a low permeability rate which helps reduce the possibility of water seepage in the pool walls. Finally, gunite can be customized with various finishes and colors.
Gunite pools require less maintenance than other types of pools, which makes them a great choice for many homeowners. It also is not as affected by chemical treatments like chlorine, so it doesn't need to be treated as often.
Gunite is an affordable option for pool construction that can provide years of enjoyment and satisfaction. With proper maintenance, a gunite pool can last for decades.
Fiberglass
Unlike concrete pools, fiberglass pools are built with a single piece structure.
This makes the installation process shorter and more efficient. It's also less expensive to install. The most important benefit of a fiberglass pool is its durability.
Fiberglass doesn't react with chemicals or salt water, so it won't stain or fade. This makes it a good option for people who want a pool that is easy to maintain.
Another benefit of a fiberglass pool is that it doesn't need to be acid washed or replastered. This makes it one of the least expensive pools to maintain over the long term.
Fiberglass is also flexible, making it easy to install. Its smooth interior surface also makes it difficult for algae to adhere to. It also comes in a variety of colors.
Another feature of fiberglass pools is the waterproof gel coating. This non-porous layer keeps algae from thriving and prevents water absorption.
Fiberglass pools are the middle of the road in terms of price. They are more expensive than vinyl and concrete pools, but they don't have as high a lifetime cost.
Fiberglass pools are also available in a wide variety of shapes and sizes. You can choose between a rectangular pool or a pool that is shaped like a castle. Some fiberglass pools even feature tanning ledges and built in spas.
Also Read: Types of Plaster & Finishing for walls – Interior – Definecivil
Tiles
Using tile for your swimming pool is a great way to add color, a unique texture, and a beautiful look to your pool.
Tile is also a low-maintenance material that is resistant to the elements. Pool tile comes in several materials, including ceramic, glass, and stone.
The types of tile you choose depend on the style and type of pool you're building. These are the most popular types, but you can also create a unique look by using other types of tile.
The most common types of tile for a pool are ceramic, porcelain, and glass. Ceramic tile is a durable material that is very easy to clean.
Tiles for pool construction come in a wide variety of styles and colors. Some common pool tile styles include mosaic, bullnose pool coping, and modern tile cuts.
Also Read: 14 Types of Stones in building construction – composition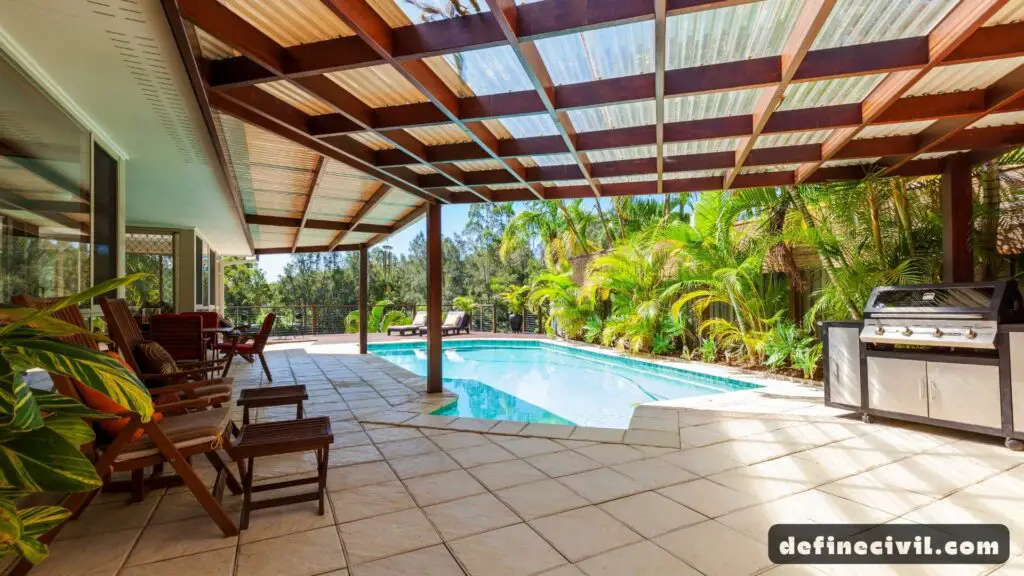 Pool Flooring Materials and Options
Brick, concrete and natural stone are the most common pool pavers.
There are several advantages and disadvantages to each of these types of materials. In this article, we'll look at what each material offers and why it's best for a swimming pool.
Brick around pool
Brick is a durable material that offers a great deal of variety in texture and color. Its ability to resist wear makes it an excellent choice for pool coping. Brick is also a durable material that requires minimal maintenance. It's also durable enough to stand up to chlorinated saltwater.
Also Read: Types of Brick finishes – Brick Wall Texture
Pros: Easy to maintain – color stays consistent for years.
Cons: Algae or moss growth can make bricks slippery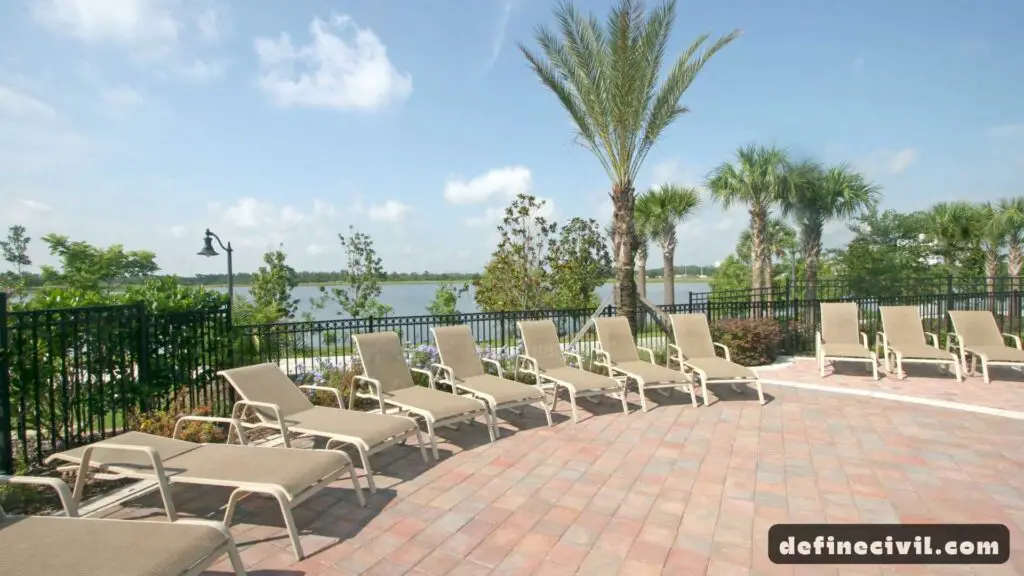 Concrete Pavers
Concrete pavers, on the other hand, offer similar durability and strength. They are also a popular choice for pool decks. But concrete can be a little rough for people to walk on. And it isn't as easy to remove as bricks are.
Pros: Come in different colors and can easily mimic appearance of granite, tile, or bricks. Low maintenance and easy to replace.  
Cons: installation is tricky. It requires good skills to level. They are prone to color changes and stains.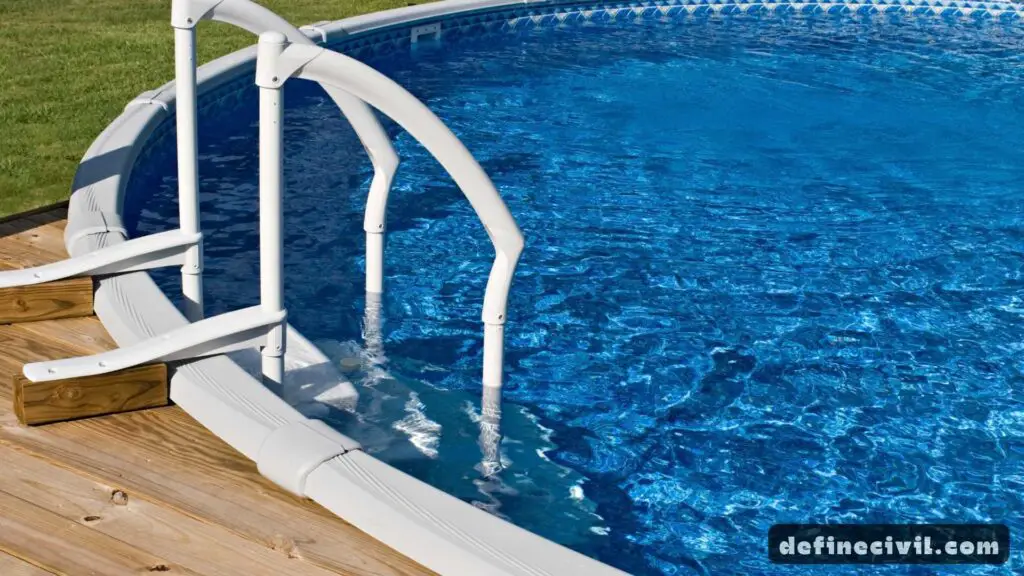 Natural Stone
Natural stone is the best looking material for a pool. But it's also the most expensive. You can choose from limestone, marble and travertine. Besides being durable, natural stone provides a natural look. It's also a low-maintenance material, making it a good choice for any pool.
Depending on the region you live in, prices for all these materials vary. The most popular natural stone is limestone, which is a cool material that holds up well to extreme weather changes.
Pros: When it comes to stone paving, you can choose different shape and sizes. Inherently slip-resistant.
Cons: Is costlier and dark colors can become hotter in summers.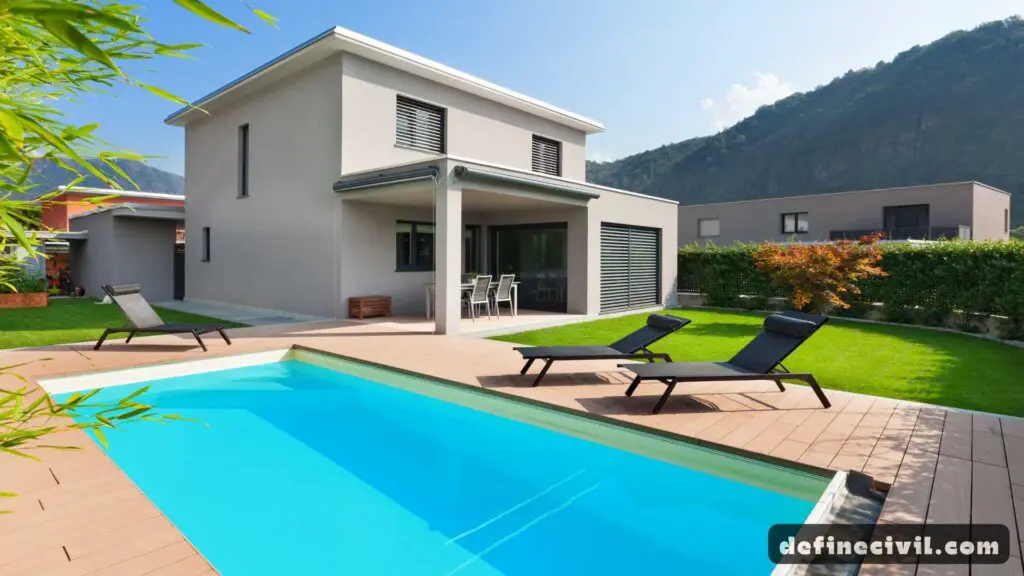 Pavement around Pool
There're plenty of paving pool options and choices. A good paver option not only has to be slip resistant to avoid any kind of accident but also has to prevent future maintenance problems. Some best materials for pavement around pool include Travertine, concrete, marble, granite, and limestone.
Granite offers a high-end non-slip finish to your pools adding elegance to any setting. You can easily clean any spills as it is inherently resistant. Anyhow, granite is a costlier option than marble or concrete.
If you want the most durable and easy to maintain flooring, concrete pavers is the way to go. Some suppliers offer slip-resistant surface that works best as pool side pavers. You can order different size and color to match your project requirements.
Marble is also one of the best pool sides paving material that offers stunning looks. Besides being incredibly resistant, it does not absorb heat and can remain cool in hot summer days.
Anyhow, we consider concrete pavers or bricks as the best pool deck material. They're cheapest option available and yet offer best functionality in all terms.  
What is the coolest surface for a pool deck?
Concrete and acrylic makes cool decking for pool on hot days. These textured coating can absorb less heat than natural stones and are comfortable enough to walk on bare feet. Unlike gray concrete or dark stones, acrylic topcoat has a white color appearance that does not absorb much heat.
If you want to make your existing pool deck cooler, you can opt to resurface the deck. The pool deck contractor can easily overlay the existing deck with the right type of coating. You can also repair the deck in case of damages with this technique.
How to choose the best pool deck material?
Unlike patio, you need to be a bit picky about pool deck materials. Be it a plain concrete around the pool, bricks, or pavers; you need to select a material that can withstand high foot-traffic and is easy to maintain.  
Here're some special performance requirements for best pool deck material:
Easy on bare feet
Heat reflective
Non-slippery
Even-surfaced
Resistant to chemicals, mold and mildew
Must be attractive
Easy to maintain
Now that you know your options, you can evaluate all the choices on the basis of cost, durability, maintenance, and your personal preference. Try to choose a material for decking that blends well with the pool flooring and other landscape features.
Conclusion
The construction industry has come a long way. It is now a place where experimentation and innovation are the norm. This means that the materials that are used to construct pools can be quite diverse. A good pool construction team will know what materials are available to use and which ones will work best for your project.
It's now your turn!
We've tried hard to make this guide and help you in picking the right material for your pool deck and floor. If you've used this guide for your purchase, we'll love to see pictures. Just share them in the comment section.
Further Read: Coastal Interior Design ideas – & Pictures – Definecivil