There is no doubt that the fencing around the house does serve some goals, the most powerful of which is defending the privacy and maintaining the safety of the inhabmaintenanceitants.
Along with commonly used commercial and security fencing, they are also used for adding to the aesthetic appeal of the home exteriors. Therefore, it becomes very vital that you choose the right type of fence out of the many kinds of fences in use today.
Metal fences are a popular choice. Ornamental metal fences are common if you want both strength and style. Most ornamental fences come in two styles:
Ornamental Picket Fence
Metal Privacy Fence.
Ornamental picket fences replicate the typical features of a traditional picket fence with vertically installed evenly spaced pickets, whereas the metal privacy fence has privacy panels with a variety of colors and options.
Today, we have brought to you modern metal fence design ideas for your admiration.
You can use these ideas to try to make your own pieces at home.
Designing a metal fence for your house fencing system. You can even turn these ideas into a lucrative smaller-scale manufacturing business with an initial investment on basic tools and materials, and finally end up making these metal fences for your neighbors and enterprises.
Table of Contents
Why choose a metal fence?
Metal fence is sturdy and very hard-wearing. It is so strong that it retains its original properties even after many years of use. The metal fence can easily withstand harsh weather conditions.
With proper maintenance, you don't need to spend money on its repair now and then. Affordable options are also available in metal fences.
Also Read: Wrought Iron Gates, Railing, and Fences – Pros & Cons
Metal fence types
There are many different types of metal fences available in the market. Depending on the metal type, design, style, and size, choose the right metal fence as per your need. Some of the popular options available in metal fences are listed below:
Aluminum fence
Mostly used in commercial areas and residential areas, this type of fence is corrosion-resistant, so you can install it in any area without having to worry about exposure to water. Which is why aluminum fences are popularly used to surround swimming pools.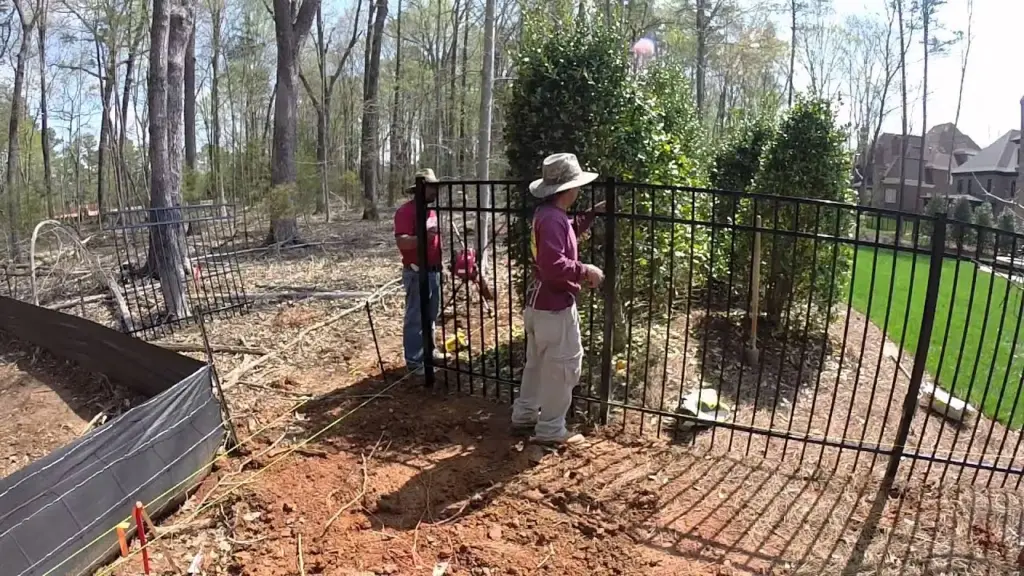 The lightweight of this fencing makes it the perfect option if you are looking for something temporary. In terms of going green, this fencing is a great option as it is entirely recyclable. On top of this, aluminum is the most cost-effective way to go instead of another type of metal fencing, such as steel.
Also Read: How Many bags of concrete Needed per Fence Post?
Wrought iron fence
This type of fence adds amazing charm and elegance to the entire place. Wrought iron fencing is highly durable, but it costs a bit more than other kinds of metal fences.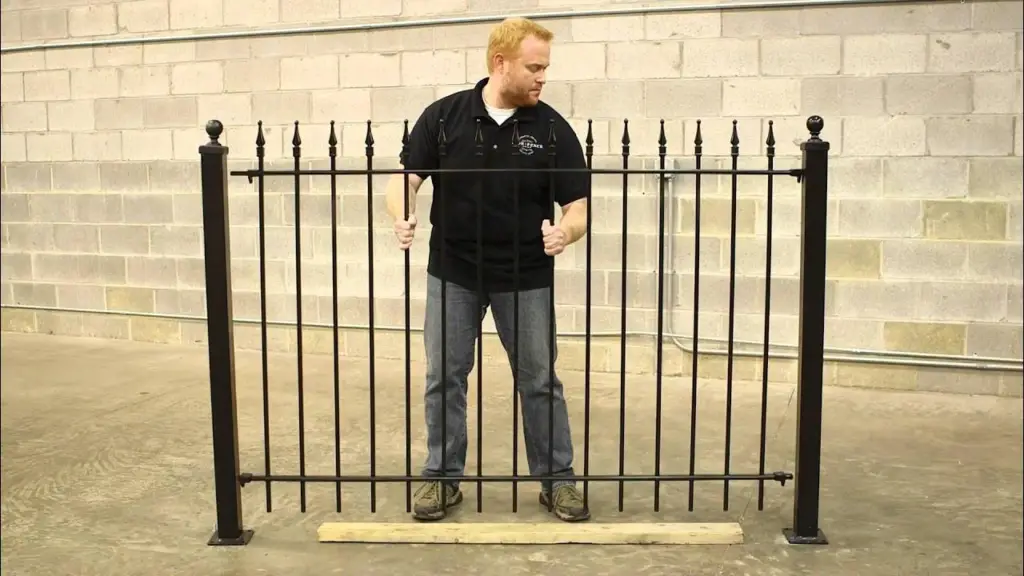 Steel fence
 Unlike wrought iron fencing, the steel fencing can continue on and not rot for centuries instead of years. Along with being very sturdy, there is little to no servicing needed.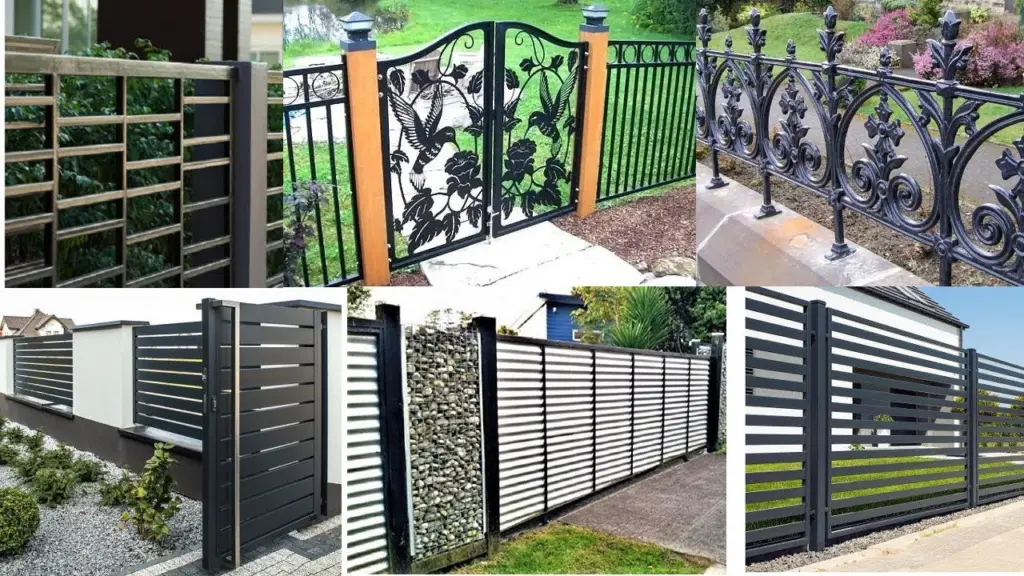 Types of Metal fencing with style
Regarding the style of fencing, there are several styles of metal fencing.
One of these is the chain-link fencing, and the other style of fencing is the palisade fence. We will look at these in detail.
Chain-link fencing
There are many options of fencing available for use for different purposes, but chain-link fencing stands out. The primary purposes of these fences are securing and enclosing places like backyards, barns, government facilities, and construction sites.
Chain-link fencing is preferred for its economic advantage, durability, and affordability. Thus, it's best suited for both commercial and residential places.
The materials used, such as interlocking and moving wire mesh, and the steel posts, make it a great choice for most people. This fencing type is reliable but isn't the most elegant.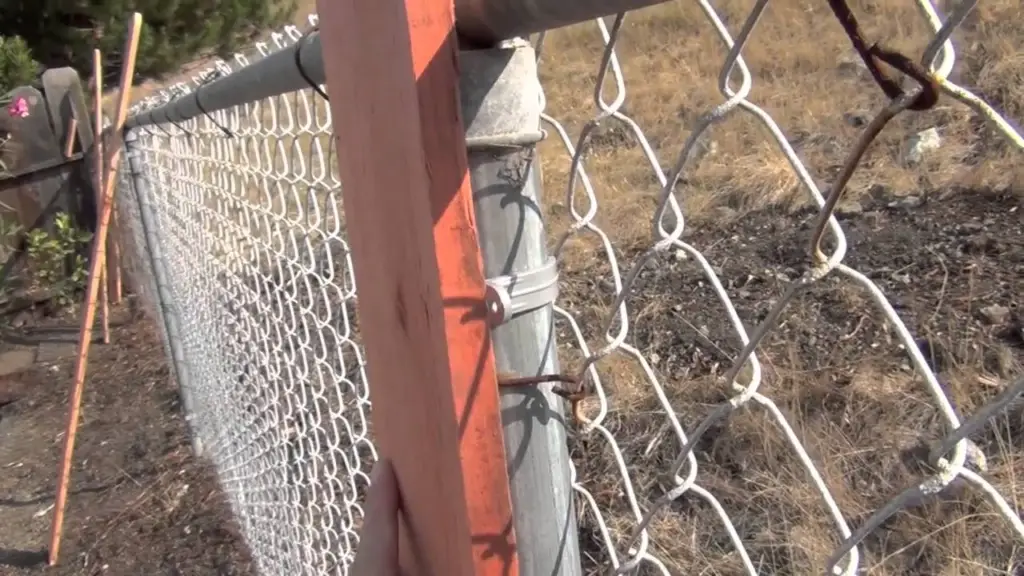 Benefits of Chain Link Fencing
Let's take a look at the top benefits of chain-link fencing:
Cost-effectiveness
The reason why most businesses and homeowners prefer chain-link fencing is the fact that it's cost-effective. In comparison to other fencing options available that provide the same services in terms of strength and visibility, this fencing type is significantly cheaper.
Most people prefer it as its price is a fraction of the prices of other available options but doesn't compromise on reliability. So if you are working on a tight budget, it's the best option for you.
Provision of security
With respect to the level of security it offers, chain-link fences are sometimes referred to as cyclone fencing or hurricane fencing. This is because they are made up of secure voltage and interlocked steel wires. They are made to have a vertical zigzag pattern, which is then connected to form a shape of a diamond.
These wires are then fixed on steel posts, which are embedded firmly onto the ground. Because of its security level, it is suited for a wide range of applications, at home and in other areas. They are also used to secure airports, military bases, highway projects, and containment of correctional facilities.
They are also see-through. For additional security, these fences can be made to be more than 12 feet high.
Also Read: Fence Cost Calculator – Wood – Chain link – Vinyl – Privacy
Durability
Chain-link fencing is one of the most durable fencing options out there. The advantage is that they can be made from a variety of materials. These materials offer a varied range of durability. Therefore, if your main goal is to have the longest-lasting chain-link fence, you can either take the vinyl or galvanized steel-coated types.
What's more, customization is done to meet your preferences. These fences are made to withstand conditions that others would not easily withstand and remain as good as new.
Variety of design options
 Chain-link fencing is available in a wide range of designs. The most common of the options is the silver steel color. However, there are a number of other designs available. Bonus times, there are color-coated varieties. That won't control from offensive materials can also be made to have specific thicknesses and styles. If you have limited space, there is an option for you. On the other hand, if you have enough space, you still have other options.
Ease of maintenance and repair
 This type of fence is very easy to maintain and repair. Once installed, there is not much that you need to do in order to keep them in a working condition. When they become damaged for some reason, simply cut them, then replace.
If you're not wanting to maintain your own fence, local based fence installers in Melbourne or your surrounding local fence professionals can help you maintain any type of fence without any worry. 
Quick installation
Compared to other fencing options, chain-link fences can be installed more easily. When you hire a professional fencing installer, this job can be completed in a fraction of the time you need if you want to do it yourself. The benefit is that once he or she completes the job, nothing more will be required of you.
Palisade Fence
The second type of fencing we will talk about today is the palisade fence. If you are considering upgrading and updating your security fences, then you might be wondering about the benefits of installing the new fence such as palisade fences.
Palisade fences are constructed by using two horizontally running rails and are connected by vertically running rails. All palisade fences can be rolled in a variety of different sizes, ranging from one meter to three meters.
Benefits Palisade Fence
Strong palisade fencing is also achieved thanks to the pointed tops, and the panels in the fence with vertical rails are able to be swapped out and replaced in order to make cheaper repairs whenever there is a need.
The main reason for installing palisade fences is to secure a certain area from outside intruders or to keep people within certain premises.
For example, a palisade fence will be used to outline the confines of a school and to keep its students on the school premises.
Due to their design, palisade fences have been made to make climbing them almost impossible or at least very hard, with the lack of footholds and the potential to be three meters tall, which makes them difficult to gain leverage to climb the vertical obstacle.
Palisade fences also serve as a strong visual deterrent. Commercial usage normally includes having spikes at the top of the fence, which also deters an intruder from attempting to climb the fence. In case of injury from being cut at the top, the third nature of this fence also intimidates an intruder from attempting to climb it.
Regarding the strength, palisade fences are built to last, with the intent that the fence will be permanently guarding an area to keep it secure. Palisade fences must live after a lot of punishment and still provide protection to whatever they are guarding.
The construction of palisade fences is simple yet proven to withstand a lot of punishment. Modern palisade fences are made from steel, which is durable and difficult to break down. Palisade fences are galvanized or treated with powdered coating, which ensures that the steel is protected.
Well, readers, as you can see in the article, we have presented a number of interesting modern metal fence design ideas for your inspiration. We will talk about other fence types in future articles. For now, which one is your favorite and why?