Most nail guns appear to be the same, but the differences between them are significant. For example, although many people are familiar with a stapler or staple gun, not everyone is aware of a brad nailer, finish nailer, or framing nailer. As a result, certain individuals believe they may apply all of their skills to similar tasks. But three of them are unique in terms of apps.
Brad Nailer
The term "nailer" refers to a nail gun that uses 18g brad nails. That is why it is known as the brad nailer. Thin nails that can be 18 or 24 gauge are known as brads.
The benefit of having a thin nail is that it may create a tiny hole in the work surface. As a result, the holes remain inconspicuous and do not leave any marks on the work surface. That's why, for the most part, we don't need to use putty to conceal the holes on our countertops.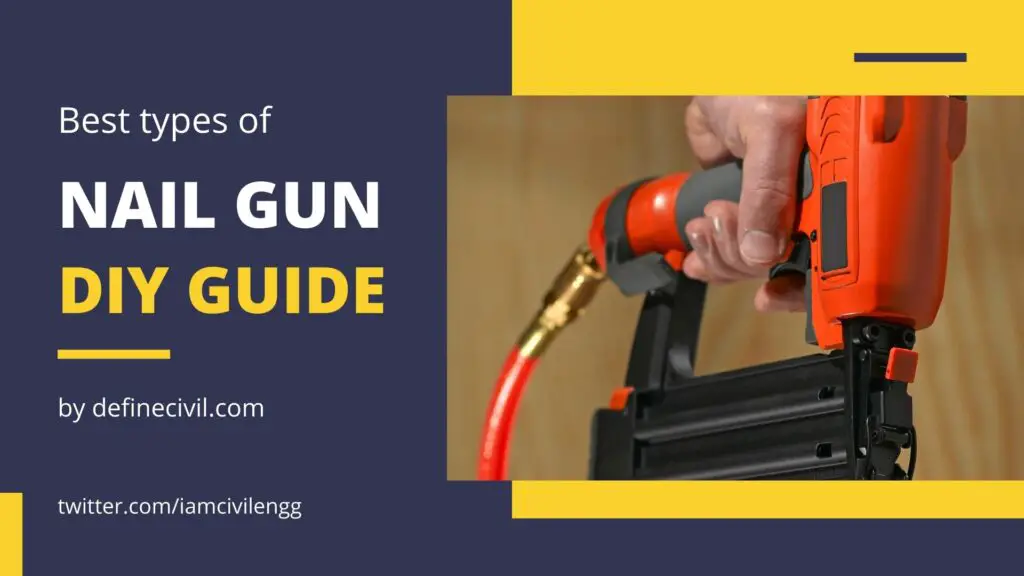 Pros
It ensures that the job is well finished.
Prevent woods to split.
You can simply hang things temporarily, which is both convenient and secure. When you don't need it, you may also quickly remove nails.
It leaves tiny holes that don't require putty to be filled.
Cons
It won't work on hard or thick wood.
Also Read: Construction Tools Names and Their Uses Complete LIST [50+]
Finish nailer
A finish nailer is a nail gun that fires 15 or 16 gauge nails. That implies it uses thicker nails than a brad nailer. Brad nailers are generally used by woodworkers, but there are exceptions to this.
A finish nailer is more powerful than a brad nailer since it must fire thicker nails. 15 or 16 gauge nails are used to support hefty projects because of their strength. In addition, it may readily penetrate thick woods.
Pros
It's crucial for maintaining a consistent work routine.
It can handle hard and thicker wood.
16 gauge nails can handle a lot more weight than 14 and 15 gauge nails.
Cons
Splitting woods is a possibility.
Leaving hole marks possibility.
Framing Nailer
The framing nailers are distinct from the other nail guns we've discussed so far. The magazine for framing nailers has a variety of angles, such as 21 degrees and 28 degrees. The only nails that this tool will support are those at the corresponding angle.
Angled nails are available in a variety of styles for specific nailers. The depth, gauge, angles, and materials of finish nails differ. As a result, it's difficult to select the ideal finish nailer for your application. However, some hybrid nailers on the market can handle a variety of angles. In addition, there are two types of nails: one is circular-headed, and the other has a clipped head.
This is because it allows us to work from a greater range of angles and with a variety of nails. It also makes our job more flexible and easier since there are many different angles and sorts of nails. Different angle nippers are suited for various jobs since to the fact that they have a lower angle and include a round head. The 28-degree nails are better for certain circumstances, and they have a stronger gripping power than the 21-degree nails. 30-degree nailers can store up to 80 nails. The weight, on the other hand, is an issue because it's a little hefty.
Pros
The flexibility to work is aided by a wide range of nail sizes.
It has the ability to operate in confined locations effectively and precisely.
The nails are strong and can support hefty loads.
Cons
Sometimes, different nail guns are required for various angled shots.