Adding different wall texture types can be a great way to improve the look of your home's interior design. From popcorn, knockdown, and sand swirl, there are plethora of methods and techniques to spruce up your walls without spending a fortune.
You can choose from different types of wall textures when it comes to adding beauty and life to your home's interior walls. The texture on walls can hide imperfections, create dimension, and add style to the space.
But the best part is, you can do it yourself. Moreover, you won't have to be a seasoned DIYer. It needs simple techniques that I've tried to elaborate for each of different types of wall textures.
Whether you're looking to modernize, add some character, or blend in with your neighborhood, there's always something new to learn about wall textures and how they can affect the feel of your home's interior.
So, here I'm with these 10 types of wall textures as some of the most popular on the market right now.
The Big News – these textures have the potential to give your home an instant face-lift without costing you too much money or time.
So, let's delve straight in:
Create a Stunning Home Interior with These 10 Wall texture types
A home's interior can make or break its appeal, and the way you choose to decorate each room can define your own personal style. The same stands true to your walls. One of the easiest ways to incorporate your style into each space is by choosing the right wall texture to showcase your personality.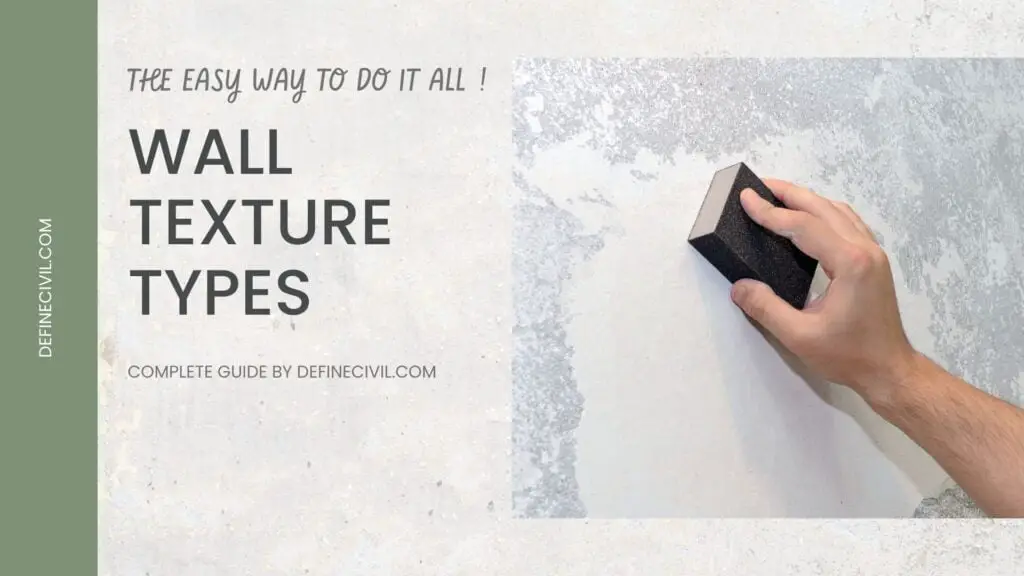 From textured concrete walls to reclaimed wood surfaces, you have plenty of options to choose from when it comes to crafting the perfect interior design look with just one simple change—the texture of your walls!
Also Read: Types of Plaster – Finishing for walls – Interior
Comb
The comb texture is literally made by engraving a comb in drywall compound as a texture finish. It creates an amazing textured looks with patterns that resemble rainbow patterns. It is a simple texturing technique that is quite easy to achieve on the walls. The strips give your house a rustic and chunky look that pairs well with different types of décor. You can also use combination of comb texture in walls with other types of wall textures.
Anyhow, in order to maintain their visual impact and make them last longer, it's crucial to apply multiple coats of primer before you apply your top coat. Anyhow comb pieces leave visible lines between them unlike many other types of flat finishes.
To achieve comb texture on walls, you need to have a roller, a drywall compound, and a trowel with evenly spaced teeth or comb. After applying drywall compound with roller, you can gently press the comb in concentric circles to create stunning comb texture on your wall. However, if you're a newbie you need to practice the technique before practically using it on your walls.
Also Read: Types of Brick finishes – Brick Wall Texture
Popcorn
This texture type derives its name from the look it offers. It feels as if popcorns are pasted on the wall. Anyhow, popcorn wall textures are available in premade mix of drywall mud and polystyrene. It is available in all home stores and amazon. The best part about popcorn texture is its ability to hide imperfections and absorb sound between floors and walls.  That's why in texture industry we call it the acoustic texture.
It is becoming a popular method of texturing ceilings many years ago. It is pretty cheap to apply and can be quickly redone when the texture and a popcorn ceiling has become damaged or disfigured in any way.
There are several materials and tools you'll need to apply popcorn finish. You need a can or two of acoustic spray texture depending on the area of application.
The tools needed are plastic, sheeting, masking tape or thumbtacks, a lightweight baking pan, a 6-inch, taping knife, a hand, spray pump and a six-foot ladder. But make sure to remove furniture in the room that will inhibit access to the disfigured popcorn.
Now secure the plastic to the wall or ceiling with masking tape or thumbtacks, make sure that the sheeting covers the carpet as well. Now, simply spray the canned spray texture onto the wall by holding the can to the wall.
A second can give the spray texture a few hours to set, as its appearance will change. The texture appears at first to have been insufficient, however that changed after waiting only a few hours.
Anyhow, the popcorn texture walls can absorb water. So, on the ceiling or on the walls, you'll notice darkening from the water.
Also Read: Rock Salt Concrete Finish – Installation – Advantages –  Cost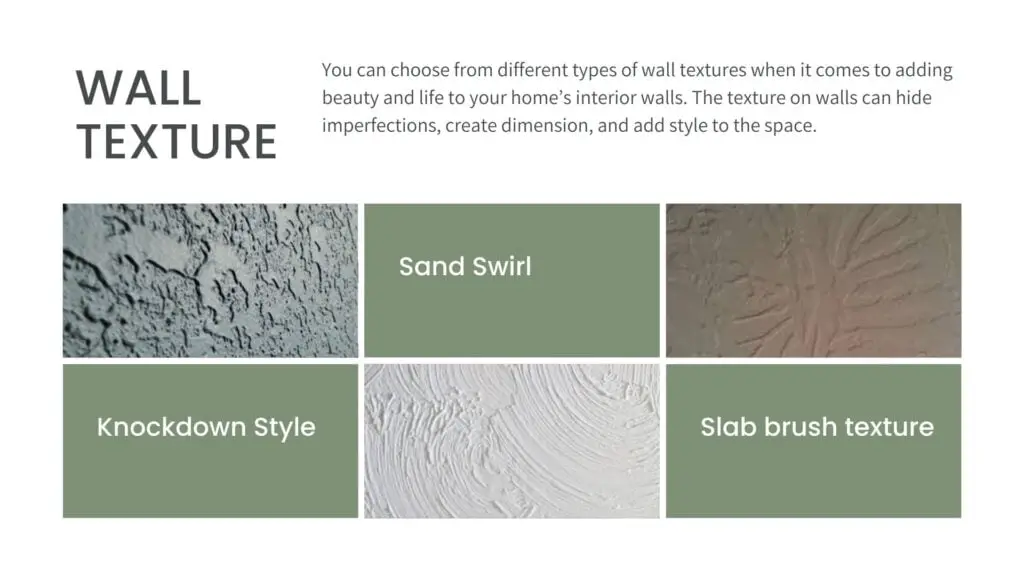 Orange Peel
Orange peel is a type of textured wall, similar to splatter or eggshell resembling the texture of orange skin. It's made by creating little ridges in wet drywall compound, and then peeling it off after it dries. It is ideal in getting subtle finish that can easily hide wall and ceiling imperfections.
The resulting texture is very rich and somewhat irregular, making orange peel an interesting choice for bedroom walls or living room walls that you want to look rustic and old-fashioned. It is durable and easy to clean. Hence a lot of homeowners prefer it in rental or commercial properties.
You'll need to prime the walls in advance so that the texture has a smooth surface to stick to. Now you need hopper gun that can be found at hardware stores with an air-adjustable valve, and you'll need an air compressor.
First soak drywall compound in water to create a watery mixture and pour it to the hopper. Sprinkle a small amount onto a test surface and adjust the air valve to accommodate the desired spray pattern. To get the desired textured look, apply small spits of compound to the wall with varying heaviness; try lighter spits as well as heavy ones. When you feel confident in the spray pattern, begin applying it to the walls. After they are dry, you should prime and paint the textured walls.
Anyhow, you should stay at a distance of about 30 to 36 inches. Make short strokes on and off. For patching a small area, make sure it blends well and let it sit for half an hour.
Also Read: How to grind concrete smooth? 
Knockdown
There are lots of ways to create an instant aesthetic upgrade to any room. But, one way that's truly stand-out is knockdown wall texture. This texture is a popular finishing style that is more pronounced than a flat finish, but it is not as strong as an orange peel or popcorn texture.
This stucco-like wall texture is pretty easy to achieve. With a bit of effort and handyman skills you can achieve an awesome-looking rustic pattern on your wall and you'll be proud of it. First you need to apply an orange peel texture – just as I've explained above. Now all you need is a knockdown knife that you can easily find from a home store. Use it and flatten the humps and projections from the drywall compound. A standard knockdown knife is 18-inch size.
Anyhow, you need to wait a bit for the compound to get dried before flattening the peaks. Now for a bigger room, let's say around 55 square meter sized, once you're done with orange peel texture, you can start flattening the peaks without waiting as you'll naturally take more than 15 minutes to complete such a size of room.
Anyhow, at the end, you need to wait overnight for the knockdown texture for drying before priming and painting.
Also Read: 11 Ingenious tips to brighten up a dark room (in 5 minutes)
Sand Swirl
As the name implies, sand swirl is a type of drywall texture for walls leave a swirled pattern of semi-circles across the wall. If you'll look at its picture, you'll observe how it resembles two more texture types i.e. – the sand spray and the comb. You can easily achieve sand swirls by using bristles on the back side of an ice scraper. You can also use medium or thick bristled brush.
Swirl texture is a less expensive way of achieving the textured finish and it gives the individuality to the walls of your home. If you're looking to get rid of popcorn texture, sand swirl may be a good alternate.
You can also achieve sand swirl texture with mere a 7-inch wide paint brush. But in that case we need a special drywall compound – we call it perlite. It is a primer compound with sand mixed.
Now all you have to do is hold the paint from the base, dip the brush into the perlite and make swirl pattern on spare piece of drywall first and then on your wall.
Slab brush texture
In drywall texture industry, pros also call it crows foot or stomp brush texture. It is a very simple and easy to do texture plus it is very popular in DIY community. It creates a unique fan-like or sunburst effect with the help of simple texture brush.
After mixing the compound to a consistency of a thick milkshake, you can use brush to apply it on the wall. Using the roller, apply a 1/8" thick layer of the drywall compound on the wall. While the compound is still fresh, use the brush to create stippled effect. Keeping the brush perpendicular to the wall, press it straight into the wet compound and then withdraw it.
The best thing about slab brush texture is that anyone can do it with a straightforward technique. You can also intermix different textures by overlapping the stomp pattern more or less.
Also Read: Construction Tools Names and Their Uses Complete LIST [50+]
Slab brush knockdown
Well, this type of wall texture combines the effect of slab brush technique with flattening of knockdown texture. It results in a random pattern or flatter and wider lines that look awesome in interior décor. This wall texture is ideal for a featured wall or a special wall having pictures or some décor.
First you need to complete the room by texturing with slab brush technique. Make sure the walls has evenly covered with slab brush texture. Now after lapse of 10 to 15 minutes, you can begin knock down the peaks using the knockdown knife.
Further read: 8 Types of Partition Walls – Materials – Design – Construction – Price