There are many advantages of installing solar panels on your home roof but it needs to be done right. Read about the questions to ask a solar contractor today.
Solar energy has become one of the top green energy choices for homeowners. You don't need a giant installation to fully power your home, and you can connect it to the grid to keep drawing power if needed.
And to make things better, governments are making significant solar investments. That's why it's no surprise that the solar industry is expected to keep growing by 15.7% until 2030.
But if you want a reliable solar installation, you need an experienced installer to handle the job.
Although many solar panel installations will usually go off without a hitch, that doesn't mean you shouldn't do your due diligence when hiring a solar contractor. Ask the eight questions below to vet your solar panel installation providers to ensure they will do the job right.
Table of Contents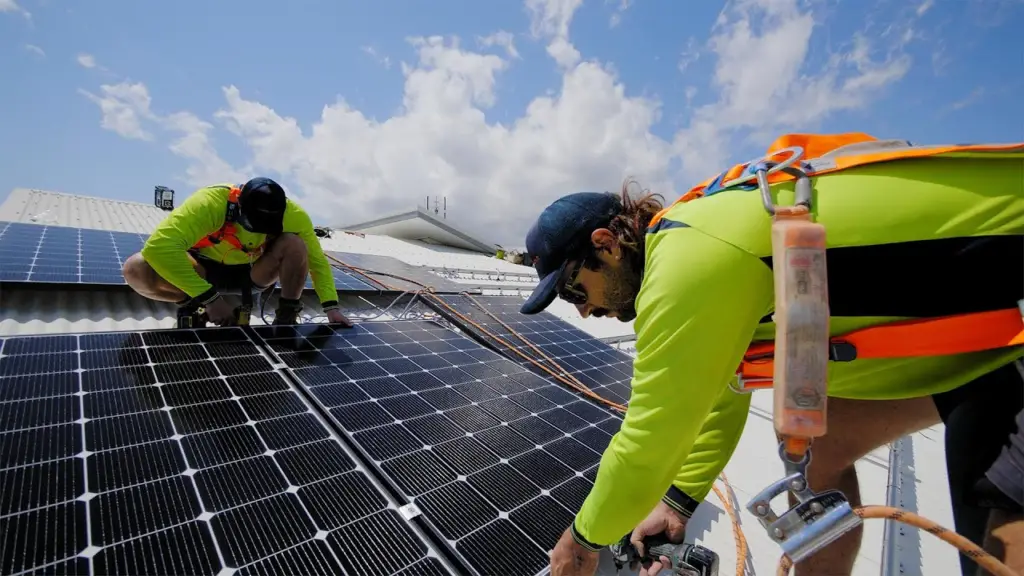 1. Do You Perform a Needs Assessment?
You may not always know the type of solar installation you need for your home. You have a general idea about what you want to accomplish, but when it comes to getting into the details, you don't understand enough about solar panels to put together a plan.
A reliable solar panel contractor can help you with this process. Tell them your goal with solar and have them design a solar installation that meets those needs.
Doing this means you can see the benefits of solar panels and get the most value for your money.
Also Read: Electricity Usage  – On the Rise – Impact on Society
2. What Are Your Prices?
It's important to get as much pricing information as possible before installing solar panels. There isn't a one-size-fits-all solution for everyone. This means your total cost will change based on your needs and the costs from your installer.
Ask this question to every contractor you speak to. You want to get quotes from all of them that detail your entire installation's cost.
Once you understand your total cost of solar panels, you can compare costs between contractors and choose the one that offers the most value.
Also Read: How Do I Find Solar Power Contractors Near Me?
3. When Can You Start Work?
Not every contracting company can get to your job straight away. There is a backlog of work in the industry and not enough workers to get to each job quickly.
This means that some of your solar contractor options may not be able to get to your job on your timeline. If you want your job completed in the near future, you can't afford to hire a company without asking this question.
Ensure you understand when a company can schedule your job, how long you'll wait if delays happen, and if they have the resources to handle the job quickly once they start working.
Also Read: How Construction Companies Can Optimize Project Costs?
4. Are You Experienced in My Area?
Although there isn't much variation in how solar panels are installed, there are construction standards builders must meet when building in an area. Local governments want to ensure that new construction projects are safe and won't fail. To that end, they create building codes.
Those codes can change a lot based on where you live. That makes working with a local solar company that knows the rules is essential.
Take if you're installing solar power here in Fayetteville, for instance. You want a company with a local presence and a history of success to work with.
5. What Does Your Warranty Cover?
Having a great warranty is a must when purchasing solar panels. You're spending thousands on the purchase, so the last thing you want is for something to go wrong, and you not have help to fix the problem.
Most reputable installers offer warranties for their work. They will cover the labor that goes into installing panels and the equipment if your solar equipment doesn't work.
Make sure to get a copy of the warranty offered and compare it to what's standard in the industry.
Also Read: Basic Electrical Fittings – Wire Guide – (Types, Sizes, Installation)
6. Do You Offer Maintenance?
Although solar panels don't require much maintenance, you'll still need to keep them up over time. Most maintenance tasks you can handle yourself. You only need to clean your solar panels to remove the debris that reduces efficiency.
But as time passes, your panels will need additional maintenance outside of cleaning. You may not want to do this yourself and feel better working with the company you used to handle the installation.
Make sure the contractor you hire offers this service if it's a consideration for you.
Also Read: Home outdoor lighting – Types – Maintenance – Importance
7. Do You Subcontract Work?
Not every solar contractor handles the job themselves. Some companies employ project managers and a partial installation crew and rely on subcontractors to handle the rest of the work.
This practice is common in the construction industry, so it shouldn't come as a surprise when it happens. However, it's also something you should know about before committing to working with a company.
Ask a contractor if they subcontract work before you hire them. If so, try to learn about the subcontractors so you can also vet them for the job.
8. Can You Provide References?
You won't have a problem with most solar installers. They will do the work they promised to do, and you'll have an excellent solar installation.
But that won't be the case for every company. Some contractors embellish their abilities, provide poor customer service, and leave problems unresolved.
Get references from a solar installer before you sign a contract with them. Reputable companies should have several people willing to back their service with positive reviews.
Hire the Best Solar Contractor
Deciding to invest in a rooftop solar installation is a big decision. You're paying a lot of cash upfront, so you don't want to make a mistake and get solar panels installed that don't meet your needs.
Finding the right solar contractor can make or break the success of your installation. Be sure to ask the questions above to your solar company options to determine if they have the expertise to install solar panels on your home.
Did you find this guide useful and want to learn more about making home improvements? Check out more guides on the blog to learn everything you need to build a great home.