A parapet wall is the outermost dwarf wall or heavy railing of a building or structure that is constructed at the edge or perimeter of a roof or balcony. It serves an aesthetic purpose by adding a unique look and act as a protective barrier to protect occupants from falling off roof.
Its materials can range from reinforced cement concrete, brick masonry, steel, or aluminum. Aside from its aesthetic purposes, it acts an enclosure for the flat roof buildings protecting occupants playing or walking on the roof.
Our today's article discusses about different aspects of parapet wall, different designs, structure, and how to choose the right material for your parapet walls. So, let's get started: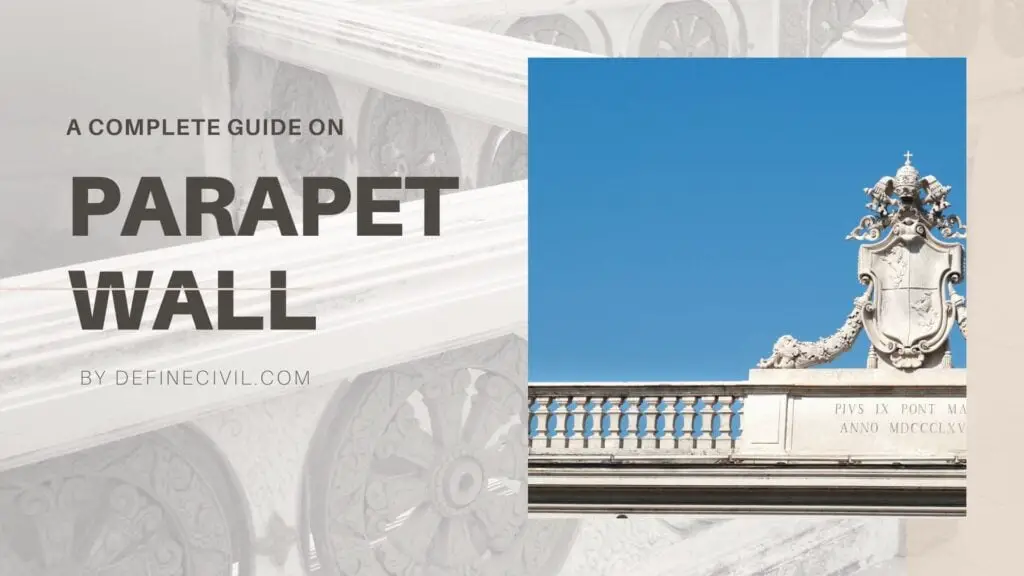 Definition & Purpose
The word parapet wall refers to a low height wall that is sometimes the extension of the main wall of the building and is provided along the edge of the roof slab, balcony, terrace, and walkway along the perimeter.
In flat roofs, where mostly homeowners use the space for playing or enjoying open in terrace; it needs a protective barrier for the occupants, especially kids. That barrier is provided in the shape of a parapet wall.
Though the word parapet is derived from the Italian parapetto, meaning to guard/defend (papare) the chest (petto), the parapet serves many other purposes, foremost among these as a critical transition between the building facade and the roof.
Also read: Breast Wall – Definition – Advantages – Application – Design – Retaining Wall
The concept of the parapet wall in architecture is not new. It has been an integral part of the many castles and old structures. It was used as a protective structure against enemies and to store cannons and other weapons of war. In old houses we have seen parapet walls in the form of balustrades architectural shape.
Modern parapet walls
The modern walls we found today on buildings these days are now an important part that overall set the tone of your house. It's a nice shape façade that goes above the roof few meters only. Its additional height makes your house looks taller and hence it beautifies the building's façade. Beside, aesthetic purpose, it serves an important function of deterring moisture in roof and protecting the roof from collapsing or wind damage. Similarly, while you're having roof finishing, you need an enclosure for that finishing.
Also read What is a stem wall – meaning – detail – benefits – design – procedure
Purpose
Here're different purposes of using a parapet wall inside the building:
·         Privacy
The height of parapet wall is kept to such a level that no person is visible if sitting or lying from outside. So, parapet acts as a visual barrier ensuring privacy of space. Similarly, homeowners often store equipment and tools of daily chores like tools and other gadgets. These equipments are not visible from the outside due to parapet wall and hence it enhances your home's aesthetics.
·         Utilization of Space
You have an awesome space on the roof or terrace and you can use that space for awesome sun-bath in winters. But what about the fear of falling from roof? That's where parapet wall comes handy. It increases the utility area of your home.
·         Aesthetics
Parapet wall nowadays is an integral part of your home's architectural scheme. We see enormous designs of parapet wall on pinterest with tag house designs or house elevation designs. Modern houses use parapet wall made of glass to boost the elevation of a building.
·         Safety
The most obvious purpose of parapet walls is safety. During spending time on roof or walking around there're chances of falling or tipping over the edge. That's where parapet wall provides you safety for movement.
·         Wind protection
A parapet wall provides several benefits to the building. It protects the roof systems from strong winds, which can lift the edges of a roof and cause damage to its structure. A parapet wall prevents elevated wind pressure, and thereby provides better protection to the roof assemblies.
·         Prevent Fire
A parapet wall also helps protect buildings from fires. In addition to ensuring safety, it helps prevent the spread of fire. This way, it can prevent the spread of a fire
·         Act as façade
Parapet enhances the façade of the building by not allowing the dust or debris accumulation on the roof. It improves the overall look and feel of the building.
Height of Parapet wall
The minimum height of the parapet wall for standard homes is 3 feet. But in no circumstances it can be less than 3 feet as otherwise the wall will be dangerous for the occupants. The thickness of the parapet wall is kept at 9 inches with intermediate columns for protection against wind.
According to local codes in US and UK, the parapet in wooden homes shall not be less than 30 inches or 762 mm above the point where the roof surface and the wall intersect. But for flat roofs, the guardrails or parapet shall be no less than 1.1 meters in height. Any wall with lesser height will present a fall risk for any person working on the roof.
Besides height, the material of the parapet wall is another important thing to consider. Since the wall is exposed to harsh weather, sunlight, rainfall, snow, and pollution; so it should be more durable than other walls of the building.
Also Read: Quantity of Bricks in a wall (STEP BY STEP Approach)
Types of parapet wall
Plain Parapet wall
There are many different types of parapet walls. The most common is the plain that is nothing but a vertical extension wall at the periphery of the building. This is a good choice for a home, and is usually the cheapest to build. These walls are easy to maintain, but don't add much aesthetic value. In most of the cases when only safety is a concern, this type of parapet wall is provided. Concrete coping is provided at the top with chamfer.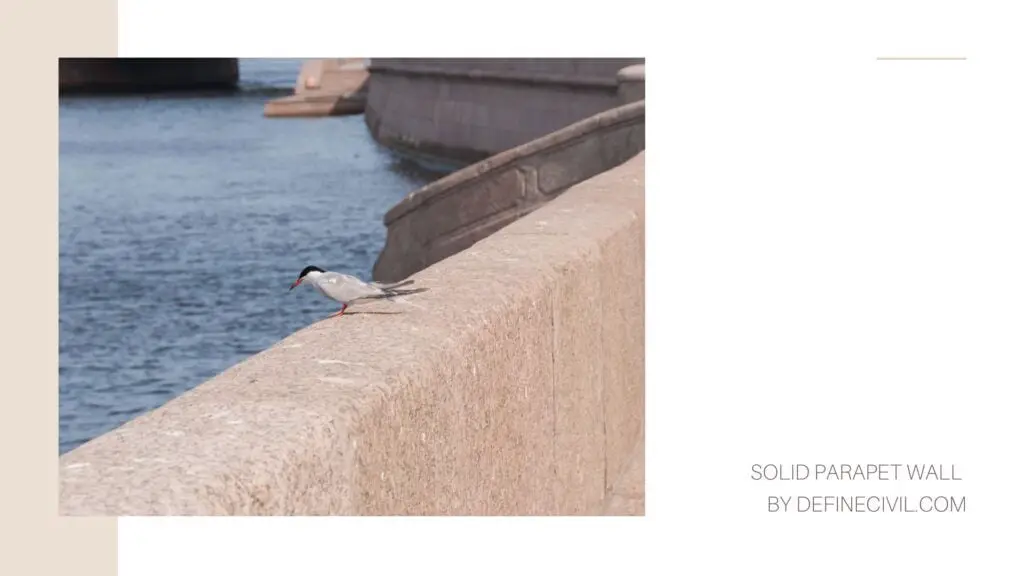 Perforated parapet wall
A perforated or open-sided parapet will add interest. This type of wall is also known as a periphrastic parapet. These are open on a diagonal or square and are more decorative than the plain variety. The perforations in the wall create an amazing overall look that increases your home's curb appeal. Perforations can be in many shapes like circles, trefoils, flower shapes etc . One drawback of perforated wall is that it is difficult to maintain. The water and dust can accumulate inside the openings, making it difficult to clean. Anyhow, it is still a popular choice among homeowners due to unique and amazing looks.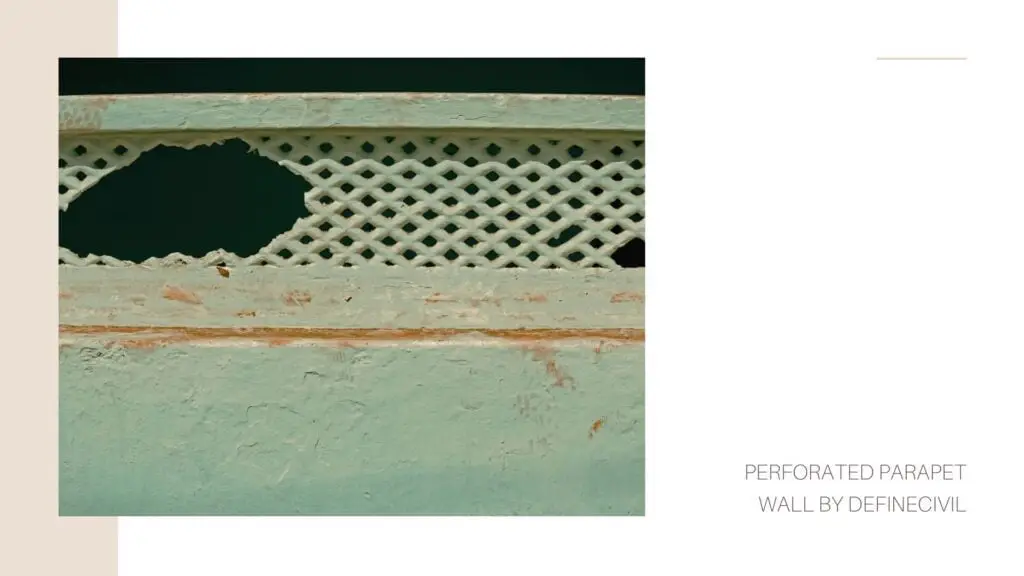 Paneled parapet wall
It is a type of plain parapet wall that has ornamental panels on the outer face to enhance the look and appearance. It gives you the solid and firm wall and at the same time provide enhanced aesthetic look. These panels can be of any shape like a circle, an arch, or some combined shapes but overall these wall don't have perforations or openings.  These walls have been a popular choice around some years before due to beautiful appearance.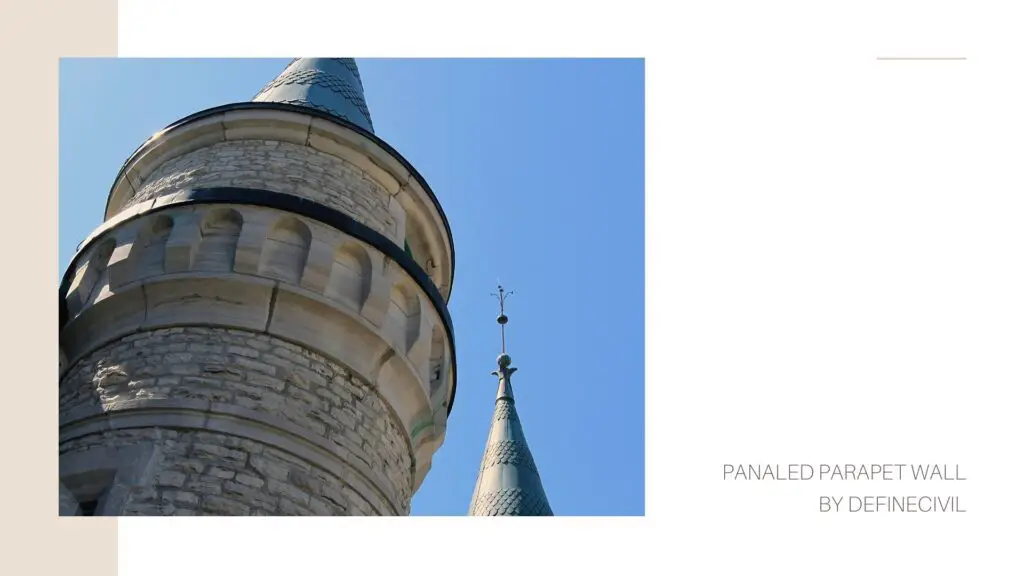 Embattled Parapet Walls
This type of parapet wall has been a pick of the architects for forts or castles not only for aesthetic purpose but also to serve from a defense point of view. It includes alternate low and high wall segments that are equally spaced to create symmetry. During wars, these wall segments were used by arrow shooters to shoot arrows through it while defending the fort. One of the most common example of this type of parapet is the great wall of china.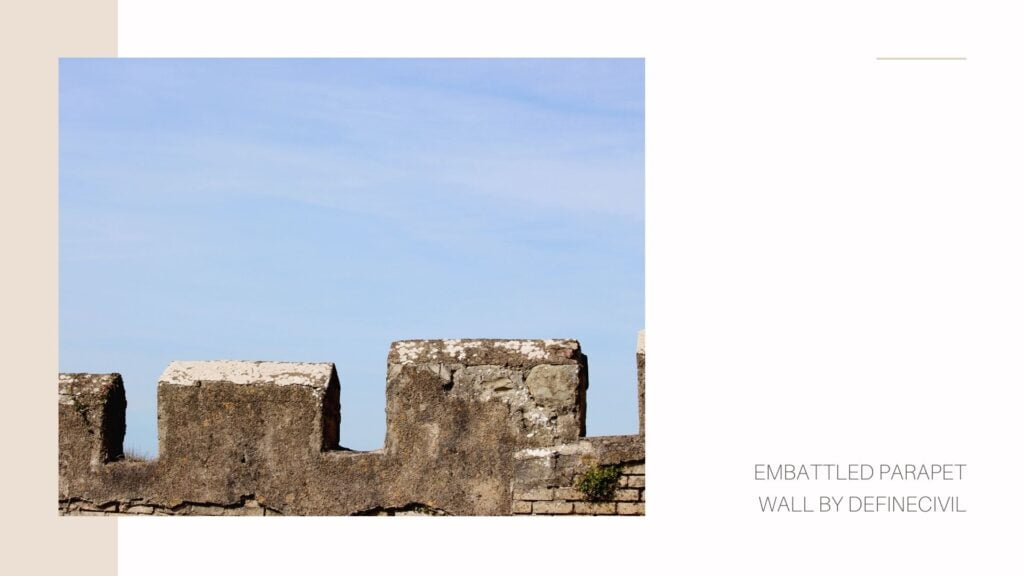 Material for parapet wall
Gone are the days when parapet walls were only made of concrete or bricks. Although the most common parapet walls in some developing countries like India, Pakistan, and Bangladesh is still that made with bricks. But in developed countries, the use of modern materials like fiber-glass, and steel railings is a popular choice.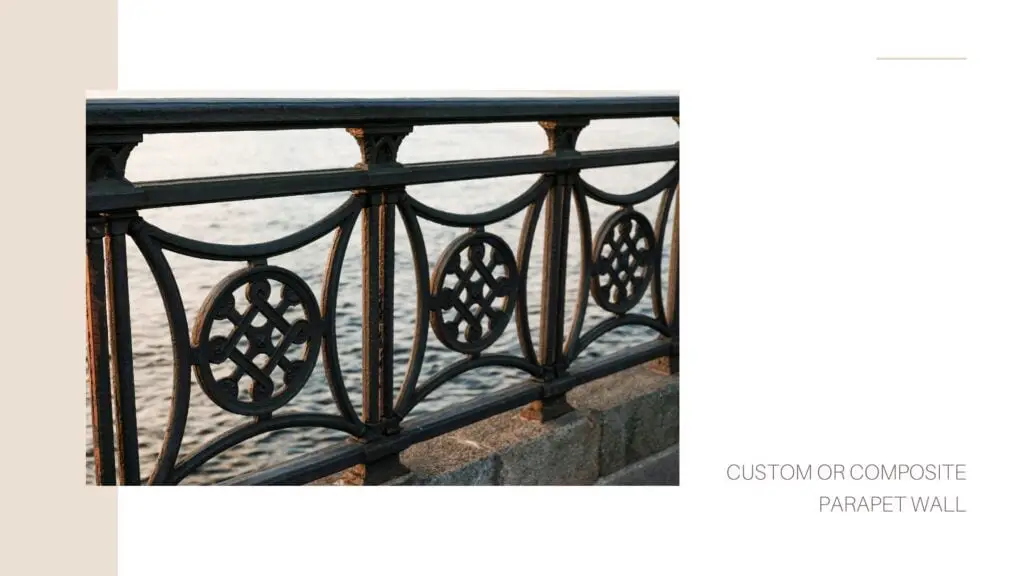 Glass or steel railings are fairly popular in UK and USA to have better overall appearance. Such types of parapet walls are called composite parapet walls.