Apart from all that passion and desire to build things; salary is always in your mind while you're pursuing your graduation and are now about to choose a major. So, you start comparing average salaries of various engineering disciplines in your country. Hence, the most obvious question you have in your mind right now is how much a civil engineer makes?
So, our today's video is about the average salary of a civil engineer along with perks and compensations you'll get when hired as one in your country.
Civil Engineering Salary
Well, you're actual salary in your country will depend on your job role or job description as well as the experience. Some highest paying civil engineering job roles include Project Managers, senior planning engineers, contract specialists, and senior design engineers. However, the salary varies from project to project and from location to location.
So, you know what I've tried to stick with the average salary just to give you an idea and I'll try to cover as many countries as possible.
So, let's delve in:
Just to organize the things, I've tried to arrange my list as per the highest paying countries for civil engineers. So, even if you're looking to immigrate; this article will come handy.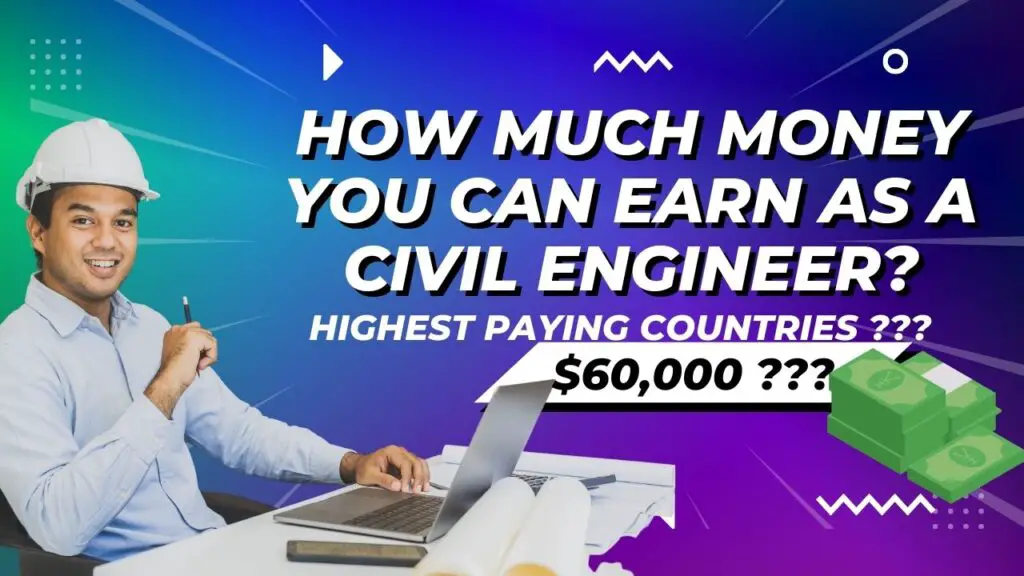 Switzerland
So, at the top of my list is Switzerland.
This happiest country on the plant is able to pay around USD 77,438 per year that's around 75 thousands in Swiss Franc – their local currency. Anyhow, you can expect to even earn more as the economy is bustling and super growing.
Denmark
The next is Denmark. This Scandinavian country offers around $71,565 per years that's around 504 thousands Danish Krone – the local currency. The thriving cities and idyllic landscapes has diverse job nature roles for civil engineers.
Norway
Now, I'm moving to Norway – having the gigantic building and construction industry. If you'll become a civil engineer in Norway you can expect to have an average salary of around 67,154 $ that's around 654 thousands Norwegian Krone – the local currency. Norway is looking for diverse and talented civil engineers in building and construction sector.
So, where'd you like to go next?
United States of America
Well, the next on my list is US – having around 7.6 million employees relevant to construction and civil engineering. This growing construction industry is happy to pay you around 62,000 $ a year. The industry is valued around 1.36 trillions dollars at the end of the current year.
Australia
Are you an Australian? Well, if you become a civil engineer, you're average salary will be around 55,155 $ a year that's around 78 thousand Australian Dollars a year. But you know what, the construction industry here produces around 9% of GDP with annual grown rate of 2.4 percent in next five years. That's an awesome growth – I must say.
Canada
So, you're living in freezing weathers of Canada. But here the average salary of a civil engineer is around $47,262 per year that'll make it around 60 thousand Canadian Dollars. The thriving construction industry here has more than 1.4 million employees generating around 141 billion dollar annually to the economy.
Germany
Now I'd love to go to Germany – as I love German speaking people. Well, a German civil engineer can earn an average salary of 44 thousand 8 hundred and 3 dollars a year that's around 42 thousand euros. Germany houses the biggest construction market in Europe. So, there're pretty awesome opportunities to grow rich as a civil engineer here.
United Kingdom
Do you know? The construction in United Kingdom is the largest of all. With employees of over 3.1 million people it comprises of around 9% of the workforce of the entire country. With more research on sustainable materials and labor intensive model; you can easily find an opportunity here. The English civil engineers make around $40,000 a year that's around 32 thousand British Pounds.
India
As I've covered the rich countries of the world, let's now move on to some progressing construction sectors of the world.
In India, Civil Engineers are making around 4 thousand dollars a year that'll be 307 thousand Indian Rupees. Here the construction industry is the largest in terms of creating investment opportunities across various related sectors. It accounts for around 8.2% of the construction industry.
Pakistan
For Pakistani civil engineers, the average salary is around $3,800 a year that's around 500 thousand Pakistani rupees. But here the numbers are not obvious. It varies a lot among different companies, job roles, and regions. Civil Engineer's working in mega projects are earning more than those working in ordinary projects.
Bangladesh
Let's now move into Bangladesh. You know what the civil engineers here are making around $3300 a year that's around 290 thousand Bangladeshi takka a year. Here the construction industry has more infrastructure projects and urbanization projects. The value of the construction sector here is around 81.7 billion dollars in 2021.
Philippine
Now comes the progressive construction sectors of Asia – Philippine. Here, the construction industry is growing around  the rate of 22 % in 2021. If you're in Philippine, as a civil engineer you can earn around 4,500 $ a year that's around 258 thousand Philippine Peso's a year.
Malaysia
At the last, I'm going to mention Malaysia. The construction sector here is growing at more than 10% than previous years. There're number of high valued infrastructure and energy projects. Here the average salary of Civil Engineer's in Malaysia is around $9,046 that's around 39 thousand Malaysian Ringgit.
China
At the last, I'd like to conclude that in Asia, the top country for paying civil engineers is China that's even more than some of the English countries I've talked previously. Anyhow, in Malaysia; the salary is also pretty awesome.
The bottom line
So, I've tried my best to include as many countries as possible in my today's article. What do you think about numbers? Don't forget to tell us how much you're earning in the comment section below with your country's name.
That's all about  our today's video. I'd hope you've loved it. Please do subscribe and share it with your friends. It'll help our cause in spreading education without spending a dime.
Here' a video in case you don't want to read things: