Surkhi mortar has been used in the construction of buildings, roads and other construction projects since ancient times. It's commonly found in rural villages across the country, where it's often used to build homes, walls and floors that are both structurally sound and aesthetically pleasing.
Surkhi mortar, also known as Surkhi brick, is an inexpensive building material that you can use to construct outdoor walls, windows and floors for your home or business.
While using Surkhi mortar may seem like a good way to save money on your construction project, this common building material has some serious disadvantages that you should be aware of before deciding whether or not to use it in your project.
But what exactly is Surkhi mortar? How does it work?
What is surkhi mortar?
Surkhi mortar is a type of mortar that is an artificial pozzolanic material used for making waterproof cement mortars and concrete. Surkhi mortar also hardens the concrete and it becomes more resistant to certain alkalis and salt solutions.
Traditionally, surkhi mortar has been used in India to make houses that are incredibly durable against all kinds of weather. They are also called mud houses because they have walls made from surkhi mortar. The age-old benefits of using a surkhi mortar can still be seen today in rural areas but it's getting harder to find people willing to build with these traditional methods.
Also Read: Compaction of Concrete – Importance
Instead, modern materials are often used for more expensive homes. For many, however, their main goal is not cost but durability which means that it may actually be more economical to use surkhi mortar than other materials in some cases.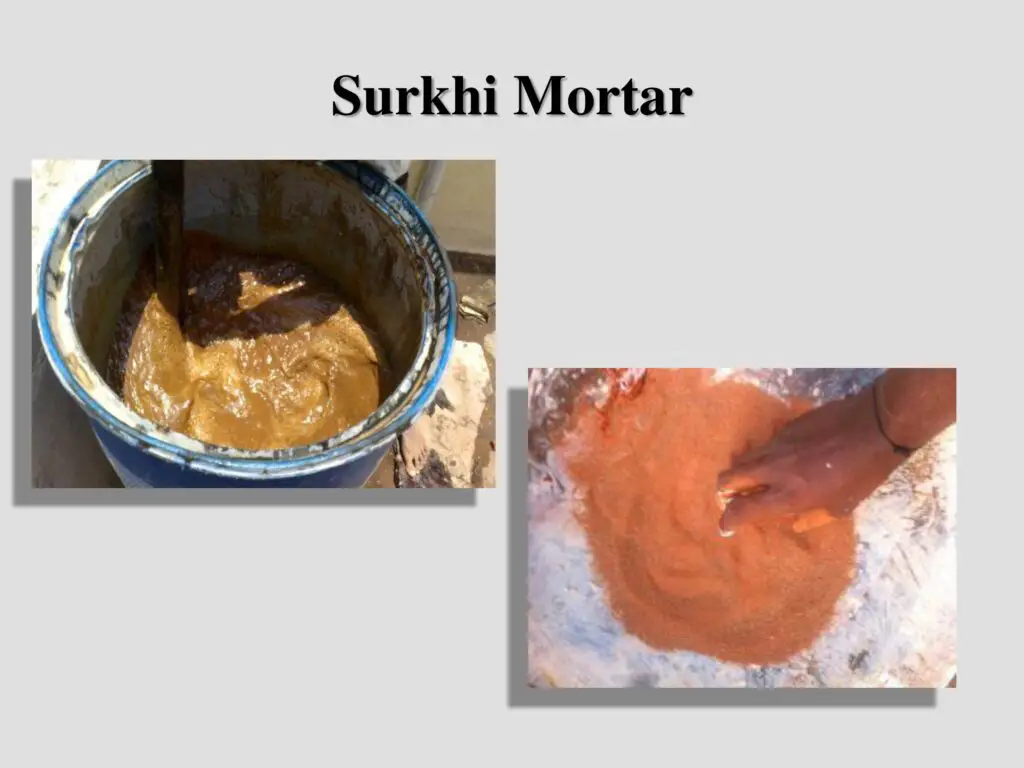 How surkhi mortar is made?
Traditional masons make Surkhi mortar by grinding burnt bricks, brick bats, or burnt clay into fine powder. They use this fine powder as a replacement of sand in mortar. Only under-brunt bricks are recommended. Make sure you finely grind the bricks or brick bats as this will improve the hydraulicity of fat lime.
Is surkhi a binding material?
No. Surkhi won't possess adhesive properties. So, you can't use it as a standalone binding material. Anyhow, you can use it as admixture either as a partial replacement for cement or as a substitute for sand.
What are the advantages of adding surkhi to lime mortar?
Adding surkhi in a cement mixture makes cement mortars and concretes more resistant to alkalies and salt solution.
Surkhi has been used in large dams and different other important Indian structures.
Hydration from this admixture of course lowers the temperature generated from cement and concrete in dry weather and can diminish cracking.
It also works to fight water intrusion from competitive ground or lake water in any building construction as well as systems where water tightness is a concern.
Surkhi is typically used as a replacement for sand for cement or mortar in situations where power and hydraulicity is desired, but is of course similar to sand as well.
Use of surkhi mortar in civil engineering
It is a mixture of lime, water, and dry material, called surkhi, which saves on cost and durability.
Surkhi makes the cement and concrete waterproof, while also making them resistant to the corrosive effects of alkalis and salt solutions. Surkhi is often added to rice and as the rice is cooked the rice becomes more aromatic.
Surkhi is used for making water-resistant cement mortars and concrete. It also makes the concrete resistant to acids and solutions containing salt. Although the addition of surkhi may show slight reduction of strength but after long period of time it regains full strength.
Disadvantages
Unfortunately, like many other natural materials, surkhi mortar also has a few drawbacks.
It shows more shrinkage as compared with ordinary cement sand mortar. Shrinkage of mortar may result in cracks and spalling which is not recommended.
It depicts lower compressive strength as compared to ordinary Portland cement. We check the compressive strength of mortar to idealize the strength that is necessary to build walls.
The setting time of surkhi mortar is more as compared with ordinary Portland cement mortar.
It can't resist the long exposure of humidity, weathering.
Using surkhi mortar for plastering may result in the formation of cracks. Hence, mixing suitable additives or a small amount of sand may be required to add while preparing this mortar.
Properties of Surkhi mortar
The mortar prepared from surkhi varies in quality since the raw materials like clay or lime that occurred in nature are widely varying in quality.
The strength characteristics of surkhi mortar depend upon the following:
The physical and chemical composition of lime or surkhi.
Mineralogical composition of surkhi.
Degree of the burning of lime or surkhi
Fineness of surkhi
Mix proportion.
Preparation
You can either mix and prepare surkhi mortar in mortar-mill or go with hand-mixing. Here're how you can make surkhi mortar:
Take a bucket and fill it with surkhi as per the required quantity.
Now add fat lime to the bucket in dry condition.
With both ingredients dry, mix both manually.
After seeing uniform color, you can add water to suit workability.
You can add water in phases to avoid excessive loose slump.
Now thoroughly mix the mortar to achieve uniform shape and mixing.
For mixing with mortar-mill, here's how you can proceed:
Fill the mortar mill drum with water upto the half mark.
Add half amount of surkhi in the drum and add lime in sufficient amount.
Now add ¼ of the water slowly and add surkhi/sand.
Now you can add water at the end to ensure consistency.