re you a Civil Engineer from Pakistan? If so, this article is specially written for you. In this article, I am going to tell you how to choose the right civil engineering company in Pakistan.
Well, civil engineers are the ones who apply the designing principles for buildings and other constructions. They use a systematic approach while performing construction works. During the start of your career, job hunting is a very tedious and cumbersome phase. But you can track the job postings and offers if you know the list of civil engineering companies.
So, in my today's post I will try to tell you about most popular civil engineering companies in Pakistan.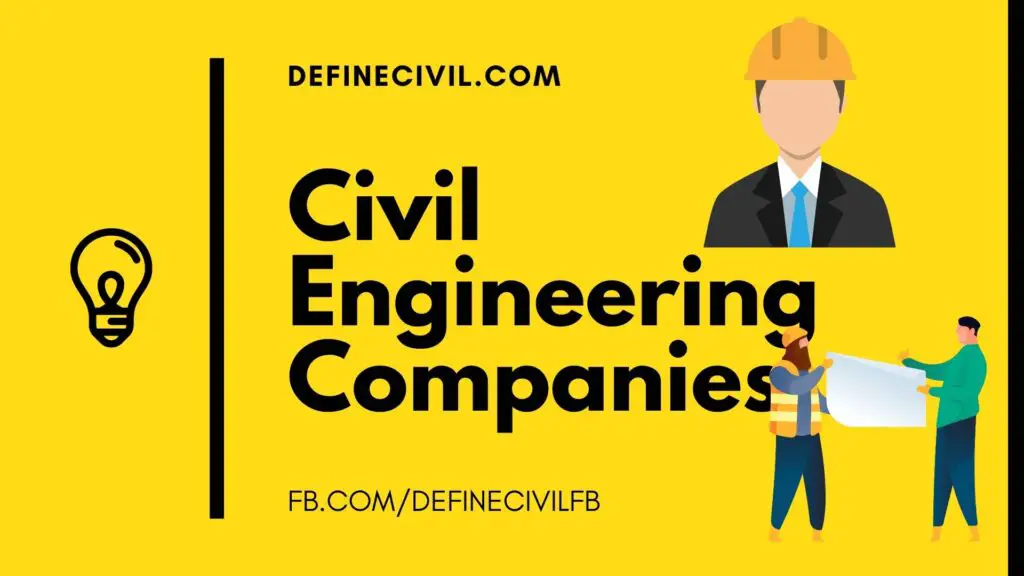 Let's delve in:
 Role of Civil Engineers
First of all, if you look at the country's overall development, it is obvious that civil engineering and construction is one of the important industries. This is one branch that is consistently performing well in all the government projects. This is also one branch, which is always receiving monetary grants from various foundations in the country.
As per the latest employment figures, civil engineering companies in Pakistan are growing rapidly. It is not only the big construction companies like DESCON, Habib Construction Services, NESPAK, ACE,. But even small and medium-scale construction companies are hiring civil engineers to take up their work.
Civil engineers are recruited for various projects such as irrigation, power supply, earthmovers, earth treks, etc. The main job of a Civil engineer is to design and build a structure or a building on the basis of specifications provided by the client. In short, they are responsible for providing maximum comfort to the people using the structure and for making the construction durable.
Job Opportunities for civil engineers in Pakistan
Civil engineers are also responsible for the safety standards during construction. After completing their education, they are equipped with sufficient knowledge and skills to handle various situations. Civil engineers are also involved in implementing environmental laws. They check the quality of water and energy supplies. They also inspect factories for dangerous chemicals used in production. Thus, civil engineering plays a vital role in protecting the environment and ensuring public safety.
To cater to the requirements of the civil engineering industry in Pakistan, the construction companies are hiring a huge workforce. These engineers have a bright future ahead of them. Civil engineers can work in a variety of industries like housing and construction, power, petroleum, water treatment, automotive, communications, electronics, healthcare and much more.
Civil engineers are recruited through various ways. One of the best ways to recruit them is through the military. Many of the former army officers are taking up civil engineering courses to serve the country. Besides this, civil engineering graduates can also get jobs in the defense ministry. This has a lot of benefits for the young graduates, as they get a chance to learn new things which they can use in their career later on.
It may sound simple, but there are a number of technical hurdles that you need to overcome if you want to start a civil engineering company in Pakistan successfully. There are many factors that influence the success of the construction project. A proper planning stage is very essential. Without proper planning, the project may face several obstacles and problems. Moreover, a well-qualified and skilled civil engineering team needs to be backed by a good infrastructure and proper human resources.
See latest job opportunities in Pakistan here; Civil Engineering Jobs in Pakistan
List of Civil Engineering Companies in Pakistan
1.            NESPAK
NESPAK is a reckoned construction and civil engineering consultant in Pakistan. It's a top-notch consultant firm with number of divisions and hundreds of mega-projects in progress.  The National Engineering Services Pakistan NESPAK, is a Pakistan-based multinational state-owned enterprise and an energy contractor which provides consulting, construction, engineering, and management services globally. It is one of the largest engineering consultant management companies in Africa and Asia.
Currently NESPAK has total strength of over 5100 employees. The Total estimated turnover for the year 2016-2017 is Rs. 8.8 Billion with the total cumulative cost of the projects undertaken by NESPAK is US $ 288 Billion.
Company Name: National Engineering  Services Pakistan
Address: NESPAK House, 1-C, Block-N, Model Town Extension Lahore, Pakistan
Email: info@nespak.com.pk
2.            PES
Pakistan Engineering Services (PES) was founded in 1973 by Mr. Akhtar Hasan, one of the leading engineers in Pakistan, PES like any other dynamic company has been keeping pace with the advancements in science and technology.
PES as a consultant with an aim to serve professionally in the field of Engineering. Over the years PES has completed numerous projects of national and international importance. Mr. Jamil Anwer as a Chief Executive (2002 to 2013) and as one of the leading Geotechnical engineers in Pakistan took the company from strength to strength in the fields of Geotechnical Engineering and Planning related to dams, power facilities, roads and highways in Pakistan and abroad.
His stress was quality consciousness and pursuit of excellence at PES. PES under his leadership became a multidisciplinary planning, architectural and engineering consulting company. We provide an integrated approach to reliable project delivery in the evolving globalized world. We are at the forefront of new specialties and advantageous alliances.
Company Name: Pakistan Engineering Services Pvt. Ltd
Address: Plot#7 , Street#12، Commercial Area Sector B Phase 5 D.H.A, Lahore, Punjab 54792
Email: info@pespk.com
Web: https://pespk.com/contact-us/
3.            Habib Construction Services
Habib Construction Services [HCS] is one of the fastest growing and most admired infrastructure development companies in Pakistan. It has expertise in executing large and complex infrastructure projects. The company is driven to deliver projects 'On-Time without Cost Overrun' using world class project management techniques and has uncompromising standards of quality, safety and sustainability.
HCS is a diversified infrastructure conglomerate with specialization in highways, motorways, flyover & bridges, buildings, power & energy, airports, dams etc. The Company is responsible for landmark projects that have defined the country's progress. Today, the company stands tall in the construction industry of Pakistan as the pioneer of 'Fast Track' project execution culture. Transforming challenges into opportunities has been the hallmark of the company, ever since its inception.
Every HCS initiative hopes to empower the lives of the people connected to it. The progress of our people powers the progress of our company. Every accomplishment becomes a foundation for us to do better, to dream bigger, and create a better future.
Company  Name: Habib Construction Services Pvt. Ltd. (HCS)
Address: Plot No. 299, Street 3, I-9/3 I 9/3 I-9, Islamabad, Islamabad Capital Territory
Email: hcs@hcs.com.pk
Web: https://www.hcs.com.pk/contact-us/
4.            FWO
Commissioned and established in 1966, the FWO includes active duty officers and civilian scientists and engineers. Since its establishment in 1966, it has been credited with the construction of bridges, roads, tunnels, airfields and dams in Pakistan, on the orders of the civilian government of Pakistan.
Company  Name: Frontier Works Organization
Address: Headquarters in Rawalpindi, Pakistan
Email: recruitment@fwo.com.pk
Web: https://fwo.com.pk
5.            WAPDA
Pakistan Water and Power Development Authority (WAPDA) was established through an Act of Parliament in 1958. It is an autonomous and statutory body under the administrative control of the Federal Government. The Authority consists of a Chairman and three Members (Water, Power and Finance). Wapda was unbundled in the year 2007 whereby the functions of its Power wing were redefined as Hydel Power Generation and Operation & Maintenance (O&M) of power houses. Following unbundling of its power wing, WAPDA's mandate is now development of water and hydropower resources in an efficient manner.
Company  Name: Water and Power Development Authority (WAPDA)
Address: WAPDA House, Lahore, Pakistan
Email: chairman@wapda.gov.pk.
Web: http://www.wapda.gov.pk/
6.            PEDO
Established In 1986 as "Small Hydel Development Organization" with the objective to:
– Identify and develop hydel potential upto 5MW.
– Construct small hydel stations for isolated load centers.
– Operate and maintain off grid small Hydel Stations.
In 1993, it was converted to an autonomous body under the 1993 Act and renamed as "Sarhad Hydel Development Organization (SHYDO) " In 2013, the name of organization was changed to "Pakhtunkhwa Hydel Development Organization(PHYDO)" Most recently in 2014 PHYDO was renamed as "Pakhtunkhwa Energy Development Organization (PEDO)" through passage of PEDO Act 2014.
Company  Name: Pakhtunkhwa Energy Development Organization (PEDO)
Address: Plot # 38, Sect، B-2, Phase 5 Hayatabad, Peshawar, Khyber Pakhtunkhwa
Email: info@pedo.pk
Web: https://pedo.pk/Main/contact
7.            NHA
The National Highway Authority (NHA) was created, in 1991, through an Act of the Parliment, for planning, development, operation, repair and maintenance of National Highways and Strategic Roads specially entrusted to NHA by the Federal Government or by a Provincial Government or other authority concerned.
NHA is custodian of 39 national highways/ motorways/ expressway/ strategic routes having a total length of 12,131 kms. It is 4.6% of total national roads network i.e 263,775 kms, however, it carries 80% of commercial traffic and N-5 which is blood-line of pakistan, carries 65% of this load in the country.
Company  Name: National Highway Authority (NHA)
Address:
Email: secretary@nha.gov.pk
Web: https://nha.gov.pk/
8.            EMAAR Pakistan
Company  Name:
Address:
Email:
Web:
9.            NDC
Company  Name:
Address:
Email:
Web:
10.         ACE
Company  Name:
Address:
Email:
Web:
11.         ZKB
Company  Name:
Address:
Email:
Web:
12.         ZKA
Company  Name:
Address:
Email:
Web:
13.         SMEC
Company  Name:
Address:
Email:
Web:
14.         MMP Pakistan
Company  Name:
Address:
Email:
Web:
15.         IDAP Punjab
Company  Name:
Address:
Email:
Web:
16.         Bahria Town
Company  Name:
Address:
Email:
Web:
From the editorial desk
If you own a construction company in Pakistan and want to include your company in the above list please contact us at definecivil@gmail.com.
Thanks.