An architect who is designing a home or the owner of the house, spends a lot of time and focus goes into planning so that everything arranges precisely.  According to common concept that interior design and interior decoration are the major parts of the house building. However, there are many factors that that useful to make a home a perfect place for living. One of the most effective factors is the Front Elevation Design!
The Front or other elevation design of a building is to be consider an important thing in architecture. It is not only making main gray structure visually appealing, but also bless an environmental and commercial value to it.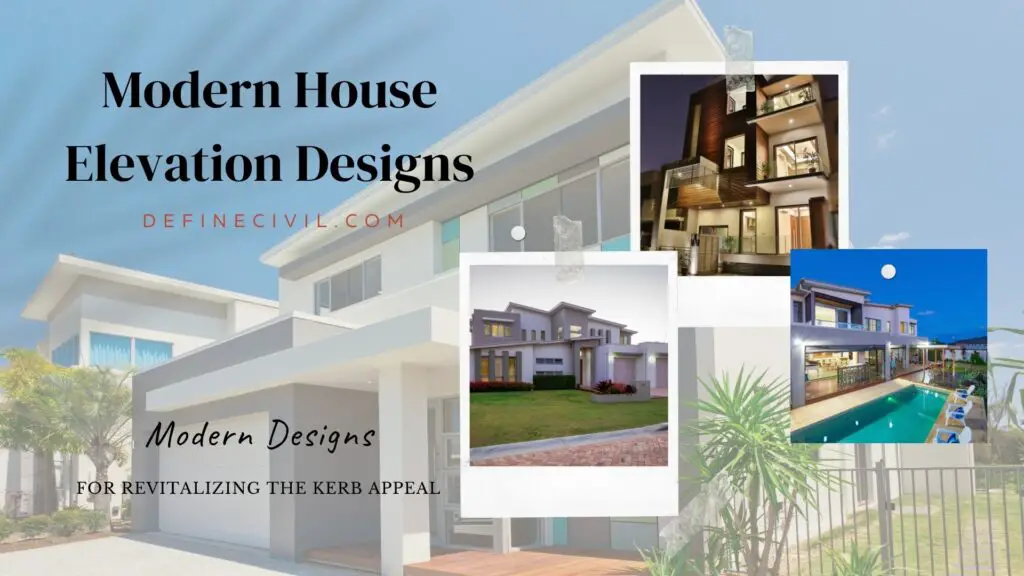 Have you ever thought about the planning and effort are needs to create a house front elevation design, or make it unique?
Defiantly Yes, however, it may standard house front side elevation designs, general front home designs, or building elevation design, all need special careful and most precise planning steps and processes for fruitful conclusions.
Do you want your or your client's dream home, that makes a great first impression on visitors?
100% sure, because everyone wants that!
Then all, a home's classy exteriors and curb appeal consider an important part in overall property value. If someone visits home, the first thing they look is the stunning and well-designed front facade of the that home.
While designing any element of the building, architects and designers spend a lot of time in planning the layout, exteriors, and interiors. This will help that it has practical and functional spaces that meet the home family's needs.
Today in this Article, I going to discuss everything about elevation design and its importance in the construction and architectural. I also have added graphically some of the best and latest front elevation design ideas for to get the spirit or inspiration.
What is Elevation Design?
The elevation is a parallel or orthographic projection drawing/ view or a 2D (2-dimensional) drawing that shows the front view, back and side view of a building structure.  
This 2D projection is perpendicular to the Ortho vertical plan, which means providing a plan view to the viewer/observer. In simple words, elevation is used for the view of individual sides of building or the representation of a particular side of a building. Some may get confused b/w elevation drawing and floor plans and may think that both are just same as both are plans. However, there are much difference b/w both. A floor plan only provides a 2D view/ Drawing from above/up/Top to an observer who is looking downward, Means X, Y axis. On the other side, an elevation drawing shows 2D view and provides information of X, Z or Y, Z in real-life viewpoint.
Types of Elevation Design
Architectural designers / Visualizers commonly use elevation design view to represent the finishing appearance/ costumes of a side of the building or house. Elevation renders are used to determine the exterior of a building or house.
With the elevation, one can easily see the how the house or building will look like, from specific an angle or a side. There are many types of elevation drawings that can be prepared, and that depend on the specific angles.
Here the five types of elevation designs that is listed below:
Front-Elevation (Approach view/elevation)
Left-Elevation (Left view)
Right-Elevation (Right view)
Back-Elevation (Back/Rear view)
Sectional-Elevations
In this blog, I am going to explain only about the front elevation, to know about the front elevation, and how it effects on exterior look of house keep read?
What is Front Elevation of a House?
The front elevation or entry elevation is an enough detailed representation of front or entrance side of the building. It is actually the part belong to the scenic design that showcase some of the scenic elements or the set as seen from the entrance or front view. May be with or without measurements, depending on the requirements or detailing needs.
Most building front elevation designs needs proper measurements so that an architect easily can understand the structure. It will help to draft/draw things as quick and precisely.
Not like the floors top plans where to get only the top view of the inside of the house as it looking top to down. The front elevation drawing design gives a plan straight-view of the building or home as someone access to the house or standing in the of front plot yard.
The front elevation design or drawings has many elements just as windows, entrance doors and porch, Shades etc. The design includes many items that protrude from the home, like side porches or chimneys etc. However, you'll unable to see the walls of sides till the design is set on specific angle.
Front Elevation Design for Single Floor
This is specifically prepared for single story or floor. This design, consider to be a perfect view of single storey building. Just from the main entry-level or front, can see all the main front elements such as the main gate, entrance, windows, porch and shades etc.
Duplex Front Elevation Design
The front elevation design of duplex is much similar to the 1st one single-floor houses. Change is the only that it has an additional thing is the floor.
Everything is including, from the small parking, balconies, shades to the front yard area.
Front Elevation Design for Three Floors
This is use for three-floor homes which commonly are constructed by who don't like apartment culture but interested to add some extra elements to their spaces.
The front 3D elevation design or technique is considering a best option, there is lots of common b/w the building model and elevation design.
Contemporary Style Elevation Design
Contemporary front elevation designs is a well known for their unique geometrical designs and it includes many asymmetrical features.
Modern Front Elevation Design
Modern houses/buildings have simple but attractive appearances. These constructed to create a scale with the ecosystem. Most of these houses/buildings have the concept of minimalism theme.
Though their design is simplest, complex planning needed to create their front elevation design.
Independent House Elevation
These types of homes are mostly built in the suburban areas or regions. However, that doesn't mean that it cannot be experience with the design and architectural representations of your home.
These types of house buildings are perfect designed for who want a stylish and luxurious look but not to make too many changes in basic design.