If you're thinking about building a new home, you may be debating between concrete block wall foundation and poured concrete foundations. While both of these options provide solid structural support, there are certain advantages to choosing concrete block wall foundation over poured concrete foundations.
While you're planning to build a new home, it can be hard to choose the right type of foundation for your property. Your choice depends on the type of soil you have, the slope of your lot, type of your home, loading conditions, and so many factors. Moreover, the choices are so many apart from just block wall foundation, you have stem wall, pier foundation, poured concrete slab foundation, raft, or mat foundation.
You will be spending quite a bit of money on your home foundation, so making the best possible decision will be vital to ensuring that you enjoy living in your home for years to come without any structural issues.
Here are just a few reasons why it's better to build your home with concrete block wall foundation instead of poured concrete foundations
Table of Contents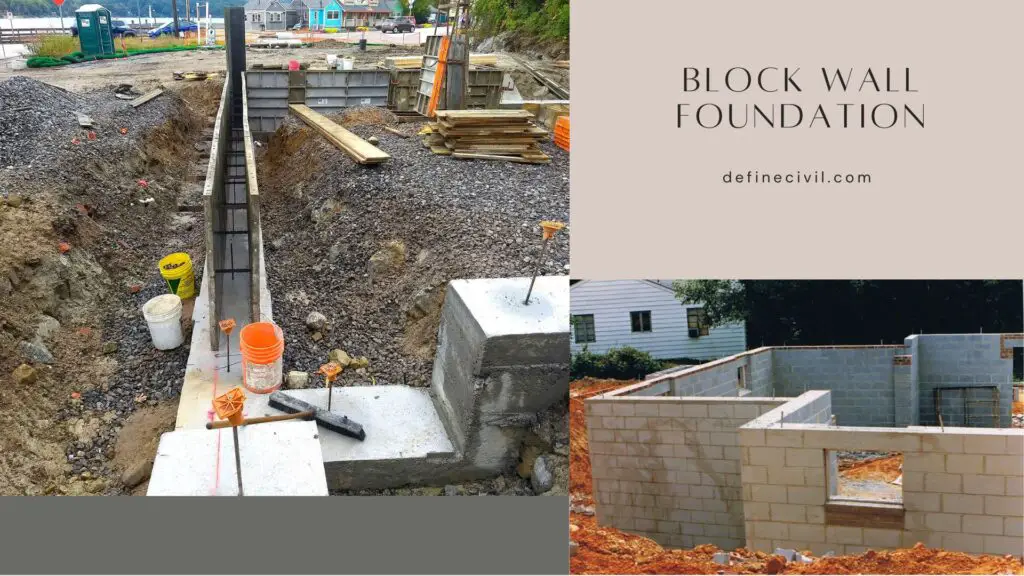 CMU Wall foundation
Concrete block foundation, also known as CMU wall foundation, is one of the most popular foundations for homes.
It is made up of concrete blocks that are stacked on top of each other and then filled with concrete. Later, the footing is covered with mortar (a mixture of sand, water, and aggregate) to bind masonry. This type of foundation is very strong and can last for many years. Additionally, it is less expensive than poured concrete foundations.
Cinder blocks are hollow from the inside. So, they're often reinforced with reinforcement bars and concrete grout in the hollow core. The rebar makes this foundation more solid and sturdy.
Block Wall foundation Requirements
Here're minimum requirement for block wall foundation:
The height between the street curb and the top of foundation must be at least 12 inches.
The footings should be located on undisturbed soil with 42" above frost-line minimum.
The overlap of rebar dowels at centers should be minimum 15" while at corners the overall of rebar should be more than 24 inches.
The grade of the side fill shall be minimum of 6" below bottom of siding. The slope recommended shall be ½" per foot for 6 to 10 feet minimum.
At the top of the footing, there should be bond beam with #4 reinforcement continuous on the footing.
The size of footing for different wall size is as below:

8 inches wall size                    – footing size 8" x 16"

10 inches wall size                 -footing size 10" x 20"

12 inches wall size                 -footing size 12" x 24"

For vertical rebar and filling of core, here's the requirement:

For 8" block wall     –              one #4 bar with a filled core every 4 feet on center.

For 10" block wall   –              One #4 bar with a filled core every 6 feet on center.

For 12" block wall   –              One #4 bar with a filled core every 9 feet on center.
Cinder Block wall foundation
Cinder block wall or CMU wall foundation is quite popular these days among homeowners. It is quite easy and simple to construct and doesn't need any special equipment. But it pretty important to mortar the blocks evenly (specifically in foundation area) so, the foundation may not have any leaks. Moreover, in some regions, the code requires you to have reinforcement to prevent any lateral failure.
Benefits of Concrete block wall footing
Here're some advantages of having concrete block foundation for your new home:
It doesn't require some sophisticated engineering process. You just need to lay blocks one by one. So, there's no machinery needed to pick up heavy objects and there's no concrete pouring or finishing involved.
Unlike concrete (for that you need to vibrator, formwork, screed, and number of allied tools) for cinder block wall foundation you don't need some heavy duty transport system. A person can easily pick up 3 or 4 cinder blocks.
Because of enormous compressive strength, it helps in achieving a sturdy foundation for your house. When combined with rebar, it can easily take care of heavy vertical loads.
Unlike poured foundation (that can crack due to shrinkage or creep), the cinder block foundation won't crack due to temperature variations. The mortar we use is mostly resistant to excessive shrinkage.
Anyhow, block wall foundation still have some pitfalls and here're few:
It can lack lateral strength without reinforcement. Sometimes, rebar can tend to catch rust or shift due to lateral soil pressure. So, this type of footing won't offer enough lateral strength.
In case of gaps between mortar and joins in blocks, the foundation can leak overtime. For that you need to timely repair the foundation otherwise you can have water damage around your floor.
Also Read: How much does a cinder block weigh?
How Much Does it Cost?
The cost for concrete block foundation depends on the type, depth, and size. But as a rough guide you can expect to pay around $8,500 to $42,000 for an entire foundation. You can calculate your foundation cost by estimating the square foot of the footing area.
Per square cost of block foundation is $13 to $20 per square foot. But it is obvious that the cost for foundation in basement, pier, crawl space, or stem wall will be pretty different.
How deep should a block wall footing be?
A concrete block foundation should be 30 inches below grade. But make sure to check your local building code, as it varies in different scenarios. But make sure the bottom ground on which the block will rest should be leveled properly. You can use tamping to have a flat surface.
What is the size of a foundation for a block wall?
The general practice is that the size of footing i.e. width and length shall be twice the width of the concrete block. So, if you have a block of size 8x8x16 inches, you need to size a footing of 16 inches in width. But make sure the foundation must extend beyond the frost line.
How do you build a foundation for a block wall?
If you've been following us on social media, you might already know our previous episode on cinder block foundation with Helen and David with their crew. But don't worry, we'll explain it again here in case you've missed our episode that day.
First you've got to mix mortar properly. You need to take quantities of water, sand, and cement. After mixing, you can take this mortar in a shovel to do the block laying.
Our crew also enjoys measuring length. So, take out the readings from the blueprint to determine the location of the foundation and mark out sections with number of blocks per section.
Now you can clean the mini-trench, you've just made for the footing.
The best approach in laying block foundation is to start from the corners. You can ensure the perpendicular lines to have a perfect corner.
Now you can use a nylon thread to have a straight line for your blocks to place.
Using the line as reference, pour some mortar on the footer and start placing block one after the other.
Can I use concrete blocks as a foundation?
Yes absolutely. In fact, using concrete blocks as a foundation has plethora of benefits. In case you've missed our above test, I've already explained that concrete blocks can help you achieve a solid and sturdy foundation that will rest for long time.