When we talk about foundations for our home, two of the obvious choices are floating slab and monolithic slab foundation. Well, both the footings are a type of slab-at-grade foundations – aka raft foundations. But both have different set of uses, applications, and pros.
Foundation engineers don't prefer a floating foundation for an entire house. Instead, we prefer it for allied structures like sheds, additions, cottages, and car garages.
The most basic difference between a monolithic slab foundation and a floating foundation is that of a frost footing that acts like anchoring. Floating footing won't have any kind of anchoring where it just has bit deep edges around the perimeter below the frost line.   
Now that you've got the basics covered, let's delve in some deep facts about monolithic slab foundation;
Also Read: What is a stem wall – meaning – detail – benefits – design – procedure
Table of Contents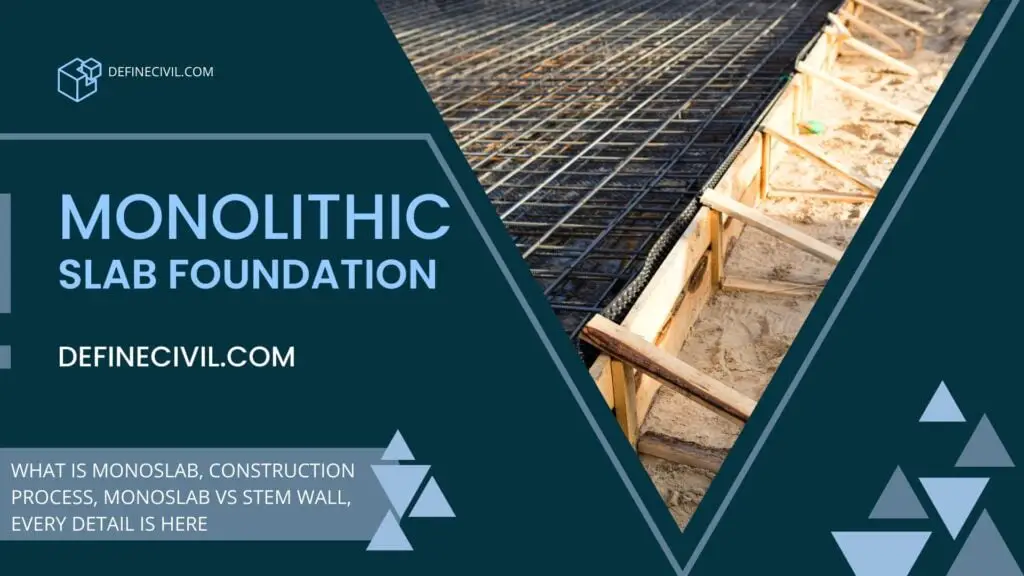 What is a monolithic slab foundation?
The word monolithic is used in house construction to describe a concrete component that is poured once at the same time and acts like a single unit with no joints or movement allowed. There are some other conventional methods in which each member of concrete is made separately at different times. Both type of methods has their own merits and demerits. In this article we discuss the use of monolithic slab foundation for different high-rise structures.
Monolithic construction technique is used now days in the construction of monolithic foundation for homes, apartments, and medium-sized construction. The main benefit of monolithic construction is that it is fast and easy to build. It is quite durable in terms of resisting seismic loads and taking load from load-bearing walls of a house. It is a safe foundation for your house.
A typical monolithic slab foundation is made in single pour of concrete. It has thicker areas along perimeter edges as well as under the load bearing walls. We call those thicker areas the footing for the monolithic slab. Typically it is 12 inch thickness in the area under load bearing wall or perimeter and 4 inch in all other areas. The life span of monolithic slab is 50 years if constructed correctly.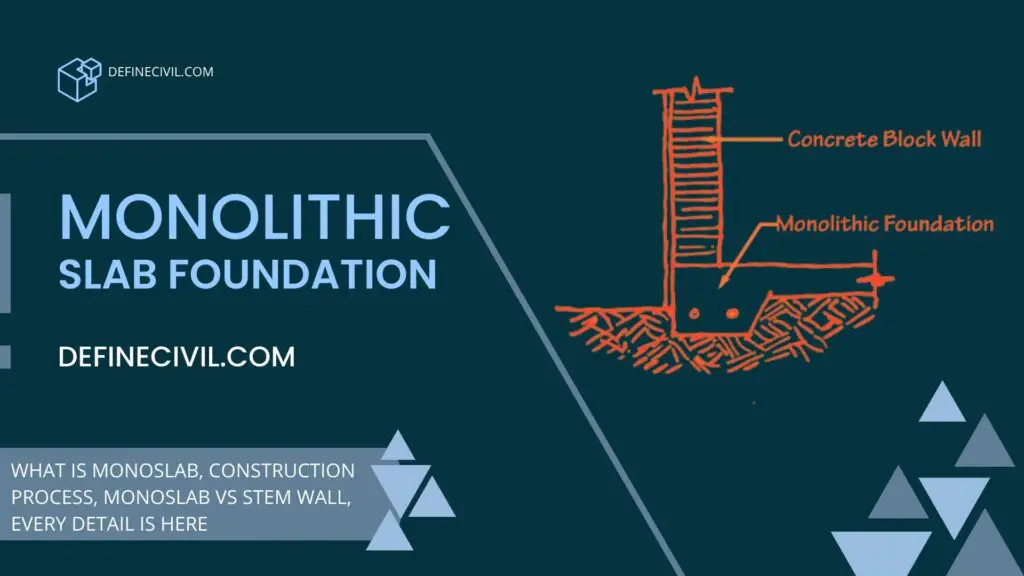 Monoslabs are best
Monoslabs are ideal for your house if the ground of your lot is level and you won't need much dirt to fill and compact. With monoslab, you can achieve same floor elevations from lot to lot, and that's ideal for old people or for persons with reduced mobility.
The formwork used for monolithic construction of foundation is made of aluminum which provides a good quality construction for residential and commercial buildings. The monolithic construction is a disaster resistant and safe construction technique in modern times. It speeds up the construction process and reduces cost of large construction projects.
Application of monolithic slab
The bottom of monolithic slab foundation is flat.
The Labor cost can be saved by these concrete foundations.
The cost of construction is also reduced by these concrete foundations, and it also saves time.
The construction of this type of foundation can be done fast and profit can be made.
Construction process for Monolithic Slab foundation
Preparation of Soil
The compaction of soil needs to be proper and according to standards and then also verify that there should be no organic matter in soil. The soil should be levelled and well compacted.
Height of Trench
As far as thickness of monolithic concrete is concerned one should keep in mind that thickness of footing slab foundation will be 12-18 inches where load bearing walls will be located. To prevent frost in that part the trench and frosting needs a depth of 2 feet.
Placing of reinforcement
The diameter of bar used in monolithic slab is 8mm ,12mm and 16mm according to requirement for wall reinforcement. The number of bars used should be according to specification as in design. Additional reinforcement is also provided to open doors and windows. To maintain a distance from bar a cover block is used.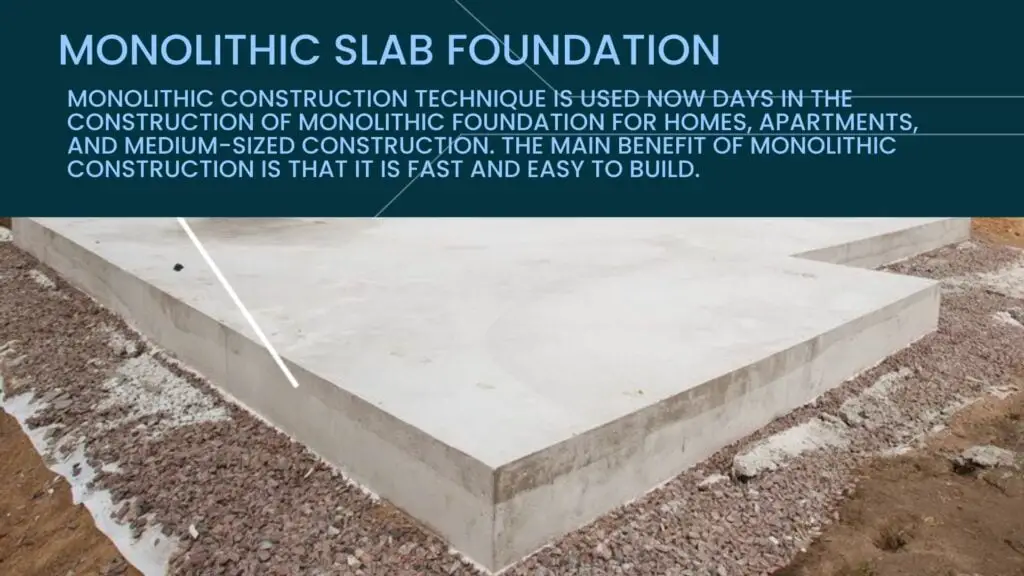 Formwork
The formwork for monolithic foundation construction is easily available. The shuttering is done by skilled labor. The formwork should be should that it is easy to install and remove. It should be reusable as well. The formwork should be strong to take load of concrete.
Placing of Concrete
For monolithic concrete foundation a concrete grade of M-25 is normally used and 20mm coarse aggregate is used. The thickness of cover block is kept from 25mm to 50 mm.
Deshuttering
The formwork of monolithic slab of walls are opened after 12 hours. After passing of three days all the formwork is removed and further construction activity is carried on monolithic slab foundation.
Curing of foundation
Curing is one of the important parts after construction. Curing is done by sprinkling of water. Curing is done for seven days normally for monolithic concrete. Proper curing of concrete provides durability and strength development. This is a final stage and concrete should meet the required amount of moisture.
Advantages of monolithic slab
Fast construction
The construction of monolithic foundation and slab is fast as compared to other foundation construction methods because in monolithic construction all the concrete is to be poured at the same time for foundation. The construction of this foundation is faster than other methods including stem walls.
Efficiency
Everyone knows the importance of time and money in construction industry. With the ease of concreting done at the same time reduces the cost and make the construction project faster and affordable.
Also Read: Waffle Slab – Here're some advantages and disadvantages
Required strength achieved
One of the benefits of monolithic slab foundation is that required strength for stability of structure is easily achieved. A single member structure is obtained with monolithic concrete.
Low Maintenance
In conventional construction of concrete slab regular maintenance is required while in monolithic concrete construction there is no need of regular periodic maintenance.
Save Money
The construction of monolithic slab and foundation costs only one time and then it saves money by reducing the maintenance of structure and provide a good strength and durability as compared to other conventional construction.
Energy efficient
As we know that monolithic concrete construction is done by pouring concrete at once and structure is made as one unit so there is no gap between home and ground which saves energy and act as energy efficient.
Also Read: 4 Types of Foundation Drainage with their pros and cons
Disadvantages of Monolithic construction
Dangerous for flood areas
The monolithic slab foundations are only 6 inches above the ground which can be dangerous for areas which are normal for flooding. Floods can easily cause damage to structure and foundation due to its low depth.
Space issue for plumbing and wiring
In conventional method there is enough space for electrical, plumbing and wiring. While in case of monolithic slab there is no space available for electrical and plumbing system because of no crawl space. Before foundation construction space is left for these electrical panels and wiring.
Also Read: Mat Foundation – Definition, Types, Uses, Advantages and Disadvantages
Expensive repair cost
In case of monolithic slab foundation if there is any damage done to concrete then a large repairing cost is required for it. For repairing of concrete foundation cracks a large amount of money will be required due to expensive repairing methods to fix the problem.
Also Read: 9 Types of Concrete Cracks (With Pictures)- Tricks to Prevent – PDF

Also Read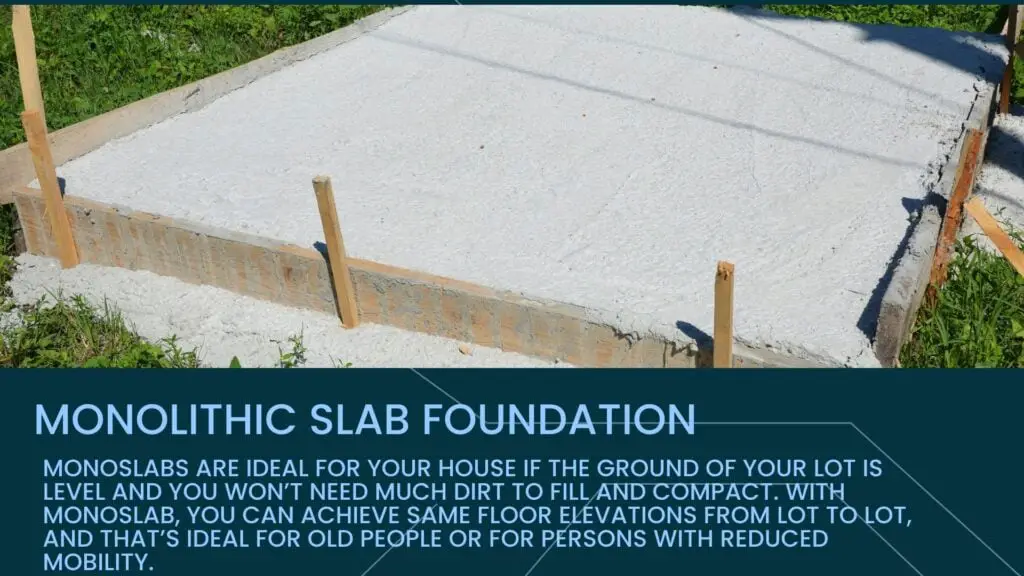 Can crack under too much dirt
If your lot needs too much dirt to fill for leveling, we won't recommend monoslabs. The concrete slab is likely to crack because of improper compaction. So, if you want to rise above the floor level, better go with a stem wall foundation (like for areas in Florida).
Which is better monolithic slab or floating slab?
Obviously floating slab is only recommended for small homes or additions like sheds, garages, or workshops. A monolithic slab gives better stability for loading because of thick portions under load bearing walls. A floating slab, on the other hand, won't have any anchoring and it acts just as if the slab is floating under the movement of earth due to temperature changes. Such excessive movements is detrimental for your house.
Also Read: Advantages and Disadvantages of Raft Foundation
How deep is a monolithic slab?
The most obvious design perimeter for a monoslab is the thickness. It has thick areas around the perimeter of the structure as well as under the load-bearing walls. However, we pour monoslab in single concrete pour with general thickness of 4 inches. For perimeter or load bearing walls, the thickness can be from 12 inches to 18 inches.
Further Read: Foundation Failure – (Read it before its TOO Late)