With so many types of staircases, finding the right one seems overwhelming. Anyhow, we can relate hundreds of reasons why dog-legged staircase is the best pick for you, no matter what.
So, in today's read I'm going to reveal some of the hidden facts about the dog-legged staircase.
Let's get started: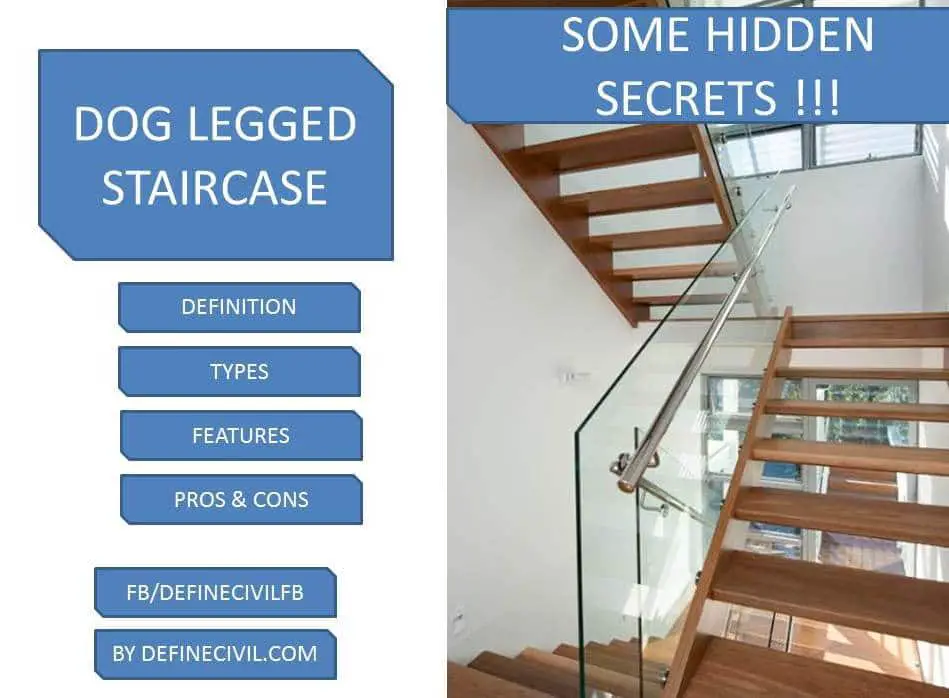 What is a staircase?
A staircase is a vital part of building that consists of steps for communication between different floors one above the other. From communication it means ascending and descending between various floors of the building.
A staircase can be enclosed by walls, like a room or it can left open. However, the arrangement and layout of the staircase must be in line with the general layout of the building.
If you're looking for staircase in domestic building, we'll recommend you to locate it centrally for all the room. However, if you're working for a commercial building, try to keep it close to the entrance.
Anyhow, designers locate it in a building such that it allows easy access to occupants in times of emergency exits. After all, you need to provide safety escape in a catastrophe.
Characteristics of a good staircase design
With such, the staircase design is one of the crucial aspects of a safe building design. However, it should be enclosed by structural elements like walls, floors, doors, and ceilings to make it completely fire resistant. That's true especially for commercial or industrial structures.
Also, the staircase design must be in accordance with the Building codes. Some of the common requirements of the codes stats:
You should design stair:
To sustain loads similar to those utilized in floor design.
To provide a resting place in the form of landing after each flight
To allow the occupant to pass without getting exhausted.
What are the features of a Dog-legged staircase?
 The dog-legged staircase is one of the most common types of staircase. With such, it is commonly constructed in residential houses and even in apartment building.
So, what is a dog-legged staircase in reality?
Well, dog-legged staircase consists of two flights of straight stairs that are kept parallel to each other and are joined by a landing. It provides 180 degrees turn in the occupants' walking path and a little bit long resting place for further upward or downward movement.
It takes its name "Dog-legged" by the way it looks in sectional elevation. Plus the slope of the staircase also resembles to that of the dog's leg.
It's widely adopted in design because of its compatibility and aesthetics. Plus, it is cheaper to construct while the design is pretty simple. It goes well with almost all types of interiors of a building.
Designers prefer this type of staircase when the available space is equal to twice the width of the stairs. One of the biggest pro is its compact layout and better circulation.
Though the design is sleek and smooth, but the handrail may not be that straight. It may look odd in some cases.
Fig 1: Dog-legged staircase in a residential house
Courtesy: Mark Lawler Architects
A dog-legged staircase plan consists of components such as:
Tread: It is the part where an occupant sets foot.
Riser: It is the bridge between two treads.
Baluster: It is the upright support provided all over the flight length on which a handrail is supported.
Newel post: It is the vertical element that is provided at the ends of the dog-legged staircase.
Handrail: It is the rail that is provided at an inclined position to assist the occupant while ascending or descending.
Pitch: It is the angle made by the line of nosing with the horizontal.
Landing: It is a place of resting for the occupants while ascending or descending.
Nosing Line: It is a fictitious line parallel to the slope of the staircase joining the staircase's nosing.
What are the Advantages & Disadvantages of a Dog-legged staircase?
 Like any other structural component, a dog-legged staircase also has some pros and cons that need to be brought to light. These are:
ADVANTAGES
 Architectural designs can easily be infused in dog-legged staircase design since it allows usage of more space.
Privacy is preserved because of the obstructive view between floors.
More carpet area is provided for allowing easy access.
Long landing facilitates a longer resting time.
DISADVANTAGES
 Providing handrails is difficult in a dog-legged staircase since there is a discontinuity in flight.
The slope of a staircase should be between 25 to 40 degrees, but this is not always possible in high-rise buildings.
Step ratio is to be maintained throughout the flight, but this causes problems, especially near the ends of the staircase.
Transferring heavy goods through such a staircase is quite tricky as there is a constant change in angle due to landing.
The bottom line
The dog-legged staircase is widely accepted due to its simplicity in design and low cost. Further, it can be customized in architectural firms as per the client's request and is also structurally safe. Such a staircase can be developed and modified to bear more loads in the future.