So, you've got that annoying mold growing somewhere in your house and are now wondering does Lysol kill mold?
Well, as my title says, it certainly does. If you search a bit about Lysol ingredients, you'll find hydrogen peroxide in the active disinfectants. Apart from that it also contains potassium hydroxide, ethanol, and isopropyl alcohol. All these ingredients are known to effectively kill mold (99.9% of germs include mold) without much hassle.  
I've been annoyed by this mold in one of my room for several months. I've tried number of mold cleaners and different types of mold removers. They all make bold claims about their ability to kill mold especially black mold. But you know what, Lysol has got that superpower to kill mold for you.
I've tested it along my basement carpet, and I bet you'll love the results too. But be sure to follow the right procedure that I've just explained later in this article.
Also Read: Does heat kill mold in house? Get rid of the mold with heat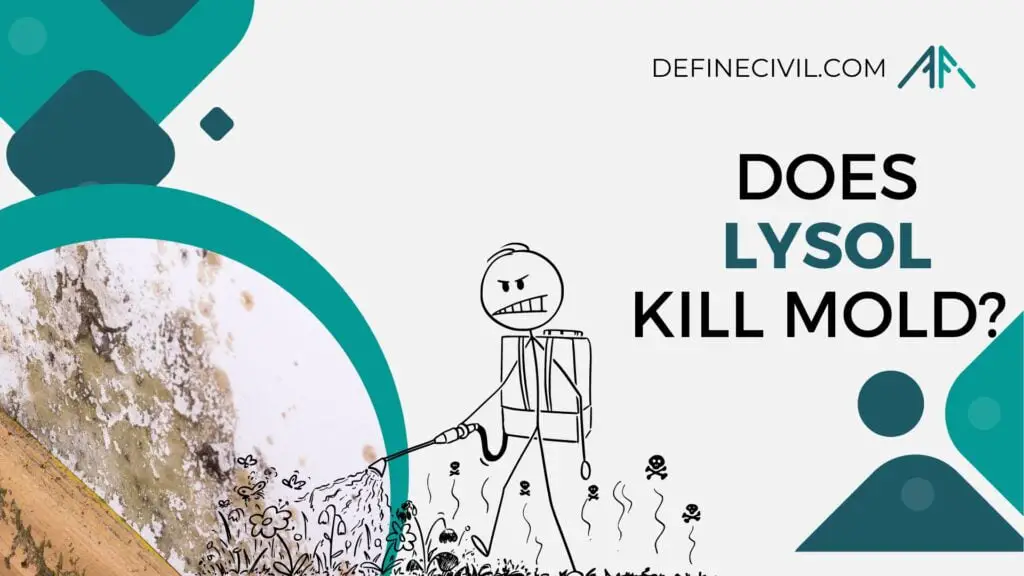 Table of Contents
What is mold and how it's dangerous?
Mold and mildew is everywhere around us. Be it your home, office, shopping center, or even gym. It's not that we hate mold just because it looks dirty; it is the main reason behind number of allergies. Mold, being a type of fungus, is free to thrive and travel through the air along moisture.
You've got dampness around your home, in bathroom or laundry. Mold spores can travel inside your home through the air from the windows or beneath the doors. Once it lands anywhere on the damp areas, it can quickly start growing into mold.
Mold is too bad for people who're allergic. Once you breathe in spores, you get sick. You can start coughing instantly along with itching in your eyes and causing trouble while you breathe.
Difference between mold and mildew
At this stage, I'd like to make it clear that fungus and mold are not the same. Although both mold and mildew look similar. They appear as blackish green in color – or sometimes blue. But they've got different nature and must be dealt differently.
Mildew is also known for set of ailments and allergic reactions. So, it's critical that as long as you see signs of mold along your house; you should look for ways to get rid of them.  
Why do I have black mold in my house?
There're number of causes for mold growth. It grows in poorly ventilated or dam areas of our home. Areas like bathrooms, garages, basement, and laundry have dampness. If there's no proper ventilation in these rooms, mold can easily grow on carpet, tile, wood, plaster, and paper.
As per American Mold Investigation organization, mold growth needs moisture, low light, and temperature around 50 to 90 degree Fahrenheit. (These conditions are very obvious and common in our homes). Obviously you can't let your A/C turn on for the entire day.
Also Read: How to remove paint from concrete? – with or without chemicals
Tips to clean black mold
If you're new to the term "black mold", here's a lead.
Black mold is toxic bacteria that typically grow in damp and poorly ventilated areas of our home. Even a small colony of black mold can pose serious health hazards to residents. It can be a reason for serious health risk.
Lysol when used properly can be an effective solution to get rid of black mold. However, for extensive and serious black mold problems, you need heavy-duty chemicals and it's better to call for a professional help.  Here're some steps to effectively kill mold with Lysol disinfectant:
You can buy Lysol brand mold remover can that reads "Disinfectant". It is approved by the U.S. Environmental Protection Agency as an effective mold-killing agent.
Make sure to wear safety rubber gloves as well as eye goggles. As Lysol can cause skin irrigation if too much of it land directly on your skin.
Now you can start by cleaning the area with a scrub brush with a mixture of warm water and detergent. You can use this solution on areas like deck chair or carpet corners.
Once the area is thoroughly dry, you can generously spray Lysol at the black mold as well as the surrounding surface areas. Make sure to let it dry for some time.
However, you should use Lysol in a room that is well-ventilated as inhalation of Lysol is not good at all.
Also Read: 4 Types of Foundation Drainage with their pros and cons
Will Lysol spray kill black mold?
Lysol when properly used is quite effective in killing black mold. However, it can only be used for small to medium sized mold colony. So, if you're combating a sizeable mold colony or black mold colony, it is better to call for a professional help.
If your entire room is infested with mold, killing it with Lysol can be very dangerous. You got to have the right tools and the right type of equipment. Never go to kill mold with Lysol unprepared. It is always better to call a mold removal services to do the job right for you.
Also, Lysol may prevent mold from reappearing on hard surface. But for soft surfaces where mold-spores can penetrate too deeply, just spraying Lysol may not work for you. You got to eliminate all the spores that have been rooted deeply. For that you can spray the Lysol generously or try using combination of Borox and Lysol.
What kills mold better bleach or Lysol?
The best part about Lysol is its ability to penetrate surfaces and that's crucial in tackling mold. Lysol has two products specifically famous for killing mold – Lysol Mold and Mildew Remover and the original Lysol Disinfectant Spray.
However, the mold and mildew remover relies on bleach and it is not effective at all for killing mold. Moreover, EPA doesn't recommend using bleach to kill or remove mold. Bleach doesn't penetrate the surface of application and hence a background level of mold spare wills removal even after applying a good amount of bleach.
The bottom line
If you're dealing with annoying mold around your house, you got to test four things – Lysol, Clorox, Vinegar and bleach. Among all these, Lysol is more effective in getting rid of small to medium-sized mold colony. It can easily penetrate the surface of growth and make sure there are no background mold spores left after the application. However, if you have mold on areas where there's no chance of penetration like on walls or on floor, you can try bleach.
However, for upholstery and around areas like carpet or curtains, Lysol is a preferred product.