Keeping your laundry clean is always a cumbersome and monotonous task to do. Whether you are a student, a professional worker, or to the least, you do not work at all, it is incumbent to keep everything clean and bright. Most people find it tiresome to do their laundry at home and desire to save them from unnecessary hassle. So the conclusion is laundry at home is boring and hectic which implies the need of getting quarters for laundry.
Now the question is: where you can find quarters for your laundry? We got you covered here. Bear with us and you will get to know various sources to get quarters for laundry with minimum effort. Keep scrolling down and you will get to know great options to acquire quarters for your laundry.
In the United States, laundry services require you to use coins which is the case in other various amenities too. You have to feed the washers and dryers with coins according to mentioned rates and only then these machines will go spinning. There are various places where you can get coins according to your need. Therefore, this article walks you through easy ways to get the quarters for your laundry.
Table of Contents
Banks
Banks are one of the most coveted options to obtain coins especially when you want to get a full roll. Regular customers of a bank have greater chances of acquiring a roll of quarters in exchange for bills as compared to non-customers. For instance, it is simply easy to exchange a $10 bill for a roll of 40 quarters at your bank. If you are not a customer of a bank than there are high chances that your request to acquire quarters will be entertained only few times. Therefore, it is best for you to locate the bank where you are a customer so that you almost always get a change. Sometimes, a certain branch in your locality may not have enough coins, so it is advisable to locate different branches near you.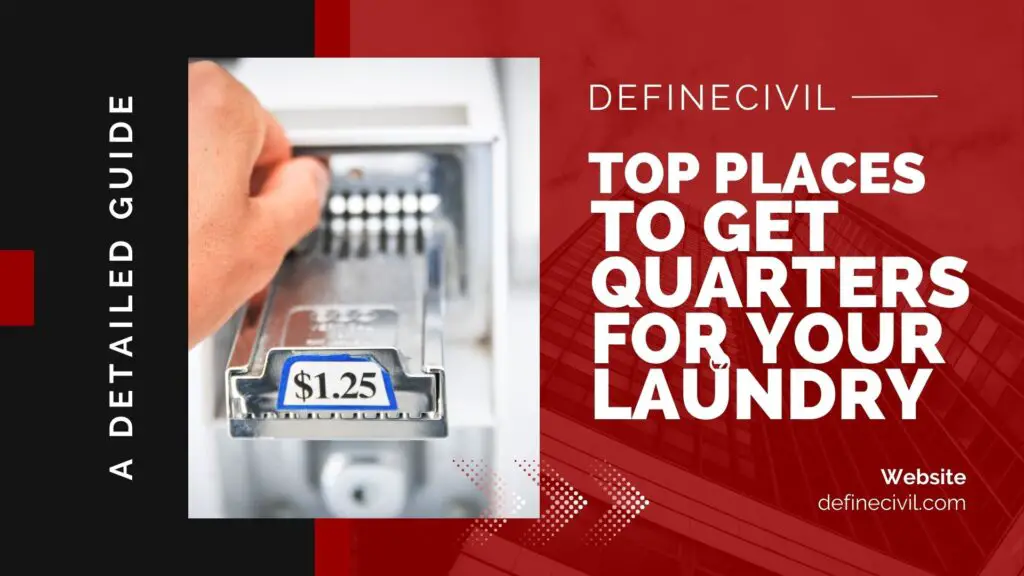 Get Change after Grocery Shopping
Grocery stores almost always have coins to give change to their customers. Whenever you go on shopping at a store, the cashier will often give you coins as change. Also, most grocery stores can give you coins in exchange for bills.
Stores like Kroger, Walmart, and many local stores, can also provide change because they have a glut of coins at the cash register. Another place to get coins at a grocery store is customer service desk. Well, the point to consider here is that you do not first have to buy anything to get coins as far as customer service desk is considered.
On the contrary, you have to buy something first to get smaller bills or coins for a larger bill if you are opting for cash register. The game here is that you should purchase something really inexpensive like candies, soda bottle, and get your thing done. In a nutshell, it is easier to get coin rolls through customer service desk rather than cash register.
Shop with Cash
You will always have coins at hand if you purchase things with cash. Particularly, things that you buy commonly on daily basis should be bought with cash. It is a common practice among many people that they buy daily items with cash money to get change. Some people are in the habit of keeping change from purchase and collecting it for later use. You can also do the same. Gather coins whenever you shop and choose a specific day to visit your laundromat. This way you will always be having enough quarters for your laundry.
Vending Machines
You will find vending machines everywhere. These machines are the best and somehow cheap source for acquiring coins. You just put your bills in the machine to get your favorite drink or treat and it will spit out the change in the form of coins. This is yet another convenient source to get quarters for your laundromat.
Gas Stations or Pharmacies
If a gas station or a pharmacy in your locality does not have a long queue, you can ask the person behind the counter to exchange your bills for coins. These places usually have a handful of coins all the time and your chances of getting change are high.
Try Laundromats near You
Laundromats usually have a change machine to facilitate customers. However, this is not the case with every laundromat. If laundry service near you has a change machine then it might be the best option for you to get quarters.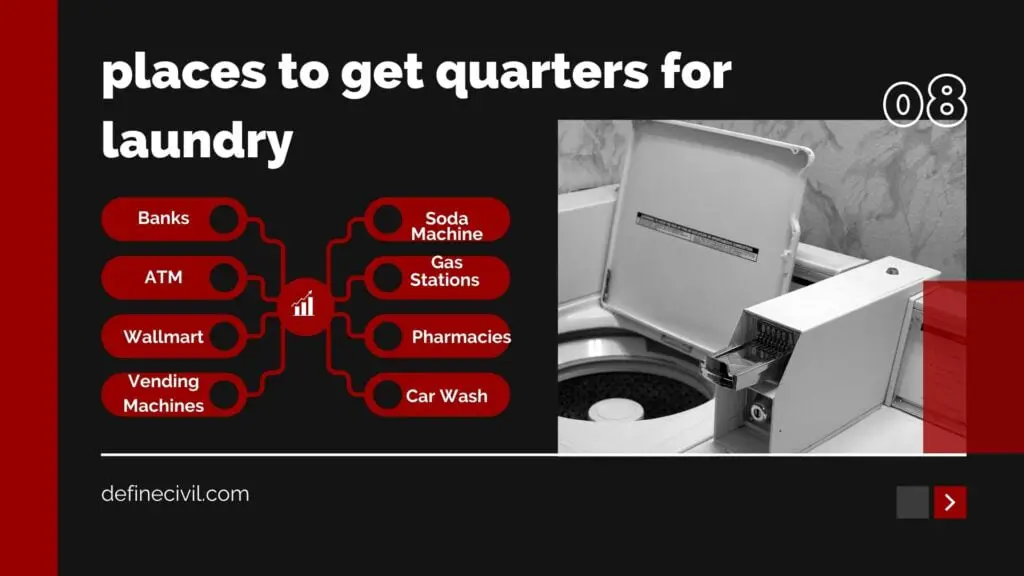 Car Wash
Car washes generally have quarter machines installed onsite. This is absolutely necessary for customers as they need coins to get the machines running. Therefore, you can get as many quarters as you require so long as you have enough cash.
Also Read: How To Use Foam Boards To Insulate Your Home Against Mould
Street Actors or Street Performers
Street actors often have huge quantity of change especially coins. You can reach them and ask them if they are willing to exchange coins for your dollar bills. They may ask for a surcharge on exchange i.e. you may end up receiving $9 in quarters for a $10 bill.
Fast Food Restaurants
Fast food establishments often have coins to give change to customers. You can stop by at a restaurant, order your favorite meal, and break your bill into coins. If you are not that hungry, you can always buy something cheap to acquire change. Local fast food restaurants almost always have coins because these have to deal with customers who dine in and leave quickly. Fast food places are found everywhere thereby saving you from redundant hassle. If you have planned to visit laundromat on a particular day, you can take a little detour to a fast food place, enjoy your meal, and then visit laundromat with your pocket brimming with coins.
Ask Your Friends for Coins
We all have a friend or friends who always have some change available. Therefore, before you plan your visit to laundromat, request a friend in advance to spare you some change in exchange for bills. The trick here is to plan your visit in advance so that you are able to get quarters in time.
Soda Machines
If you need coins, soda vending machines can have you get some of them. It's easy to find a soda vending machine that sells soda- just about every gas station, corner store, and hospitals. Most of these machines let you drink a refreshing beverage, take your bill, and give you coins in exchange.
Arcades
Do you remember those old-school arcades where you had to put in quarters to play the games? Well, some of those same businesses have washers and dryers that run on quarters. So, if you need to find quarters fast, head to your nearest arcade.
They just need to show their bills at the site and receive a particular number of coins for what they need – coins that will take them to the laundromat, to use as currency. Or, they can also play games in exchange for more coins, which will take them to the laundromat. Make sure to only play responsibly so that you don't run out of coins and forget to wash your clothes.
Frequently Asked Questions
Where can I buy washing machine quarters?
If you need quarters for your washing machine, there are a few places you can look. Your local laundromat is always a good option, as they will have plenty of quarters on hand. If there's a coin shortage in your area, though, you may have trouble finding quarters at the laundromat. In that case, try looking for a roll of quarters at your local grocery store or bank. You can also ask friends or family if they have any extra quarters you could borrow.
Can I get a roll of quarters at Walmart?
Yes. Customer service desks in big shops, such as Target, Walmart, Walgreens, groceries, and pharmacies, will take your bill and convert it into quarters.
Can you get quarters at an ATM?
Yes, you can often find quarters at an ATM, but there may be a limit on how many you can withdraw. If you need a large number of quarters, your best bet may be a laundromat or bank. You can also try rolling your own coins, but this can be time-consuming. Finally, if you have a washer and dryer at home, you can always wash your clothes without using quarters.
The bottom line
No matter where you live, there are certain situations in which quarters come in handy. From Laundromats to parking meters to vending machines and more, getting your hands on some quarters can be pretty tough sometimes.
Many places have stopped providing change-making services, so it's becoming harder and harder to find locations that will give you the change you need to do your laundry. But we've just explained some places where you can get quarters for laundry in the coin shortage.