Hip and valley roof is a common type of roofing for most residential construction. Homeowners prefer hip and valley roof due to its stunning looks and easy shedding of snow and resistance against high winds. Anyhow, there're different pros and cons. So, one must fully understand how hip and valley roof is constructed and how it differs from the rest of the roof types.
So, if you're planning to install a new roof or replace your existing one, you'll want to know the facts about hip and valley roof, how the hip and valley rafters are attached and the various advantages and disadvantages of hip and valley roofs.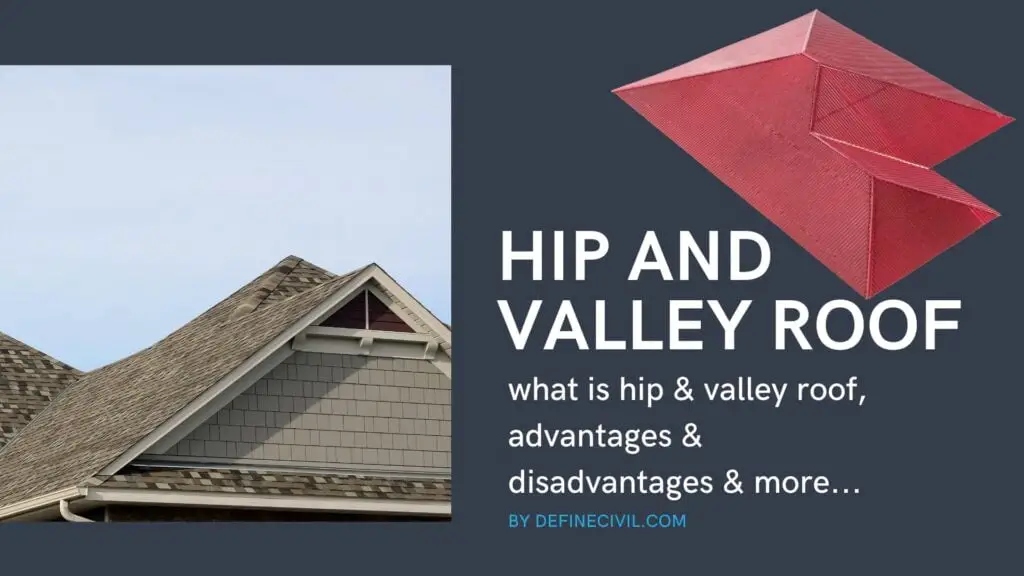 What is a hip and valley roof?
A hip and valley roof is a one that has modified or extended hip roof. In a simple hip roof, you've got a rectangle shape in the plan of the roof. However, in hip and valley roof, the base shape changes to a "T" or "L" shape in the plan.
If you can figure out what is a hip roof; you'll be at ease to define hip and valley roof. A hipped roof is a one that has sharp edges from the ridge to the eaves where two sides meet. So, in a typical hip roof all the four sides slope downwards to the wall gently.
The point where slopes meet is termed as Hip while the degree of angle where sloping sides meet is termed as hip bevel.
Interesting : A square hipped roof will look like a pyramid in the perspective view.
Hip and valley roof definition
In a hip and valley roof, there're multiple sections where sloping sides meet. These sections are joined with other hipped roofs and are speared by valleys. This type of roof is more common for contemporary style of home. So, it's a popular choice for roofing design and is been around for many decades.
You can easily understand hip and valley roof by picturing it in your head. The appearance is a bit complex than a typical hip roof. It is obvious to have a pyramid shape roof in square or rectangular bungalows. However, for bungalows with two intersecting rectangles, the two hip roofs intersect each other at one half. That's from where the concept of hip and valley roof was adopted in Western country residential properties.
Must read: Catslide Roof – What Is Catslide Roof? –  Extension 
Anyhow, the roof does offer all such benefits we have in a hip roof. It can easily tackle heavy rainfall or snowfall. The sloping hips can quickly shed the water. There's no hassle of cleaning the roof after rain, like in flat roofs. Plus, there're minimal chances of leakage in the roof.
Hip and valley roof Construction
Building hip and valley roof is an expert job. The framing is complex and you can't put yourself in without framing experience. The most important component of hip and valley roof frame is hip and valley rafters.
In a typical hip roof, there're just hip rafters that are placed at an angle. In hip and valley roofs, the same rafters exist in valley portion of roofing and are load-bearing. These rafters connect at common ridge and ends at common rafter.  Being load bearing component, the framing and installation has to be done carefully.
Also Read: 6 Types of Hip Roof – Cost  –  Advantages – Disadvantages
All the purlins and rafters have to follow the profile of roofing matching all hips and valleys. For the load to be precisely distributed among components the bearing has to go along the line of roof perfectly.
So, you see the things are complicated here. You've got to engage a seasoned roofer who can pretty well understand the ins and outs of framing. He's got to handle every measurement and angle with absolute perfection. Don't ever try to go this project in DIY route.
Even a slight difference of measurement can lead to structurally vulnerable roofing. That's dangerous and can be fatal for your family. So, it's best to avoid saving few bucks while endangering the life of your loved ones.
Cost
Because of complexity in framing, hip and valley roofs to come with a hefty price tag. Roofers tend to charge more due to different angles, peaks, and dip. Apart from labor, it also needs more material to create roof of this design.
Obviously the cost depends on factors like the size, inclination, material. Anyhow, you can expect to pay around $12 to $25 per sq. foot for a standard sized single story house. The average cost for hip and valley roof is around $30,000 to $80,000.
Anyhow, the best part of having a hip and valley roof is its durability. It is inherently strong against weather elements and can last for life. Apart from infrequent and minor repairs and maintenance, the roof's good to go for long time.
Advantages and disadvantages
Here're some pros and cons of hip and valley roof:
Advantages
The reason why this roof design is the hallmark of today's home is the stylish outlook. The dips and peaks make it far more visually interesting than a roof with only a shingle shape of covering.
You can make your roof a big architectural feature of your house with hip and valley roof.
The biggest pro of hip and valley roof is its wind resistance. Because of the pyramid shape and the streamline design; it is pretty resistant to wind damage. Because it attaches to the load-bearing struts; they're strong when compared with other options.
Disadvantages:
All the roofing designs come with pitfalls and hip and valley roof is not immune to that. Here're some shortcomings:
It looks great, there's no doubt. But still, you need to have an efficient drainage system on your roofing. You don't want the snow or rain to get caught up there. Because of the valley and intersections points of hip roof, there're more chances of clogging of gutters as well ice dams. So, that's why I recommend homeowners to frequently check gutters and downspouts for any blockages, especially after rainy spell.
Valleys and dips are a weak spot for roofing. With hip and valley roof, you've got many. So, without proper maintenance you can expect to have frequent damages to your roofing.
Another annoyance of hip and valley roof is the debris getting trapped. Tree limbs and falling leaves can easily get trapped in your hip and valley roof. For such, you need to climb up there with a ladder and clean off all the crap on the top.
Hip and valley roof examples
This type of roofing is quite common in Denmark, Germany, England, Austria, and Slovenia. Here're some of the examples as your design inspirations:
Building a hip and valley roof
If you're a roofer and are looking for some guidance about how to build a hip and valley roof; here're a brief:
First you're going to take the measurement of the building including the width and height of walls. We need accurate readings so we can cut the rafters as per the required length. You can also measure the roof pit to join the rafter as per the requirement.
Now you can mark cuts on the rafter along with the bridsmouth where the wall of the building will go through. Cut the slots appropriate to the requirement dimensions.
Now you can attach six to seven rafters in equal gaps to the center that will help support the beam.
To make it more solid, you can nail the rafters to the ridge beam.
Now attach six king common rafters to the ridge board's end.
Now fix hip rafters to the ridge beam with nails along with corners to fix with the walls.
For finishing, we'll attach the jack rafters with the hip rafters.
Plywood sheets will be nailed at the end along with fixing of asphalt shingles.