Civil engineer is a person who practices tasks like planning, designing, constructing, maintaining infrastructures. Civil Engineers are also involved in improving existing infrastructure that are damaged because flood, blasts or earthquakes. Generally, civil engineers have two distinct roles. They either work like consulting engineers or work as contracting engineers. Consultant engineers usually design project and oversee the quality of work. On the other hand, contracting engineers take design from consultant, implement design in field and do job at site.
When we refer to the role of site engineer, we usually refer to a person working on site practically performing execution of work. Anyhow, roles and responsibilities of civil site engineers are varying from site to site and for different projects. The role of a civil engineer working on the site of building renovation project will be pretty different than for the person working on a mega dam project.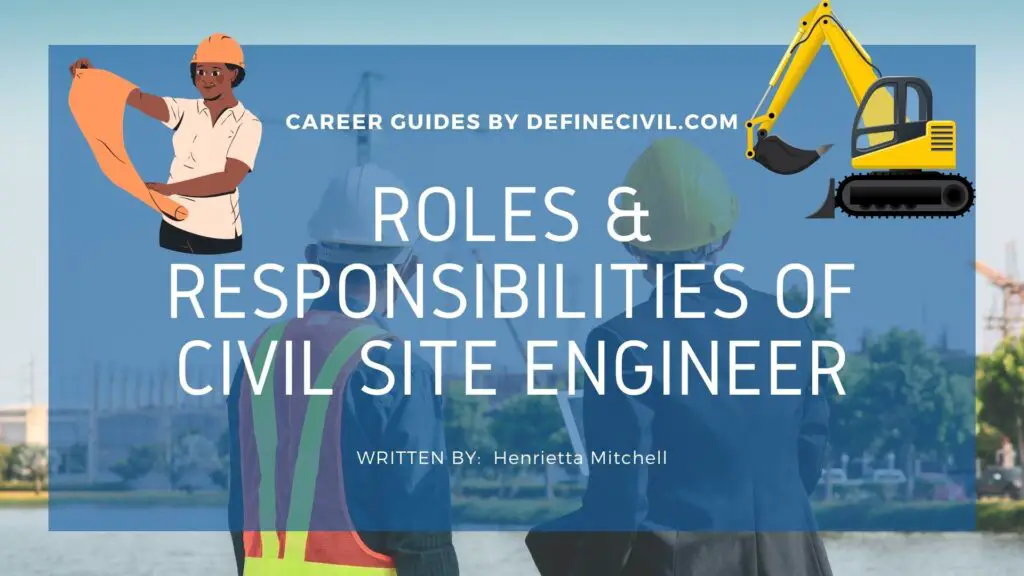 Role of Civil Site Engineer
Civil engineering projects are highly vigorous because of their varying nature. Strong decision-making characteristics are required for civil site engineer to cater such difficulties. Because of varying nature of construction projects, job responsibilities and duties are not specified and depends upon nature of project.
Civil site engineering job is not easy, because of difficult site conditions. Civil site engineer has to implement drawings in field and has to complete its work within specified budget, with good quality control and in given time frame. So, he must have basic knowledge about practical construction procedure in sites. Along with practical construction procedure, he should also have coordination and information about planning phase which will help him on site job.
Site engineering job is the backbone of all construction projects. His responsibilities and duties are very vast. He must be efficient in handling all the activities taking place on site. In case of any technical issue, quality control, preparation of daily reports, and for any kind of such task he must be efficient to overtake such activities easily for efficacy of project. Some of the roles and responsibilities laid on civil engineer is discussed below:
Reading of Drawing
Civil engineer must be efficient in analysis of civil engineering drawings and their implementations on ground. Civil engineering drawings include architectural drawing, structural drawing, Mechanical and Electrical (MEP) drawing in plan, section, and elevation view.
Therefore, civil site engineer must interpret drawing smoothly and perform work according to requirements and dimensions given in drawings.
Also Read: Is Civil Engineering Hard? (Answer by a civil engineer)
Technical Knowledge about Bar Bending Schedule
The most important responsibility of civil site engineer is to interpret bar bending schedule sheet. In this sheet, he interprets information about which type of steel to be used, dimensions of steel, diameter of steel, cutting lengths, number of bars required. This information is given to labors, so they conduct steel work according to it.
Assigning work to labors
Civil site engineer has to guide labors about construction work taking place on site. He has to guide them that how work has to be performed, which material is to use, and when to complete this work. If labors are not guided, they can cause losses in project.
Preparation of Reports and Schedules
Site engineer has to conduct work according to assigned resources, so that available resources are enough to conduct construction work on site without any delays. For which, site engineer has to prepare procurement schedule that how much material is available and how much is needed.
A report on future work is also carried out by site engineers before two weeks. So, that availability of resources for future work can be managed.
Preparation of daily reports
Site engineer also has to prepare daily report of completed work on site and have to submit that report to planning engineer office, who will analyze the progress of project by comparing it with primavera schedule and will interpret that whether project execution is on time or delayed.
Also Read: Civil Engineering Site Basic Knowledge PDF – Important Points
Assuring health and safety on site
Since, construction projects are vigorous in nature, so there is always a need of safety of worker to avoid any mishap which can cause huge loss to project as well as company profile. Therefore, on dangerous projects, site engineer also plays important role for monitoring health and safety of onsite workers.
Also Read: 7+ Reasons Site Safety is important for Project Owners
Quality Control by site engineer
Quality control is important parameter that is practiced throughout construction life cycle. It is responsibility of site engineer to monitor this parameter and use his skills and knowledge for meeting required standard of quality. For this, he will do following practices:
To make sure that right and quality material is used in construction site.
All the carried-out procedures and activities must comply with given requirements and specification of company.
To make sure that work is completed without any defect and delays.
Supervise technical activities
It is responsibility of site engineer to supervise all the technical activities occurring on site. These activities include surveying, leveling, laying out of building, concreting in foundation, steel work, alignment of column, slab work and all such activities taking place on site. And, in case of need he has to give his superior advice to solve any issue.
Communication and Leadership duties
Site engineer gets information from higher level and delivers it to sub-worker or labors, for carrying out work according to requirement. So, he must be efficient to coordinate between higher class and sub-worker. He has to get information carefully from his senior, understand it keenly and deliver it to sub-worker. It is his efficiency that how he communicates this work to his sub-worker and use his leadership qualities to get work from sub-workers.
Also Read: Civil Engineering Books PDF (1000 Books – Daily updated)
Management of Machinery & Equipment
It is also duty of site engineer to note down all the machinery like excavator, scrapper, cranes, grader, lifts, loader, trolley, and all the equipment needed for concreting before start of work. And manage these machinery and equipment before time, so they are easily available at the need of hour. Along with their management, it is also his duty to allot work to machine operator and note down the time for which they operated their equipment, to avoid any payment issue in future.