So, you're looking to take civil engineering as your major in engineering graduation and are now wondering if civil engineering is hard or easy? Well, if you ask the same questions from civil engineer the sure short answer will be "it depends". If you're passionate about structures, how they're build, and how that long spanning bridge takes tons of loads; you might find civil engineering a fascinating degree.
Anyhow, let's see how civil engineering might be a perfect choice for you:
What is engineering?
Engineering is the application of scientific rules and principles to obtain or manufacture different products, to develop structures, machines, to provide mathematical solutions to modern troublesome problems, and to bring innovation for soothing life. It is a broad discipline that is divided into several disciplines and characterized by four main branches: chemical engineering, electrical engineering, mechanical engineering and civil engineering.
In this article, we will take a look at one of the main branches of engineering that is civil engineering and will analyze whether it is easy or hard for aspirants who are looking for this discipline and help them to clarify everything about it.
Also Read: Civil Engineering Site Basic Knowledge PDF – Important Points
Don't want to read?
Don't worry ! you can skip to the video on the topic below; I've made a super easy video to let you understand everything:
What is civil engineering?
Civil Engineering is one of the main branches of engineering. With regards to the name "civil" it was because years back they use to consider only two branches of engineering one is civil and the other military engineering.
Civil engineering primarily deals with design, construction and maintenance of public work and infrastructure.
Its objective is to build roads, bridges, airports, harbors, railways, by-passes, canals, dams and sewerage systems. These highly challenging tasks demand civil engineering degree for their efficacy which is considered as harder than humanities and other history subjects while easier than other engineering disciplines.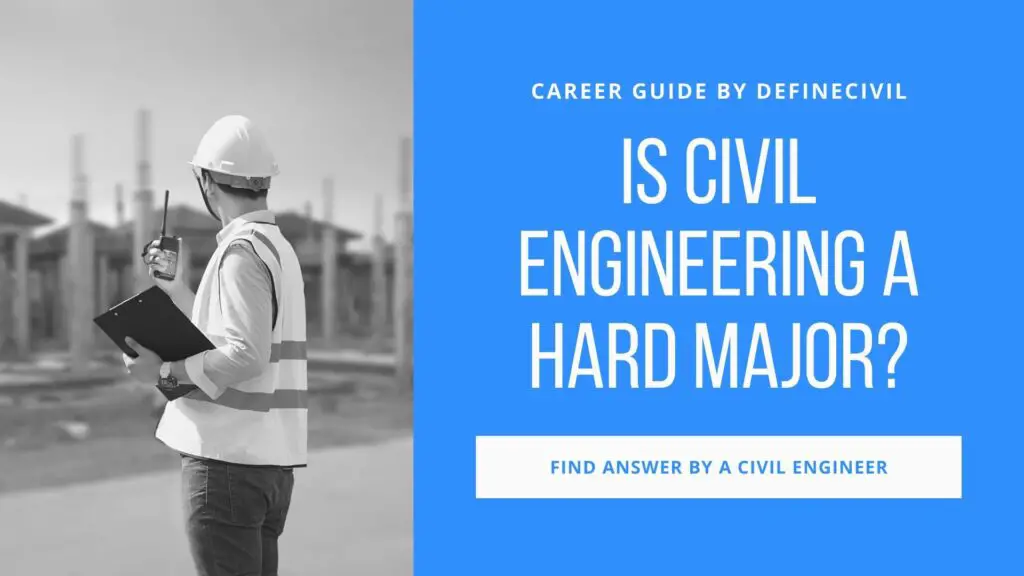 Is civil engineering hard for an average student?
Civil Engineering as a major is considered harder because of reason that students must go through different mathematic-based courses, challenging technical subjects and multiple lab sessions.
Students have to clear about 48 to 50 subjects in their four-year academic plan along with thesis writing of their final year project which is considered as most annoying for students as they have to present innovative idea of their choice and must defend that idea for clearing their degree.
In first year of study, students learn fundamental of civil engineering along with basic mathematics and physics courses. These courses are followed up by breadth courses which familiarize students to different aspects of civil engineering like hydraulics, fluid mechanics, geo-technical and structural engineering etc. In senior year, students finalize their specialization streams and studies advance courses.
Also Read: Top Civil Engineering Companies in Pakistan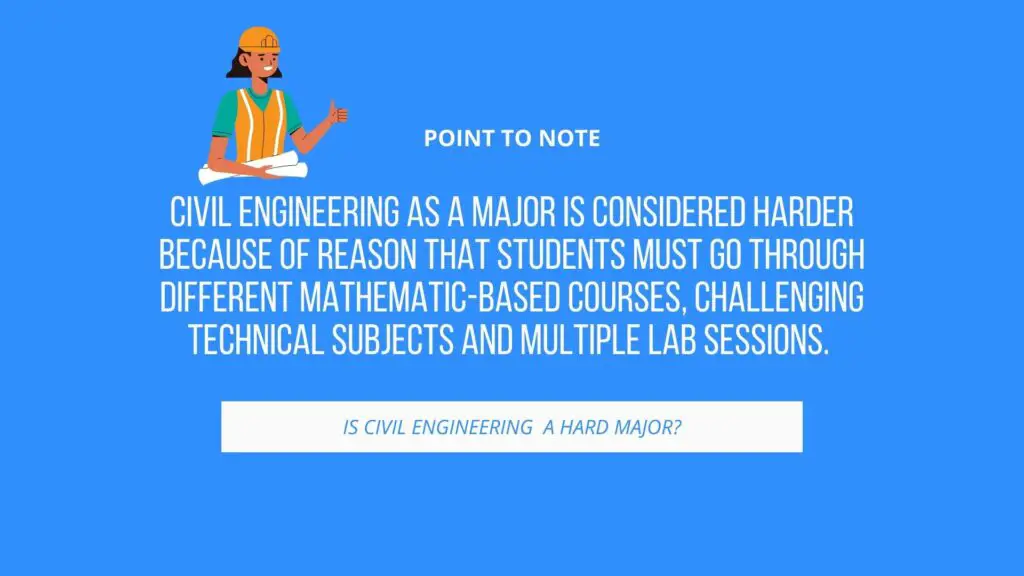 Sub-disciplines in Civil Engineering:
            Civil engineering is a vast field. It is sub-divided into following disciplines:
Geo-technical Engineering: It is also called foundation engineering. In this field, students get familiar with science of foundation, for providing safe and stable foundation to high rise building. Soil Mechanics, Soil and site improvement and Applied soil mechanics are the subjects that are taught in this discipline along with various lab tasks.
Structural Engineering: It is considered as the toughest discipline of civil engineering degree. In this student are given knowledge of load calculations that are acting on the building and have to draw shear force and bending moment diagram to describe the behavior of structure under load. Structural Analysis, Engineering Mechanics, Earthquake Engineering, Design of concrete structures are the important subjects of this discipline that are included in engineering degree.
Transportation Engineering: It is engineering of transportation where you are given knowledge of highway construction, traffic control signals, construction of Airports, harbors.
Water Resource Engineering: In this discipline, subjects include hydraulics, Fluid Mechanics, hydrology and irrigation engineering where you study about design of hydraulic structures like dams, canals, barrages, headworks and calculate the quantity of water in present or future perspective which has to pass through these structures.
Construction Engineering Management: It is the discipline in which you master over construction science happening at site. Students are given knowledge of construction projects initiation to project completion and its delivery. It is considered relatively easy discipline as compared to others and mother of all civil engineering disciplines. Contract Management, Cost analysis and control, Construction project scheduling, Risk management, procurement management are the important subjects of this discipline.
Hence, its vast field and along with above discipline it also includes Surveying, Geo informatics, Public Health Engineering, Town planning and Computer Aided Designs which are studied for four years plan where numerous mathematical calculations involve along with tedious lab tasks.
Also Read: Five civil engineering business ideas
Job nature of Civil Engineering:
            Civil Engineering is also considered hard because of its job nature. In which engineers have to manage whole site work and they have to be there for whole day whether it's a full sunny day with 40-degree temperature or too cold day with negative temperature which requires a great physical fitness and a tuff body to bear these severe conditions. Along with these conditions, they must manage or deal with labors which are also considered tedious because they mostly have rude nature and have lack of education or skills to understand engineering language.
In case of civil engineering office jobs, engineers have to deal with hectic drawings, have to calculate loading conditions on structure or have to work on different software which is quite easier than physical conditions of site job but still tedious work environment.
how hard is the maths in civil engineering?
            Like other disciplines civil engineering is also stressful because of difficult courses in four years of academic plans and application of tedious complex mathematically formulas. Its working environment is also stressful because one has to work with great precision to complete its project within given timeline with limited budget and good quality. So, engineers have to complete his tasks by considering three aspects that are budget, quality and cost. And, to complete project while considering above aspects is stressful.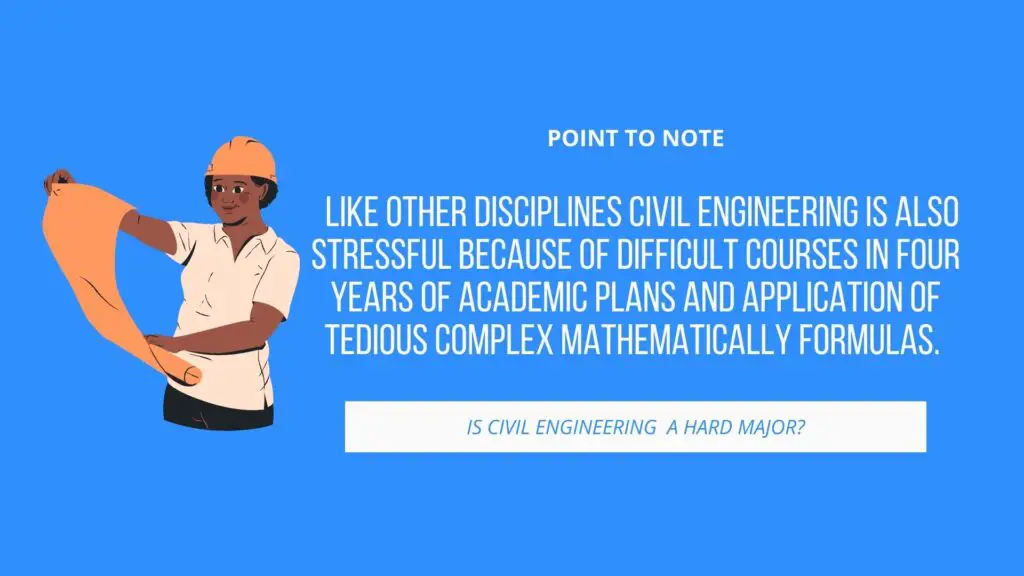 Civil Engineering Easier than other Engineering fields
Civil Engineering which is considered as hard because of its job nature and complex mathematically courses and tedious formulas is still considered as easier than other engineering disciplines like electrical engineering, chemical engineering, computer engineering etc. where it involves so much difficult programming language, data analysis, data interpretation, machine learning which requires your keen observation and fully attention as compared to civil engineering courses.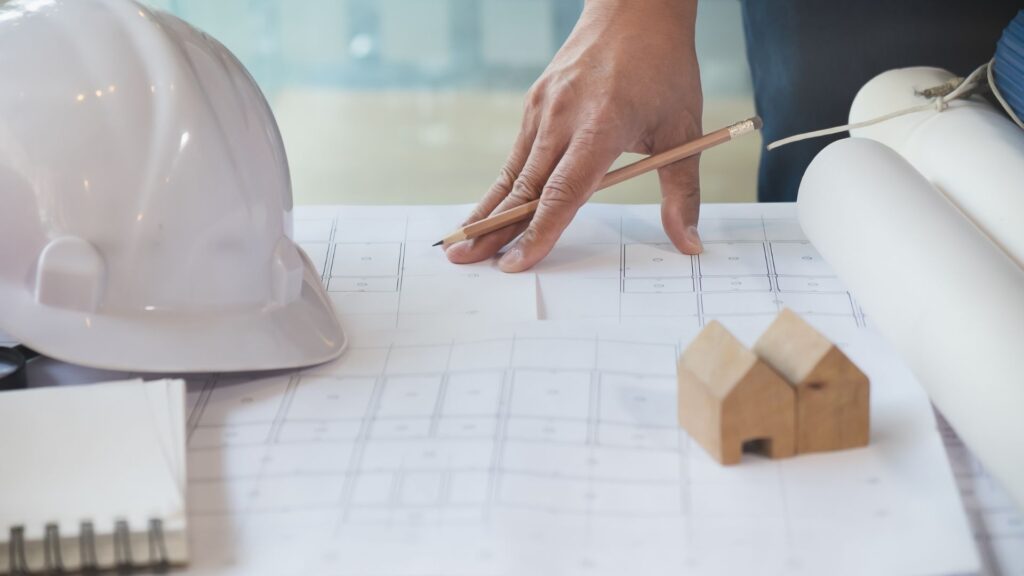 Is civil engineering hard to find a job?
            Civil Engineering is considered as highly paying and most worthy field which leads to stable career and highly marketable degree.
Students getting into this field thinks that they just have to construct infrastructure and smooth road but in reality, it is not. They also have to design, construct and maintain underpasses, sewerage systems, road lightings and structures to prevent flood.
With the consistent population growth, these facilities are more in demand than before therefore, civil engineers will be in more demand than even before. Civil engineering problems require unique solution that's why it is also safe from artificial intelligence and automation. These are strong reasons according to which civil engineering is future proof and called ever green field.
The bottom line
            Civil engineering is a vast field for those who are interested in designing, construction and maintaining natural as well as man-made structures. It is considered bit hard and tuff because of its job nature and site conditions. However, it can be considered easier as compared to other tedious fields and sometimes it is less technical in comparison to other disciplines. Anyhow, civil engineering is highly paid and demanding field that provides a stable career. But at the same time, it puts oneself into lot of effort and work in a high pressure environment.