A wall is a structure and a surface that defines an area, supports a load, offers security, shelter, or soundproofing, and is visually appealing. There are various types of walls in construction: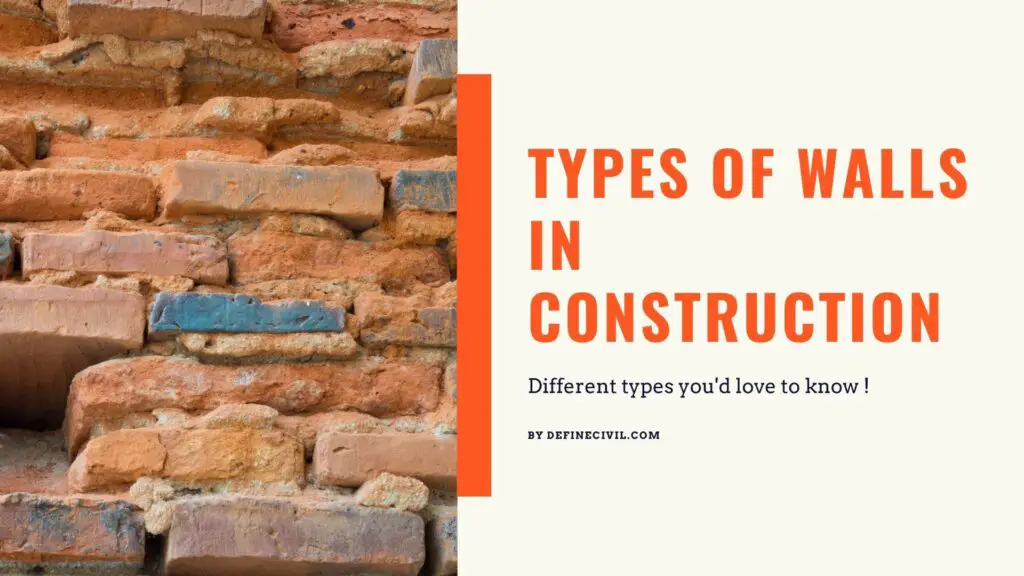 1.      Load Bearing Walls
The foundation weights imposed on it by beams and slabs above, as well as its own weight, are transferred to a load-bearing wall. These walls support the structural members on higher floors, such as beams, slabs, and walls. It might be an exterior or an interior wall. It's supported all the way down to the floor from the ceiling.
Load-bearing Wall Types
Retaining wall made of precast concrete
Retaining Wall
Masonry Wall
Pre-paneled interiors with load-bearing metal stud walls
Putting Up a Brick (115mm, 225mm)
Stone Wall
The required wall thickness and resulting stress on the base will increase as the building's height rises, making it uneconomical.
2.      Non Load Bearing wall
Non-load bearing walls bear their own weight rather than supporting structural components like beams or slabs. These partitions are solely used to separate rooms or keep them from the outside world. Because it just supports itself, it's called an inner wall.
Non-load-bearing walls include hollow concrete blocks, facade bricks, hollow bricks, and brick walls (115mm, 225mm)
3.      Shear Wall
A shear wall is a soil-retaining wall built around a lift pit, water pump, or ladder. There are three types of pressures on a shear wall: air pressure, soil pressure, and water pressure. The shear wall is designed to withstand lateral forces like wind, earthquakes, and other pressures. Consider an above-ground storage tank. Because it is located at heights that incorporate wind pressure, the above tank is exposed to air. Water pressure is created inside the water tank by the shear wall, which bears these pressures without deflection.
Also Read: Shear Wall, Types, Uses, Advantages  Disadvantages
4.      Retaining wall
A retaining wall is a construction designed to keep an uneven floor level on both sides of it. A retaining wall is a wall created beneath the ground level around a plot to prevent soil at one end and land sliding at the other when the earthwork on site is finished. RCC or CRS retaining walls are available, and they are further split into the following categories:
Retaining wall based on gravity.
A retaining wall made of reinforced concrete.
A retaining wall made of bricks.
A foundation for earthen walls.
Retaining wall built of stone.
5.      Brick Masonry Wall
A brick masonry wall is one that has masonry connecting the bricks to the wall. The brick wall could be 20 cm thick or 10 cm thick.
A 20-centimetre wall is employed for the external walls.
A ten-centimeter wall is used for internal walls.
Remember that a single brick wall piece should not exceed 4 meters in length; if it does, an RCC column must be constructed.
Also Read: Parapet Wall -Purpose -Designs -Types -Function – Size
6.      Course Rubble Stone Masonry wall
The stones in a course-grained stone masonry wall are well-finished and prepared and set out in a regular pattern. These sorts of walls include bridge abutments, composite walls, and boundary walls.
7.      Random Rubble Stone Masonry wall
A random rubble wall has more masonry than a courted garbage stone wall since it is made out of randomly shaped stones.
8.      Core wall
The foundation, which has risen to the height of the structure, was used to construct the core wall. The core wall is designed to hold the lateral force produced on the building by wind, earthquake, or other lateral load while simultaneously acting as a column in these sorts of walls. These walls are made up of shear walls that have been sorted and ordered like a core and placed in the geometric center of the building to reduce torsional forces.
Also Read: Pointing in Brickwork – Types-Keyed Pointing – Tuck Pointing
9.      Precast Wall
As the name implies, this is a finished wall that is cast in a factory and purchased on-site for installation. If working space is restricted and labor is scarce, these walls are excellent. Companies that provide skilled individuals to install precast walls on your site are the most effective element of precast walls.
10. Parapet Wall
The building's top storey has a three-foot-high parapet wall to keep things from falling through the roof.
11. Curtain Wall
Curtain walls are made of glass, aluminium, or steel frames and are commonly found in offices, hospitals, and other public buildings.
12. Compound wall
Boundary walls are built across a building to designate the plot's boundary.
13. Mullion Wall
Mullion walls are a structural technique for transferring the weight of the floor slab around the perimeter using prefabricated panels.
14. Partition Wall
A partition wall is a narrow barrier that separates or divides two rooms from one another. Steel panels, bricks, linen, plastic, plasterboard, wood, clay blocks, terracotta, concrete, and glass are just a few examples of partition wall materials.
Some partition walls are made of sheet glass. To make glass partition walls, individual toughened glass panels are fitted in wood or metal framing. Ceiling tracks made of robust aluminium can be hung or slid on. The gadget is simple to use and maintain a consistent threshold because it does not require the use of a floor guide.
Internal wall partitions are often built of drywall (plasterboard) or glass, and are also known as office partitioning. Low-iron glass (also known as opti-white glass) is a popular choice because it improves light and solar heat transfer.
15. Party Wall
The walls that divide structures or units within a building are known as party walls. They ensure that residents in a structure are safe from fire and noise. A construction code determines the minimum fire and acoustic resistance standards for the party wall, which can be changed to fit a range of scenarios. It's likely that figuring out who owns these walls may turn into a legal battle. It's not a load-bearing wall, and it might be shared by numerous individuals.
16. Infill Wall
A supported wall that runs around the perimeter of a three-dimensional framework structure building is known as an infill wall.
17. Fire Wall
Fire barriers provide passive fire protection by preventing fire from spreading within or between structures. The longer a fire burns, the more time residents must evacuate and firemen must work to put it out. These walls are constructed of noncombustible materials such as concrete, cement block, brick, or fire-rated drywall, with wall penetrations sealed with special compounds. A rated fire door must be installed in a firewall doorway. Some fire walls are designed to endure between one and four hours, while others are designed to last between one and four hours. To divide a structure into portions, firewalls can be constructed vertically from the ground to the roof deck and horizontally from one outside wall to the next acting as smoke detectors.
18. Knee Wall
Knee walls are small walls on the second and third levels of a house that support rafters or add height to rooms. In a 3/2-story house, the half storey is supported by the knee wall.