So, you're in the market searching for a knife and you hear the term Pakkawood and now you're wondering what is actually a pakkawood? Well, experts use the term "pakka wood" to refer a hard wooden laminate material. It is resistant to heat and is thus ideal to make cutlery and cooking utensils. But how it differs from a natural wood?
Do you want to dig deep?  Go and read further as this article contains an in-depth knowledge about different aspects of Pakka wood – the composition, properties and applications. So, let's delve in:
What is PakkaWood? – Answer is here:
Pakkawood or Pakka Wood is a man-made, engineered wooden that is known for its high durability, inertness, and exceptional strength. We can refer to it as a resin composite or plywood. It doesn't come from the Pakka Tree.
Other names for this material include Colorwood and Staminawood. As compared to its real wood counterparts, it is denser and water- resistant. Owing to plethora of benefits and resilient characteristics, professional knife makers love it to craft knives and cutting utensils. It is a key component in high-end knives that you can use for life without a hassle.
Also read: SPC Vinyl Flooring – Difference with WPC flooring- Advantages Cost
What is its Composition?
The process of engineering this material starts by the removal of moisture from wooden veneers with the help of a vacuum. The dried-up pieces are then impregnated with different resins, especially phenolic thermoset resins, and occasionally with a plethora of dyes. The pieces are then glued together under extreme temperatures and pressures to form a dense, solid, and durable composite that performs better as compared to real wood. Due to its composition you can refer to it as a composite material of wood and plastic.
Pakkawood is also known as dymondwood, stamina wood, and color wood.
Expert knife makers use colored resin to give it a nice looking appearance. It can mimic the look of natural wood like oak or chestnut wood.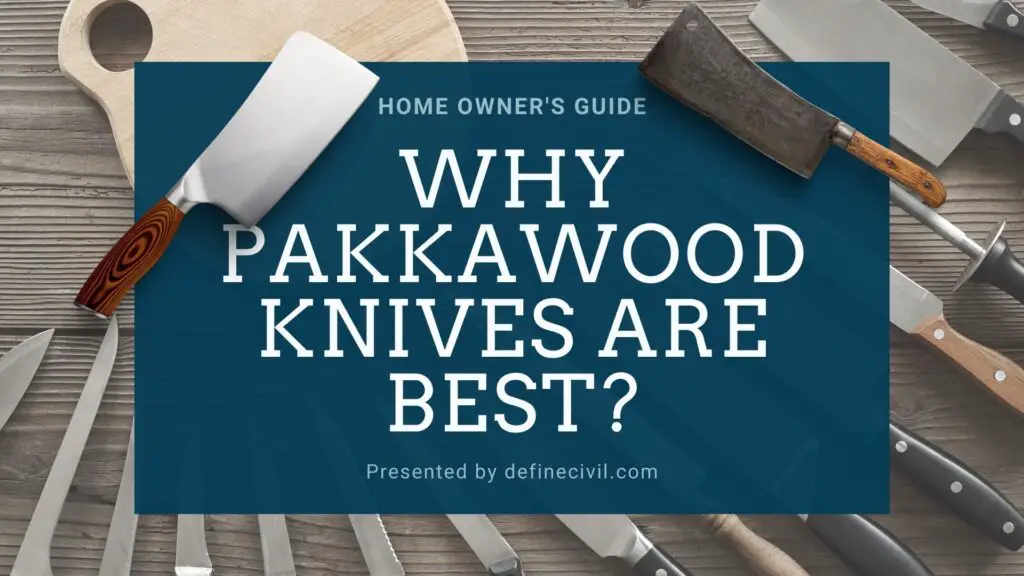 How does this product appear?
In most case, the finished product can appear like natural, real wood. But it is entirely up to the manufacturer what he intends it to look like. Usually when creating the handles of knives, creators try to make it appear as close to real wood as possible and even add dyes to make it resemble real wood like walnut, bamboo, pine, etc.
Sometimes, pakkawood appears like a new type of wood. It has the variety of whimsical patterns and a variety of dyes added which give it a unique look and appearance. Examples of this include camouflaged looking pakkawood or multi-colored pakkawood. With the variety of dyes and their combinations used, pakkawood can give the appearance of an out-of-this-world looking product.
It can give the illusion of a glossy finish naturally, with the aid of the process of polishing and sanding. The process further eliminates the need to spray on any resin or additive for extra shine. At the end of the day, this product looks pretty much like real wood.
Characteristics like high durability, inertness, exceptional strength, and immense beauty makes it an excellent candidate for wooden alternatives.


Properties of Pakkawood
Pakkawood packs a lot of amazing properties that makes it quit popular in numerous applications. It has various advantages over regular wood. Its properties include:
It is resistant to water and heat.
It is relatively easy to clean and maintain.
It is extremely durable and long lasting.
It doesn't split like normal wood.
It is customizable, has amazing strength that real wood lacks
It doesn't deteriorate as easily as real wood due to the fact that it packs resins in it.
As everything has some disadvantages, so does this product. Here're some pitfalls of Pakkawood:
It isn't really dishwasher-friendly and takes longer to degrade due to its durability which may contribute to pollution.
Aside from that, some people are conscious of wanting natural products for their use so they prefer the use of real wood.
Also read: Does heat kill mold in house? Get rid of the mold with heat
Uses Of PakkaWood
Here're some of products that you'll find in the market made with Pakkawood:
Knife Handles
We have already established the fact that this product is used in knives which is its most common use. This use is mainly due to the high water-resisting capabilities of the product. The product is used to made handles for all types of knives be it kitchen knife or a steak knife.
Handles made of natural wood have the tendency to crack, fade in color or split and according to Phil McMahan, co-owner of Rhineland Cutlery in Melbourne, "A good knife should last you a lifetime" therefore, alternatives like pakkawood are used that eliminate the issues with real wooden handles.
If you are someone that has a talent for woodwork, you can buy pakkawood from your hardware store and shape your own custom-made knife handles that will last a lifetime.
Cooking equipment
Another popular use for the product is the manufacture of cooking utensils. You can craft things like spatulas and cooking spoons. The material won't scratch or leave marks in your nonstick equipment and crockery. It resists heat and water that makes it an excellent choice for cooking utensils. They also come in a variety of colors and vibrant patterns to help add some life, beauty and color to your kitchen.
They give a nice exotic overlook to the kitchen and your life.
Also read: Wood Mites –  How to get rid of wood mites? Types – Sizes – Home Remedies
Pool Cues
Also called by the name of Dymandwood pool cues, Pakkawood pool cues are exceptionally heavy as the material itself packs quite a bit of density. If you are interested in heavy, strong break cues, Pakkawood is the material you should look for.
Military weapons and tactical knives
Due to their exceptionally high durability, reliability and resistivity, the material is a common choice for use in military weapons and artillery.
The handles are also quite popular for use in tactical knives and self-defense weapons.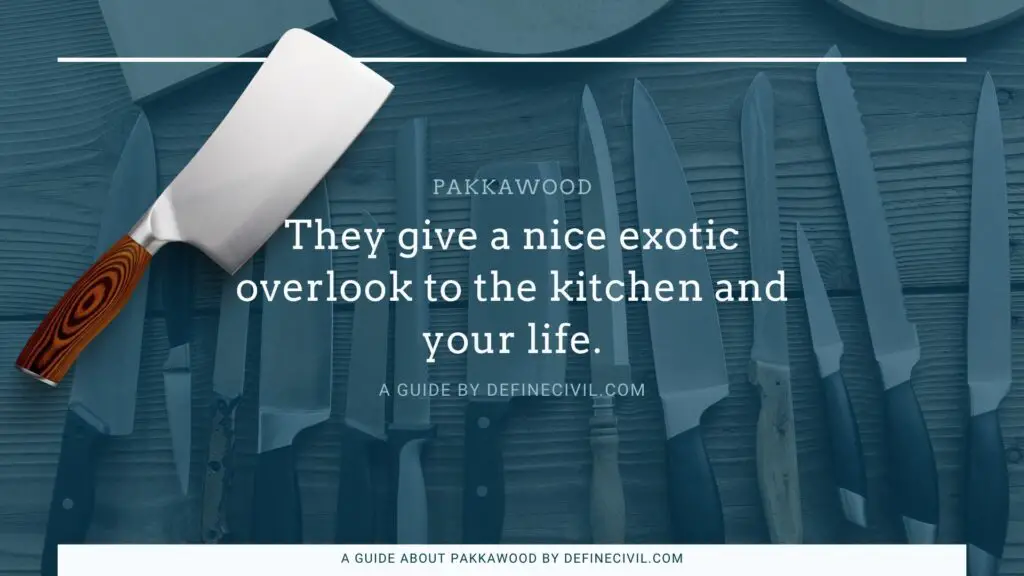 How to properly care and maintain Pakkawood?
I've dedicated this section to guide you about the proper maintenance and care of Pakkawood. A lot of homeowners try to clean it in dishwasher. But never do this. Pakkawood is not a dishwasher safe. The wood venners are only safe for hand washing.
Tough pakkawood is water-resistant but that doesn't mean you soak it in water for longer time. The wood composite material can be damaged when soaked in water for long time.
Also Read: Definite ways to make your wood floors look like New
So, what to do if the pakkawood handles are fading due to wear?
Don't worry that's common. The daily abuse and use take a hard-toll on kitchen knives with pakkawood handles.
Sometimes you return back its shiny finish with tung or mineral oil. Just apply it and buff with soft cloth. You can also use tru-oil if others don't work.
If still the knife looks dull, you may need to use sandpaper. Try to use 120 grit sandpaper and apply the coat of oil afterwards. This polishing and sanding will make it super-shiny again.
So, what's you view about pakkawood? Do let me know in comments section below. Also make sure to share these nice tips with your friends and family.
Definecivil may earn compensation through affiliate links in this story.