SPC is acronym of Stone Plastic Composite or Stone polymer composite that is a rigid core luxury vinyl flooring type. Because of its plethora of benefits, it has just taken the flooring industry by surprise.
However, you've just arrived with a lot of questions in mind like what is SPC Vinyl flooring, why it's the toughest of all vinyl flooring available, what's the advantages, and what are the differences with WPC flooring.
Well, just hold on! I've explained everything about SPC vinyl flooring in our today's buyer's guide.
So, let's get started: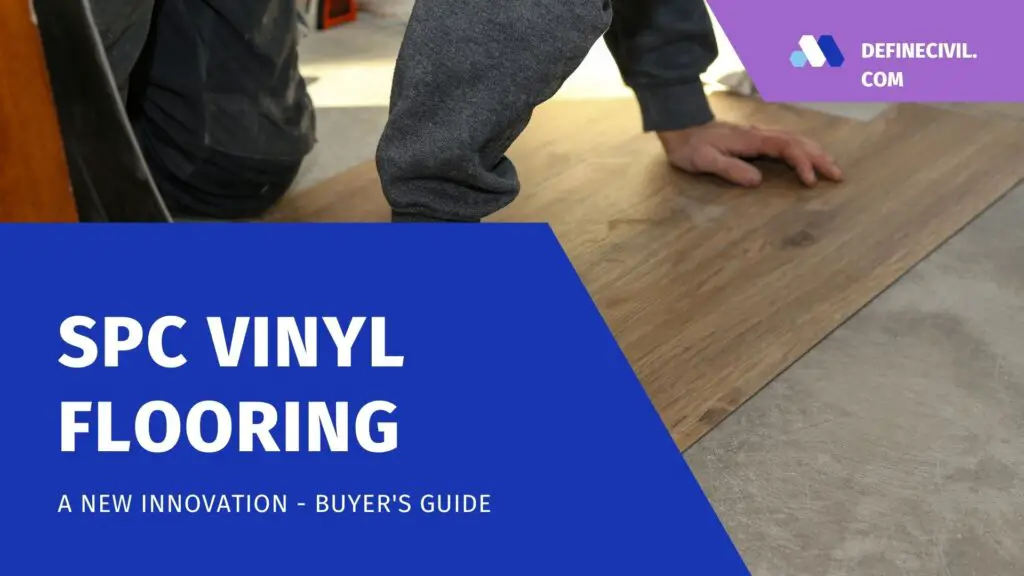 SPC Vinyl Flooring
Well to be very honest, the SPC vinyl flooring has just arrived in the industry when people were being introduced to WPC or wood plastic composite vinyl flooring. Even now we can consider WPC as a pretty new choice for homeowners and property owners in the flooring world. People were just amused with the technological revolution in the shape of WPC flooring when they got this amazingly tough flooring type.
With so many other flooring products in the market, choosing the perfect flooring is quite a daunting task. You need to consider so many factors like budget, availability, durability, space, lifestyle requirements, and so on. But there's no such ideal in flooring choices – until SPC vinyl flooring. Yes!
That's because of the need of the hour. The people are looking more for some vibrant and sturdy flooring that could looks fabulous under the foot. That's the reason we have seen evolution in matter of months.
In the shape of SPC vinyl flooring, you are getting remarkably indentation resistant flooring that doesn't need much of homework on the existing surface. Sounds crazy, right? With SPC vinyl flooring you doesn't even have to worry about the wide ranging temperature cycles inside your house in winter and summers.
SPC Rigid Core Luxury vinyl Flooring
If you're looking for something durable, waterproof and resistant to major impacts, SPC vinyl flooring has a lot to offer. Owing to the rigid core it has at the middle, no scratch or stain will be there despite the major impact. Even they outperform in high-traffic areas of your home and commercial properties. You can further enhance the durability by increasing the thickness of wearing layer on the top.
What is SPC Flooring Made of?
Now just look at the name again it contains a very meaningful term "rigid core" that is what make it unique and outstanding than any other type of vinyl flooring in the market. In fact, it is the most durable vinyl flooring available in market for commercial properties.
When people first read the vinyl – the often consider it as something flexible for sure. But the case is otherwise here. Typical vinyl flooring and WPC (wood plastic composite) vinyl flooring is pretty flexible and less-sturdy. Though it performs well against traditional wood or laminate but SPC vinyl flooring is like ultimate tough. That's what makes it the ideal flooring solution for commercial environments. It can easily take the daily abuse of high traffic areas.
Now you might be wondering about the looks?
Well, SPC vinyl outperforms here as well. You get the hottest wood and stone-line floors in your house that even experts get mistaken for it as a real wood floor.
What does SPC stands for in vinyl flooring?
The terms SPC stand for Stone Plastic composite or Stone Plastic composite. It is a type of vinyl flooring that features a hard core that is made of around 60% limestone, polyvinyl chloride and plasticizers. It is a competitor to the other type of vinyl flooring i.e. WPC that stands for wood plastic composite. or Wood polymer composite.  In flooring industry they use both the words Stone Plastic and Stone Polymer interchangeably.
So, the standout feature for SPC flooring is its hard rigid core. This core makes it virtually indestructible even in the toughest conditions. The biggest pro of SPC vinyl flooring is its ability to stay it's from even in the uneven subfloor conditions. That makes it ideal for DIYers and homeowners, who want to get rid of their dull old flooring.
Layers in SPC Vinyl flooring
SPC flooring is made up of 4 typical layers – wear, luxury vinyl (for texture), rigid core, and attached underlayment. But for some manufacturers the add a layer or two depending on their preferences.
Let's see this from the lowest
Underlayment or backing layer – that is just to make sure you won't need any extra underlayment. It makes it able to absorb sounds (hence named acoustic backing) and make it comfortable. It can be of bottom foam or cork and is optional.
SPC Core Layer – That is the whole ball game – a rigid core made up of stone plastic composite. It's generally 3.2 to 7.5 mm but it depends on the manufacturer. This rigid core is 100% water proof (no swelling or peeling) and is great for uneven surfaces. You don't need any foaming agents as in the case of WPC flooring.
Luxury Vinyl Print – This layer gives you high quality imagery with exceptional durability. It can easily mimic the shape and color of stone and wood. So, you're getting a highest quality of wood flooring with no drawbacks that exist in wooden flooring.
Wear layer – This is a thin wear layer that protects your floor from scratches and dents. In terms of wearing layer – the thicker the layer – the better.
SPC Vinyl Flooring Price
As it falls in luxury category of vinyl flooring, don't expect to get it cheap. It is a top-notch luxury vinyl and is priced between $4.00 to $7.00 per square foot. Anyhow, with more manufacturers joining the party the prices are expected to go down a bit over coming years.  Anyhow, the overall price of the project depends on the measurements, thickness of the core layer, and timeframe for the project.
SPC Flooring Pros and Cons
Here're some benefits that you can fetch with SPC flooring:
The biggest pro of the vinyl flooring is that you get 100% waterproof flooring, especially for areas like kitchen, bathroom, and commercial areas. The same stands true for both rigid core and WPC vinyl flooring.
Just like I explained above, this type of flooring is pretty useful for imperfect subfloor conditions. Infact, we consider this quality as the trademark of the rigid core luxury vinyl flooring. Thanks to the rigid core, that is especially designed for these types of situations. You can install it over an existing hard surface including tiles.
If you're in search of flooring solution that can take the impact but has long-lasting shine and quality, SPC vinyl flooring is the best choice. It is ultra-durable and is the toughest of the floors available in the market.
So, you just love the look of a wooden floor, but hate how daunting the maintenance is. Don't worry! SPC vinyl flooring is best at mimicking the natural materials like wood and stone. It can give you incredibly convincing and beautiful finish.
You don't have to spend weekends on maintaining the floor. Just an occasional vacuum and damp mop will make it shine again. SPC vinyl flooring is ideal for lazy homeowners not willing to undertake chores regularly.
There's no annoyance of expansion and contraction like in traditional wood flooring. No buckling or no shifting whatsoever. The core is rigid and there's no influence of moisture on it.
The installation is pretty simple and even you can take it yourself with normal handyman supplies
The last layer of the floor makes it sound absorbent. SPC vinyl flooring helps absorb sound, making it ideal for second story buildings and businesses.
If you compare it with ceramic tiles, the floor is pretty warm, best for winters.