A lot of people are confused or have difficulty in remembering different parts of stair. That's quite normal as there are different components of a staircase; it is not simple to easily remember all. That's where you can save the diagram I've shared in our today's post or download the PDF that will help you in identify different parts.
So, while you look at the stairs of your home; what are some of the parts you can identify? Don't worry if it's difficult as our today's read we'll help you figure out all the details including railing, platform, hand rest, and structural parts.
What is a stair?
Well, let's start by knowing some introduction about a stair.
A stair is a sequence of steps provided as a basic component in a building to connect different floors of building. Inside the building a set of steps leading from one floor of building to the other. Stairs are made of different materials. for example, wood, concrete and metal. The choice of material depends upon type of building and demand of owner.
In American homes, we mostly have a wooden stairs and are straight in plan. They are stairs without any change in direction. You can opt for different shapes of stair as per your plan requirement or architectural preference like L-shaped, U-Shaped, Spiral, dog-legged or Cantilever.  Anyhow, some of the unorthodox designs are difficult to construct so we always recommend straight stairs.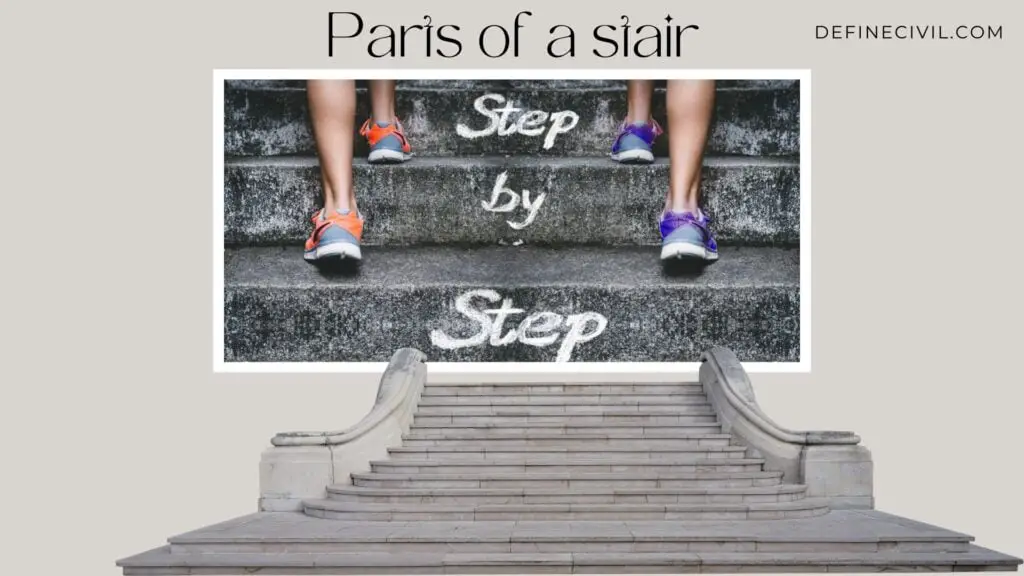 In UK, you can't have a straight stair for flight above 35 risers. As per the regulations in UK, you should have a change in direction of at least 30 degrees above 36 risers. However, for public buildings the code allows risers only upto 16 in straight flight.
Staircase
In every building there is a location where stairs are located. That room or place is called staircase.
Stairway
The space which is occupied by stairs is called stairway.
Also Read: Dog-Legged Staircase – What is Staircase –  Advantages 
Parts of staircase diagram
Below is an illustrated diagram that covers all the main parts of a staircase. It is pretty helpful to remember different parts of a stair by seeing a diagram or picture below:
Parts of a staircase railing
A staircase railing includes different parts like Balusters, handrail, newel cap, newel, and stringer. All these parts of staircase railing allow people or users to grasp by hand in order to provide safety or support. The staircase railing help protect senior members of the family from threat of falling.
In UK, the code suggests to have a handrail for at least one side if the width is less than 1 meter and if more, you must have a handrail on both sides. While the height of the handrail should be between 900 mm to 1000 mm from the top of the handrail to the pitch line.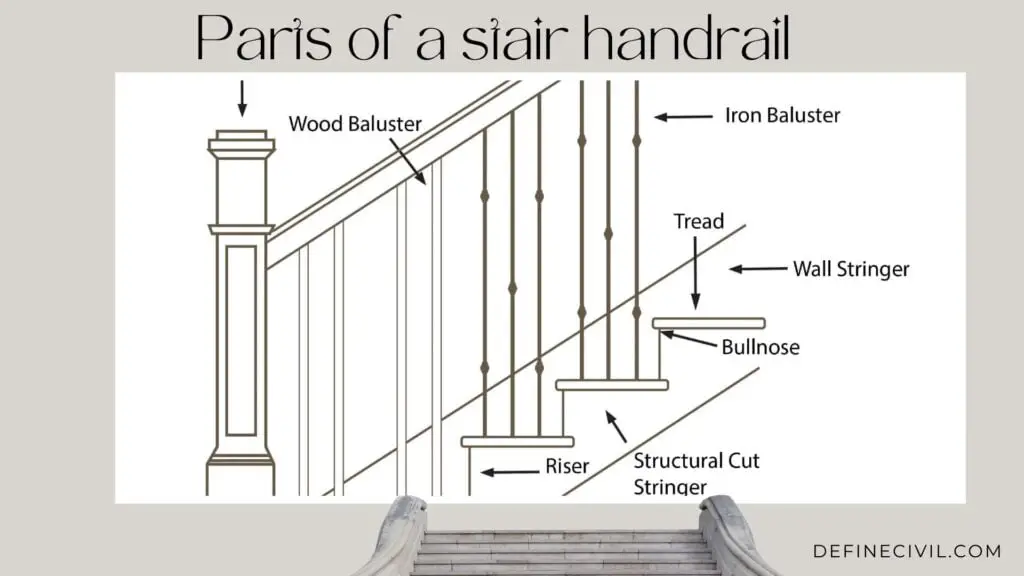 Parts of stairs
A stair consists of different parts which are given below:
Step
A step is comprised of two parts one is horizontal which is named as tread and other is vertical part which is named as riser. While a stair consists of sequence of steps.
Tread
A tread is a horizontal part of step on which foot is positioned for ascending and descending purposes.
The width of tread should be enough for foot and comfort of user. The tread should be flat and horizontal with sufficient friction to prevent slipping of person.
Riser
A riser is a vertical part between two successive steps. A vertical part can be open or close depending upon the design of steps. The vertical distance should be within limitations according to type of building to provide comfort to its users.
Rise
A Rise is a vertical distance between two consecutive treads. The rise should be within limitations while keeping comfort of user as one aspect.
Going
A Going is a horizontal distance between two consecutive risers. Its value should be a little more than the normal foot size of a person.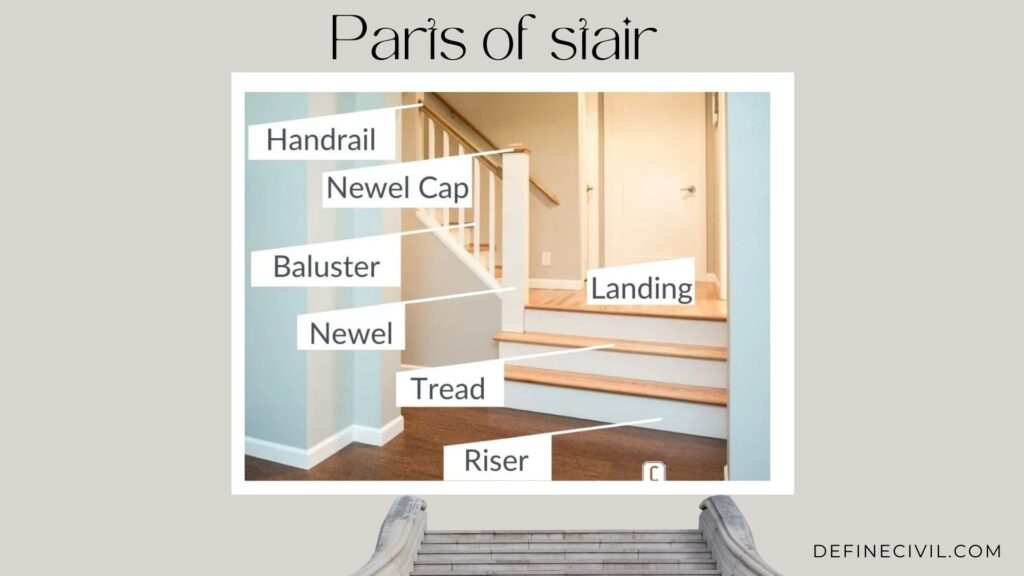 Flier
A Flier is a step having a uniform width and rectangular shape.
Landing
A Landing is a horizontal platform which is provided at the end of floors and sometimes provided between the floors in case of long flight for ease of change of directions and to take rest during the use of stairs. A Landing should provide sufficient space for multiple users to take rest and easy changing of directions.
Flight
A continuous sequence of steps which is provided between two landings is called flight. A flight must comprise of suitable number of steps to provide ease to its user while using stairs.
Also Read: Pros and Cons of Floating Building
Nosing
A nosing is a projecting part which moves outward beyond the face of riser. A stair nosing helps to prevent the problem of slips and falls because of its anti-slip feature.
Scotia
A scotia is a molding which is provided under the nosing to increase the beauty of the elevation of steps. It is generally made of wood and provide additional strength to nosing.
Soffit
Soffit is a flat under surface of stairs. The soffit comprised of area under all the stairs and is generally made smooth by finishing of a plaster.
Also Read: Types of Building Structure in Civil Engineering with images
Pitch or Slope
A pitch or slope is angle which is made between line of nosing and horizontal. The angle should be within permissible limits so that it does not disturb the comfort of users while ascending or descending. Normally it is suggested that angle should be kept between 25-40 degrees.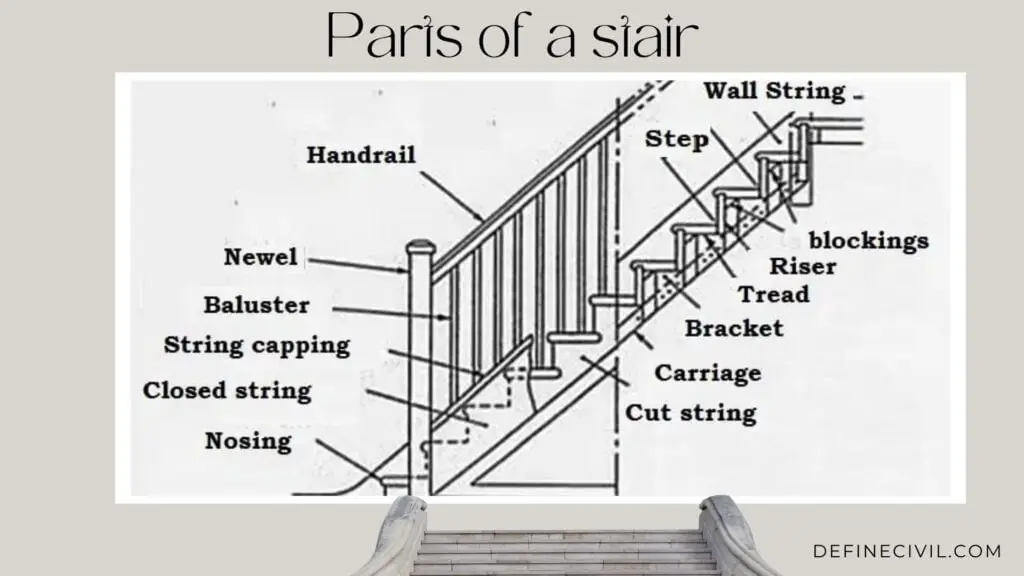 String or stringers
The string is a sloping member like slab which is provided at some angle over which steps are placed. That sloping part provide support to the steps of a stair.
Baluster
A Baluster is a vertical member which is provided to support the handrail. Many balusters are provided to support the handrail. A baluster is generally made of wood or steel.
Also Read: Types of Walls in Construction Buildings
Handrail
Handrail also known as banister is a sloping member supported by baluster and it is used by users for support while going up or down the stairs.
Balustrade
A Balustrade is a combined framework of baluster and handrail. The balustrade is provided for the safety of users of stairs and prevents from accidents which can happen while ascending or descending.
Newel post
A newel post is a vertical member of different beautiful moldings provided at the start and end of flight. It also provides support to the handrail and connection between handrail and stringers.
Waist
A waist slab is a sloping slab of sufficient thickness which is provided from one end of flight to the other end. It should be of sufficient thickness to take the load of steps and load of users.
Further Read: Components of Arch – Parts of an Arch