WPC board is a high quality material made from blend of wood fiber and inorganic fillers or plastic composites. WPC board is a high-end alternative for natural wood and plywood. The problems and issues you face with the plywood or natural wood are not present in the WPC boards.
[su_service title="Definition"]WPC board is a short form of Wood Plastic Composite. It's an eco-friendly and highly durable construction material that has been made as a result of advancement in technology and every day research.[/su_service]
[su_pullquote align="right"]One of the biggest pro of WPC board over plywood or natural wood is that it is 100% termite proof.[/su_pullquote]
[su_expand]Because of the plethora of benefits, we're seeing a rise in the use of WPC boards. In today's blog post we are going to see what WPC board is and what are its pros and cons. So, let's get started:[/su_expand]
What is WPC Board?
WPC board meaning is a wood plastic composite material boards that are prepared by mixing ground wood fibers and thermoplastic resins.
Sometimes, during manufacturing of WPC boards, recycled thermoplastic are also used. Manufacturers are preparing solid WPC profiles by molding it into a required shape.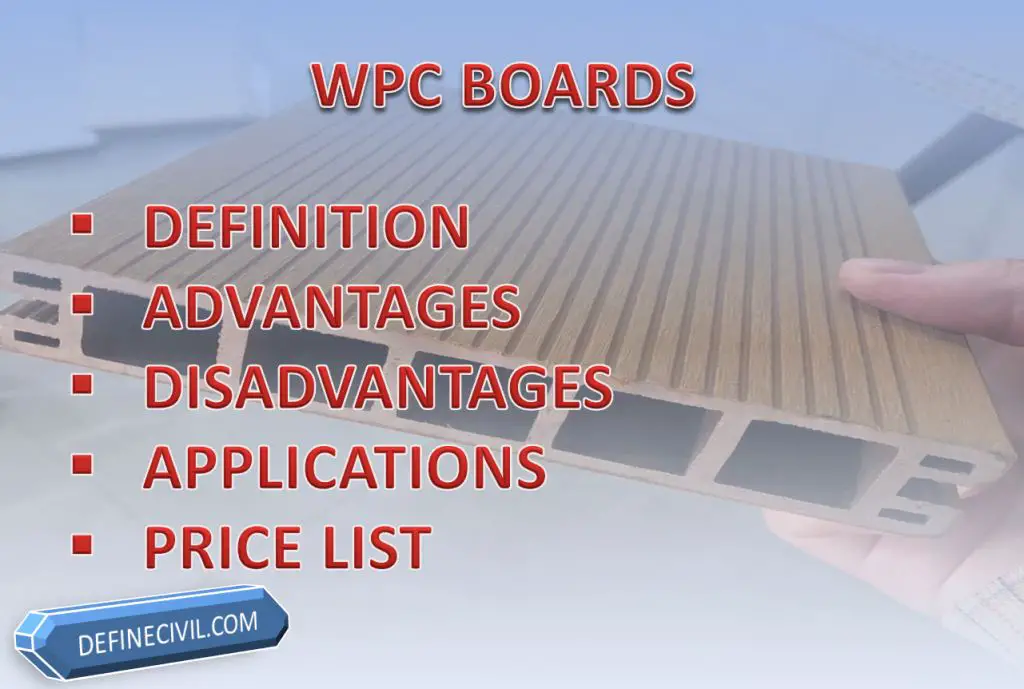 Composition of WPC
As far as the composition of this material is concerned, it is made by mixing together constitutes of waste wood, fibers, and thermoplastics.
[su_box title="Take Note" style="glass" box_color="#df6804″]A typical wood plastic composite board is composed of 70% virgin polymer, 15% of wood powder or fibers, while the remaining 15% is of the additive-chemical to make it stable and strong.  [/su_box]
Advantages
Here're some of the advantages of WPC boards:
1.    100% Termite Proof
One of the biggest pro of WPC board over plywood or natural wood is that it is 100% termite proof. You can make pure termite proof furniture out of a WPC boards. This also makes it a perfect product for outdoor applications. Some manufacturers are ready to give a lifetime guarantee on the product against termite-proof board. These wood polymer composites contain zero percent wood. Constituents like PVC plastic with wheat / rice husk and additives will be of no use for the deadly termites.   
2.    Highly moisture resistant and durable
WPC boards are highly moisture-resistant and are thus suitable for outdoor applications and for carpentry work in moisture-laden areas such as kitchen and bathrooms. They are highly durable and resistant against external weather elements and issues like fungi. You can also make use of waterproof shades and decking.  
3.    Can take any shape and size with rich looks
Because of highly innovative construction technologies, WPC can be thermoformed into any curved or bent shape. Plus you can cut it in any size with CNC router with even better finish than plywood. With WPC boards you can have a very rich look and with polishing, the looks are even richer in texture and colors. You can easily create doors, windows, and home furnishing with WPC boards.
4.    Resistant to UV rays – high quality material
WPC boards are resistant to ultraviolet light and its color won't fade easily. They are made in strict mixing ratio including stabilizing agents, modifiers, foaming agents. Such a perfect blend of material makes it a high quality material.  
5.    Resistant to UV rays – high quality material
Nails, screws, and other fasteners can achieve a good hold in WPC. You can easily nail screws with the help of conventional tool. It has far better holding capacity than plywood. You can screw and unscrew at the same location multiple times without getting it loose. 
6.    Highly slip-resistant
Because the WPC boards are slip-resistant, homeowners prefer it for the outdoor deck flooring.
7.    Easy Maintenance – no polishing or painting
No painting or polishing is required for WPC boards after installation. But still if you prefer, you can apply paint or textures to match your existing style and taste of your home. Maintenance and cleaning is very simple and easy.
8.    Environmentally friendly and safe product
It's an environmentally friendly and sustainable material as no trees are cut to make this product. As WPC is a polymer-based product so it is self-extinguishing, meaning it won't ignite the fire when in touch with fire source. It is far more resistant to high temperatures than traditional wood or plywood.
Disadvantages
Here're some of the cons of using WPC boards:
One of the biggest shortcomings of WPC board is that the natural feel and texture of wood is missing. When you prepare furniture and doors out of WPC board, it may mimic the look of wood but it may not look that high-end or premium finish.
The resistance of WPC board against extreme temperatures is low. That is the reason why you can't use laser cutter on it as it can burn out the boards. Similarly, if you put high temperature kitchen utensils on WPC board, it can cause melting impression.  
Applications of WPC Board
Here're some of the applications and uses of WPC boards:
We're seeing a wide variety of WPC board fences option that is available for the contractors.
Some manufacturers are also offering 3d deep embossed high-end composite decking for your house.
For interior of a house, we see WPC boards in interior ceiling, wall paneling, and household furniture like shoe rack, wardrobes, kitchen cabinets, bathroom vanities, and partitioning systems.
For exterior applications, WPC boards are used as exterior cladding. They are available in hollow panels that have keys at the end. One panel can be jointed with the other to make a perfect high-end cladding of your house. Beside this, we see WPC boards as shuttering boards, garden furniture, park benches, and fencing.
Some applications are also found as advertisement boards, signboards, and display boards.  
Is it safe?
WPC board is quite safe to use as it remains untouched and unaffected from climatic conditions. It provides safety and security against water, fire, and chemical damage.
[su_box title="Take Note" style="glass" box_color="#df6804″]There're no hazardous chemicals like formaldehyde, lead, methanol, and urea. Such chemicals are very dangerous for human health and can cause serious health-related problem.[/su_box]
But WPC board is 100% VOC free and does not emit any of such substance in the atmosphere. Plus, as already mentioned before, it is an environmental-friendly product. It is manufactured with rice/wheat husk and virgin thermoplastics.   
WPC Vs wood
Wood, as we all know, can easily rot, crack or wrap overtime due to exposure to weather elements and moisture. So, your wooden furniture when not properly protected with varnishes and paints can get damaged easily. WPC on the other hand, don't have such a hassle. It can resist weather elements and can resist direct sunlight. You just have to paint or polish WPC boards after some time or interval. It can remain new or shining for years.
[su_pullquote]WPC boards are resistant to ultraviolet light and its color won't fade easily.[/su_pullquote]
Similarly, as already mentioned, it is 100% rot free material. A lot of people and homeowners are worried of wooden furniture because of termite. Termite infestation can spoil your expensive wooden furniture items. But such is not the case with WPC boards or furniture made out of it.  
WPC Vs Plywood
Wood plastic composite is a promising and a cost-effective alternative to the plywood construction.  WPC board is a naturally fire retardant material. It won't help fire to get spread as it does not burn with a flame. Plywood, on the other hand, not only support fire but also spread it because of the high flame. So, if you are looking for a material close to the fire-prone area, WPC Is a better option than plywood.
Another con of plywood is that it has a poor nail holding capacity plus you can't screw at one location multiple times. But in case of WPC boards, that is not the case. The enhanced density drastically increases the nail holding capacity.  
Price of WPC
The price of the WPC boards depend on the thickness of the panel, density, location, and brand. The price of 19mm will be higher than 12mm thickness panel. The price per sq ft. of the WPC panel can vary between 70 to 150 INR (0.94 USD ~ 2.01 USD).
Key takeaways
So, you see WPC boar is a highly innovative and new technology material that is far better than traditional wood and plywood material. It is an emerging construction material and soon it would find vast applications in residential and commercial sector.
[su_box title="Don't miss these articles" style="glass" box_color="#df6804″]
Hempcrete Blocks light weight REPLACEMENT of Concrete
Erosion Control by Concrete Blocks (Fast, Cheap and Sustainable)
What is Gabions? – Stainless Steel Gabions – Types
[/su_box]