The average civil engineer salary in New Zealand is $61,180 per year, and ranges from approximately $40,590 per year to $76,130 per year. How does this compare to other types of engineers? What about other types of jobs in different parts of the world?
Average Salary of Civil Engineer in New Zealand
Civil engineers' salaries vary based on the individual's skills and experience. With a bachelor's degree, civil engineers typically earn about $60,000 to $70,000 a year. Mid-level civil engineers can earn between $75,000 and $115,000. Senior or managerial civil engineers can earn between $120,000 and $180,000.
Read on to find out everything you need to know about the civil engineer salary in New Zealand! In addition to this base salary, civil engineers also have a range of benefits that come with their job including paid leave, company contributions to KiwiSaver and long service leave after four years with their company.
Also Read: Architecture vs Civil Engineering –  A better choice
If you're thinking about becoming a civil engineer in New Zealand, you'll want to know what kind of salary to expect once you've gotten your degree and are out in the workforce. Civil engineers make all kinds of money, and it all depends on what kind of position they work in and how many years of experience they have under their belts.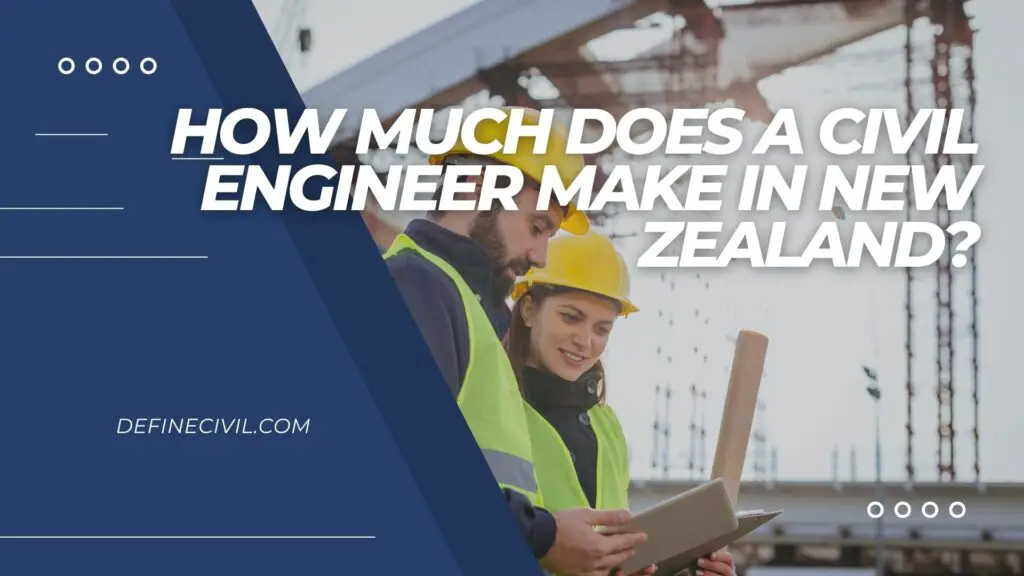 Different Job roles in New Zealand
There are many different career paths you can take as a civil engineer in New Zealand. Some engineers specialize in more technical roles, while others focus on more administrative or managerial tasks. If you're just starting out, it can be helpful to pick one or two specific roles that interest you most and then try to position yourself for those positions early on.
Also Read: Is Civil Engineering Hard? (Answer by a civil engineer)
For example, if your dream is to be an engineer and run your own business, start working toward that goal right away by finding companies that encourage young entrepreneurs.
Alternatively, if being an entrepreneur doesn't sound like fun but running heavy machinery does, consider focusing on becoming a heavy equipment operator or crane operator instead of trying to start your own company.
Skills requirements
A civil engineer is someone who is involved with designing, planning and construction of roads, bridges, canals, dams and other infrastructure. They also work in natural resources development such as mining and forestry. You need to be creative and analytical when you choose an engineering career.
Also Read: Civil Engineering Site Basic Knowledge PDF – Important Points
You also need to have good people skills so that you can interact well with clients and colleagues. Salaries ranges are wide depending on whether you're working for private or public companies as well as what specific engineering field you specialize in.
Is New Zealand Good for civil engineers?
There are many civil engineering opportunities in New Zealand – both in New Zealand's biggest city Auckland, as well as in growing towns like Tauranga and Hamilton.
Civil engineering is popular in New Zealand and is considered to be a good field to get into. There are many civil engineers who came from overseas because they saw that there was need for them here. The lack of qualified applicants who have experience has led employers to hire those who did not do well at first but now are willing to work hard and are even offering exorbitant salaries for their services, some as high as $250,000 NZD just for contract workers. Those who come with experience can expect about $70,000 NZD on average though.
How much does a Civil Engineer in Auckland, New Zealand Area make?
An average salary for a civil engineer in Auckland area is $90,000 per year or $46.15 per hour. Entry-level salaries start at $54,600 per year, while experienced workers may make up to $130,000 per year.
What is the highest salary for a Civil Engineer in Auckland, New Zealand Area?
A Civil Engineer who works in the Auckland area of New Zealand makes around NZ$100,000 a year.
Also Read: 12+ Roles and Responsibilities of Civil Site Engineer [PDF]
Is it good to immigrate to New Zealand as a Civil Engineer?
Given its prosperous economy and wide array of highly demanded engineering positions, New Zealand could be a wise choice for engineering employees looking to move overseas. In particular, there are many civil engineering jobs for those looking to help shape a healthy engineering-based environment for the country's inhabitants. One problem it's having is fulfilling its own engineering workforce, so it will be providing opportunities for more overseas people.
If you're planning to work in New Zealand as a civil engineer, you'll find it can be good financially; especially if you have experience working overseas or as an engineer. However, starting your career as an immigrant can be tricky, so make sure you do your research before jumping.
Immigration New Zealand's skills shortage list includes four engineer positions: civil engineer, environmental engineer, geotechnical engineer, and structural engineer. Two of those engineer positions, civil engineer and structural engineer, are also listed on the Immigration New Zealand construction and infrastructure skill shortage list.
Our guide to how much money does a civil engineer make in New Zealand has some tips on getting your foot on the career ladder—which is just as important as securing employment once you've moved abroad. Take some time to familiarize yourself with local regulations and labor laws before setting sail for life at sea!