If you want your roof to last for a lifetime – of your home, stone-coated steel roofing has a lot to offer. The thick layer of stone adhering on top of the metal / steel not only provides the subtle look but also protects your home against elements.
Because of plethora of benefits, stone coated metal roofing is generating a lot of buzz with homeowners.
Whether you're replacing your roof or are looking for a new home, it keeps your home safer and eliminating the hassle of frequent roof repairs.
Table of Contents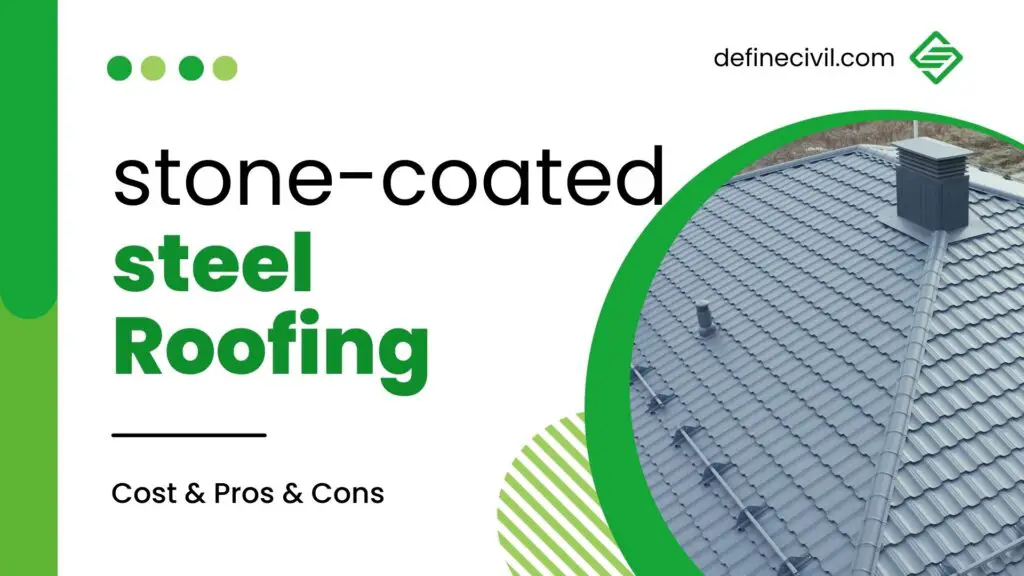 Why to go for stone coated steel roofing?
A roof is an upper part of building that protects building from rain, wind sun and act as structural covering for occupants.
There are three types of roofs according to a shape.
Pitched or sloping roof
Flat roof or terraced roof
The roofs are constructed in above shapes by different types of materials which can be concrete, wood, and metal.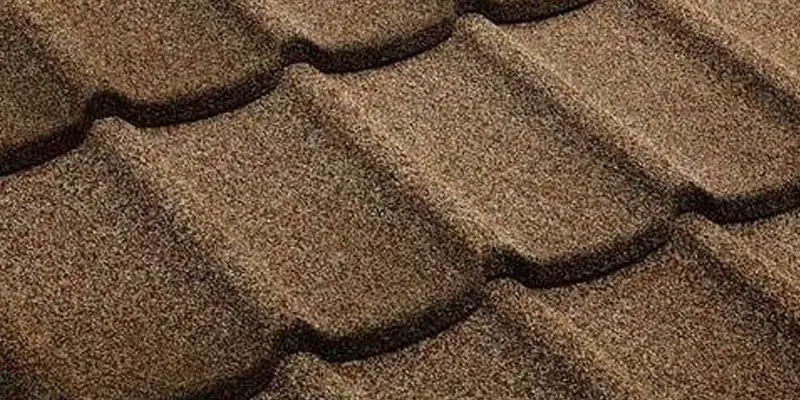 Typical metal roofs
Metal roof is a term that defines a broad category of metals used for construction of roofs.
Some common types of metal roofs are given below
Aluminum roofing
Copper roofing
Corrugated metal roof
Standing Seam metal roof
Stone coated metal roof
Our today's read is about the stone coated steel roofing along with their pros and cons.
The use of stone coated steel as a material for roofing dates back to 1960s. That's an era relates to number of innovations and advancements in material sciences.
The improvement in material of construction and manufacturing methods are improved over the last 20 years.
This type of metal roofing is becoming popular day by day because of diverse benefits in comparison to traditional roofing materials such as stone shingles, wood shake and clay tile.
Most homeowners prefer this type of roofing because of lightweight, durability, fire-resistance, energy efficient material and ability to resist more extreme weather conditions.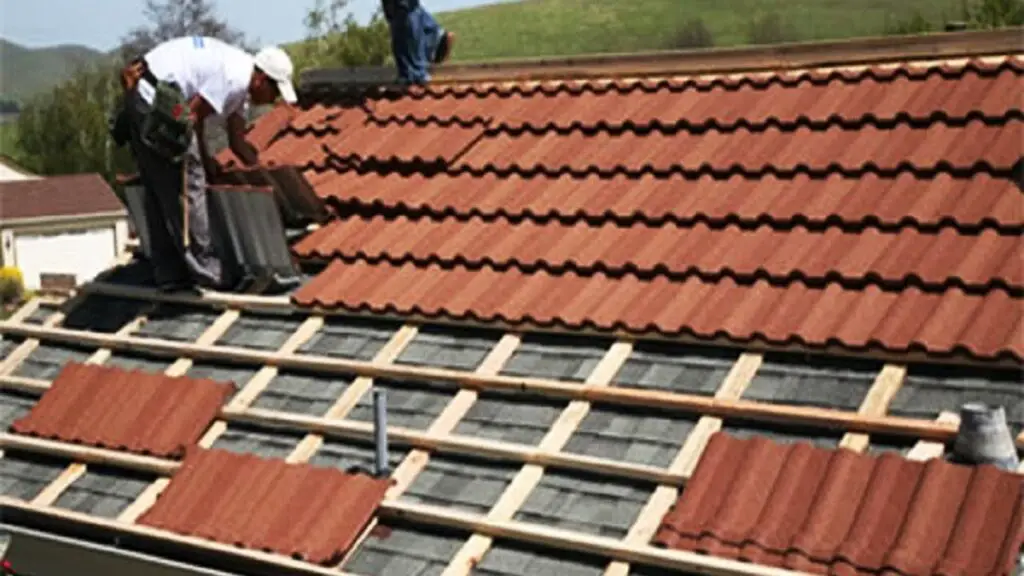 Understanding Stone coated steel roof manufacturing process
We manufacture this type of metal roofing with good structural steel grade which should be elastic enough so that it can be converted or bend into any shape without cracks. It should be strong enough to protect building from elements.
After bending the metal into desired shape, it is dipped in aluminum zinc coating. The main purpose of this coating is to protect the steel from corrosion.
After those pieces are covered in acrylic primer which helps to adhere the next layers with surface.
In order to protect the material from water the application of tinted resin paint is done.
It also acts as a binding agent for thick layer of ceramic coated stone granules which combines with resin paint to provide a desired color and granular appearance of finished product. It also provides resistance against sun rays.
At the last in order to hold the stone in place an acrylic glaze is applied. It further helps to protect the panel from water damage and give the granules a shiny appearance.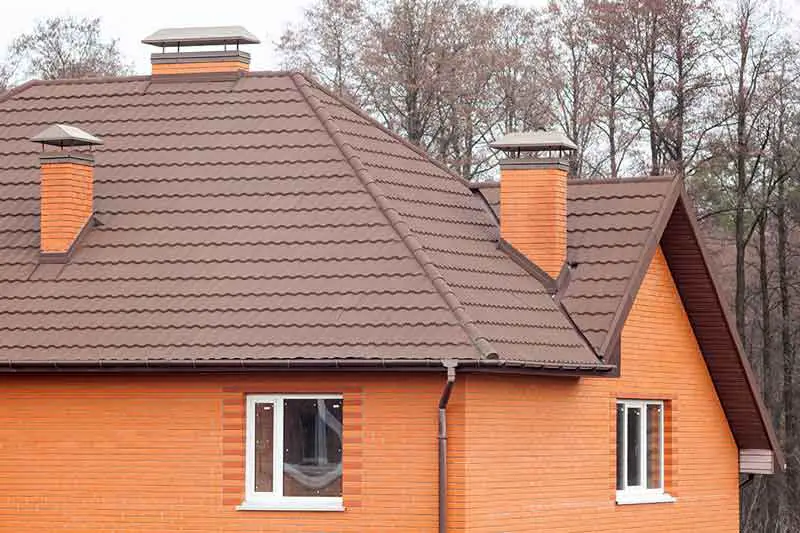 Advantages
Long Life
The metal roofs are preferred because of its long-life span. The asphalt shingles roofs do not last more than 20 years. After that time, it has to be replaced while the stone coated metal roofs last up to 70 years.
The main reason behind long life of steel is ability of material to resist weathering conditions, its durability and strength of material. So, a stone coated metal roofing is good investment for long term future of home.
Versatility
In 1960s when stone coating metal roofing construction was started there was not a large variety of colors and appearance but with the passage of time different types of materials, colors and manufacturing methods are developed and now it is available in different colors and different unique appearance. A number of manufactures offers a variety of different colors which broadens one's options in elevating home's curb appeal.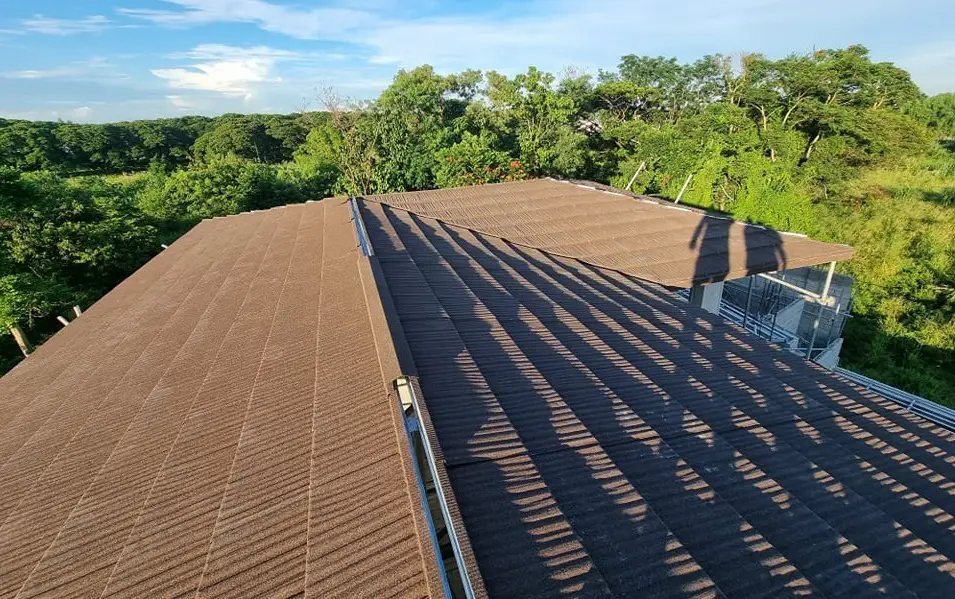 Durability
It has good durability. It is preferred for its strength, longer life span and ability to resist extreme weathering conditions. A metal roof is good in resisting harsh storms with hail damage. Similarly, the material is good enough to resist acidic rainwater.
 A stone coated roofing performs good in wildfire prone region and is designed according to building codes requirement. It is also good in resisting high winds and manufactures provide warranty for winds as high was 120 mph.
Low Maintenance
The other materials such as concrete, wood, brick tiles and asphalt shingles have high maintenance cost. There are chances of cracks, curl or fall off like happen in asphalt shingles. While stone coated steel roofing has very low maintenance cost which includes occasional cleaning and removing of debris.
High Efficiency
The stone coated steel roofing with infrared block colors and vented installation reduces heat transfer to a building by 70% as compared to asphalt shingle roofs. A vented installation is a system in which roof materials are installed atop battens due to which hot air flow above the roof deck and out through roof ridge which prevent building from heating up.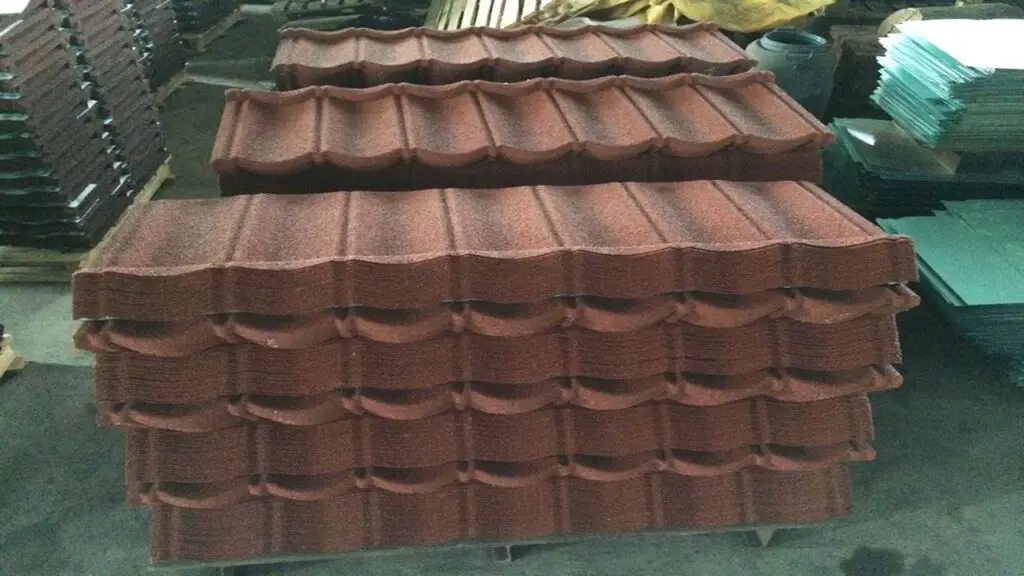 Sustainable
Recycled materials are now used for the construction of stone coated metal roof which reduces a large amount of waste whereas asphalt shingle during constructing became a source of large amount of waste.
Also, the life span of stone coated metal roof is large due to which there is no need to replace the roof for decades which prevent the roof waste from reaching landfill in long term.
Light Weight
The stone coated steel roofing is also preferred because it is light weight. While other roofing structures such as made of concrete, asphalt shingles are heavy weight. Roof tiles weight is between 8 and 12 pounds per square feet while metal roof weight is normally less than 2 pounds per square feet.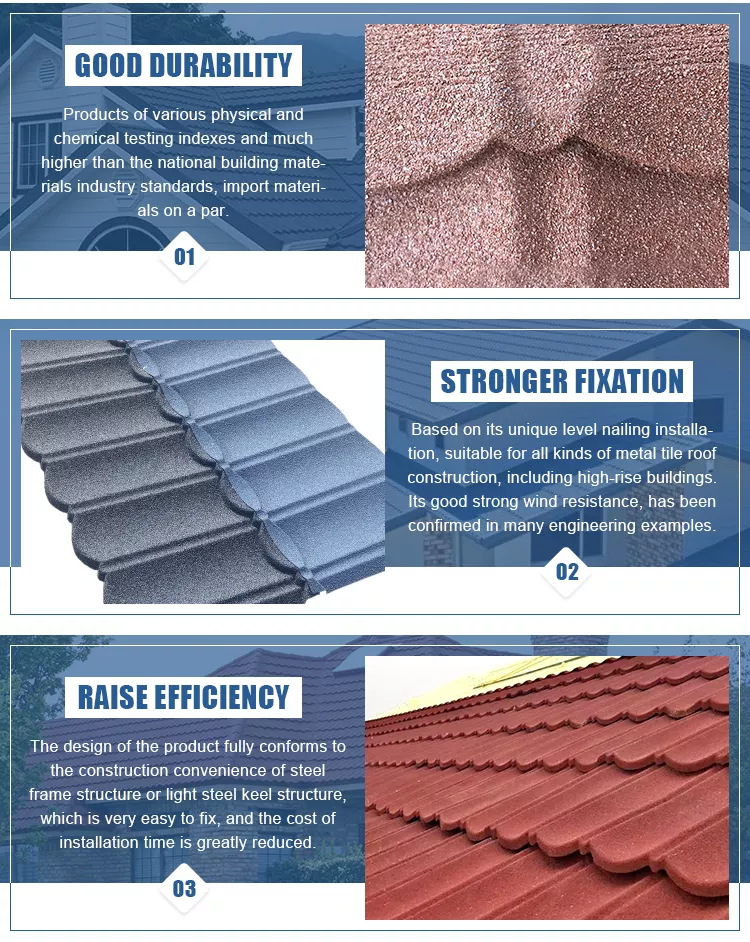 Cons
High Initial cost
It  requires large investment for its construction because of expensive roofing materials. While other roofing cost is less. The long-life span of stone coated steel roof and low maintenance cost saves money over time.
Noise
A stone coated steel roofing creates a large noise from rain and hail. However special materials are available in market like solid sheathed roof deck which is placed during installation process, and it act as a barrier between roof and home and reduces the sound. We can also install attic insulation which reduces roof noise.
How Much Does Stone-Coated Steel Roofing Cost?
Now that you've understood the series of benefits, it's the time to see if you can afford it.
At this stage, I must say you can't just decide your roofing on the basis of upfront cost. There's a cost for maintenance and the annoyance as a result of repeated repairs.
Anyhow, let's see the price.
Typical stone-coated steel roofing will cost around $13 to $17 per square foot (just for the material). Anyhow, the price varies a lot on the basis of design, and project specifics. For shake roofing or stone-coated steel shingle, the average cost is $13 per square foot. For unorthodox profiles of roof, you may have to pay in excess of $16 per square foot.
To your surprise, the cost of typical metal roofing – steel or aluminum; stone-coated steel roofing is quite similar.
Also read: What is a 8 on 12 roof pitch – 8/12 roof pitch (with Calculator)
Anyhow, the actual installation cost of your roofing depends on the shape and pitch of your roof. If you've got features like skylight, chimneys, and vents; the cost will be more than a roof with no feature at all.
However, the above cost quote doesn't include additional requirement of sheathing, underlayment, and other critical components of a roofing system.
Is Stone-Coated Steel Roofing Worth It?
Yes surely! There's no such issue of cold and industrial appearance as in other metal roofs. It requires little maintenance and can lower your energy bills considerably. However, affordability is an issue here. Good things do come with a price tag and same stands true for stone-coated steel roofing.
Are Stone-Coated Steel Roofs Noisy?
No! If you compare typical metal roofing with that of stone-coated, you'll observe quite a difference. If you've been to an industrial building or an open-framed shed or barns, you might have experience the resonating loud sounds of rain tipping. But here, we have drywall; insulation, underlayment, and decking that absorb the sound. So, in a typical home with stone-coated roofing, noise is not an issue at all.
Further Read: