When you think about types of doors, you automatically think of sliding type or revolving type. Yes, these are definitely two of the most popular types of doors that are used all over the world. But there're many other types of doors as well. So, plethora of different types of doors available in the market, choosing one is quite an overwhelming process.
A door is indeed an access barrier that is built into a wall space to allow access to the interior of a building's room. Doors connect the interior and outside parts of a structure.
Doors have evolved over the centuries, from mere openings to walls and ceilings. Now we're seeing different types of doors being used in residential and commercial properties. The doors can be classified depending on:
Working Operations
Materials used for manufacturer or fabrication
Methods of manufacturing
Components used
You can choose different types of doors with many types of materials. You can have the ones that are made of wood, metal, glass, and so on. For your interior, you can go for those doors that are in hinged designs, and those that are in hanging panes, and others that are in hinges.
So, let's take a look at the different types of doors that exist today.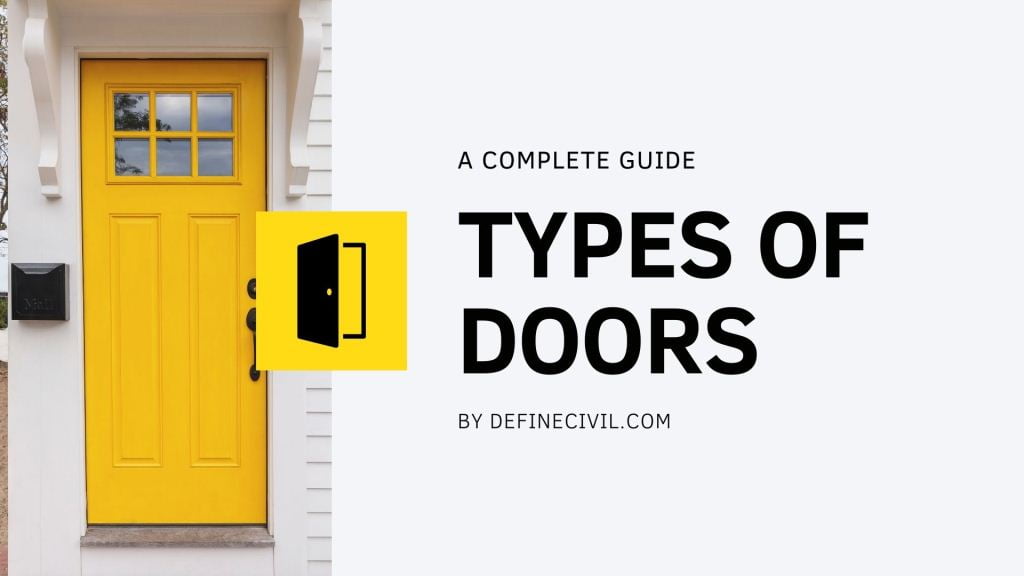 Types of Doors based on working operations
Hinged Doors
The most common door type is a hinged door. These doors are fixed on one side allowing it to pivot away from the doorway in one direction or the other. The axis of rotation for a hinged door is vertical. One of the biggest pro is that the hinges used are inexpensive and require minimum maintenance. However, these type of door takes precious space to swing in out.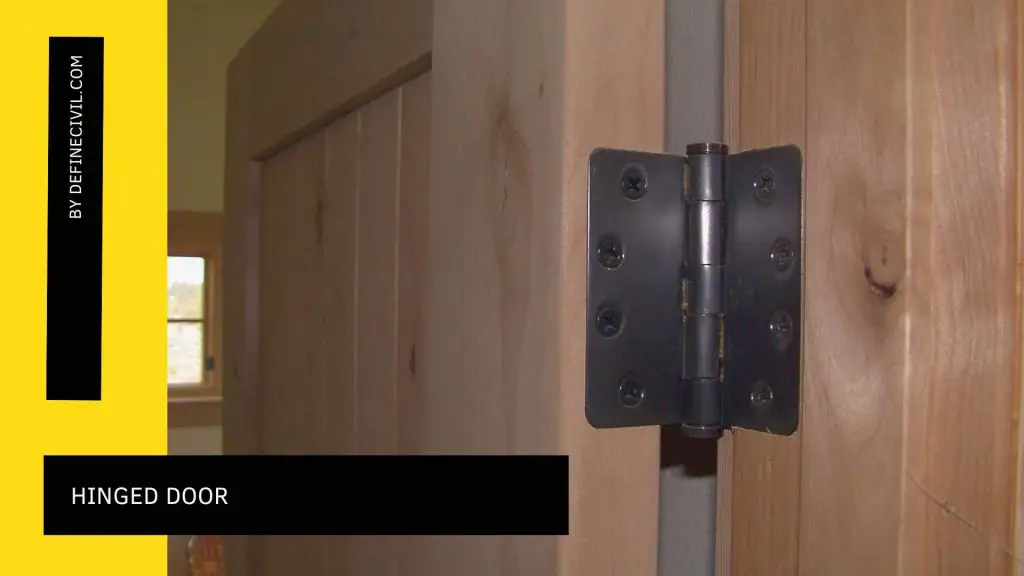 Also Read: WPC Board – 10+ Advantages but only few Disadvantages
Swing Doors
Swing doors are the same as hinged doors but here the hinge can be rotated in either direction. So, the shutter is fixed to the frame with double action spring hinges which enables the movement on either side. So, a slight force will open the door while the spring action in the hinge brings the shutter to a closed position. This return of shutter will be at a force. So the door has to be fully glazed or put a peephole at eye level to prevent accidents.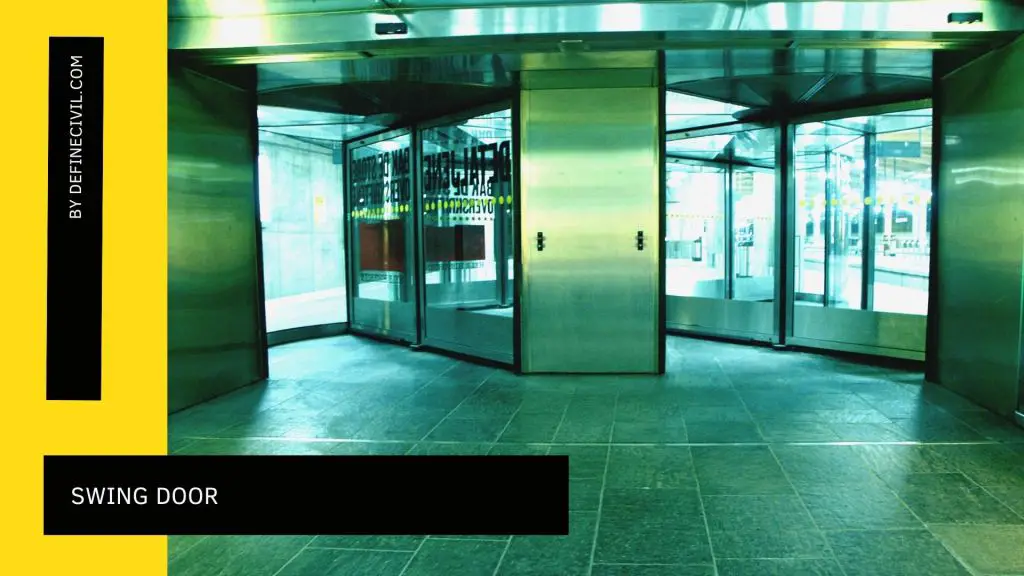 Revolving Doors
A revolving door has a central shaft with four wings that hang on it. The shaft rotates around the vertical axis within a rounding closure. The central shaft is fitted with a ball bearing arrangement at the bottom which allows the shutters to move without any jerk and making noise. The radiating shutters may be fully paneled fully glazed or partly glazed. The doors glass generally allows people to see and anticipate each other while walking through. Vertical rubber pieces are provided at the rubbing end of the shutter to prevent droughts of air.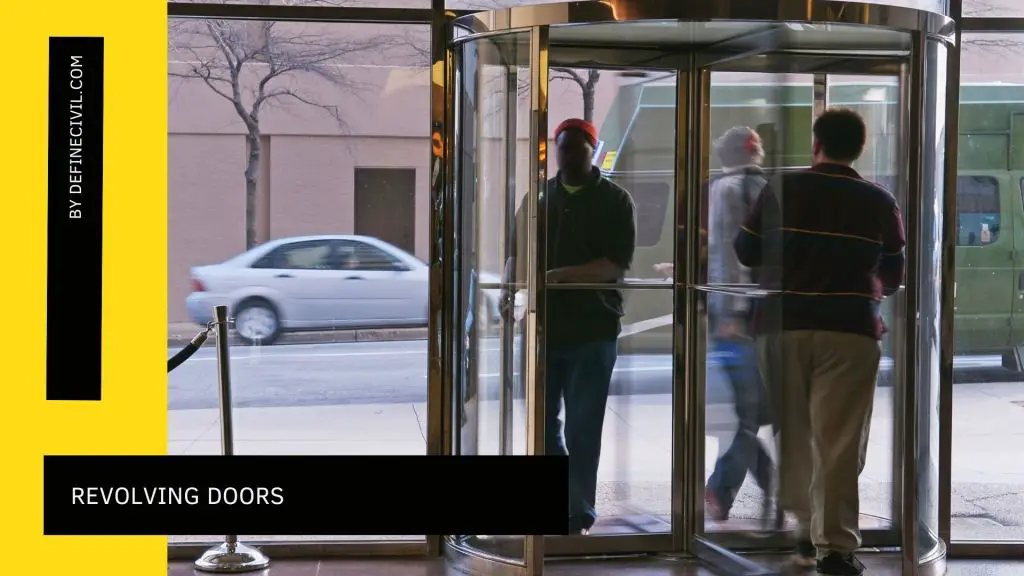 Sliding Doors
These doors are generally used where there is a place constraint for the swing of a hinged door or for aesthetic purposes. These doors are commonly used in commercial structures. The shutter slides horizontally along the tracks with the help of runners and rails.
The door is hung by two trolley hangers at the top of the door, running in a concealed track. While at the bottom, rollers are provided to slide the shutter in the channel track. To ease movement, plastic rollers are fixed at top bottom. A sensor can also be attached at the top for the door to automatically open close during the movement of people.
Also Read: Shipping Container Housing
The advantages of these type of doors are that they can be easily cleaned maintained and offer very good aesthetic feel. While the pitfalls include sound insulation, that is pretty poor. The quality of materials used indoors and labor should be high. Any faults in fixing may lead the doors to slide out of their tracks and damaging the entire setup.
Foldable or folded doors
A folding door is a type of door which opens by folding back in sections or so-called panels. They are made of narrow vertical strips or creases that fold back into a compact bundle. These strips/creases are hanged from the top and run on a track. They save space as they do not swing out in. They are preferable when the additional width is not available for installing a sliding door however like sliding doors, foldable doors provide poor insulation. They are also noisy and considered poor in durability.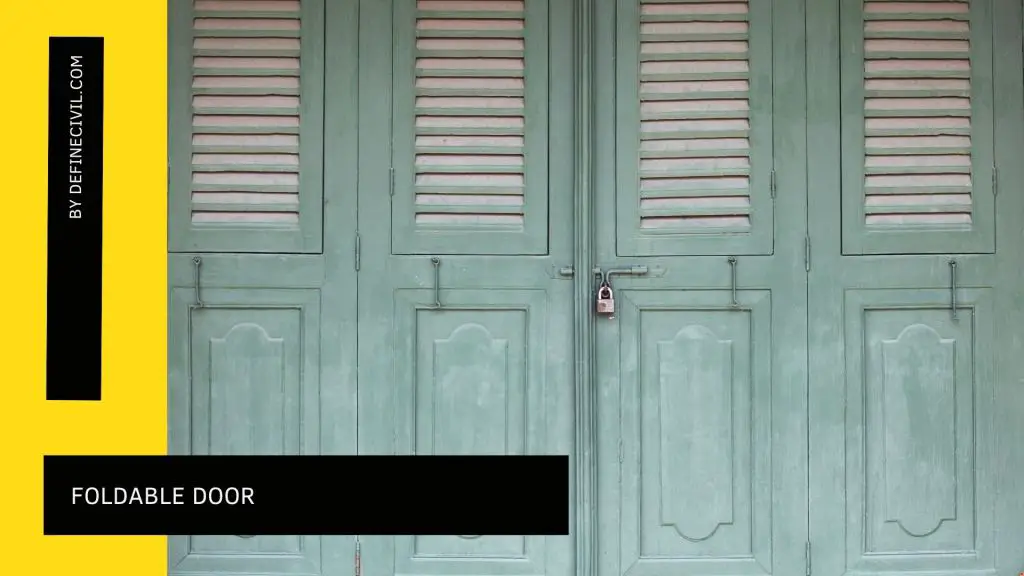 Collapsible doors
Collapsible doors are made of vertical double channels 20 x 100 x 2 mm joined together with hollows on the inside to create an artificial gap. These channels are spaced at 100 mm to 200 mm apart and braced with diagonal iron flats which allow the shutter to open close giving an appearance of at steel curtain. The shutter operates within two rails, one fixed to the floor, and the other at the lintel. The rollers are mounted a top and bottom to give equivalent movement in both directions for easier operation. These doors are generally provided for increased safety and protection to property and generally used in garages, workshops, public buildings, etc.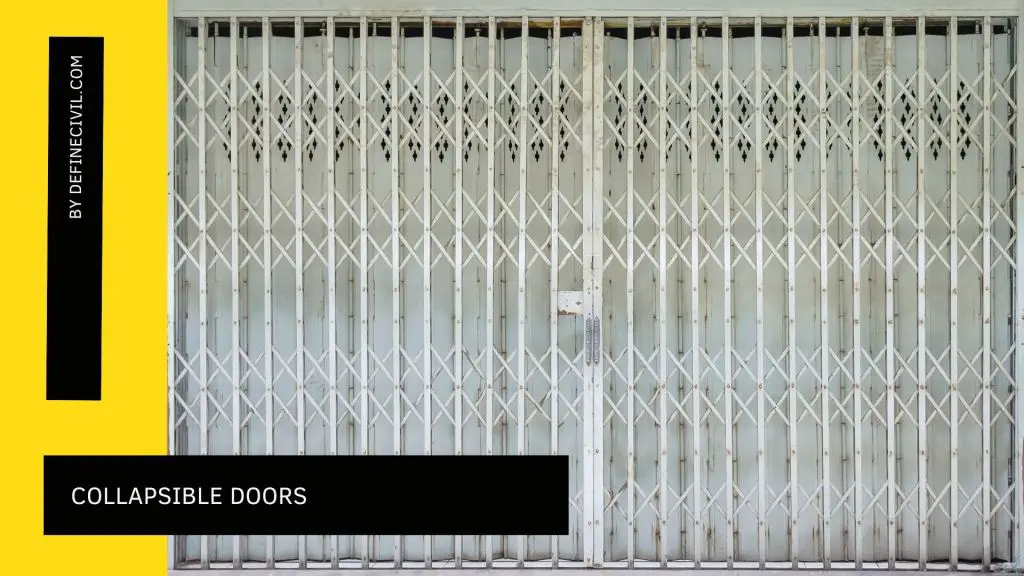 Rolling shutters
These shutters are generally used for shops, go-downs. The shutter acts as a curtain thus preventing protection against fire, theft, wind, and hails. The shutter is made of steel slabs, called Lars or slates, which are around 1.25 cm thick. They're coiled upon a specially designed pipe shaft called drum mounted at the top.
The shutter moves in two vertical steel guide channels mounted at the ends. The channels are made of steel sheets deep enough to accommodate shutter and to keep it in position. A horizontal shaft and spring in drum allow the shutter to be coiled in or out. The door is raised to open it and lowered to close it on large doors more than 10 square meters the action may be motorized.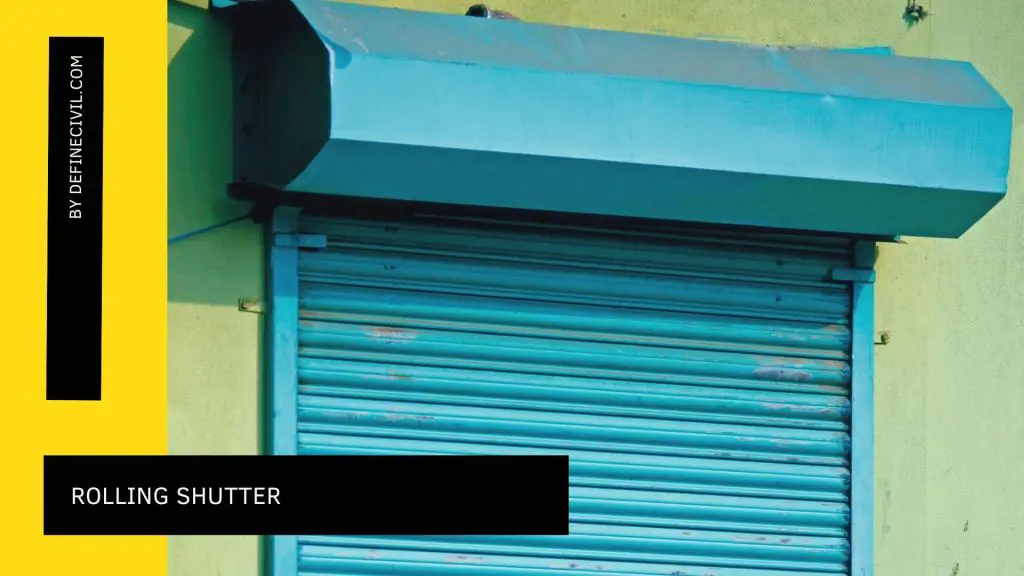 Types of Doors Based on Methods of Manufacturing
Component placement determines the type of door. The doors are categorized as follows based on the pattern of door elements:
Legged and Battened Doors
Type these doors consist of vertical boards called battens, which are nailed or screwed to horizontal members called ledges. The battens are generally 15 to 18 cm wide and 2 to 3 cm thick narrow. Batten doors have a better appearance. A battened and ledged door is one for which braces are added to prevent sagging. These braces must slope upwards from the hinge edge of the door as they are generally housed with a skew notch into the ledges
Battens are vertically arranged bonds with grooves that are connected by horizontally placed supports called ledges, as seen in the diagram below. Battens have a width of 100 to 150mm and a thickness of 20 to 30mm. Ledges typically have a width of 100-200mm and a thickness of 25-30mm.This sort of battened as well as ledged door is ideal for tight spaces.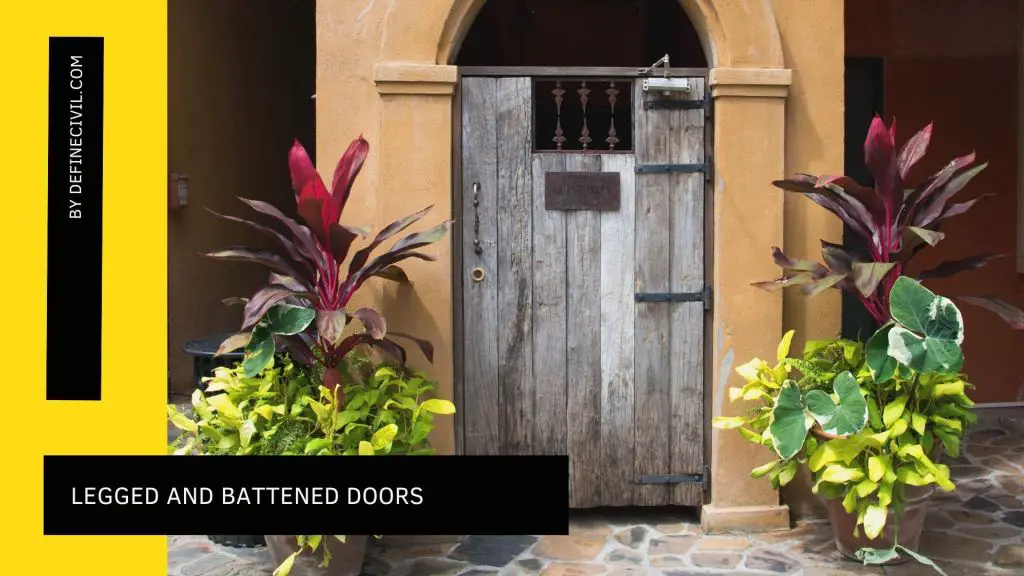 Braced Legged and battened doors
Braces are placed diagonally in conjunction with battens as well as a ledge to render the structure stiffer, as indicated in the image. Braces with a width of 100-150mm and a thickness of 25-30mm are preferred. Braces should be placed up towards the handing side, acting as struts and absorbing compression. These doors are suitable for larger apertures.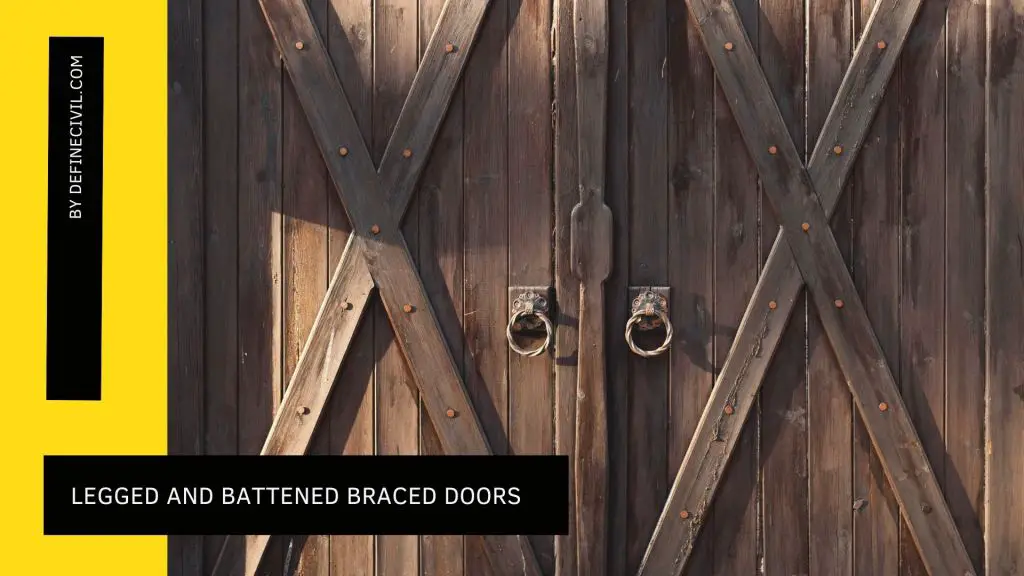 Glazed Doors
Glazed doors are commonly found in interior wall spaces, hospitals, and institutions, among other places. Through translucent doors, the inside of the room is seen, and light penetrates through the glass area of the door. They might be totally glazed or partially glazed with partial paneling. Glazed doors are equipped with glass panels.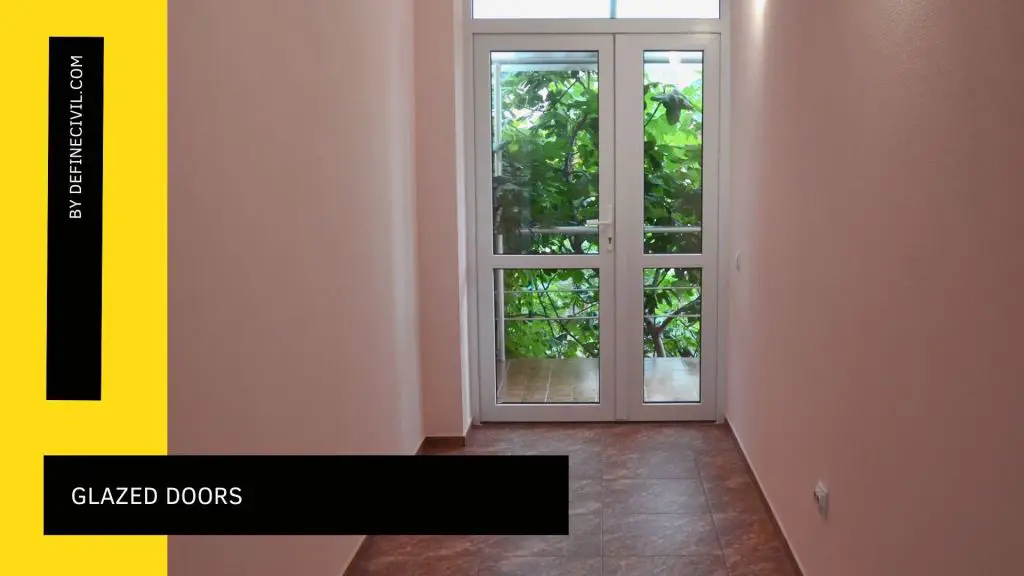 Louvered Doors
In this door the panels are replaced by a series of lovers permitting air ventilation but guarantee privacy to those within. When the door is closed, the louvers allow for natural ventilation while also providing privacy in the room. These are commonly found in both household and public restrooms. The door may be completely or partially louvered. Louvers can be made of wood, plywood, or glass and they can be fixed or moveable.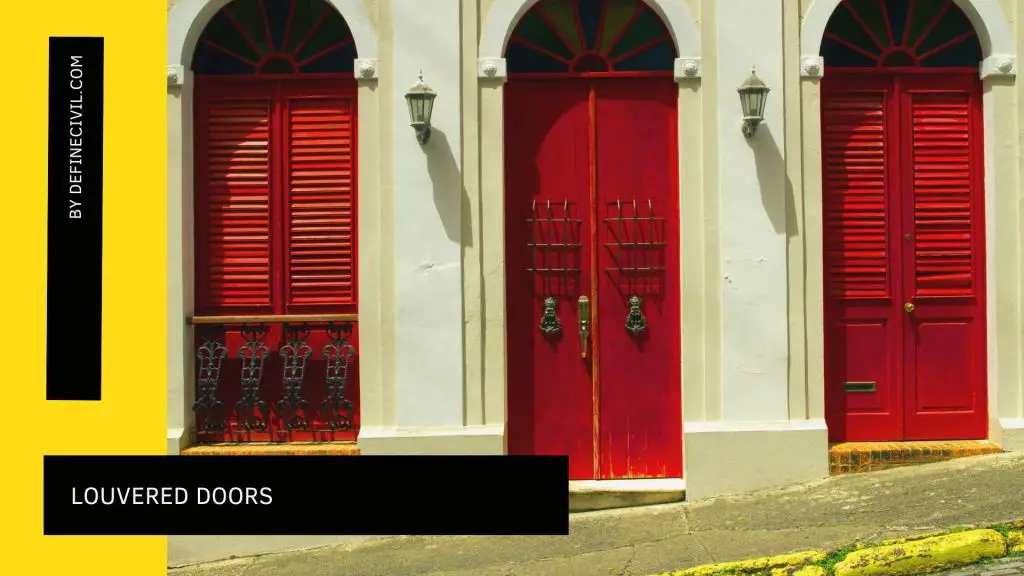 Frame and Paneled Doors
These doors consist of a frame made of styles top and intermediate rails into this framework. A plywood panel is fitted which will fit into a groove rebate. Usually the panel is not glued to the frame but is left to float within it so that the seasonal movement of the wood comprising the panel does not distort the frame.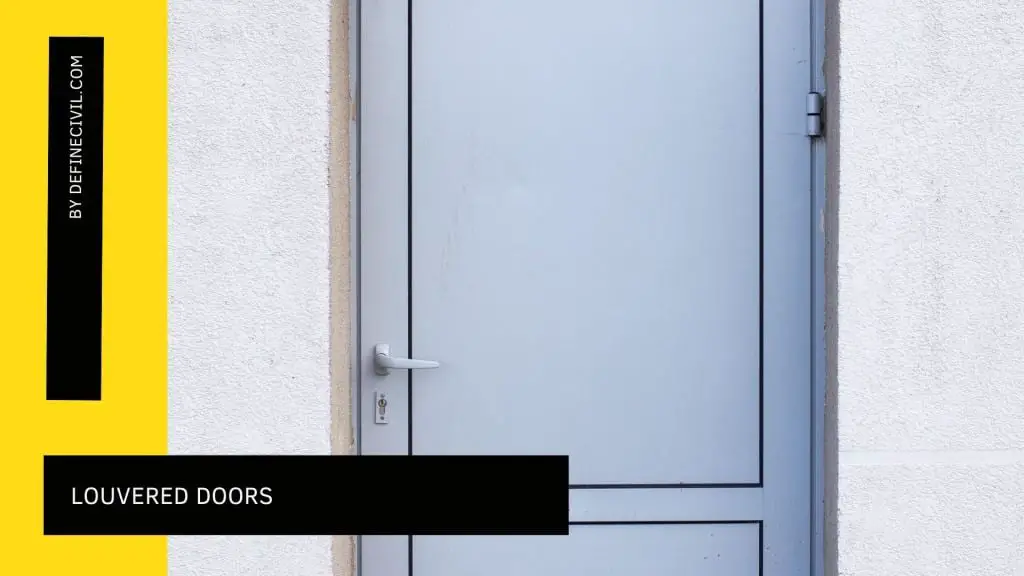 Flush Doors
Flush doors have solid rectangular blocks of soft wood. On the inside arranged end to end as the frame and covered on both sides with a very thin layer of ply about 2.5 millimeters thick. These doors cannot be used where the door is exposed to rain as the wood may deteriorate rapidly.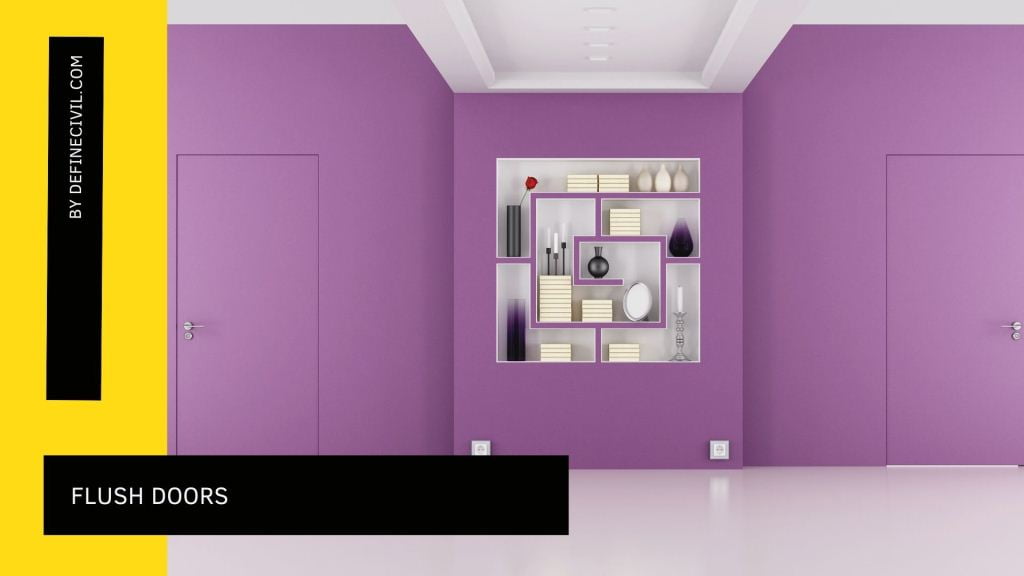 Types based on Materials
Wooden Types of Doors
These're old-fashioned doors and based on wood have been around for centuries. In fact, before the modern types of doors, old-fashioned wooden doors were the most common in many homes. In the colonial times, these types of doors were used more frequently. As time went by, however, better types of wood were used, and eventually these replaced the wooden types of doors. Even now, even if you go to any remote or tribal village, the homes hardly have any wooden doors, instead, they have some kind of glass or steel doors.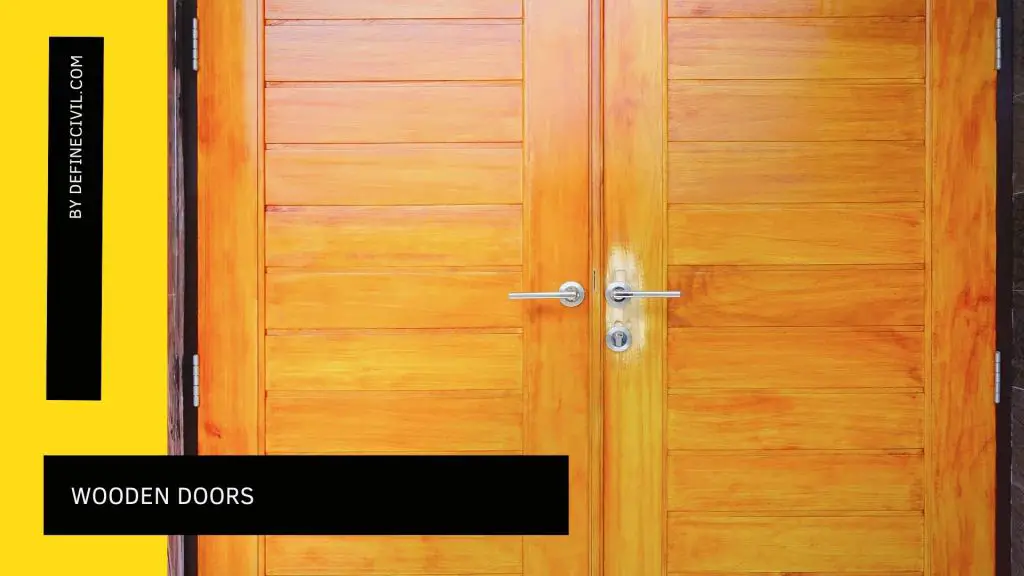 Steel and Metal Types of Doors
If you want to have a modern and sleek look for your home interior, then you should use steel types of doors for your exterior and interior doors. There are so many different types of steel materials that you can use for your doors. One of the most common types of materials used is aluminum.
Aluminum doors are the most popular ones for the exterior doors because they are the most appealing and stylish. These doors are commonly used in cities because they are weather resistant.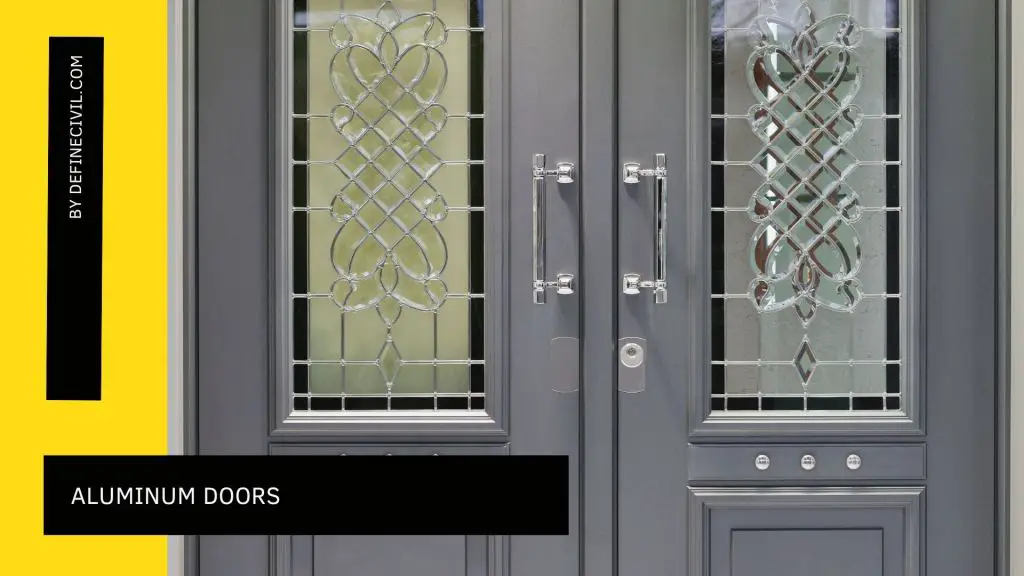 Glass Doors
This type of door is more secure compared to wooden or steel doors based on their appearance. This is because of the high level of security that is provided by glass. Even if glass doors are good looking, they still provide high levels of security when used as your primary exterior door. Therefore, if you are concerned with security of your house, then you should opt for glass doors based on their designs and appearance.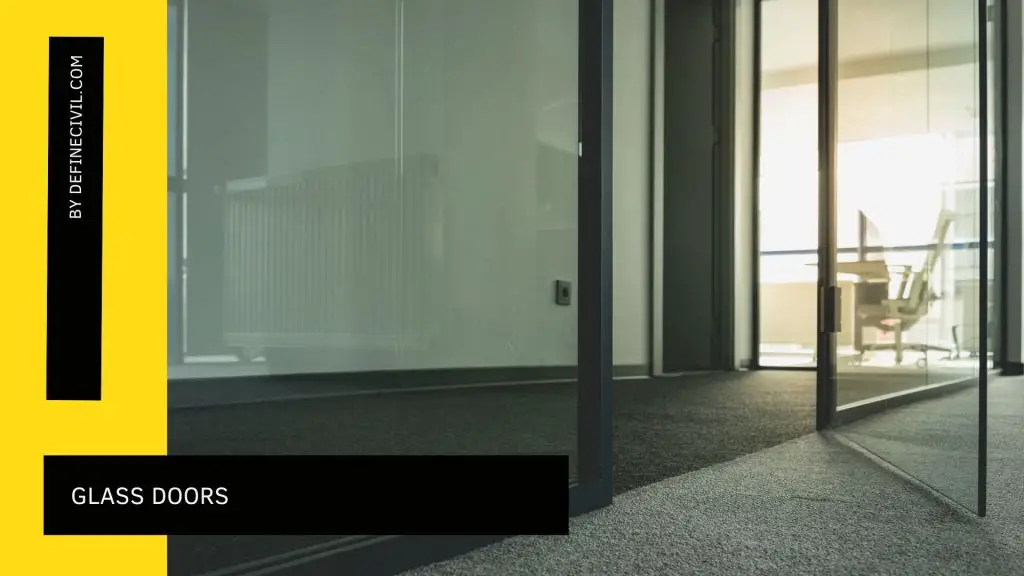 Mild Steel Sheet Doors
Angle or perhaps T-sections make up the door framework. Shutters are made out of an angle iron frame with two verticals and at least three horizontals. The shutter frame is welded with mild steel plates.
Wait… It's not yet over
I've made this thorough guide but I want to go beyond. I've made a super-easy booklet in PDF format that'll help you while shopping for your doors the next time you go to the market. So, download the pdf booklet and save it in your cellphone. It's absolutely free. Just click the download now button and enjoy!
Don't forget to share this post with friends and social media.