Quartz pool finish has gained popularity over recent years because of plethora of pros. It stands as the best swimming pool finish among number of options like plaster, salt finish, cement, or stone.
Quartz is a natural stone that has been used to decorate homes, foyers, and bathrooms for years now. It's hard, scratch-resistant surface makes it ideal for swimming pools as well! But it's not just the look of the quartz that you should be considering.
There are multiple factors in your swimming pool that must be taken into account when deciding on whether or not to use quartz finish—and if so, how exactly to use it!
Swimming pools have become an integral part of almost all recreational facilities. From commercial hotels to residential buildings, swimming pools can be seen everywhere. These days, depending on the size of house, every house owner desires to build a swimming pool.
Apart from construction, drainage, and hygiene details, the final pool finish holds significant place in overall pool design. Pool finish not only determines the serviceability of a pool, it also has an aesthetic appeal to it.
There are different types of pool finishes available in market. Every pool finish has its own advantages and disadvantages.
Quartz pool finish is one of those types. In this article, we are going to introduce you to quartz pool finish. We will also discuss different types of this finish and its advantages and disadvantages.
Also read: Wall Texture Types to create stunning home interiors (Easy Methods)
Is a Quartz Pool Finish Right for You?
Quartz is a hard, durable, tough mineral found in different rocks. It is a crystalline mineral composed of silica. It is found in different colors; from colorless through various colors to black. Quartz is among the most common of all mineral forming rocks and is found in sedimentary rocks, metamorphic rocks, and igneous rocks that are rich in silica content.
Apart from aesthetic appeal, quartz is a sufficiently hard mineral. On Mohs scale of hardness it is places at number 7 in a list of 1-10. Those having a higher number on Mohs scale of hardness are harder than those having a lower number. Furthermore, quartz is non-porous in nature. It holds well against pool chemicals and weathering effects.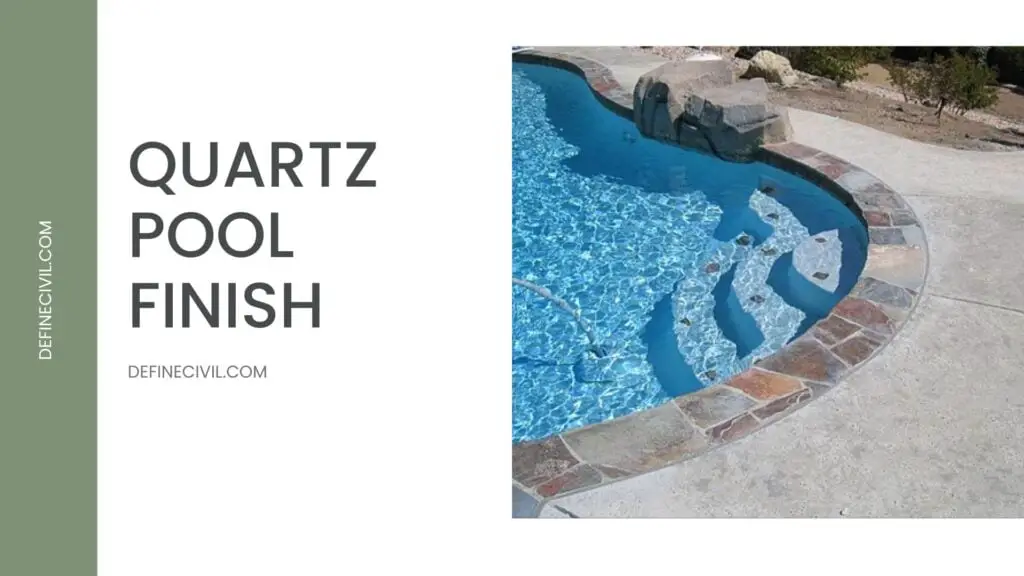 Also Read: Types of Brick finishes – Brick Wall Texture
Quartz pool finish is a mixture of white cement and crushed quartz stones. The size of stones may be varied depending on the requirement. Different colors of quartz stones can be used to give a pleasing look. After application of this mixture of white cement and quartz stones, sponges or brushes are used to give final finish.
Finishing is the most significant part as it determines the final aesthetic look and the overall serviceability of a pool. Therefore, it is always recommend to use best materials and best workmanship for finishing applications.
Types
Broadly classifying, there are two types of quartz pool finish which are listed below.
Standard Finish
Standard quartz pool finish contains quartz stones of conventional blue color. This color resembles that of swimming pool. Another variation is using cool blue color which consists of light blue color crushed quartz stones mixed with white cement.
In addition to that, dark blue colored quartz stones are also used which is commonly referred to as super blue color. In standard quartz pool finish, the base is of white color which is originally the color of white cement. The crushed quartz stones can be of any shade from the ones mentioned above.
Also Read: House front wall cement design Ideas that wows in 2022
Upgraded Finish
In this type of quartz pool finish, different colors of quartz stones are used. The colors used in upgraded quartz pool finishing give an enhanced aesthetic appeal as compared to standard type. It offers a range of shades that can be used according to client's desire.
For example, Tahoe Blue quartz stone has blue color and provides a glimmering look. In addition to that, Premium White is also used which has pure white colored quartz stones with a white base. In a nutshell, upgraded quartz pool finish offers a variety of colors which can be used according to user's choice.
Pros and Cons
Advantages
Aesthetics: The use of quartz gives a beautiful look to swimming pools. The unique shades and texture of quartz stones make it distinct among other options of pool finishing.
Cost Effectiveness: Quartz  is a cost effective finish among other types. The perks of using this type of finish and the cost associated with it completely balance each other.
Durability: The impermeable nature of quartz  makes it resistant to weathering effects. Adverse weather conditions do not deteriorate it over time. Also, the hardness of quartz stones is makes it resistant to wear and tear. This adds to the serviceable life of quartz.
Simple Maintenance: The maintenance of quartz  is not a cumbersome task. It can be easily cleaned.
Available in Different Colors: Quartz  is available in multiple colors. This allows the designer to choose different colors according to his demand.
 Quartz pool finish problems
High Initial Cost: The installation cost of quartz is comparatively higher. The cost incurred is higher than normal plaster finish. This is because the quartz stones used in finish are usually costlier than that of other stones. Furthermore, if someone wants a variety of colors in finish, the cost will increase.
Surface Deterioration: If the surface of pool finish gets stained over time, it is cleaned using acid solution. This practice peels off the top surface of pool finish which leads to surface deterioration.
Color Fadedness: Chlorine used to disinfect swimming pool water fades the color of pool finish over time. In addition to that, the acid solution used to clean the top surface causes the color to fade.
Color Blotchiness: With the passage of time, pool finish starts getting blotchy. It loses the initial glimmer and gets patchy. This demands expensive cleaning operation and can be cumbersome to many users.
Also Read: Definite ways to make your wood floors look like New
Quartz pool finish vs pebble tec
Pebble Tec is another type of pool finish that uses small pebbles to create a textured or rough surface. Both quartz and pebble tec have their pros and cons, so it's important to weigh your options before making a decision.
Quartz is more durable than Pebble Tec and is less likely to chip or fade.
Pebble Tec is available in a wider range of colors than quartz.
Quartz requires less maintenance than Pebble Tec because it is not as porous.
Anyhow, Quartz tends to crack more frequently than pebble. Pebble is more durable and has fewer chances of discolorations. Quartz products are more sensitive to start up, so they are not recommended for situations where plaster is exposed above the water level. Pebbles and crushed stones are the only options.
Also Read: Glass Blocks for wall – Advantages –  Disadvantages – Types – Size
Quartz pool finish vs plaster
Plaster is a cement-based mixture that's applied to the surface of the pool and left to harden as a finish. In general, plaster is less expensive than a quartz pool finish but it does require more time for installation. If you're looking for something more affordable and easier to install, you might want to consider a plaster pool finish instead of quartz.
Quartz pool finish brands
There are many brands of quartz pool finishes on the market, each with its own advantages and disadvantages. Some of the most popular brands include Aquatic Glassel, Blue Haven Pools, and Pebble Tec. Aquatic Glassel is known for its durability and resistance to staining, while Blue Haven Pools is known for its beautiful colors and designs. Pebble Tec is known for its natural look and feel.
Is quartz pool finish rough on feet?
No, quartz pool finish is not rough on feet. In fact, it's quite smooth! However, some people do find that it can be slippery when wet. If you're worried about slipping, you can always add a non-slip additive to the finish. Quartz pool finish is also very durable, so it can withstand a lot of wear and tear. Plus, it's easy to clean and maintain. However, one downside is that it can be expensive.
Are You Ready to take the plunge with a Quartz Pool Finish?
To wind up, quartz pool finish is a reliable pool finish among a variety of pool finish options available on market. If you are looking for an eye-catching, economical, and durable option for your pool, you should give quartz pool finish a try.
The shimmering, crystalline pool finish can transform your above-ground swimming pool or in-ground swimming pool into a dazzling aquatic wonderland that will leave your guests stunned every time they visit your backyard oasis.
However, there are some drawbacks to choosing this type of pool finish, so you should make sure you're aware of them before making a final decision on which material is best for your project.
Further Read: 11 Ingenious tips to brighten up a dark room (in 5 minutes)