Sandblasting is one of the techniques used to provide texture to the surface of hardened concrete. It's an abrasive blasting techniques that exposes the aggregates giving concrete a rough surface finish.
What is sandblasted concrete finish?
It is used to give an abrasive finish to a concrete surface. Sandblasting can be used on concrete columns, walls, patio, floors, etc. Apart from giving an aesthetic look, it also gives rough texture making concrete surface less slippery. It is also used to remove undesired coatings such as paint, dirt, from concrete surface and give concrete surface a better finish.
Sandblasting is also the ideal surface preparation technique. The abrasive blasting process is applied to the concrete to roughen the concrete surface which allows the application of protective coating to sufficiently bond to the concrete surface.
Also Read: Rock Salt Concrete Finish – Installation – Advantages – Cost
The extent of sandblasting may vary from light sandblasting to deep sandblasting. The former type does not expose aggregate inside concrete and is limited to surface applications only. The latter type is used when it is intended to expose the aggregate according to requirement. The depth of deep sandblasting is typically about 2 cm.
Also Read: Concrete Leveling – Everything you need to know [7 FAQ]
What are sand blasting applications?
Sandblasting is also used to give textural finishing to a concrete surface. Furthermore, sandblasting is particularly suitable for outdoor applications; one because of aesthetic look, second because of enhanced durability of concrete surface against weathering effects.
Sandblasting has gained popularity in home improvement works. It helps to rejuvenate old concrete surfaces and gives them a new look. It adds to the beauty of concrete surface and enhances their serviceable life.
Also Read: Gypcrete Vs Concrete – Difference – Composition – Uses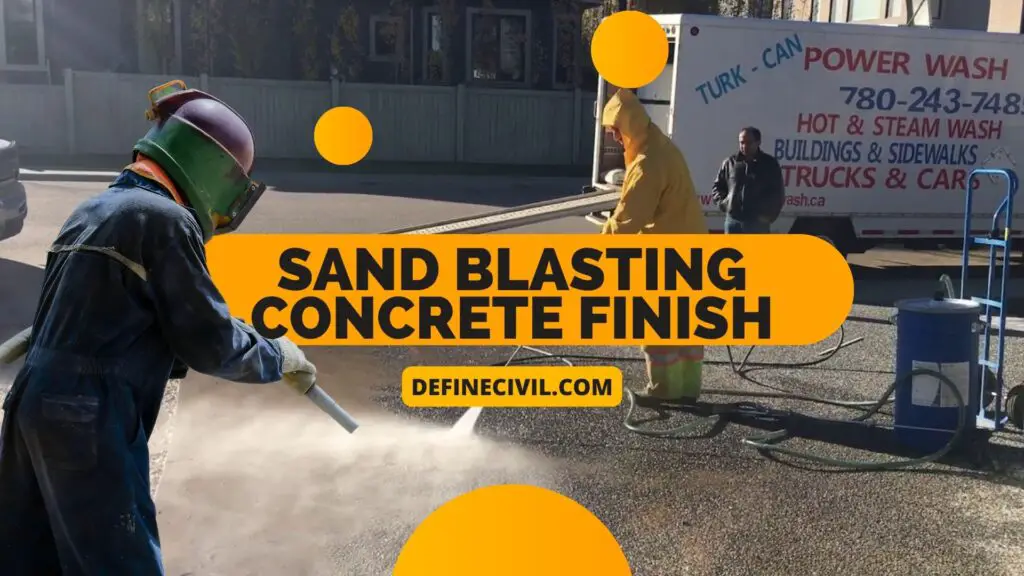 The Process of Sandblasting
The procedure of sandblasting is divided into several steps which are listed below in a hierarchical manner.
Sandblasting operation may cause damage to surrounding items. Apart from pressure application, the dust produced can also be problematic if due care is not taken.
Therefore, remove all moveable items and shift them somewhere else. Cover those items which cannot be moved such as windows and other immovable items.
If sandblasting operation is to be done in a closed area, it is incumbent to provide ventilation for dust to pass out.
Due consideration must be given to ensure the safety of workers. Firstly, proper personal protective equipment such as, safety goggles, safety hat, shoes, should be available to a worker. Secondly, proper respiratory equipment must also be available as dust can cause health problems.
When some texture is to be engraved on concrete surface, stencils are used according to texture design. Stencils should be fixed before the sandblasting operation starts to ensure proper application.
Sand is commonly used for sandblasting. However, other materials such as metal grit, glass beads, copper slag, can be used. Denser abrasives can achieve deeper cutting. Furthermore, shape of abrasive material also matters. Angular particles cut more deeply than round particles.
All the valves of sandblaster machine are closed and sand is filled in the tank. After that, turn the compressor on and direct it to concrete surface. Sufficient distance should maintained between the machine and the worker.
Then start sandblasting the concrete. Even coverage should be achieved while sandblasting so that no area is left untreated.
For those areas which offer resistance to removal, sandblasting should be applied with high pressure. Also, denser abrasives can be used for such areas.
After the process is complete, clean the surface with an air compressor.
Also Read: How to grind concrete smooth?
Advantages – Concrete Sandblasting for Perfect Concrete Finishes
Sandblasting gives concrete surface a rough texture. This enhances the slip resistance of concrete floors.
Sandblasting can be used to give an aesthetic look to concrete surfaces. Various textures can be carved on concrete surfaces.
It is used to remove stains from old concrete surfaces. This application gives concrete surfaces a fresh look.
Sandblasting can enhance the durability of concrete structures. The abrasive blasting coarsens the surface of concrete which increases the efficacy of protective coating.
Protective coatings applied after sandblasting process last longer and make stronger bond with concrete surface. This adds to the life of concrete structures.
Sandblasting process is a simple process. It does not require heavy equipment and it can be done in minimum time.
Sandblasting is an economical method. It does not require costly equipment. The abrasives used are easily available at cheap rates.
It is not a labor intensive process.
Sandblasting is the best option to produce a different and textured look in your house.
Also Read: Can You Pour Concrete Over Concrete? – Level – Thickness
Disadvantages
Sandblasting is not a good option if you are looking for smooth finish on concrete surface.
Silica is a commonly used abrasive for sandblasting. Silica can cause serious health problems especially breathing problems.
The process of sandblasting requires adequate ventilation which can be a difficult task sometimes.
The dust produced during sandblasting process is harmful for environment.
To conclude, sandblasting is an economical and efficient method of giving desired texture and increasing serviceable life of a concrete surface. Moreover, it is a relatively simple process with minimum effort.
Also Read: Quartz Pool Finish -12 pros that make it best swimming pool finish
Application
Sand blasting concrete finish technique is best for applications like:
Exposing aggregate while restoring worn and torn concrete. The exposed aggregate will give a strong bond while relayering new concrete.
Giving concrete a pattern finish ideal for patio or driveways.
Non-slip applications like around swimming pools.
Removal of unwanted coatings like paint, dirt, oil, or chemicals.
Air compressor specification
Air compressor specifications
Air compressor components
Specified dimension
Nozzle capacity
8.5 m3/min
Minimum air pressure at nozzle
0.62 MPa (0.69MPa is preferred)
Minimum nozzle inside diameter
9.52mm
Hose inside diameter
38.1mm
Shot blasting concrete
An even more advanced technique of sand blasting is shot blasting. It is the process of resurfacing concrete finish by using metal beads (we call it shots) out of a blasting machine that removes debris and contaminants.
Shotblasting offers more powerful clean because of the size and speed of metal pellets, in comparison to sand.
Some useful links:
See here in action how experts perform sandblasting on the concrete finish from preparing the surface, cleaning up, and blasting the concrete surface.
If you want to purchase a sandblasting machine and start your own business. There're different choices and types of machines. Find here some suppliers from Alibaba.
Further Read: Can You Pour Concrete in rain? (Steps and precautions)