Both Flemish bond and English bond are popular choices for brick work, but there are some key differences between the two. Flemish bond is a herringbone pattern with alternating headers and stretchers, while English bond uses all headers or all stretchers in each row. But there's more to consider while choosing a type of brick bond pattern for you home.
So, in today's post; we'll deal with Flemish bond and English bond in detail:
Flemish Bond
A brick bonding pattern in which bricks are laid alternatively as header and stretcher in the same course is referred to as Flemish bond.
Flemish Bond is a beautiful brick pattern that can be used in both interior and exterior applications. The bricks are laid in an alternating fashion, with each row consisting of one header and two stretchers. This type of bond is often used for chimneys, fireplaces, and other features where a strong, durable brick facade is desired.
Flemish Bond is also a great choice for exterior walls, as it provides excellent insulation and weather protection. The bricks can be painted or stained to match any color scheme, and they will last for many years with little maintenance. If you're looking for a stunning brick pattern that will add value to your home, Flemish Bond is the perfect option!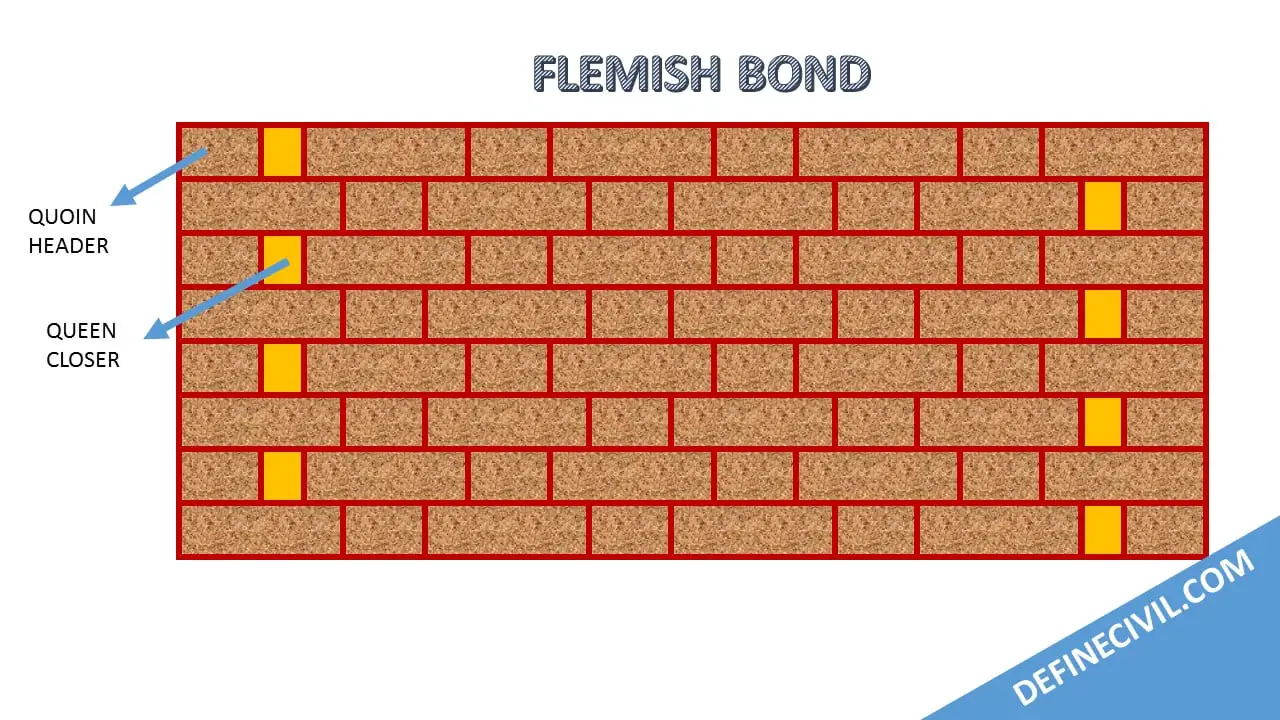 Types of Flemish Bond
There are several types of Flemish brick bond. The most common is called running bond, where the bricks are laid in a row with the ends of the bricks in the next row touching. This type of bond is often used on exterior walls. Other types of Flemish brick bond include:
-Stretcher bond: Bricks are laid in a stretcher pattern, with each course consisting of all stretchers or all headers.
-English Bond: Similar to stretcher bond, but alternating courses of headers and stretchers are used instead.
-Flemish Cross Bond: A variation of English Bond, where two header courses are followed by two stretcher courses.
-Diagonal Bond: Bricks are laid at a 45 degree angle to the face of the wall.
-Herringbone Bond: Bricks are laid in a herringbone pattern, with each course consisting of two stretchers and one header.
-Basket Weave Bond: Similar to Herringbone Bond, but with two courses of headers alternating with two courses of stretchers.
Also Read: Type of brick bonds
Features of Flemish bond
The pattern is composed of stretchers and headers, which are the main vertical elements, and bonders and enders, which are the smaller horizontal elements.
Stretchers and headers are usually made of brick or stone, while bonders and enders are usually made of mortar.
Flemish bond is a type of brickwork where each course consists of two alternating types of bricks: header and stretcher.
The header is the wider brick, while the stretcher is the thinner one. This alternating pattern creates a strong and durable wall.
Flemish Bond is named for its place of origin: Flanders (a region in northwest Belgium). It's also sometimes known as "English Bond"
Benefits of Flemish bond
Flemish bond is a popular type of brick masonry that has many advantages over other types of masonry. Some of these advantages include:
-Flemish bond is very strong and can withstand a lot of pressure.
It makes a very attractive brick bond pattern that makes a bold statement.
The mortar joints add stability and strength to the wall.
Since the bricks are all different sizes, there is less chance that two bricks will end up being exactly the same size, which could otherwise create problem while laying bricks.
-The bricks in Flemish bond are laid in a herringbone pattern, which makes the wall very stable and less likely to crumble.
-Flemish bond is also very attractive, and can add an elegant touch to any building.
These are just a few of the reasons why Flemish bond is such a popular choice for brick masonry projects. If you're considering using this type of masonry for your next project, be sure to talk to your contractor.
Disadvantages
-The mortar joints are unsightly and need to be kept clean and in good condition or they will deteriorate and look even worse.
-Since the bricks are all different sizes, it can be difficult to find replacement bricks if one is damaged.
-Flemish bond is not as popular as other types of brick bonding, so it may be more difficult to find a contractor who knows how to build with this type of brickwork.
Also Read: Pointing in brickwork 
English Bond
English bond is a type of brickwork construction in which the bricks are laid in two staggered rows, with the headers of one row joints aligned with the stretchers of the row below. This pattern produces a strong and stable wall that is less likely to crack or crumble than other types of brickwork. English bond is most commonly used for exterior walls, although it can also be used for interior walls and partitions.
There are several variations of english bond, including Flemish bond, Dutch bond, American common bond, and running bond. Flemish bond is the most popular variation, due to its attractive appearance and increased stability.
English bond and Flemish bond are two different types of brick masonry patterns. English bond is a simple pattern in which the bricks are arranged in two vertical rows with each row offset from the other by half a brick width. So, in English bond we see one single course of header and above that is a course of stretcher.
In contrast, Flemish bond uses alternating courses of stretchers and headers in the same course. The stretchers are the long bricks that run the length of the wall, while the headers are the short bricks that bridge the spaces between them. This type of masonry produces a more robust and attractive finished product.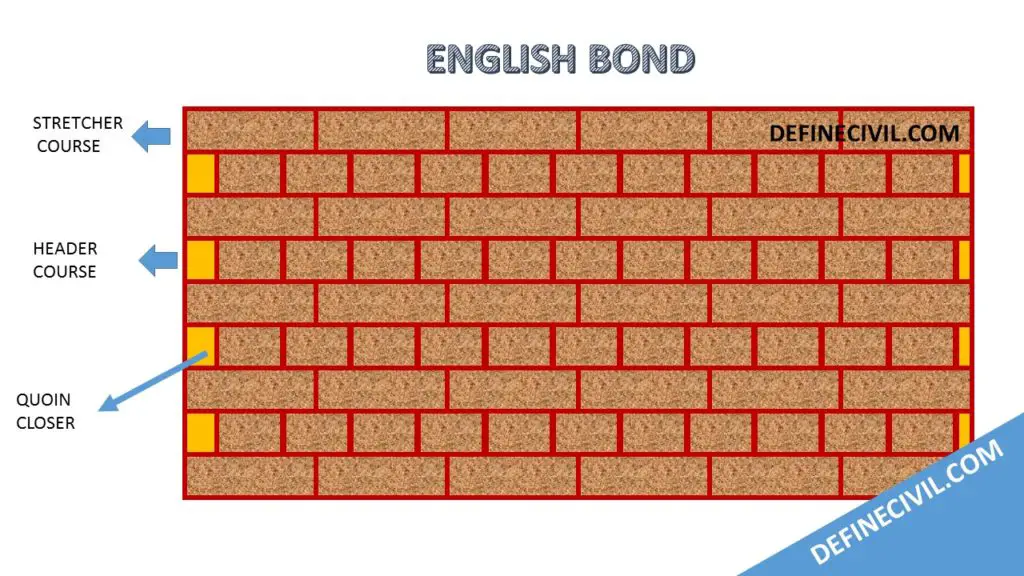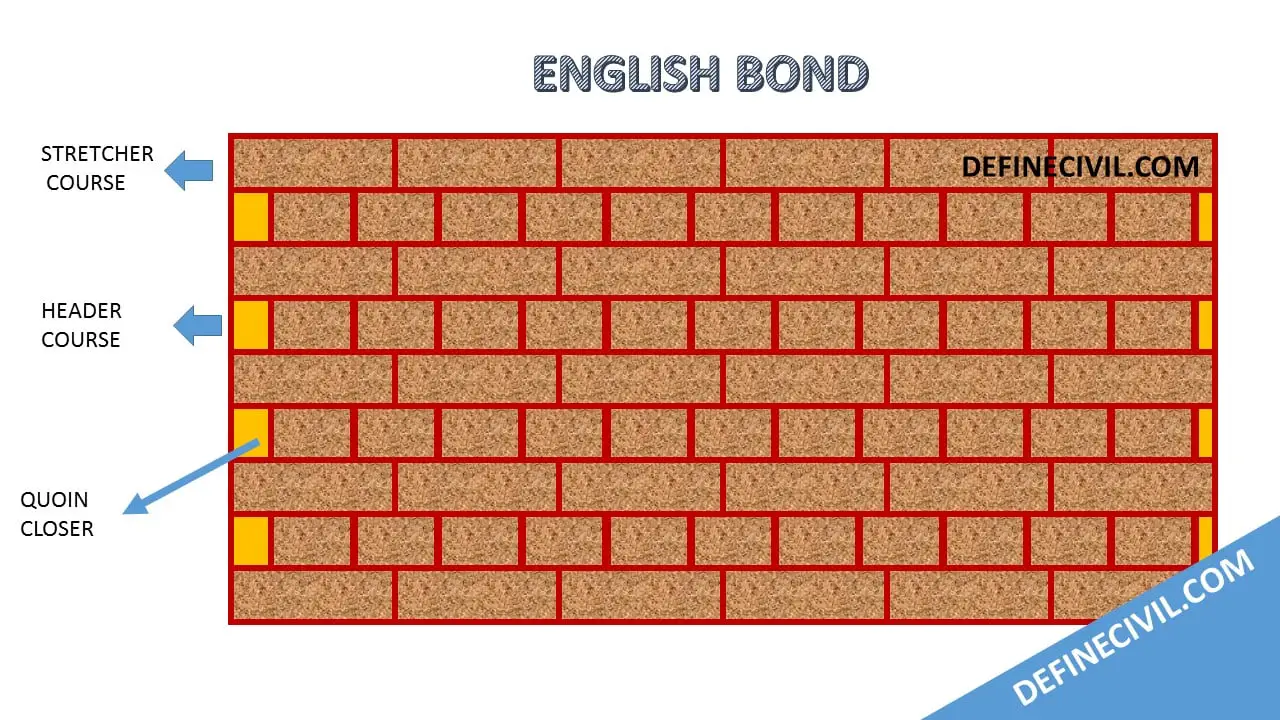 Benefits of English Bond
English bond is often used in brick construction because it provides good support for the bricks.
The mortar joints are also very strong, which helps to keep the bricks in place.
English bond can be used with both old and new brickwork, and it comes in a variety of colors.
It is also easy to maintain, and it will not crack or crumble over time.
Overall, English bond is an excellent choice for anyone who wants to build a lasting structure. Thanks for reading!
Disadvantages of English Bond
-The main disadvantage of the English bond is that it does not have much inherent strength. This means that it needs to be used in combination with other bonding patterns, like header and stretcher, in order to achieve a desired level of stability.
-Another downside to using the English bond is its vulnerability to weathering damage. The mortar between the bricks can erode over time, leading to crumbling and displacement of the bricks.
-Additionally, this type of Bond pattern is not particularly aesthetically pleasing, and so may not be suited for certain applications.
Difference between English and Flemish Bond
The difference of the two by definition is explained above and is easy that Flemish bond uses header and stretcher alternatively in same course while English use header and stretcher in alternate courses.
The English bond is strongest of the all regardless of the thickness of the wall required.
English bond has a rough appearance but Flemish bond provides good appearance.
In the Flemish bond there are changes of partly continuous vertical joints which is not the case with English bond.
To produce brick work in English bond you don't need some special supervision and thus the progress is more but for Flemish bond you need to assess every course which reduces the pace of the work.
Flemish Bond
English Bond
Flemish bond uses header and stretcher alternatively in same course
English use header and stretcher in alternate courses.

 

Flemish bond provide good appearance
English bond has rough appearance
Flemish bond is bit weak
English bon is strongest regardless of the thickness
There's a chance of continuous vertical joint
There's less chance of continuous vertical joints