You're asking if civil engineering is suitable for girls because you're already aware that civil engineering is a male dominant profession. But you'll be amazed to know that about 23% of civil engineers in United States are women. Moreover, the percentage of female civil engineers in United States has increased from 18% to 23% in recent years. According to ASCE (American Society of Civil Engineers) there're almost 500,000 women in today's civil engineering workforce and that's double the numbers we have 10 years back.
When you think about civil engineering; you always imagine tough routine at site and field. But that's where most of us forget that civil engineering is a broad field of engineering that has array of job roles including ones that are typical 9 to 5 white color jobs. A structural design engineer or a highway design engineer doesn't have to deal with tough site work hours.
While women have remained an important part of the civil engineering profession, it is not as widely recognized as it was a decade ago. However, women are becoming more prominent in this field and are contributing to the nation's development. And if you have a passion for building things and doing research, then you should consider pursuing a career in civil engineering. If you're interested in helping people, you'll be a valuable member of the society.
So, if you're wondering if civil engineering is a good career choice for girls, here are some of the advantages: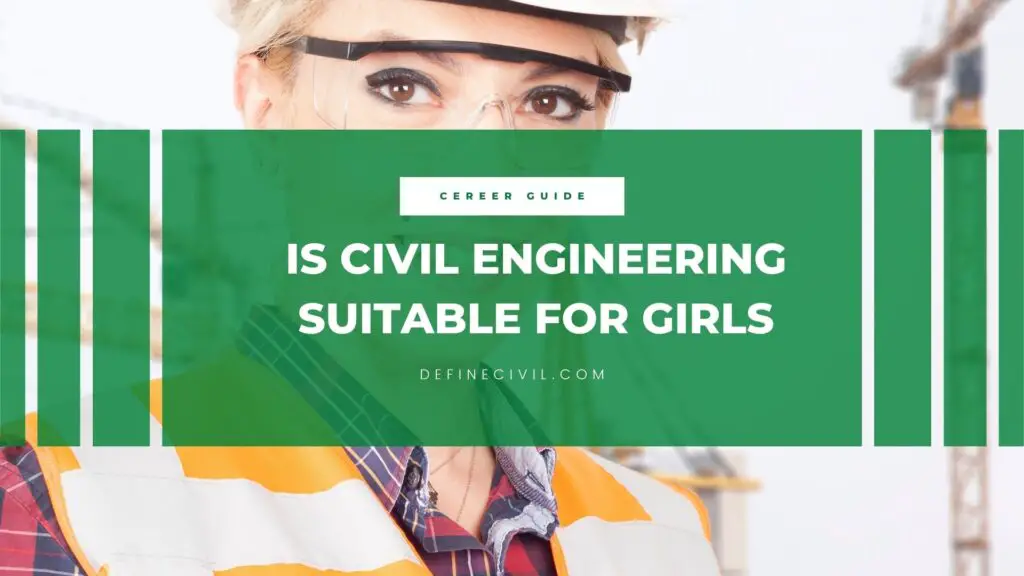 Equal opportunities for girls
First of all, it's an excellent career option for women, as the field offers equal opportunities for females and males. The number of jobs in the field is increasing. If you're a girl, a civil engineering career may be the best option for you. You'll be able to enter a field where you'll have little competition, which makes it easier to get into. Plus, there's less competition in the exams for girls than in other fields. Some state agencies and councils offer dedicated seats for girls.
Also Read: Is Civil Engineering Hard? (Answer by a civil engineer)
Civil Engineer is vast field with suitable choices
Second, it is a field with many branches, and the right choice depends on your interests and aptitude. But remember, it's important to choose your career based on your interests, and if you're a girl, then you shouldn't consider branches that involve tough site routines and dealing with heavy machines.
Also Read: Five civil engineering business ideas
It is a well rewarding career
There are numerous benefits to a career in civil engineering. A career in civil engineering is rewarding, and you can work on real world projects as a civil engineer. As the world's population continues to grow, there will be more opportunities for civil engineers. The global economy is growing, and a female engineer can contribute to this. For instance, a woman who is passionate about design can explore the world through engineering.
It is a lucrative career path for female
Fortunately, women have always been a part of the civil engineering profession. Today, female civil engineers often report that their primary task is to prove themselves better than their male counterparts. The modern society recognizes the rights of women, which is why it's not only a lucrative career path, but also an excellent way to improve the lives of young girls. So, if you're looking for a job in the public sector, consider a career in this field.
One of the main reasons women are not entering this field is peer pressure. They're more likely to be attracted to a job in an area where they're already underrepresented. While they may not be able to get the same amount of pay, it will still be possible to land a job in a civil engineering field. With the right education, females in engineering can also make the most of their potentials.
Also Read: Civil Engineering Site Basic Knowledge PDF – Important Points
It offers the best paid jobs in the world
If you presume civil engineering being hard; it always has a payoff. Civil Engineering is among the top paying majors in the world. Civil Engineering professionals are being paid around €1609/week in UK while in USA the average salary is $88,570 according to USnews. So even if you're one or two in your staff; you're still highly paid in comparison to the female engineers in IT sector.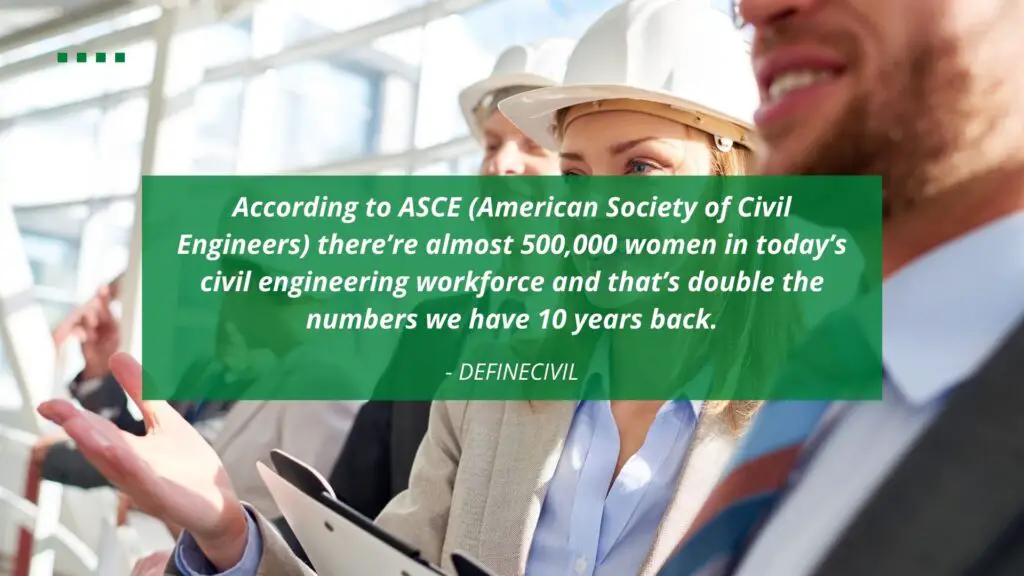 You're the key for their success
Ever individual has unique abilities. Apart from gender diversity, a construction firm always needs a team with diverse perspectives. Women being opportunity experts can quickly spot when something is going on. Moreover, the solution offered by women is also strategic and focused. They won't easily get distracted and won't get their egos in the way.
Also Read: Top 8+ skills every Civil Engineer must have– ($$Bonus$$ Tips)
Best field of civil engineering suitable for girls
Instead of seeking a career for on-site jobs, girls can take office jobs that include analysis, designing, contract management, tendering, and management positions. But that doesn't mean girls can limit their career only to office jobs. There're so many girls out there working in the field, supervising work, and even in contractors. There's no sector left where girls are not showing their true potential as a civil engineer. Obviously you can face difficulties while working and managing labor class but that doesn't mean you're not able to solve challenges.
Also read: Civil Engineering Books PDF (1000 Books –  Daily updated)
Here're some job roles that are suitable for girls:
Estimation Engineer
Contract engineer
Structural design engineer
Planning engineer
Lecturer or teaching jobs
Billing engineer
Resource management
Although, you need to have 1 to 3 years of field experience to work efficiently in above role but still you can excel by showing interest and accepting challenges.
The best advice, I can make you as a civil engineer is that you should never feel reluctant in trying new things and facing new challenges. Career as a civil engineer is full of twists and turns both for male and female. But the best part of this career is the awarding experience that's always there waiting for you. So, try your luck and don't pay attention to what others will speak. It's your choice so take it and make it.
Also Read: 12+ Roles and Responsibilities of Civil Site Engineer [PDF]
The bottom line
Women in civil engineering are a rare breed in the field. In the United Kingdom, they represent about 10% of the construction workforce. In the US, women in the field make up only 2% of the workforce. And that's still a pretty low percentage. So, there are many advantages to becoming a female civil engineer – and there are some things to consider. It's a great field for women if you like math and calculating.
Despite the gender gap, the industry has plenty of opportunities for women. Approximately one-third of all civil engineers are female, and nearly forty percent of women who earn an engineering degree are in construction. There are still a number of challenges for women in this field, including the social and financial ones.