Whether you're a civil engineer working for construction project or are aiming to be one, there're essential skills you must have to succeed in career. A career in a dynamic field like construction and civil engineering is full of twists and turns. You, being a professional, have to develop set of unique abilities and skills to not only outgrow as an individual but also outperform in a highly competitive environment.
Civil Engineers are dynamic individuals that not only have sharp learning curve but are also adaptable to diverse nature of projects. You may have upfront design and maintenance projects but at the same time you may have to oversee construction projects like bridges, roads, dam, canals, residential or commercial projects.
If you're a student aiming to evaluate civil engineering as a career, here's a amazing video by ASCE about who are civil engineers and what they generally do.
Anyhow, the profession of civil engineering is well paid and respected. Some fields of civil engineers are highly paid in developed countries like United States, United Kingdom, Australia, and Canada. You'd see the services of civil engineers while traveling, shopping, outing, and even partying.
There's a hot debate going on over the internet about how much civil engineers make. Well, it varies from project to project, your role, experience, and location or state. If you're more interested in making money rather than learning complex things, civil engineering is the best bet.
According to the Bureau of Labor Statistics (BLS), the average annual wage for a civil engineers across all states of USA is $93,720. That's almost double of what you can expect to earn in other professions.If you're more interested in checking the wages of civil engineers in different areas of the world; here's an amazing writeup by Andrew on Forbes.
So, if civil engineering as a field seems appealing to you for joining, be sure to check out our today's list of essential skill-set a person must develop to succeed in career.
Important skillset for a civil engineer professionally
Civil engineers usually balance multiple and frequently conflicting objectives like determining the feasibility of plans with regard to financial costs and safety concerns. Urban and Regional planners usually look to civil engineers for advice on these issues.
So, as a civil engineer in your career, you need to make a lot of decision – big and small. You need to be right at the right time and make better decisions every-time. Obviously, you can improve your decision making with experience, admitting the doubts, making alternative decisions, giving yourself options, and carrying out experiments.
Mike at project manager has just explained pretty well some serious ways to enhance decision making skills for project managers.
Civil engineers take all to make responsibility for the projects that they manage because of that they must be able to lead planners, surveyors, construction managers, civil engineering technicians, civil engineering technologists, and others in implementing their project plan.
Civil engineers use the principles of calculus, trigonometry, and other advanced topics in mathematics for analysis design and troubleshooting in their work. So math skill is also essential for civil engineers. Advanced understanding of mathematics and physics allows them to identify issues beforehand and help solve problems. Civil engineers also need to be skilled in design techniques and be able to work with models and CAD software. They should be able to anticipate future issues and propose possible solutions to project management.
Also Read: 12+ Roles and Responsibilities of Civil Site Engineer [PDF]
Only licensed civil engineers can sign the design documents for infrastructure projects. This requirement makes it imperative that civil engineers must be able to monitor and evaluate the work at the job site as a project progresses. That way they can ensure compliance with the design document.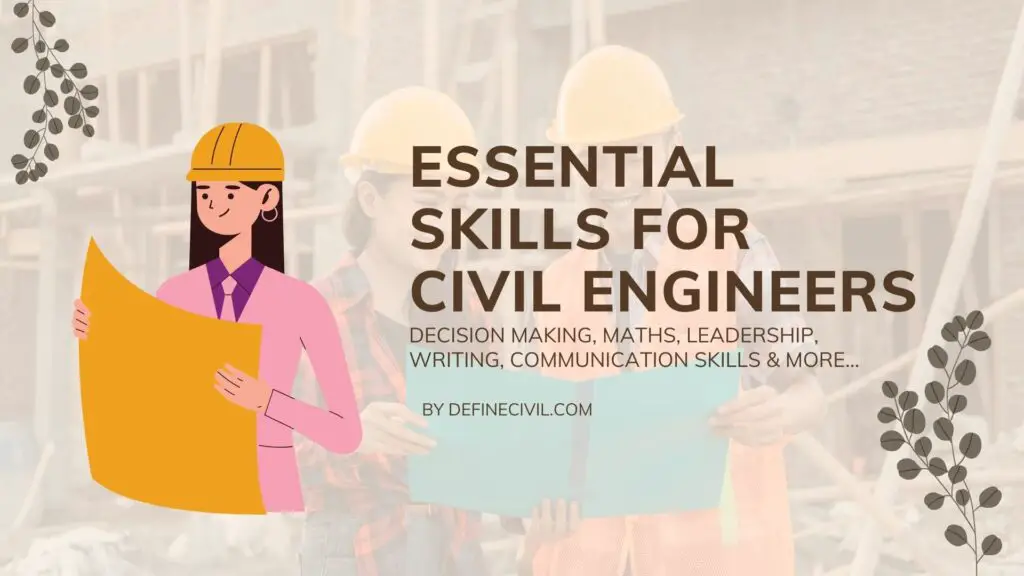 Civil engineers also often manage several projects at the same time and thus must be able to balance time needs in to effectively allocate resources.
Civil engineers work at the highest level of the planning design construction and operation of multifaceted projects or research. The many variables involved require that they possess the ability to identify and evaluate complex problems. They must be able to utilize their skill and training to develop cost-effective safe and efficient solutions.
Also Read: Is Civil Engineering Hard? (Answer by a civil engineer)
Speaking and communication skills
Civil engineers must present reports and plans to audiences of people with a wide range of backgrounds and technical knowledge. This requires the ability to speak clearly and to converse with people in various settings and to translate engineering and scientific information into easy to understand concepts.
Civil engineers must be able to communicate with others such as architects, landscape architects, and urban and regional planners. They also must be able to explain projects to elected officials and citizens. This means that civil engineers must be able to write reports that are clear, concise, and understandable to those with little or no technical or scientific background.
If you need help editing your assignments, please contact Studycrumb, they can help edit your writing to the highest standards.
Visualize and conceptualize design drawings
As a civil engineer, I would like to share a few things in terms of my experience that every civil engineer should know how to read and understand the drawings. Drawings are crucial because they are designed to communicate a project's technical features in a standard format.
For fresh civil engineers, it's very difficult to read IFC drawings, and don't know how to execute according to drawing. The benefits of reading drawings are, you are able to know the scale on the dimension floor plan, and you also know what some levels like STL and FFL are. These are basic and mandatory things.
Software understanding and IT Skills
A lot of civil engineers are struggling to excel because of their lack of IT skills. Gone are the days when draftsman and engineers had to use those manual drawing toolset like T-square, and setsquare. We're living in a time when technologies like BIM have evolved as a perfect tool to address execution issues beforehand. So, even if you're engaged in a team of overseeing project execution, you have to use modern softwares and tools to speedup work.
I must say CAD and CSI software is very important for civil engineers. Civil engineering software is a collection of technologies that aid civil engineers in the design and building of structures. These programs can assist with all stages of a project, including drafting and documentation, designing, visualizing, and analyzing. Following are some softwares that are pretty helpful in the field of civil engineering.
AutoCAD for drafting.
ETABS/STAAD PRO for design and analysis.
PRIMAVERA for construction management.
REVIT structure for building information modeling.

Surveying
Another important thing is a survey. The survey is simply the measurement of the earth's surface in which you can measure horizontal distance, vertical distance, and slope or you can simply measure the direction. In civil engineering we will discuss everything on the plane survey, furthermore, it has also many more subdivisions based on the work.
Also Read: [PDF] Download Surveying Leveling Books Free (22.5 MB Files)
Surveying is used in the planning and design of all Civil Engineering projects, such as highways, bridges, tunnels, dams, and so on. As a result, surveying is an essential component of all Civil Engineering projects.
Some Important Concepts ($$$ BONUS $$$)
So, here're some important concepts / points that I present here as a bonus to you:
Concrete can be poured at temperatures ranging from 10 to 32 degrees.
Concrete requires a minimum of seven days to cure.
The slump cone test is used to measure concrete's workability.
Grade 40 and grade 60 steel rebar are the most frequent grades.
The yielding strength of the steel rebar is measured in thousands of pounds per square inch. The ribs on the steel rebar are there to prevent the rebar from slipping. In general, 41 times diameter is used to compute development length.
In direct tension, the lap length should be greater than 2 Ld or 30d, where Ld is the development length. For straight bars, the lap length must be at least 15 d or 20 cm.
Lapping is not permitted on bars with diameters more than 36 mm. Chair Dimensions 1.00 m (or 1 No per 1m2) is the maximum spacing. Dowels rod should have a minimum diameter of 12 mm. Bars with a minimum diameter of 12 mm must be used in chairs. Approx. 10-12 kg binding wire is used for 1m reinforcement. The standard slope for stairs is 25-40 degrees.
Also Read: Civil Engineering Site Basic Knowledge PDF – Important Points
Combination of loads:
Civil site engineer and every civil engineer should be remembered because it can help you on construction site or maybe someone asked from you about loads and their types. So first we discuss dead load, dead load means self-load of structure, did not weight self-weight of structure, not the other loads. So self-fit of the structure you can get from the volume of the structure and form that material in which you made it.
Concrete mix design:
Design mix concrete is those for which mix proportions are obtained from various lab tests use of design mix concrete requires good quality control during material selecting mixing transportation and placement of concrete. Thus large concrete construction projects use design mix concrete, so the suitable grade of concrete can be selected based on structural requirements. Concrete activity in construction is very important and of high priority.
Now, what is the grade of concrete? It defines as the minimum strength the concrete must possess after 28 days of construction with proper quality control. Grade of concrete is denoted by prefixing m2 the desired strength N/mm2. Different concrete grades, such as M1O, M20, M25, and M30, represent different concrete models based on their strengths.
The M stands for concrete mix design, while the N/mm2 stands for strength. As a result, concrete's compressive strength is well-known.
Closing Remarks
I've tried my best to make this post long and through so you could be able to learn some positives from it. What you've made out of it? Do comment your thoughts below: